Swiveller's Cribbage Testimonials

It's easy to use, has different difficulty levels, is great for beginners and advanced players, and includes the rules, history, and other neat info about the game.
Jedinow

Best computer cribbage game I've ever tried. You can even set the computer up to muggins. Good for the beginner and the expert alike.
"Great game"
hipshot49

"Good companion for a challenging game."
Worth the registration for a challenging game, good graphics, and automatic hand count for hours of fun in expert or beginner mode. Helpful hints if you're stuck on what to toss in the crib. Good if you enjoy Cribbage and don't have someone to play.
Jimbo

'I have played a number of different cribbage games on the internet and the Swiveller's Cribbage game is in my opinion the best. It is realistic in all respects and I particularly like the way that it deals, pegs and tries, occasionally to cheat, which really 'keeps you on your toes' to check the pegging and call the correct score'.
Congratulations.
Phil Tipler B.SC. FRICS MBEng


The Marchioness, holding her cards tight in both hands, considered which to play. Taken from 'The Old Curiosity Shop' by Charles Dickens.

Download Swiveller's Cribbage for free and play the popular card game testing your skill against the computer.


It is suitable for beginners or experts alike and has an online help that teaches the cribbage rules and how to play a good game and has options that allow you to:
• ask the computer for a hint,
• replay the previous hand,
• choose your own hand,
l• let the computer determine your score
• or play Muggins.

You can even play Duplicate Cribbage and view the log of previous moves.


To play Swiveller's Cribbage, on a Windows computer click on swiv_crib_setup.exe (~500 KB). A prompt will appear. Choose 'Open' and then click the 'OK' button. Once it has downloaded, Swiveller's Cribbage will begin its setup routine, and you'll be playing cribbage in no time.

To play it on an Apple Mac computer simply Download Version 2 for Apple Mac
You can also use the Mac version on Windows but you may need to download Java.
The first five games are free, then just 15 dollars lets you play for ever.
With this version you can:
Ask the computer for a hint on which cards to discard.
Replay the previous hand so you can examine different discard strategies.
Choose your own and the computer's hand.
View the playing log.
Play using Muggins, so if you incorrectly score your hand the computer will claim the difference in points. Note the computer sometimes incorrectly scores its own hand so you have the opportunity to take points off it. The Muggins option can be turned off.
See your points being pegged on the cribbage board. Pegging can be turned off for faster play.
Auto Score. Let the computer do all the scoring for you.
Choose your level - Beginner or Expert. Even if you have never played cribbage before then you should pick it up pretty quickly as the computer guides you on what you should be doing and there is an online help telling you about the various card scoring combinations and the ethos of the game.
Duplicate Play. You can play a predefined hand so you can compare your score with other people, and not use the excuse 'Oh well, I'm sure you had better cards than me!'
Change the background and text colours to suit your taste.
See the backs of the computer's cards so you know how many cards are left to play.
Work on 64 bit versions of Windows Vista and Windows 7.
---
Swiveller's Cribbage for the Pocket PC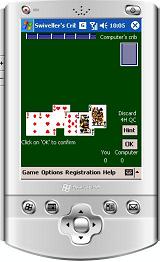 Download Swiveller's Cribbage for the Pocket PC
To install, click on the link above and download the cab file to your Pocket PC, and then click on the file.
It requires the 'Microsoft .Net Compact Framework Version 2' to run which if not already on your Pocket PC can be downloaded from the Microsoft Compact framework website.
---
Comments
.If you have any comments or suggestions for improving the game then please send an email toWilliam Bridge at williambridge@stanwardine.com.


Home
© William Bridge All Rights Reserved 1999 - 2004