Captain Benjamin Hall
Born: 28-Dec-1721, died: 13-Apr-1805, father: Joshua Hall, mother: Sarah Ingle
Family Tree
Captain Benjamin Hall presented with silver box by Houses of Parliament for bravery at siege of Carrickfergus
Captain Benjamin Hall presented
with a silver box & the thanks of both
Houses of Parliament, the judges &
courts & grand jury of Antrim for
his personal bravery at the siege
of Carrickfergus.

History & Antiquities of the County
of the Town of Carrickfergus
By Ian McSkinnin
printed at Belfast third edit: 1832
Sold by Phillips, Bookseller, 27 Bridge st,
Belfast, price 10 /

A ballad called the Siege of
Carrickfergus 1760 by McMaquire

A Pantomime called 'Thourot'
or the Siege of Carrickfergus' 1770

The above were published in Belfast.

Capt Benjamin Hall is great Uncle
to Dr Hall 17 Crescent, salford.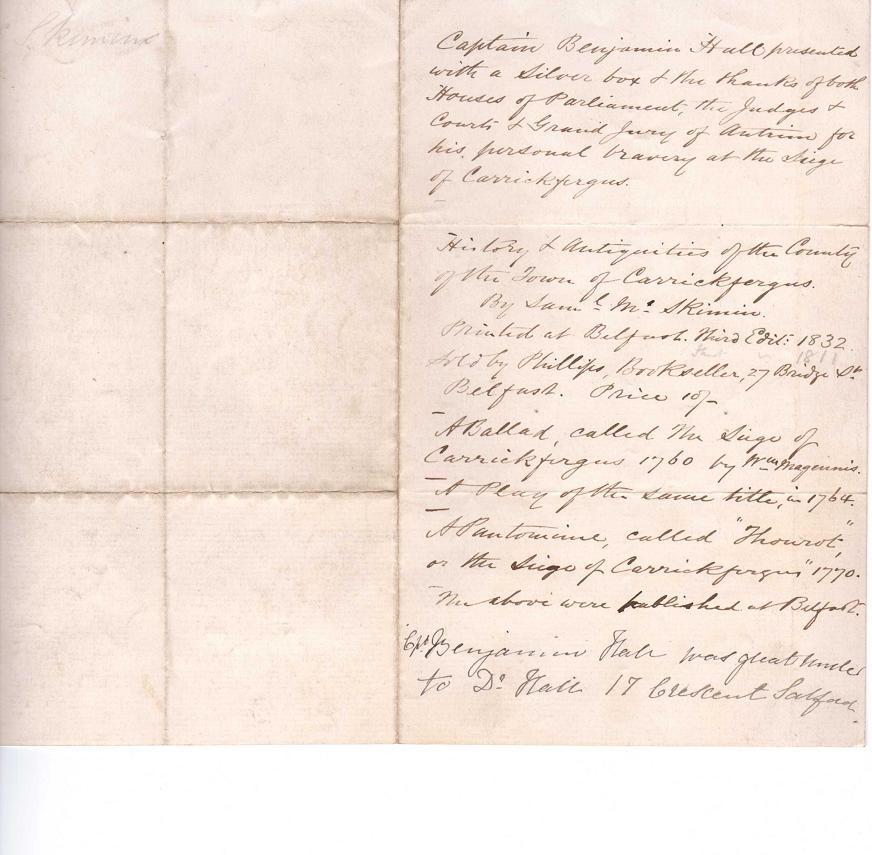 Hall John Mary Benjamin Wentworth note
Joshua & Mary Hall were
father & mother to William
Hall of Irwell Mills, &
he was father to William
Hall of 17 the Crescent Salford.

captain Benjamin Hall was Uncle
to the above William Hall
of Irwell Mills. He was the
son of Joshua & sarah
Hall 7 great uncle to William
Hall's father (John Hall)

William's grandfather William
Hall of Irwell Mills used to go to Wentwort
Hall to see his Uncle
Captain Benjamin Hall

Captain Benjamin Hall had
a sister Mrs Byson, she
also lived at Wentworth
(a little uncertainbut
Benjamin Hall was 20 years in the army)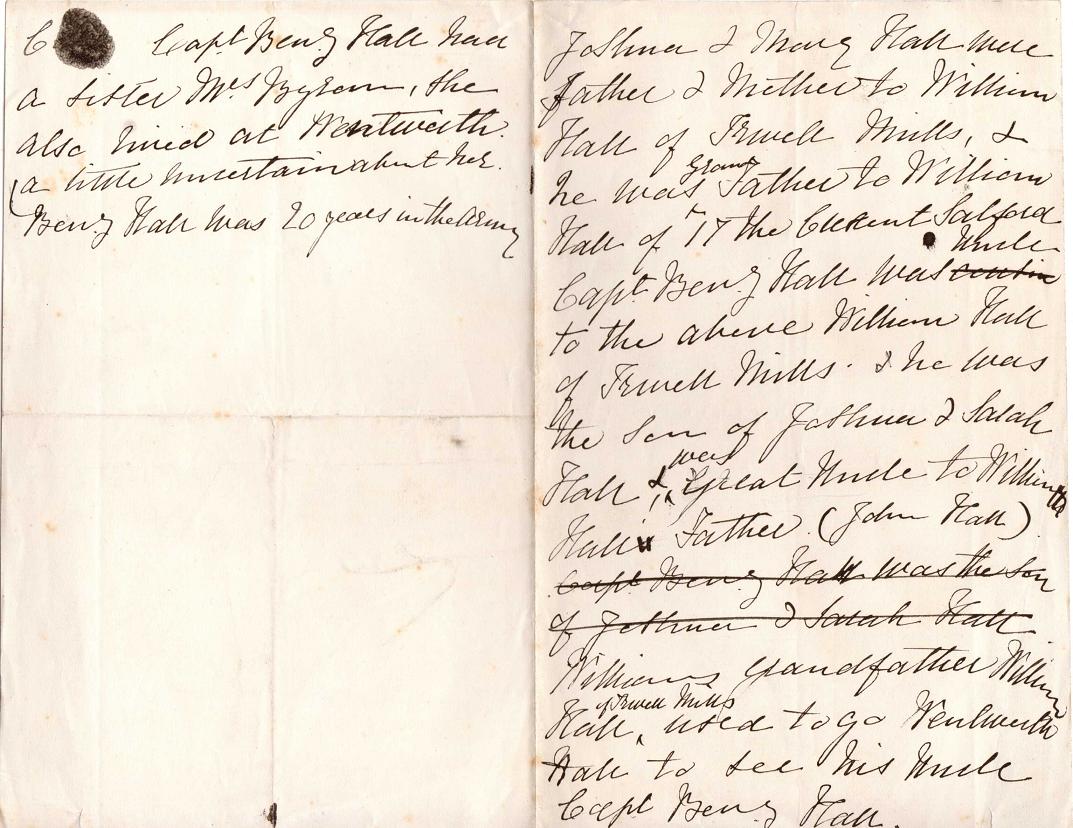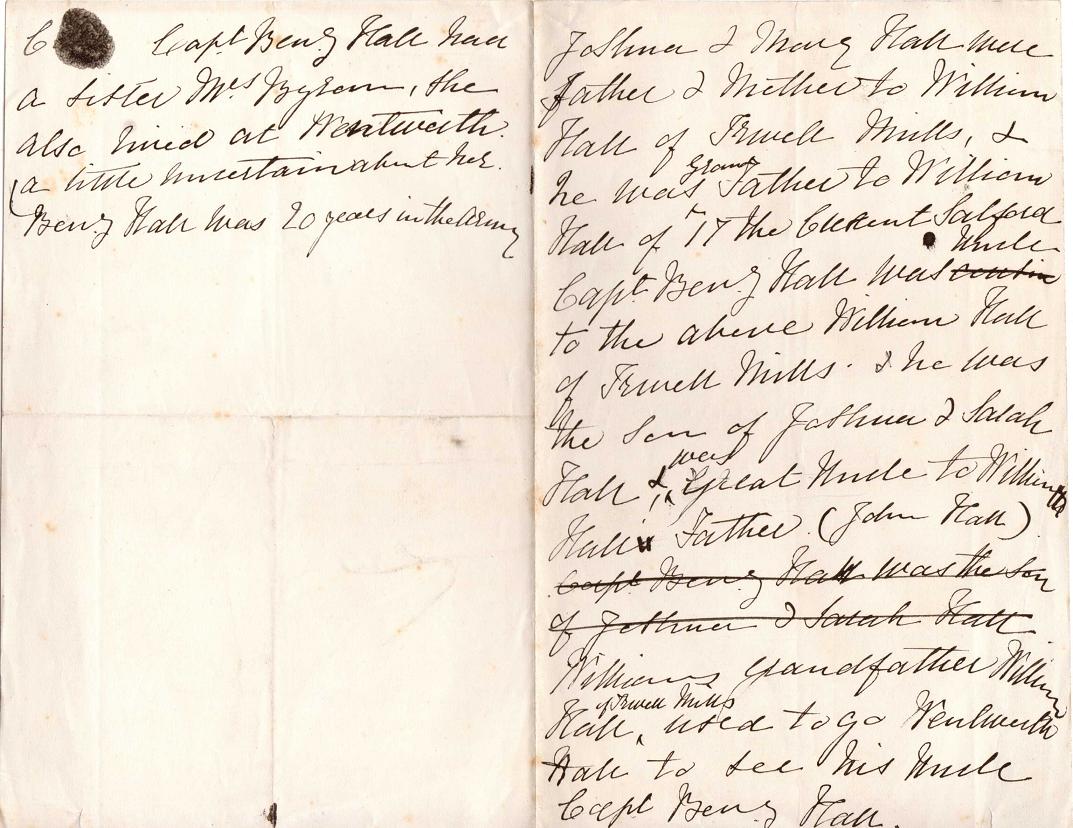 Will of Benjamin Hall Wentworth 1802
This is the last will and testament of me
Benjamin Hall of Wentworth House in the
parish of Wath upon Dearne in the county of
York, gentleman as follows. First I will that all
my just debts and funeral expenses be paid and
discharged out of my estate and effects hereinafter
made chargeable to and with the payment thereof.
I give and bequeath to the most Honourable Mary
Marchioness of Rockingham a marble medallion
of the late most Honourable Charles Marquis of
Rockingham by Mr Fisher. I give and bequeath
to the Countess Fitzwilliam the 'Heads of the twelve
Goebars set in pearl ornamented with Brilliants.
Also two large snuff boxes of ivory and tortoise
shell on the lids whereof are views of Rome and
Florence in gold plates. Also my cedar writing
box with a gilt silver ink stand, sand box
and wafer cup. Also a portrait of Right
Honourable Earl Fitzwilliam and a picture of
Mr Alderman Carr and his church all in gilt
frames. I give and bequeath to the said Earl
Fitzwilliam a whole length picture of the late Marquis
of Rockingham. Also a portrait of the Earl of
Dorchester and a medallion of the late Honourable
William Charles Lord Viscount Milton a a picture
of liberality and modesty, another picture of
Apollo rewarding merit and punishing arrogance

family in the Temple of Paris 20th January 1795 and
another picture also in a gilt frame representing Maria
Antoinette late Queen of France on the 16th of October
1793 at the time of her being conducted from prison
to the place de la Revolution where her life and
misfortunes terminated. Also a whole length of Venus
in ivory by John Rysbrack and my long mahogany
telescope. I give and bequeath to Peregrine Adentworth
Esquire my large silver cup with the silver cover
and silver stand, my best broad sword, a miniature
picture of the late Duke of Cumberland in silver and
my square silver snuff box. I give and bequeath to
Charles Bowns of Banklop Esquire a picture of the
late Marquis of Rockingham in an oak frame by
Hillingbeck. Also a microscope in a mahogany case
by Mr Rotherham. And also my silver mounted
sword with a silk belt and my silver mounted cane
on the head of which are engraved the initial letters
of my name. And my will and mind is that
the several articles and things before mentioned shall
be delivered to the respective persons to whom they
are hereinbefore given and bequeathed by my executors
hereinafter named so soon as conveniently may be
after my decease. I give and bequeath to my brother
Abraham Hall and Elizabeth his wife and the
survivor of them the sum of sixty pounds and
to my nephews and nieces sons and daughters of
the said Abraham and Elizabeth twenty pounds
apiece. I also give and bequeath to my nephews
and nieces sons and daughters of my late brother
John Hall, to my nephews and nieces, sons and
daughters of my late sister Mary Briam the like
sum of twenty pounds apiece and to Richard
Peele son of my late sister Alice Peele the sum of

five pounds. All which said legacies I will and direct
shall be paid to my said several and respective
legatees within six months next after my decease. And
charged and chargeable with the payment of my
debts the proving of this my will, my funeral expenses
and legacies aforesaid. I give and bequeath all the
rest residue and remainder of my goods, chattels, estate
and effects whether in money or otherwise unto my
nephew Joshua Briam his executors and administrators.
And I do hereby make ordain constitute and appoint him
the said Joshua Briam sole executor of this my
last will and testament hereby revoking and making
void all former and other will or wills by me at
any time heretofore made. In witness whereof I have
hereunto set my hand and seal this twentieth day
of October one thousand eight hundred and two.
- Benjamin Hall - Signed sealed published and declared
by the said Benjamin Hall the testator as and for his
last will and testament in the presence of us William
Hastings, William Wainwright
the first day of May 1805 the will of
Benjamin Hall late of Wentworth House
in the township of Wentworth in the parish
of Wath upon Dearne in the Diocese of York
Gentleman deceased was proved in the exchequer
court of York by the oath of Joshua
Briam his nephew and sole executor to
whom administration was granted he having
been first sworn duly to administer
under £=000
Office Copy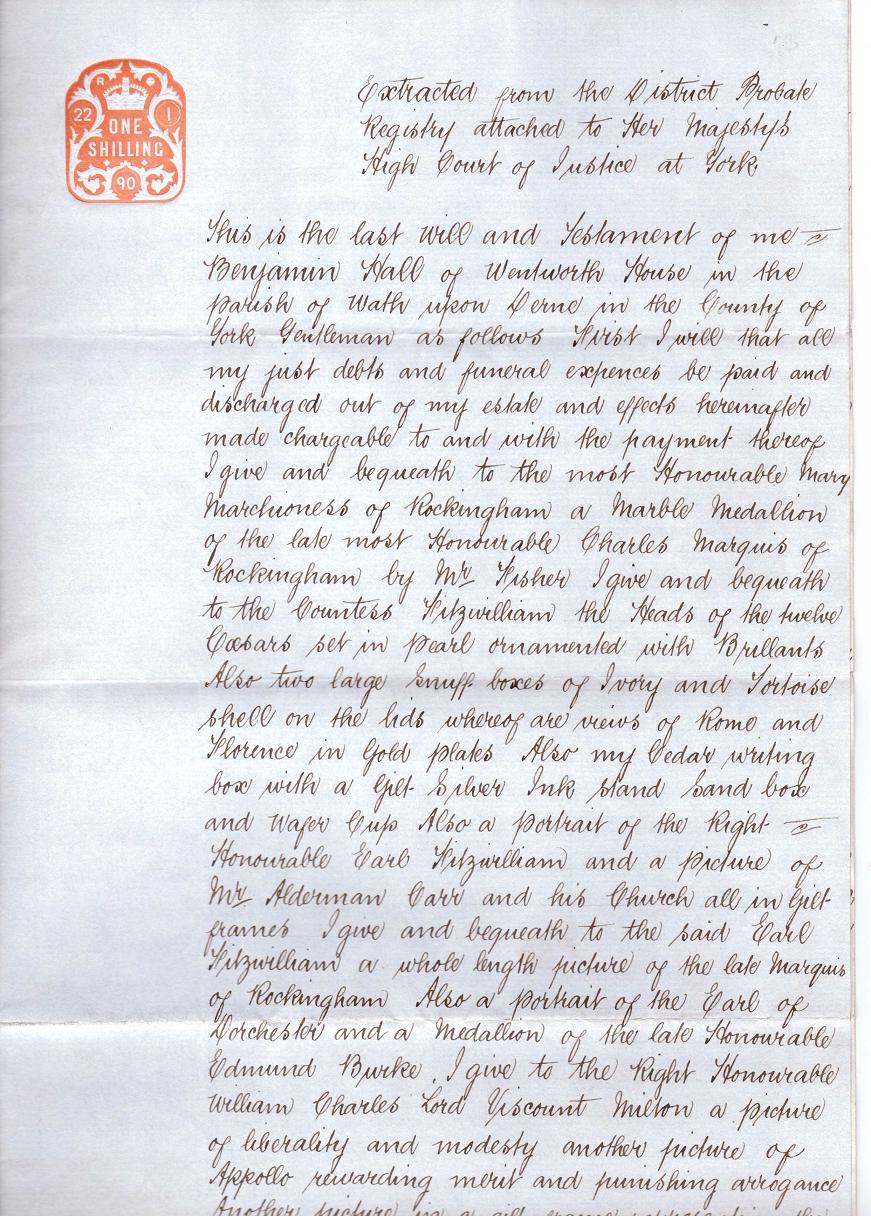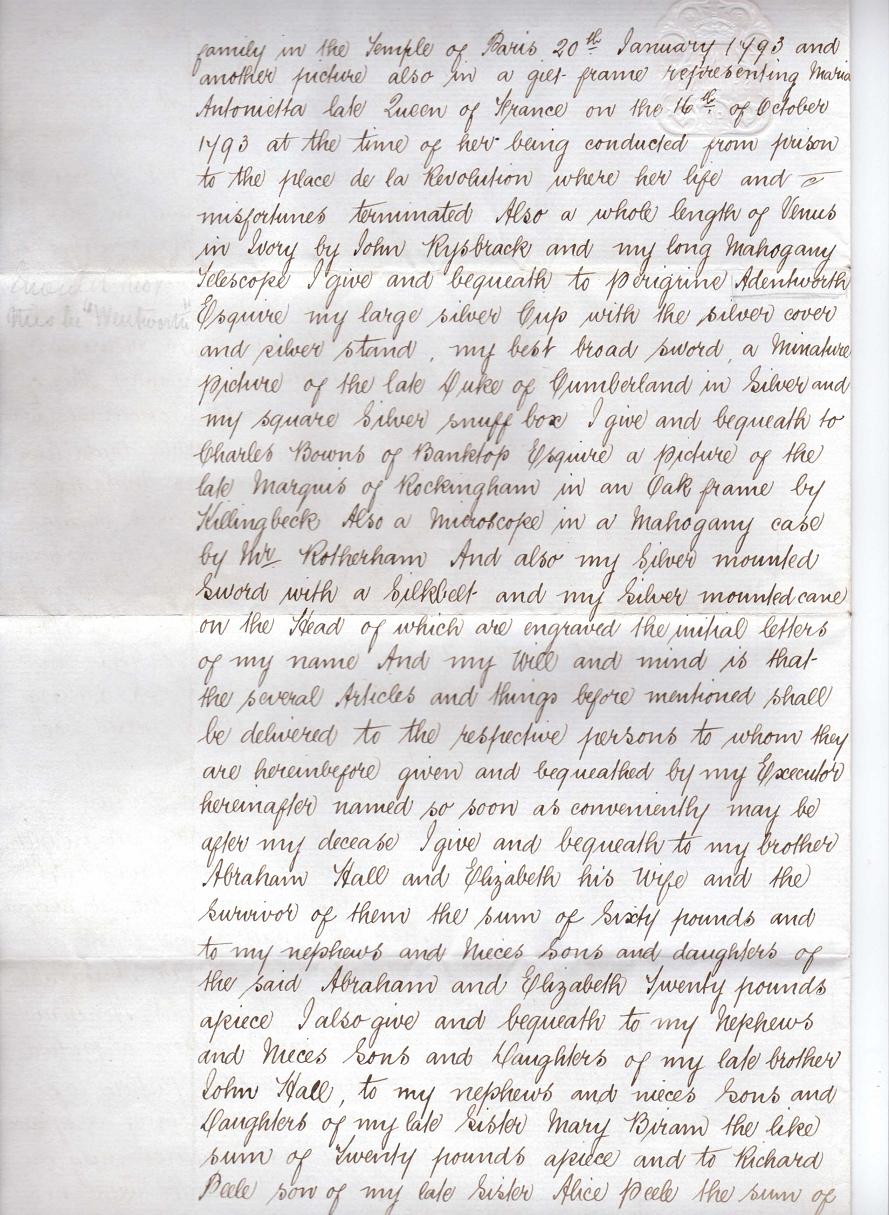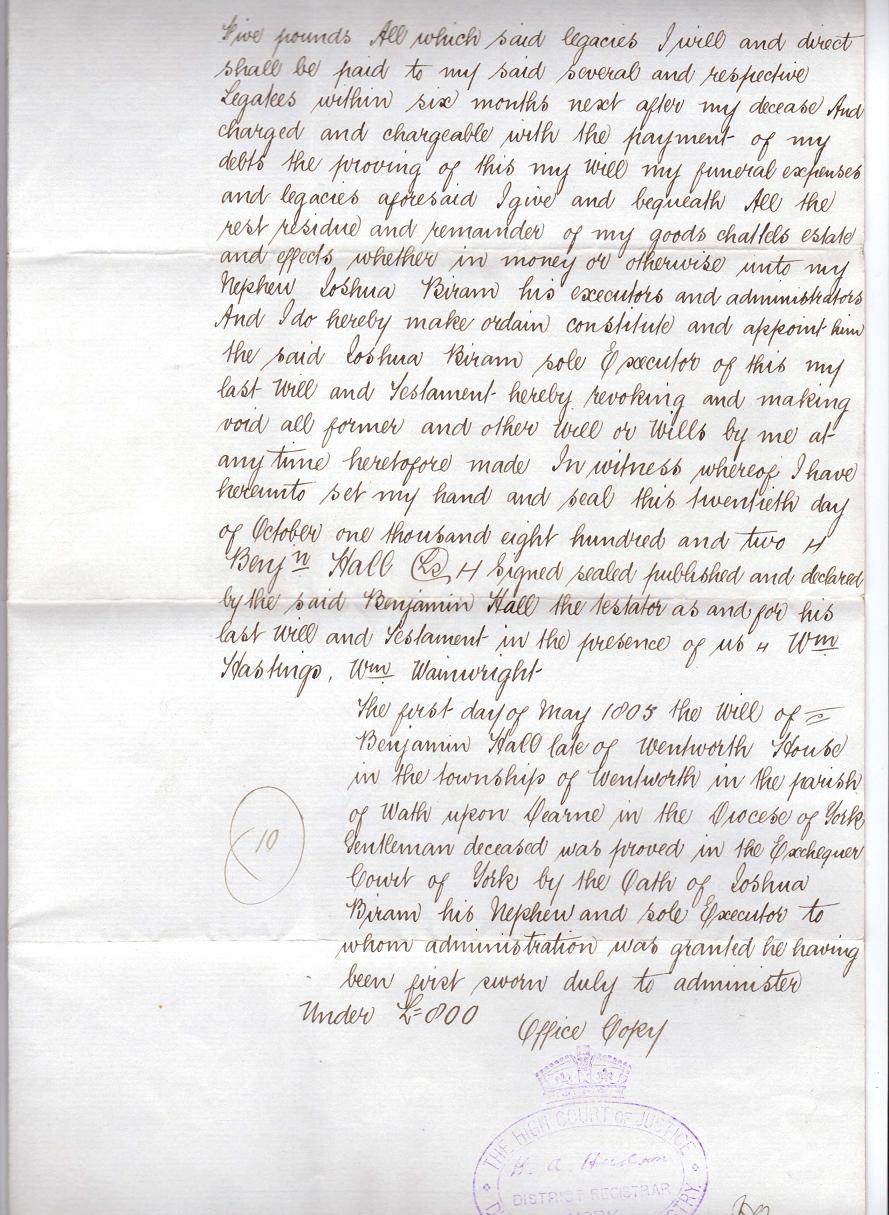 Captain Benjamin Hall burial details and funeral obituary by Earl Fitzwilliam at Wentworth
Within the Walls of this chapel lie intered the remains of Captain
Benjamin Hall who died the 13th day of April 1805 in the 84th year
of his age.

The fidelity, integrity, courage, fortitude, and temper which he displayed
in all the various series of a long life render him worthy to be
remembered.

In his early days he entered into the service of his King and
country, in which on various occasions he distinguished himself by
those qualities which attracted the attention of his superiors, and led to
those marked distinctions and rewards that adorned the closing period
of his military life in 1763. At this period contrary to his earnest request
he was put upon the half pay list of his rank - a Captain in the army.

From that time Captain Hall was destined to act in a new situation.
He became superintendant of the works and House Steward to the late
Charles Marquis of Rockingham, and after his death to William Earl
Fitzwilliam his successor.

The same qualities of kind ensured the same success in a different
station and under new circumstances; without giving offence to any,
he did his duty with steadiness and impartiality. He afforded protection
to the employed while he did justice to the employer.

To commemorate the virtues of so faithful and meritorious a
steward, this tablet is placed here by his greatful friend and sincere
admirer
William Earl FitzWilliam

Composed and wrote by Earl Fitzwilliam
a few corrections by Lady Mith_

Captain Benjamin Hall was the son of Joshua and Sarah Hall and was born at
Golcar Hill on the 28th day of December 1721