Hannah Greaves
Born: 23-Sep-1800, married John Hall on 28-Jun-1824, died: 15-Apr-1849, father: John Greaves, mother: Ann Greaves
Family Tree
Father Dale Poem
Come all you young men, come listen a while
I'll sing you a song that will make you to smile
A lady found out how to make woolen cloth.
For come down at Delph is growing 10 _
father dale
To come down at Delph is a wonderful man
To keep up thither if he possibly can.
Besides there's a woman, I don't know her name,
She go down to Mossley and she _
father dale
A few months ago she offered plan
in letting some matron as I am to stand
But Yebby was coming and so were his men
He said Mr Lane own being that back again
father dale
So now to conclude & finish my song
I think Mr Lane down is not in the wrong
if his beef & his mutton which is nothing amiss
Come young men & may I acquaint
you with this
father dale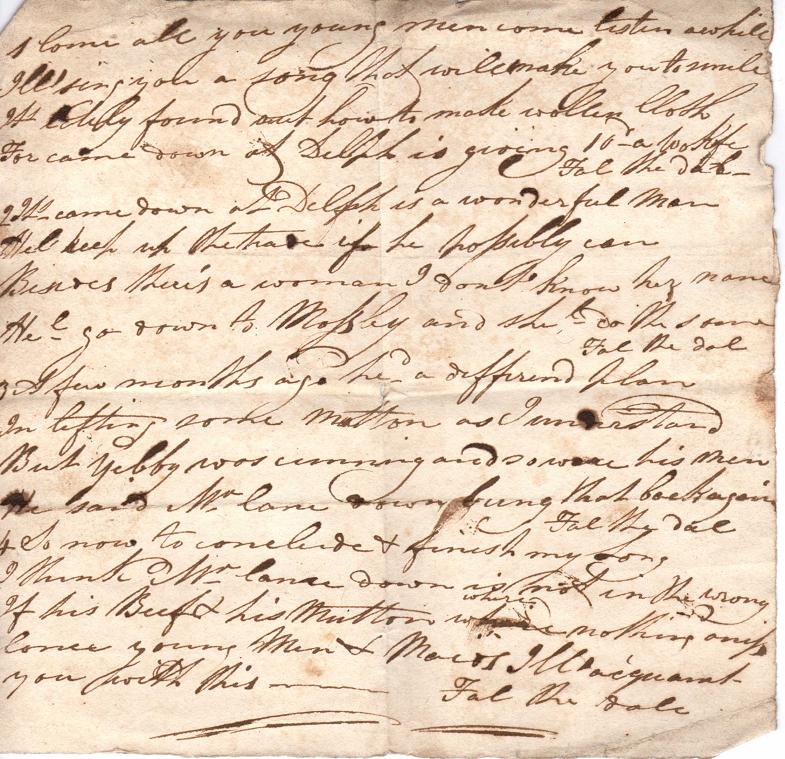 Curious Coincidence regarding the letter C and lamented Princess Charlotte who died in 1817
Curious coincidences respecting the
letter C, as connected with the lamented
Princess Charlotte. Her mother's name
is Caroline, her own Charlotte; that
of her consort Coburg. She was married at
Carlton House, her town residence was
Camelford House the owner of which
Lord Camelford was ultimately killed
in a duel. Her country residence Claremonth
not long ago the property of
Lord Clive who ended his days by suicide.
She died in childbed the name of her
accoucher being Croft.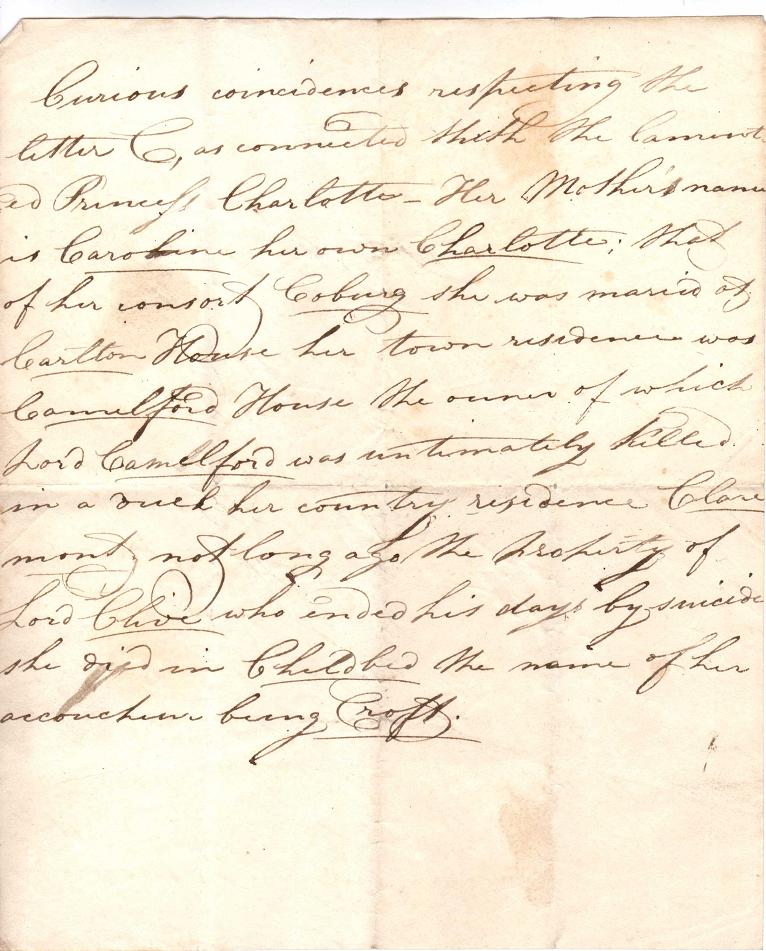 Letter from Maria Harrison to Hannah Greaves 19-Sep-1818
Nottingham Sept 19th

My dear Greaves,
I write this letter on purpose
to give you a good scolding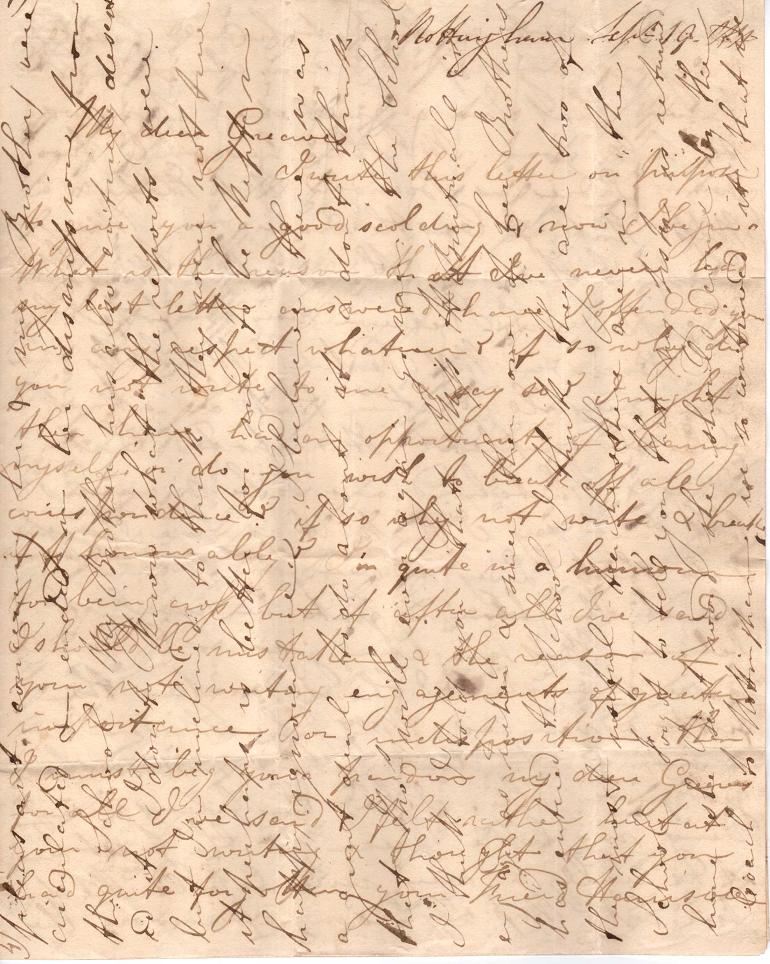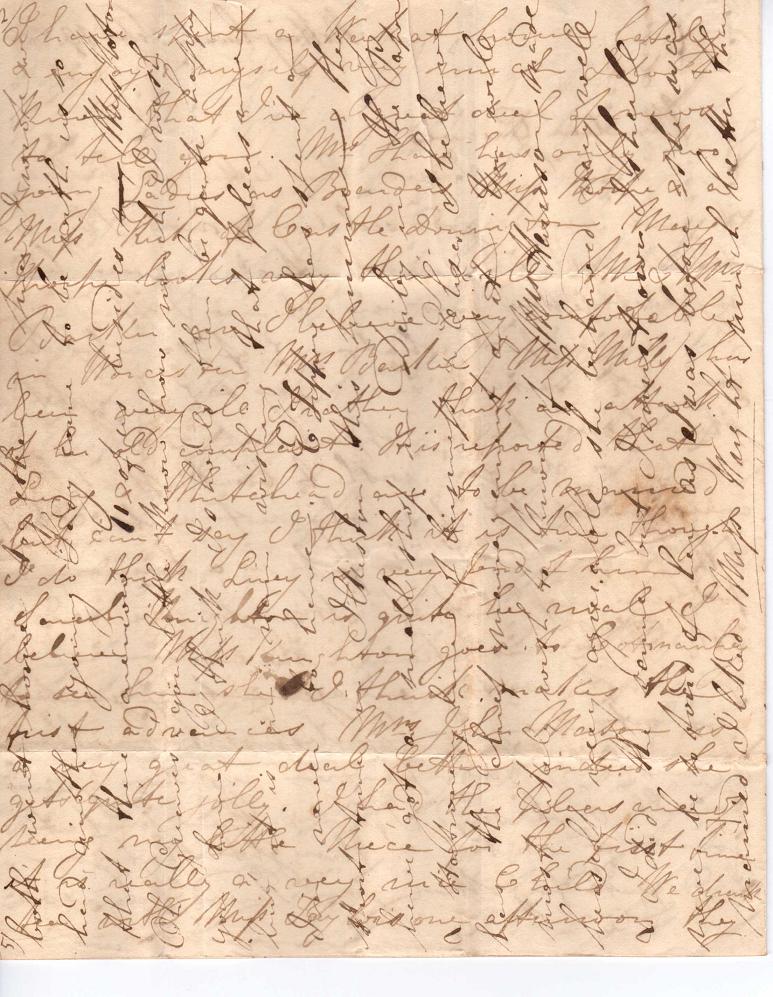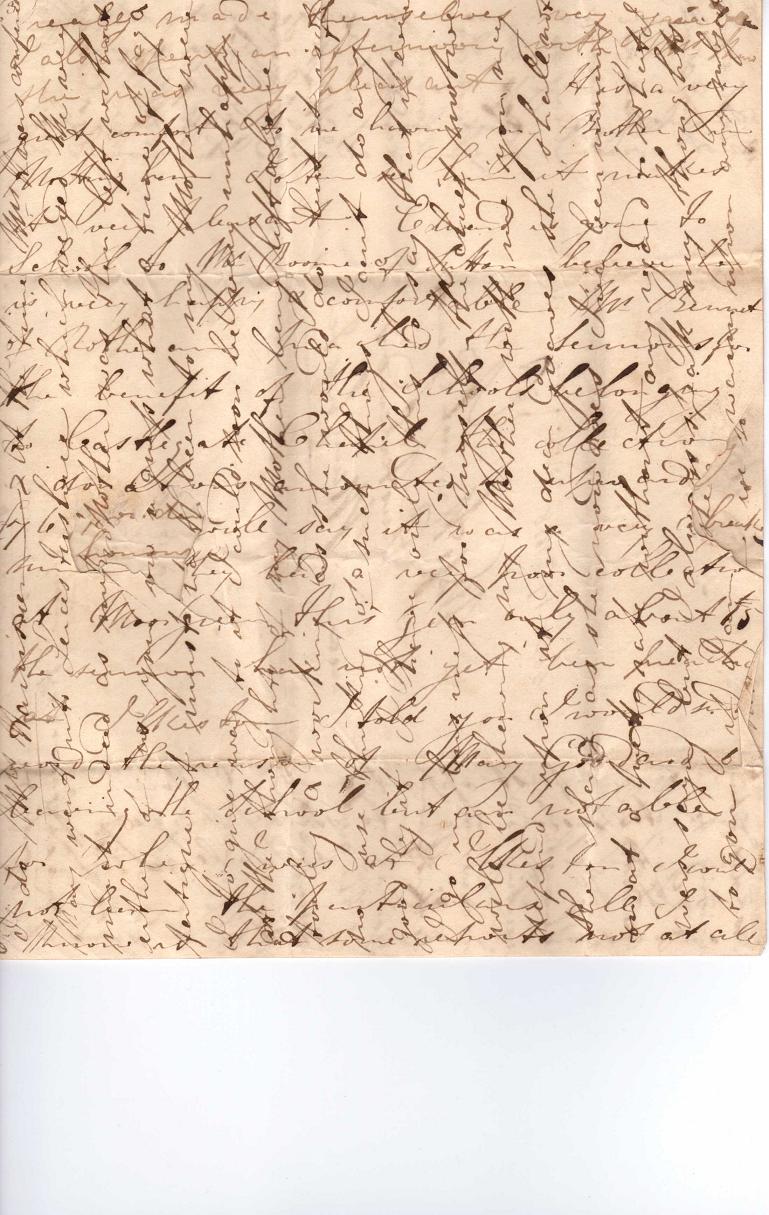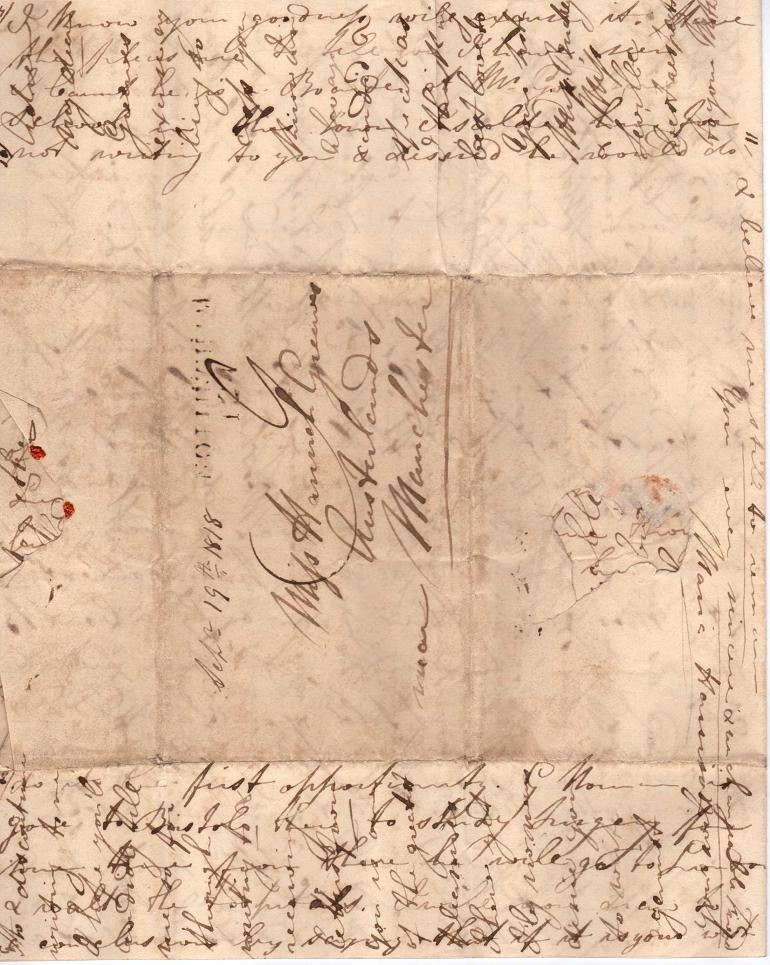 Letter from Mary Holmes to Hannah Greaves 7-Jul-1819
Dear Miss Greaves,
I am much obliged
for your kindness in writing to me
and take the opportunity of answering
by Mrs Galland. I thank you for
your kind thoughts . I dare say you have
heard that I have got a little girl
whose name is Martha. She is about
three months old and my health whom on
the whole is better than when I was
at Miss Shaws. I live in Ilkeston, my
mother likewise who along with me sends
our respects to you and all the young ladies.
I had the loss of losing my father about
a year ago which was a great trial.
Mrs Barton late Miss Mills has got
a little girl about three weeks younger
than mine. Lucy is along with her
sister who resides at Worcester.
I cannot give you much information
respecting the young ladies you mention.
I have not seen Miss Heath since
she left school nor heard of her.
Miss Young, I have not seen as long a
time. She is now quite well when I heard
last. Miss Elcion Taylor has been at
school this last half, at Derby
I believe. She goes there till Xmas.
The family are all pretty well.
The colouring you mention is
abrameter which is got at the Dry- by
sister - it is not very expensive,
a little of which is put in as
and rubbed in about half a pinch with
warm water in a bason and placed
in the churn when you put in
cream you may make the colour as you
like increasing or decreasing the amount.
I was sorry to hear of trade being
in so depressed a state, it is
bad at Ilkeston. I must now come
begging my kind love to your sister
and yourself.
From yours affectionately,
Mary Holmes
Ilkeston July 7th 1819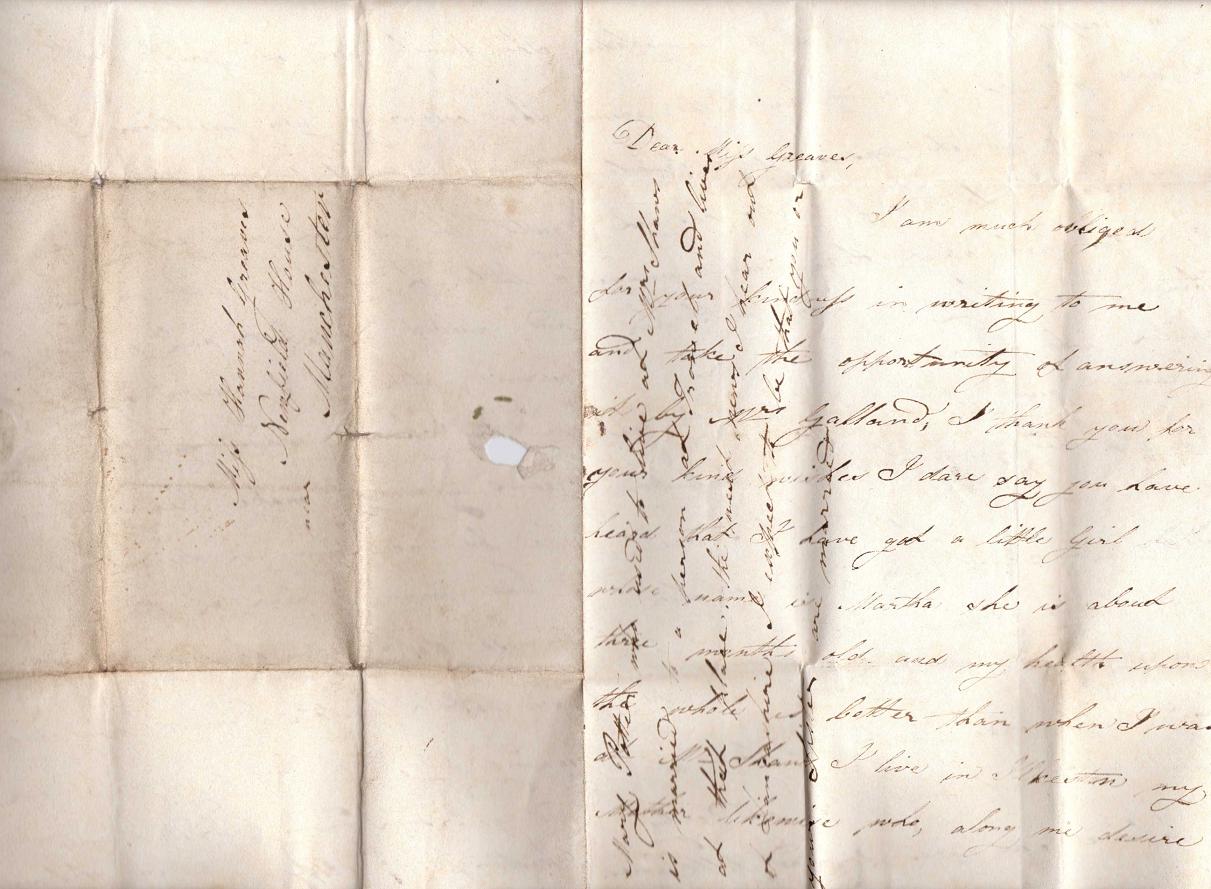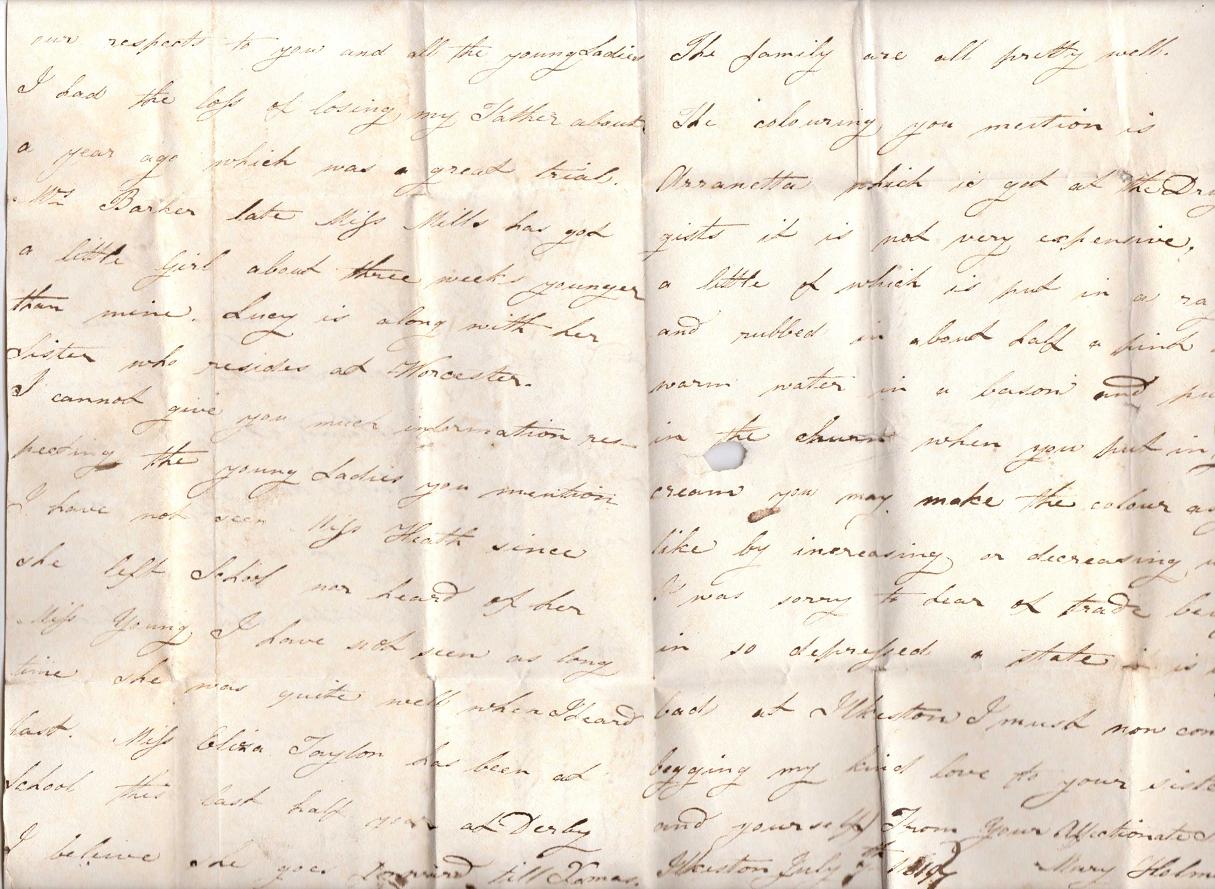 Letter from John Lister Hightown to Hannah Greaves Nov-30th
Site House Hightown Nov 30th
My Dear Hannah,
I feel myself deeply possessed
of love towards you, and I hope & trust that
providence has or will breed something of
the sort in you, for I must confess that
providence has begun my love towards you
for there is neither night nor day escaped
without my meditation on your charming
countenance since the first time
of my being in your company and
most particularly since our going together
to White Chapel to hear Mr Wanter for the
text he had was Choose this Day whom
you will serve and I applied it in a temporal
sort of way and fixed my love more firmly
on you and I hope it will remain till
my life's end.
My Dear Hannah I should like you to give me
a few lines to say how you are in health
and whether you will accept of me for your love
or not, if you do not write I shall consider you
do accept of me, and I shall be coming over
some time this Christmas.
I am if accepted
Your true lover
John Lister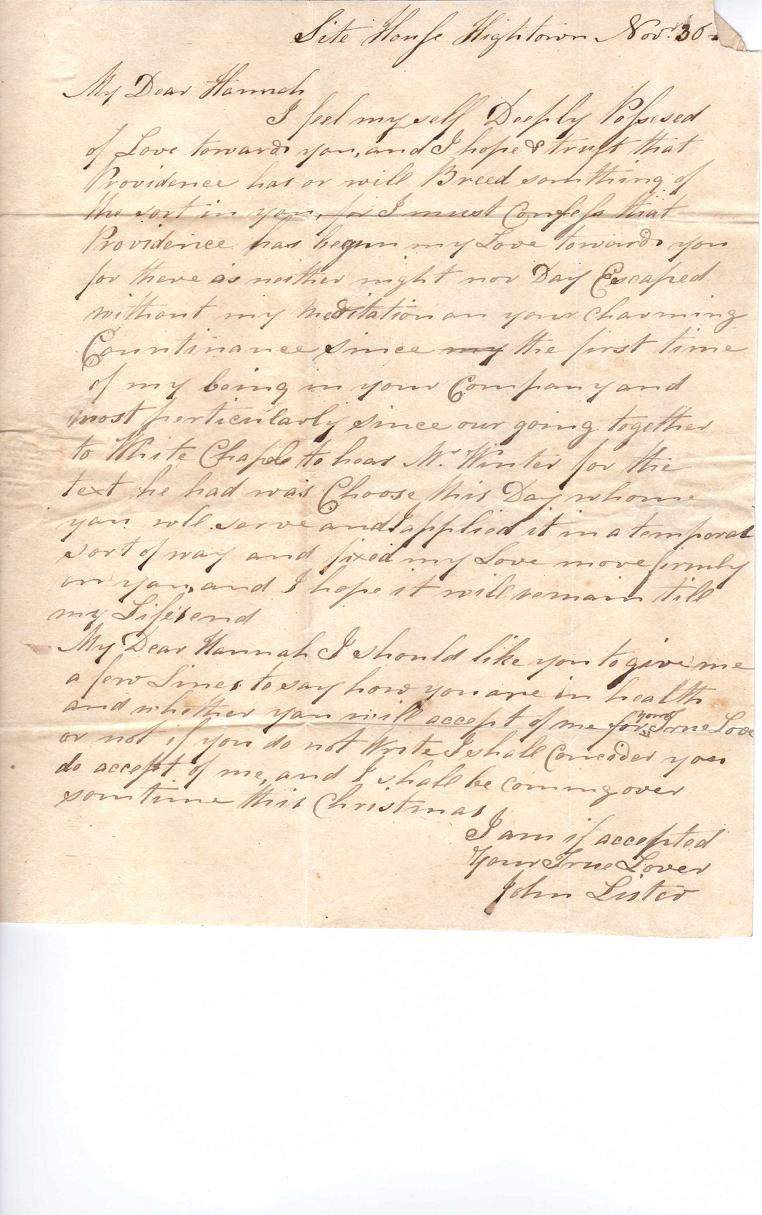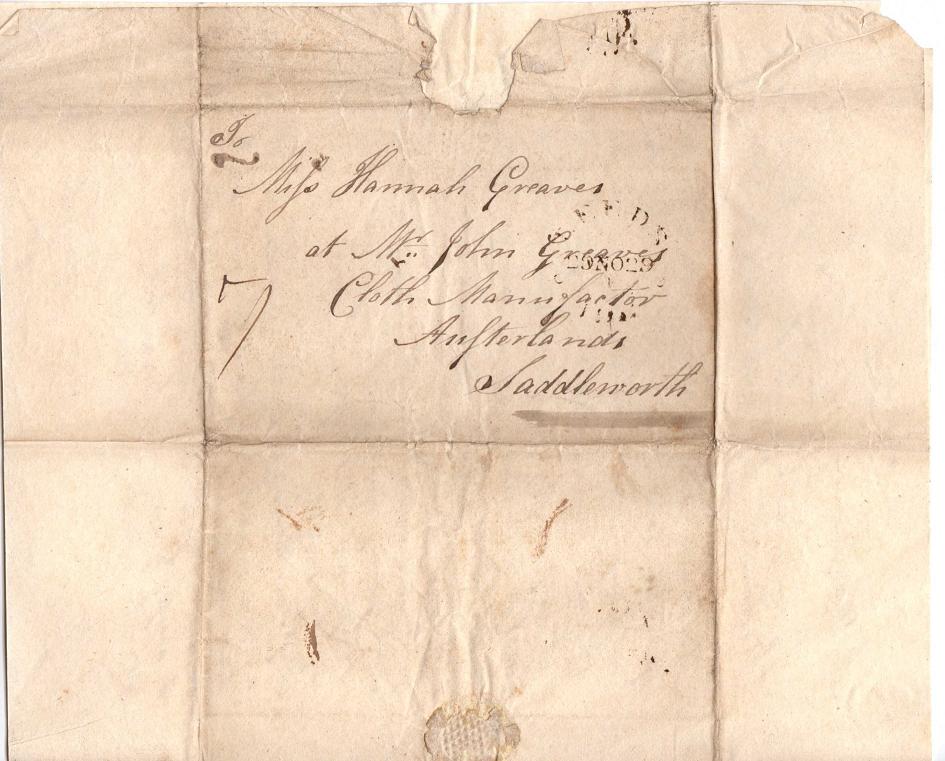 Letter from John Hall, Redivals, Bury to Hannah Greaves, Saddleworth 3-Jan-1824
Redivals nr Bury Jan 3rd 1824
Dear Hannah,
Ever since I have had the
opportunity of knowing you, I have been in love with
you, and I have no doubt you must have perceived
my passion was sincere. Indeed, Hannah, I am
continually thinking about you, and I find it impossible to
express how dearly I love you. I have often designed to
do so, but was always afraid to open my mind when an
opportunity presented itself. However, I have now done
so, and I hope you will not be cruel to me, as I am
sure I could never live to see you in the arms of another.
You are intimately acquainted with my circumstances and
disposition. To this I can only add that my happiness
or misery through life depends altogether on the reply
you make to this offer. I shall employ no compliments,
neither shall I insult your good sense by idle promises;
but should you accept me as your protector through
life, all my anxiety will be to promote your
happiness, and at the same time to retain possession of your
heart for which I shall be amply prepared in seeing that
you are gratified with my conduct. On the contrary, should
you reject my offer, I shall never again enjoy true peace of
mind; yet I trust, even in this case, that you will be
happy with the man whom you may bless with your hand,
and that you will honour with your friendship: Oh!
that you may resolve to grant me that happiness for life.
Expecting your answer, I am, dear Hannah,
Your truly affectionate lover,
John Hall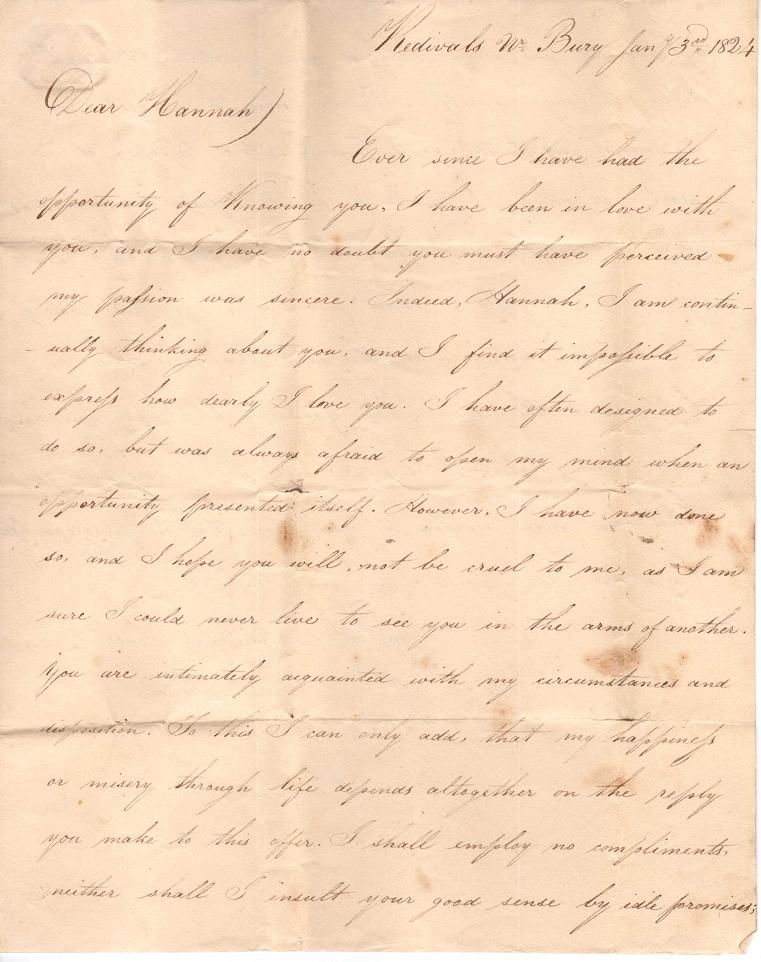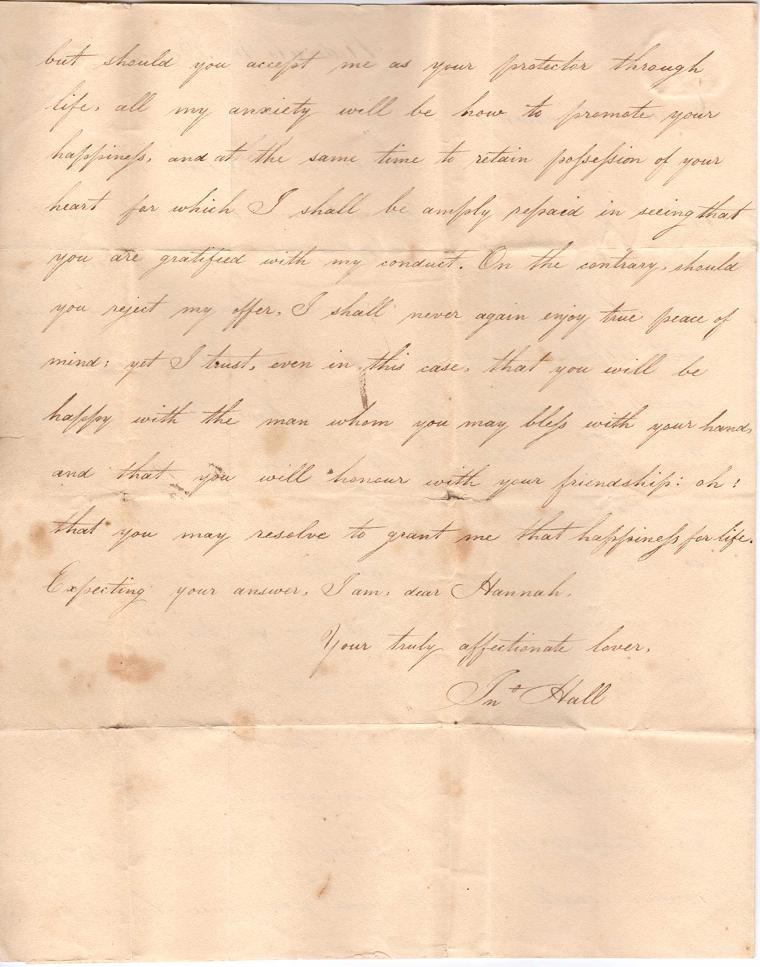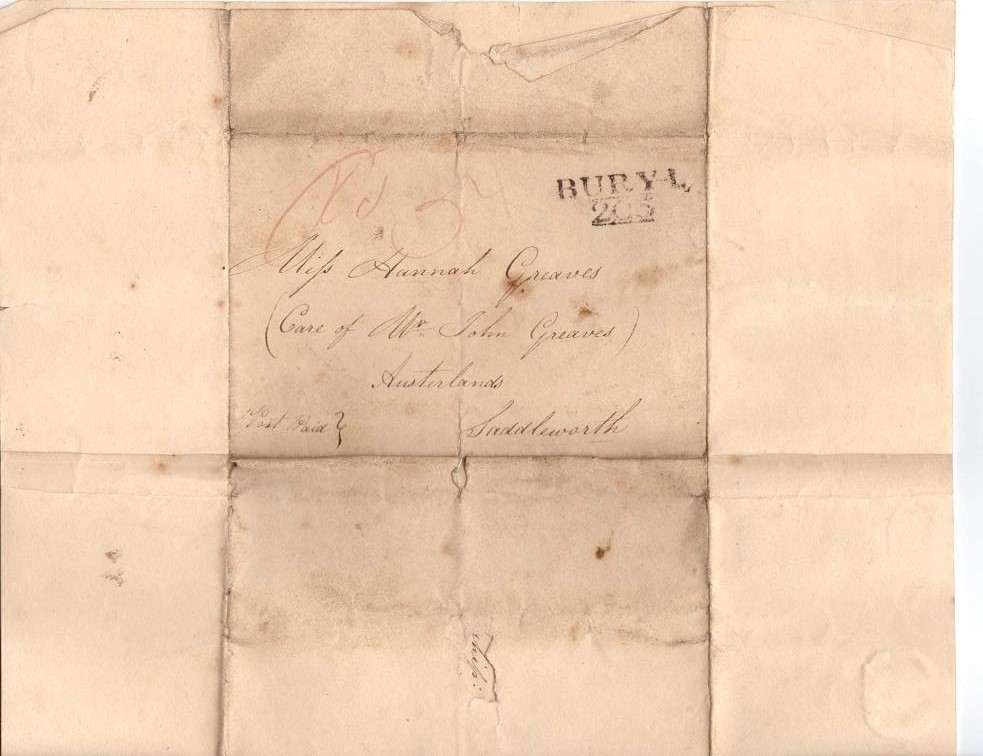 Letter from John Hall, Redivals, Bury to Hannah Greaves, Austerlands, Saddleworth 8-Mar-1824
Redivals March 8th 1824
Dear Hannah,
In consequence of writing to
you is that you would be surprised at me not
calling at your house when I returned from
Dobcross as it was my intention to do so but
father was afraid of being in the dark as it was
nearly five oclock when we left Dobcross but
I learn that my father will be your way this
week. Dear Hannah I return you my most
grateful thanks for your tender avowal of mutual
love: with life only shall its remembrance cease,
but actions not words must testify my gratitude.
The love I possess for you is grounded on the
sure basis of admiration for your worth, consequently
it will survive your beauty blooming with equal
vigour in age as it does in youth. I have now

my Dear Hannah to solicit your permission to
wait upon you when I trust I shall be enabled
to enter into every necessary explanation and to
make such arrangements as may prove agreeable.
Expecting to hear from you by return of post.
I am my beloved Hannah,
Your faithful and affectionate lover
John Hall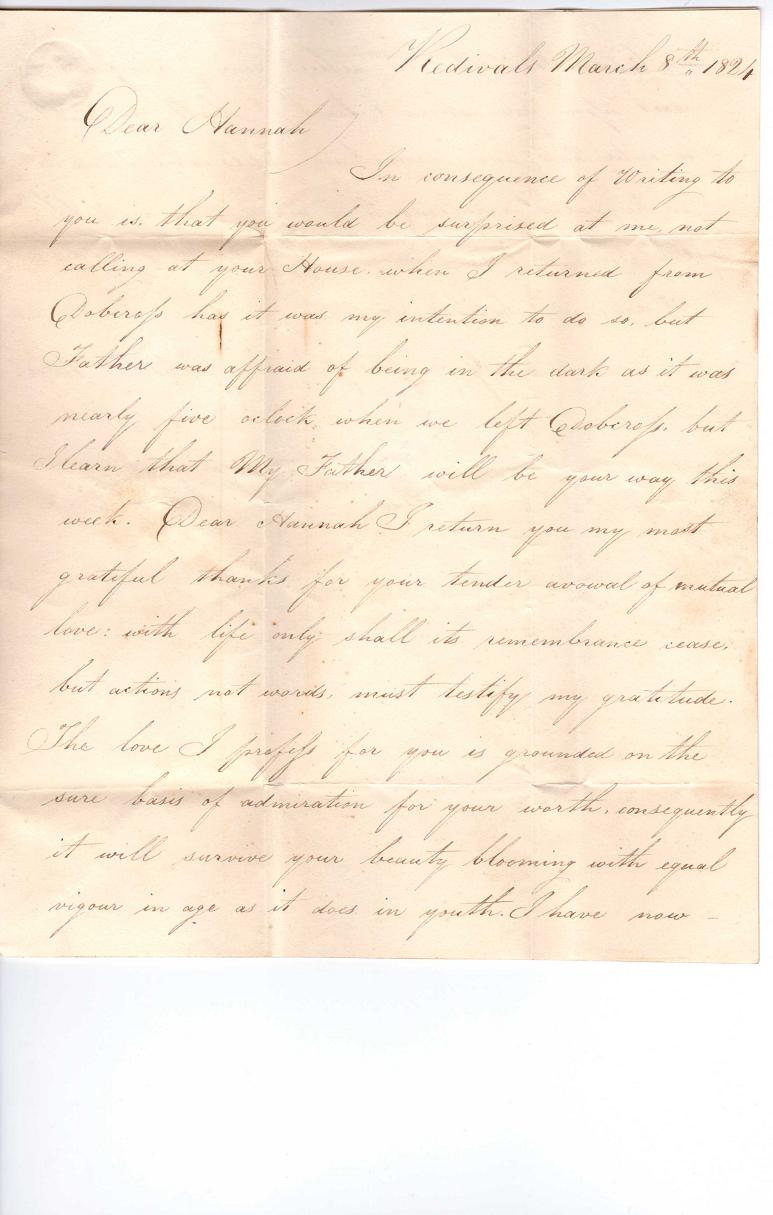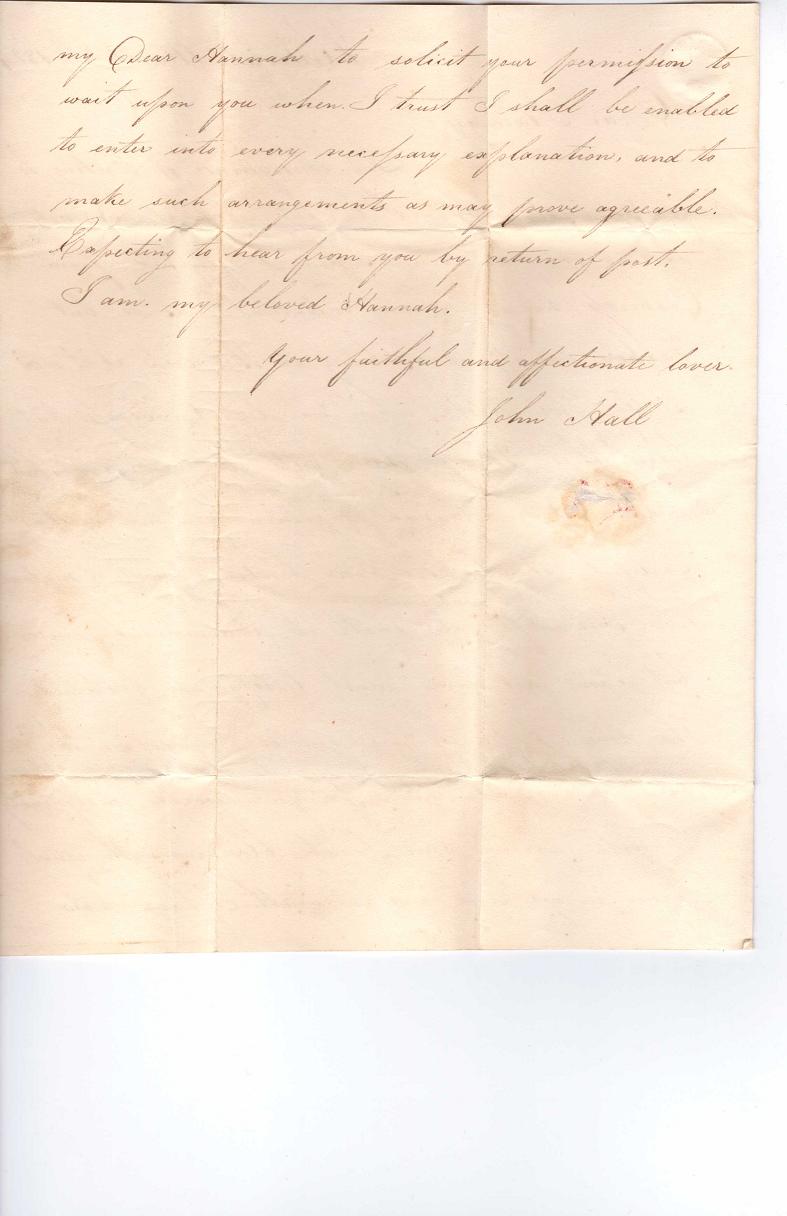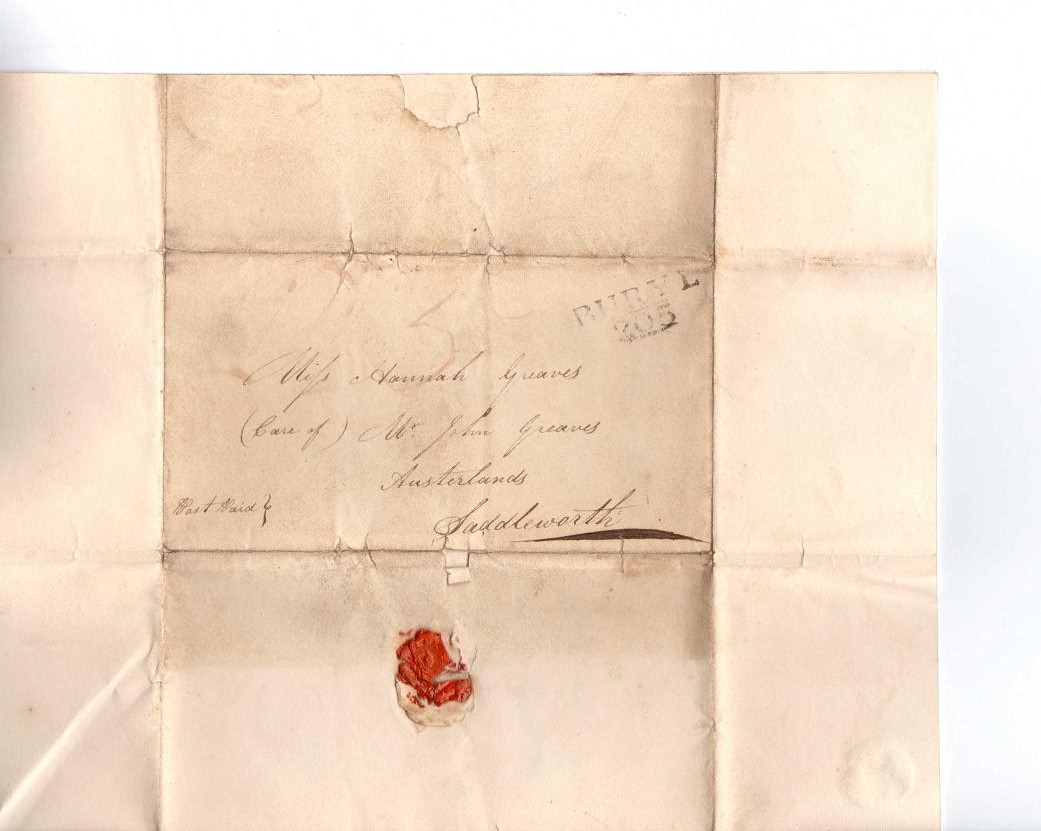 Letter from John Hall, Redivals to Hannah Greaves, Greenacres Moor 7-Apr-1824
Redivals April 7th 1824

My Dear Hannah,
Yours of the 5th instant
duly came to hand and my warmest acknowledgments
are due in when for your kind letter
I am but too happy that is remains in my
power to give you perfect satisfaction.
Indeed Hannah, I hope there is no obstacle
remains to prevent our union. Believe me
my beloved maid, that my happiness is now
so exquisite that it would be in vain to attempt
its expression by words. No, my heart is too
full to be enslaved by the shackles they
would impose. It must therefore remain with
me to prove my conduct through life,
the sense which I entertain of it, dear Hannah.

I have not let my parents know anything
about the subject but in a short time, I
will inform them of it by some way or other,
and on Sunday the 11th instant you may
expect me over at Mr Hoults Swan Inn
from 11 to 12 oclock and may you never my
beloved regret the confidence you thus repose in
me, nor repent the hour which allowed your
affectionate lover to avow himself the most
happy of his sex in being your husband.
I am my beloved
Yours, every yours,
John Hall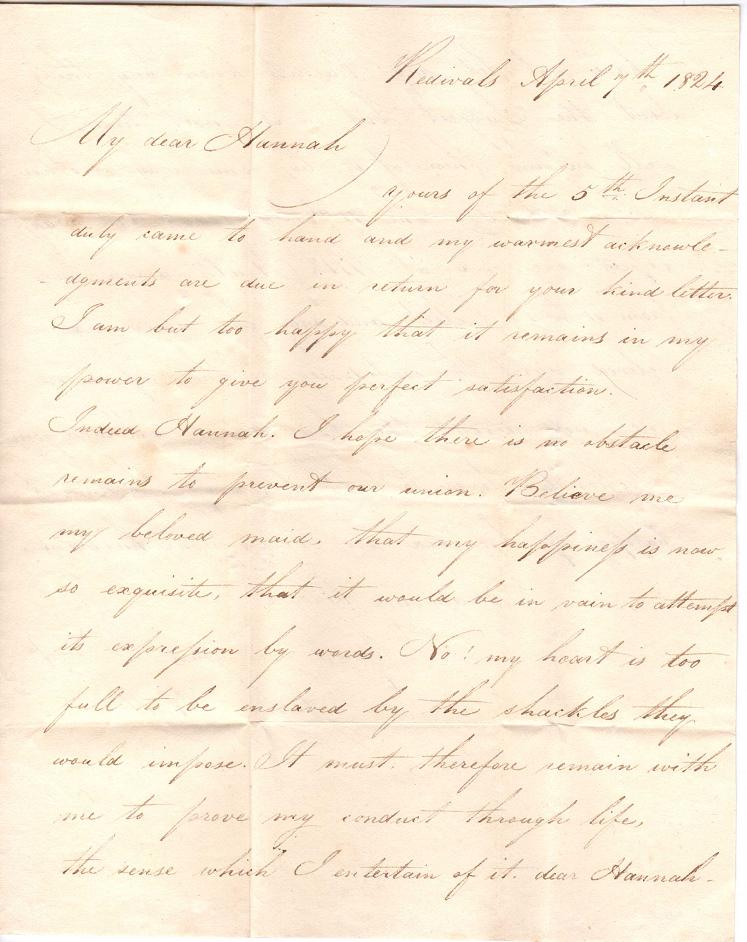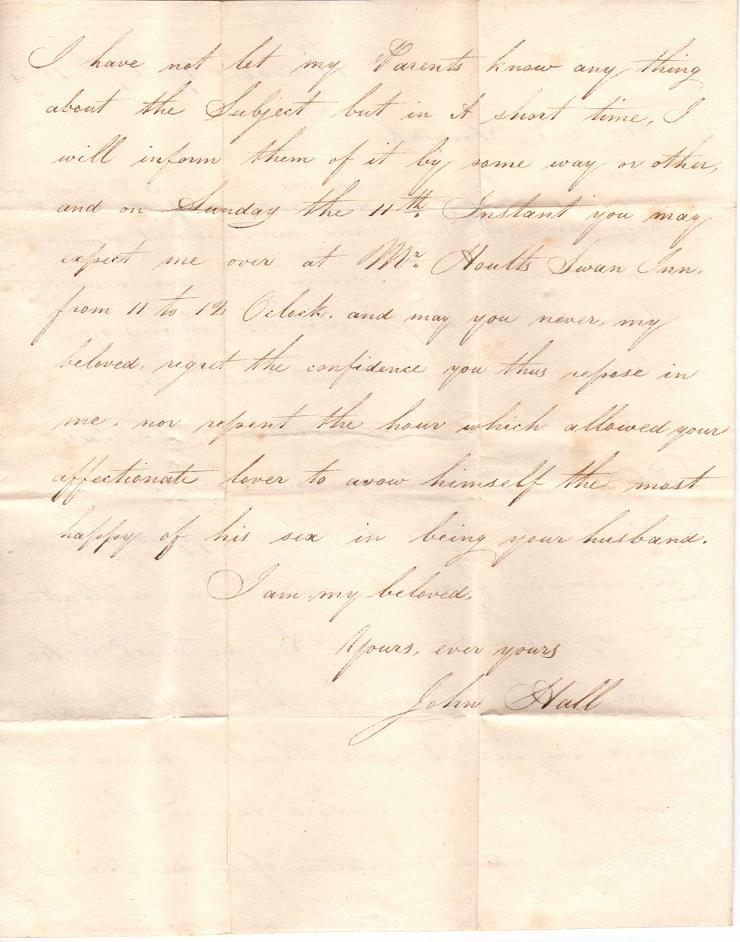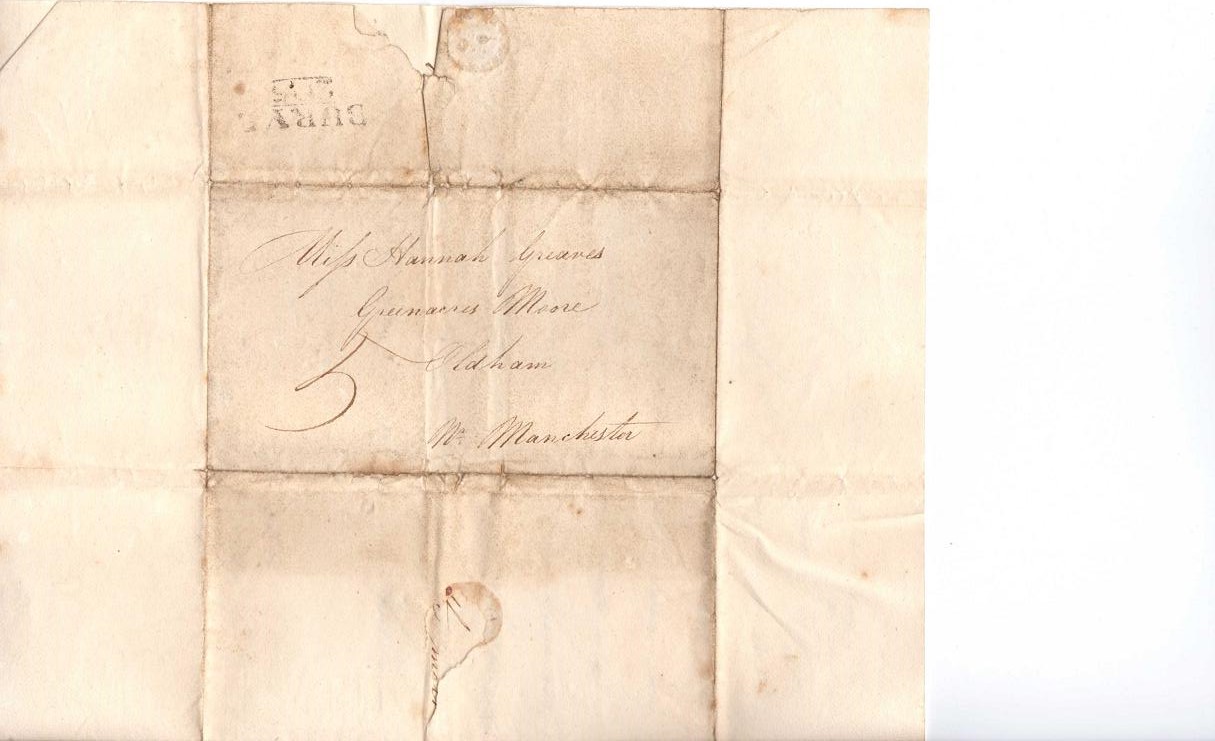 Letter from John Hall, Redivals to Hannah Greaves, Greenacres Moor 17-May-1824
Redivals May 17th 1824

My Dear Hannah,
Your charming letter
has removed a weighty load from my
heart and I may now calculate upon
the speedy enjoyment of every possible
happiness. Be assured I am truly sensible
of my great obligation to you, and that I
shall never forget them, but endeavour by
every method in my power to repay some
part of them.
After your affectionate invitation, you must
not expect that i shall delay my promise
you may therefore expect me on Sunday 23rd
instant, when I shall have the happiness
of passing a few hours with you, but hope
to pass months and years with you instead
of hours before long, and we will my dear arrange
things for our mutual happiness when
I come over. I am dear Hannah
Yours, every yours,
John Hall
FORGET ME NOT
I CANNOT FORGET YOU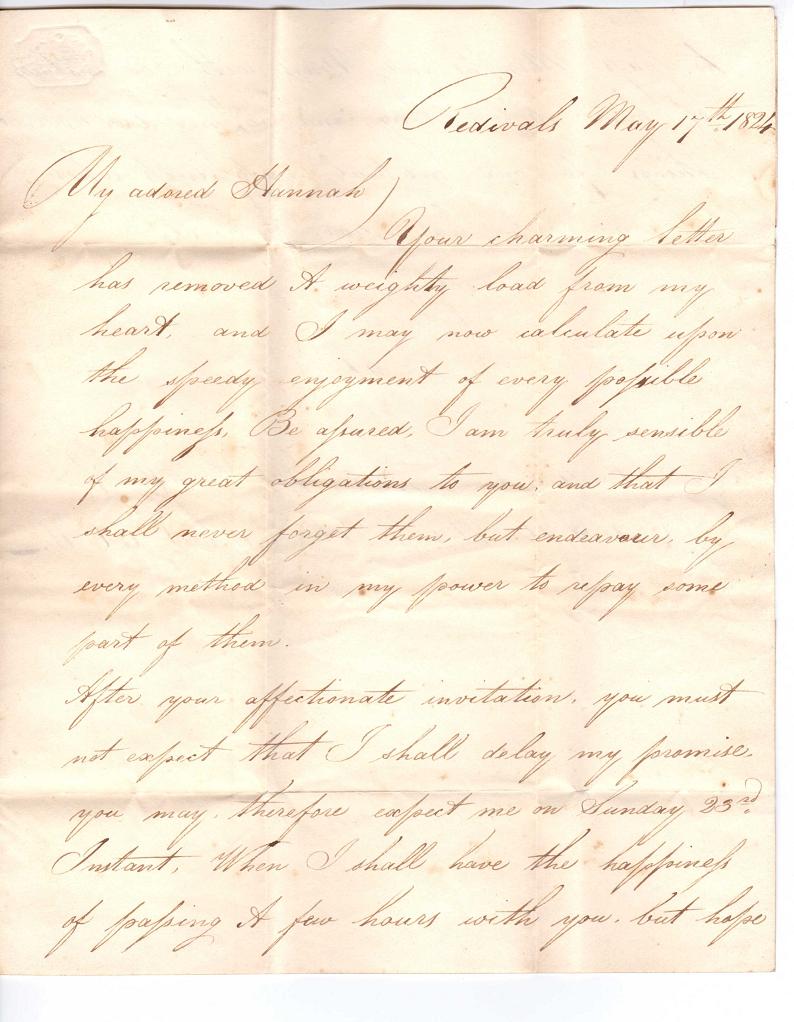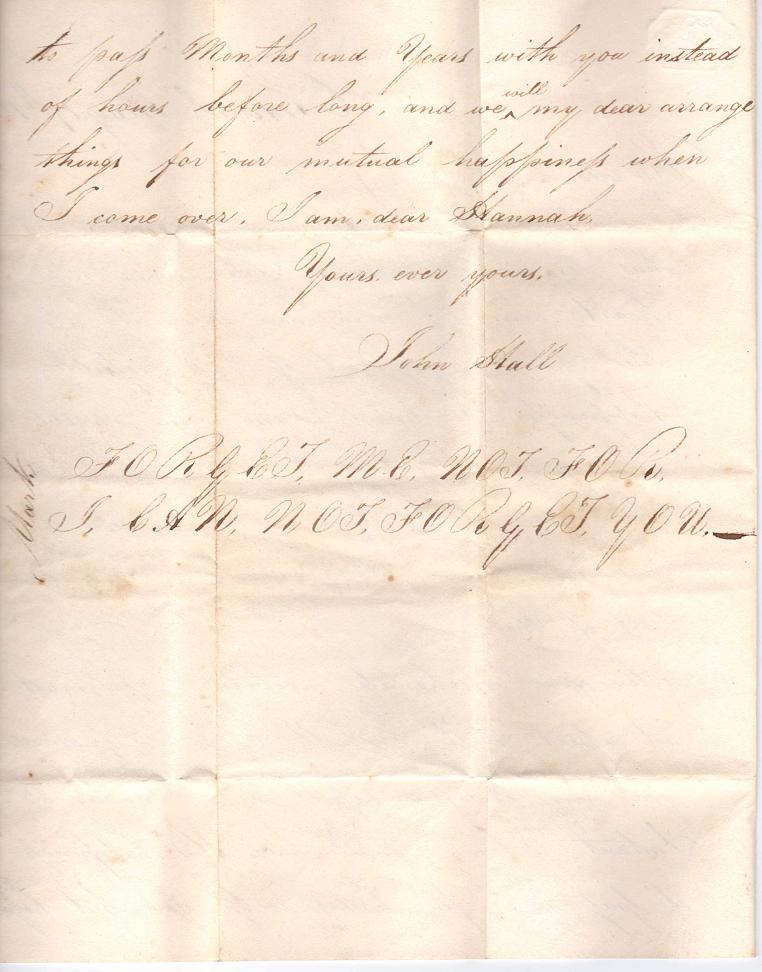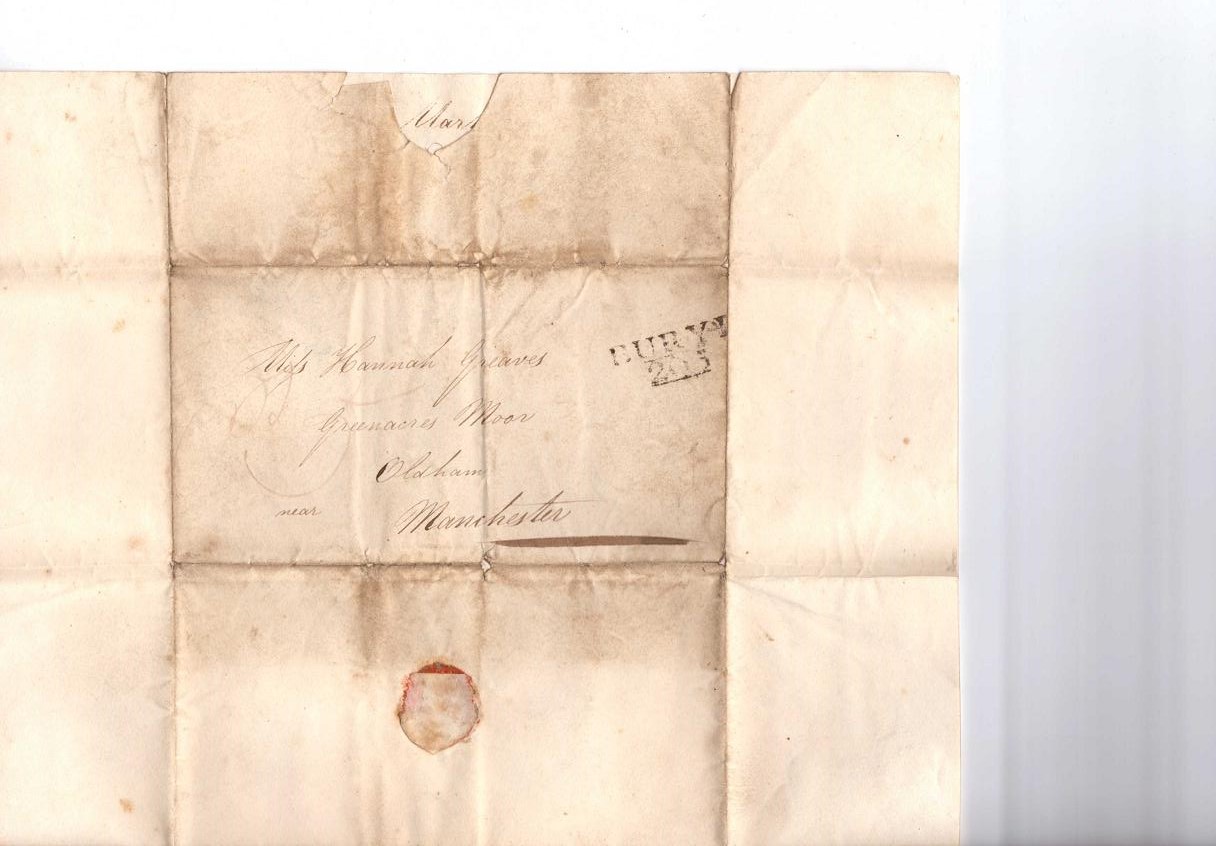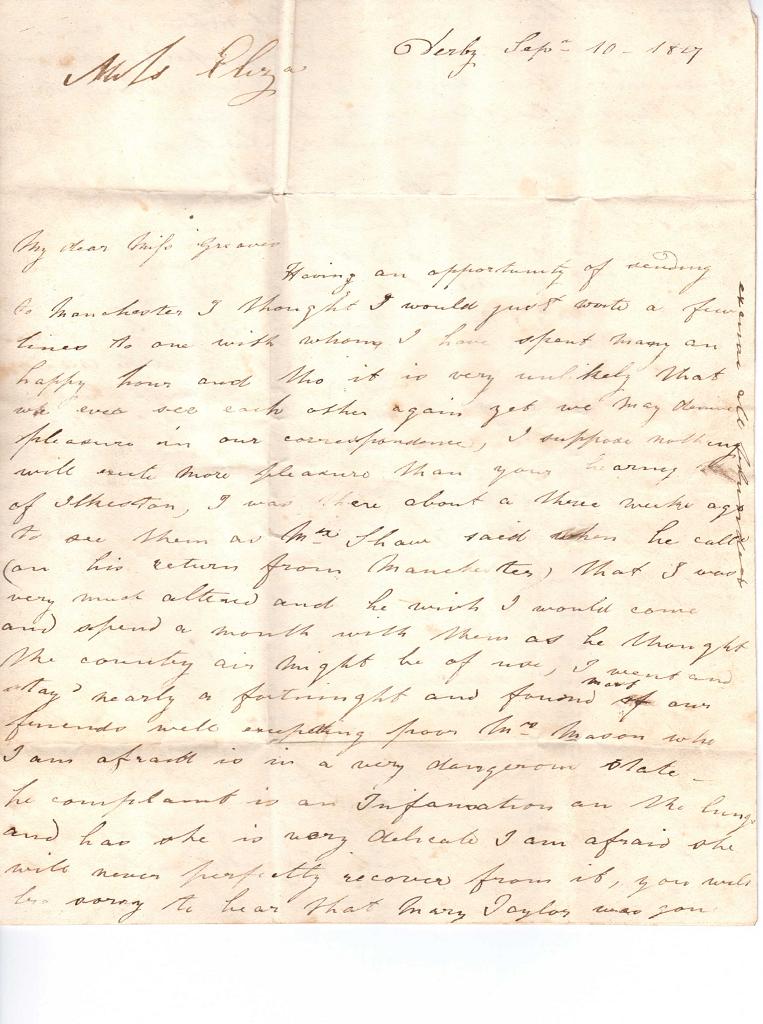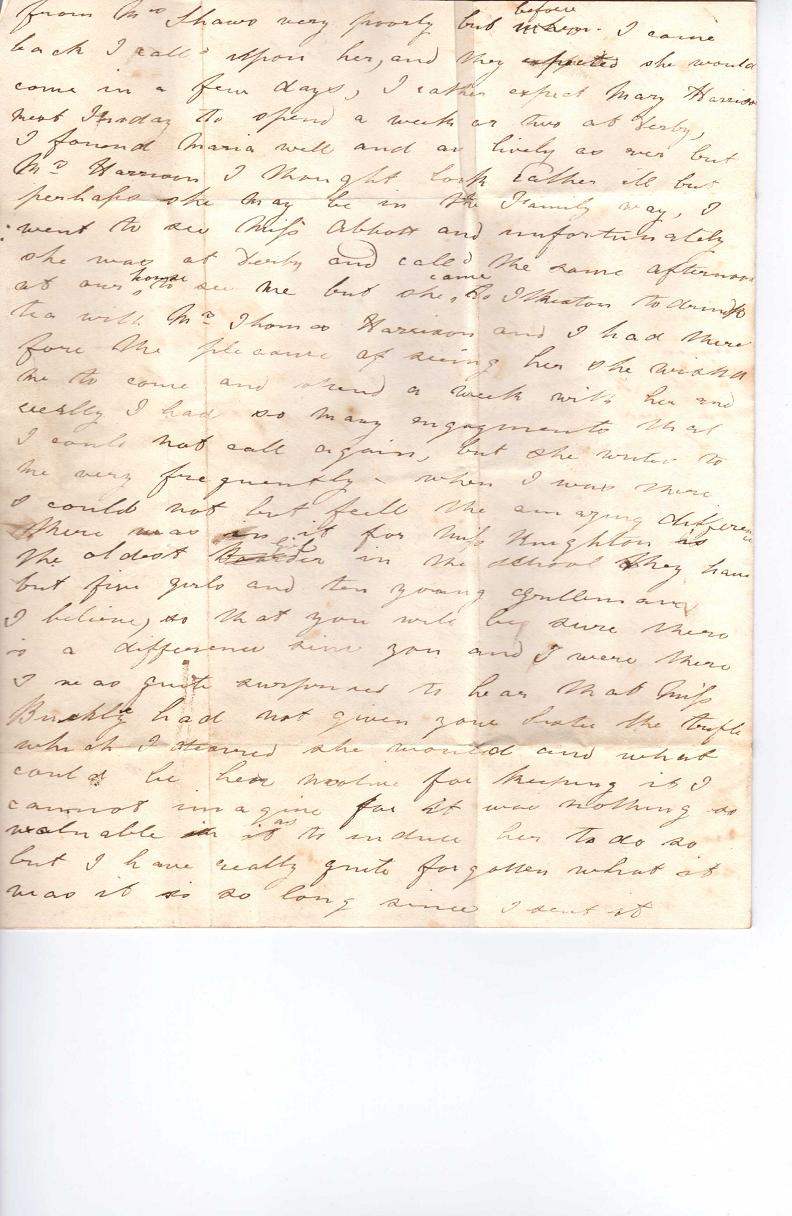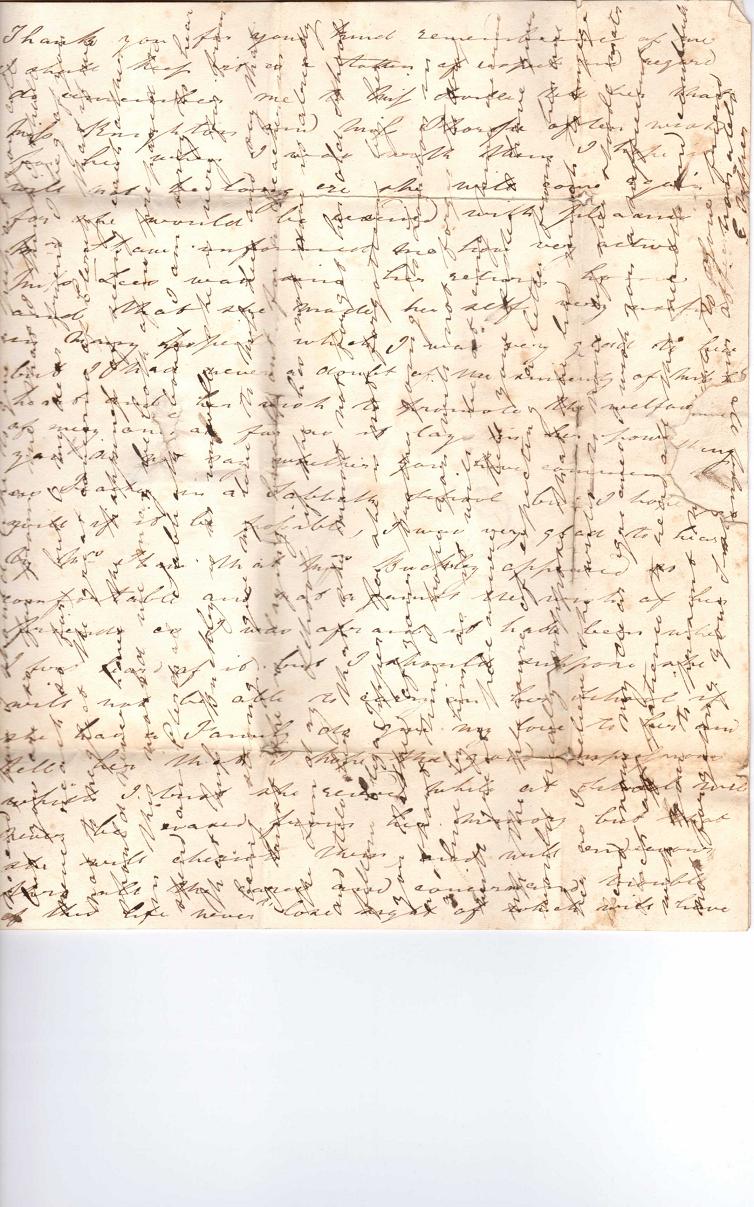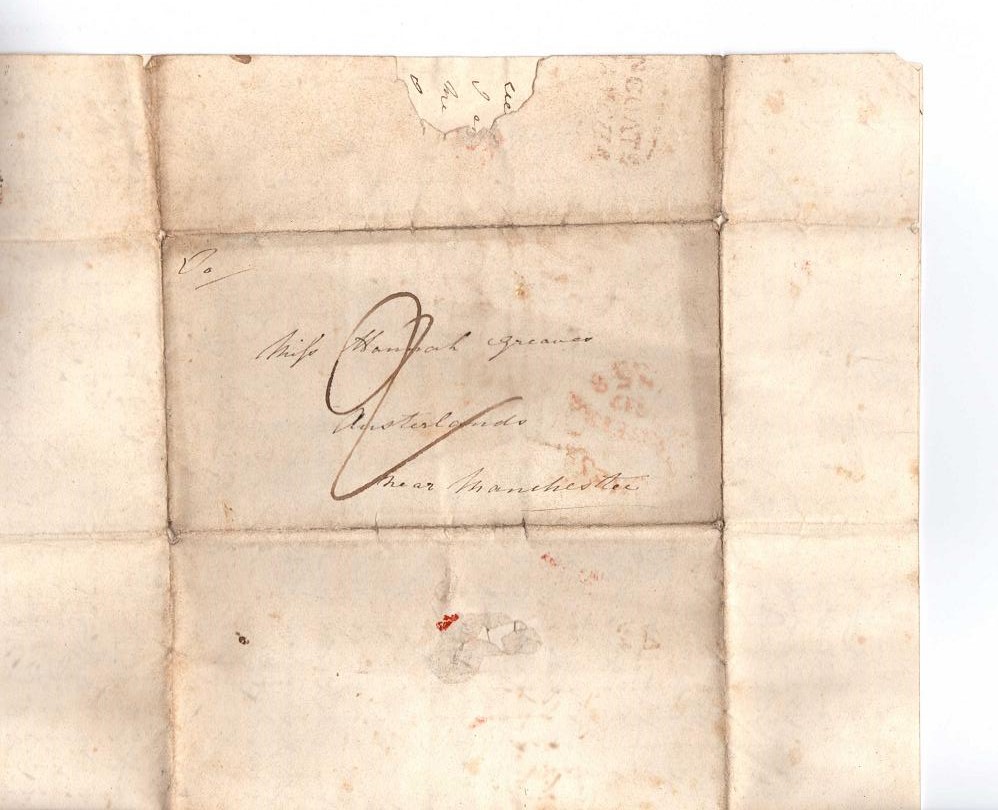 Letter from John Hall Mary Ann Hall, Redivals to Hannah Greaves, Greenacres Moor 22-Jun-1824
Redivals June 22nd 1824

Ever Dear Hannah,
Everything therefore determined,
I shall come over on Sunday next and on Monday shall
seal our eternal union, yes my angel then will our mutual
happiness be decided. My mother has informed my father
about it, and she said that he had no objections of
you coming to his house, and said it would be the best
not to have many only what was sufficient, and I think
you may invite your brothers, Robert, James, Mrs James
and Miss Haigh if you think proper as I think it is
useless having so many as we can invite all our friends
in a short time after, and you must give my best
respects to sister Haigh and to excuse us not inviting
her as we could not think of doing so without inviting all,
but I will leave it to you, and I think the best way
for you to come to Prestwich is the way we thought of and
me and my sisters to meet you there but however I shall
come over according to promise then we can arrange things

as we think proper, we shall be very busy this week
or I would have come over before Sunday, you must be
sure to write by return of post and inform me which
way you think is best. My sister Mary will write a
few lines to you on the other side.
I am dear Hannah,
Yours, ever yours,
John Hall
*

My dear intended sister,
I wish to know whether you intend
being dressed in white or coloured. I can dress for either;
My brother and sister with myself intend meeting
you at Prestwich Church on Monday the 28th instant.
If Miss Haigh be not at home, I shall be glad
to have the honour of being your maid.
Mother, sister, and John wish ever
love to you and believe me yours
affectionately, Mary Ann Hall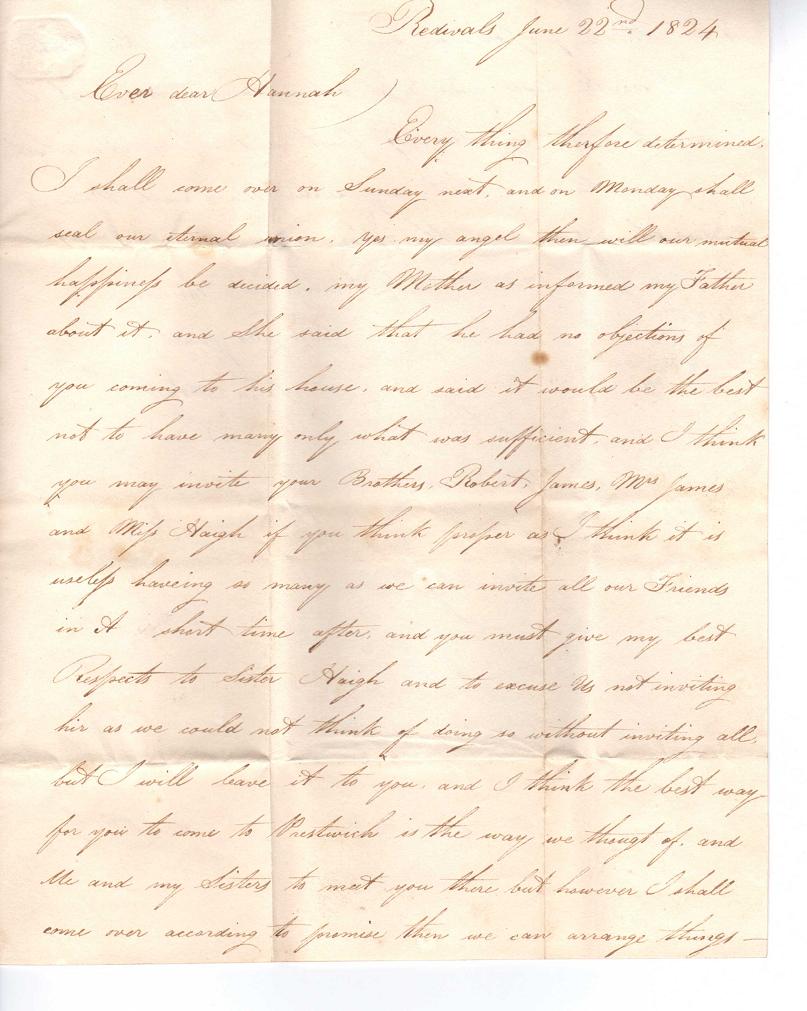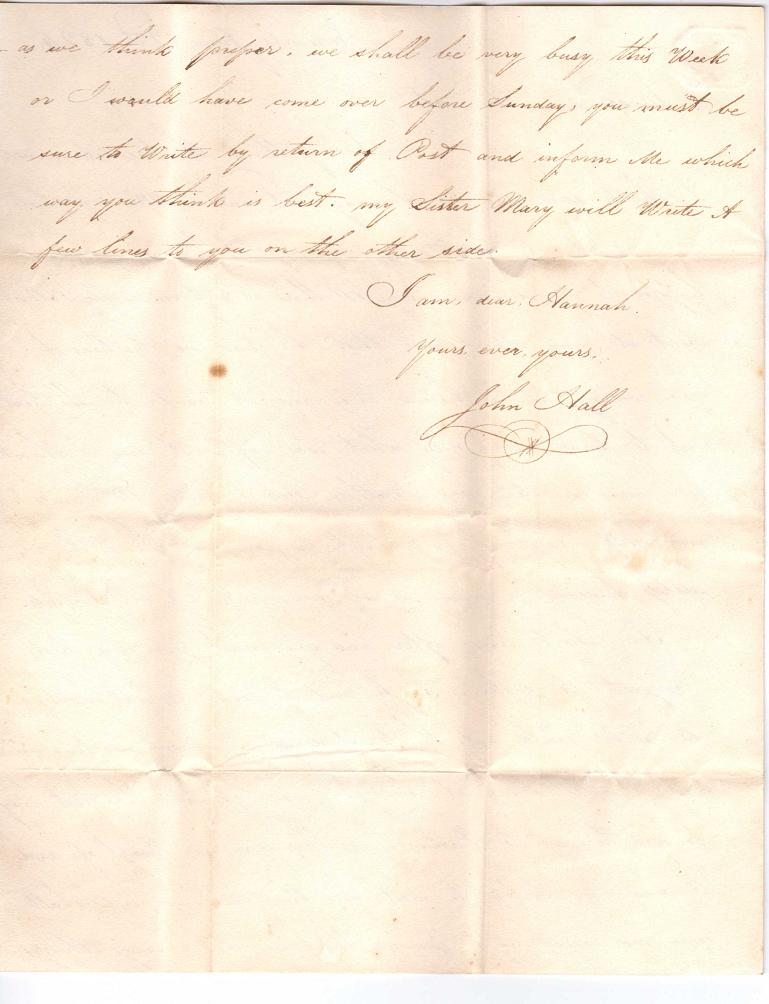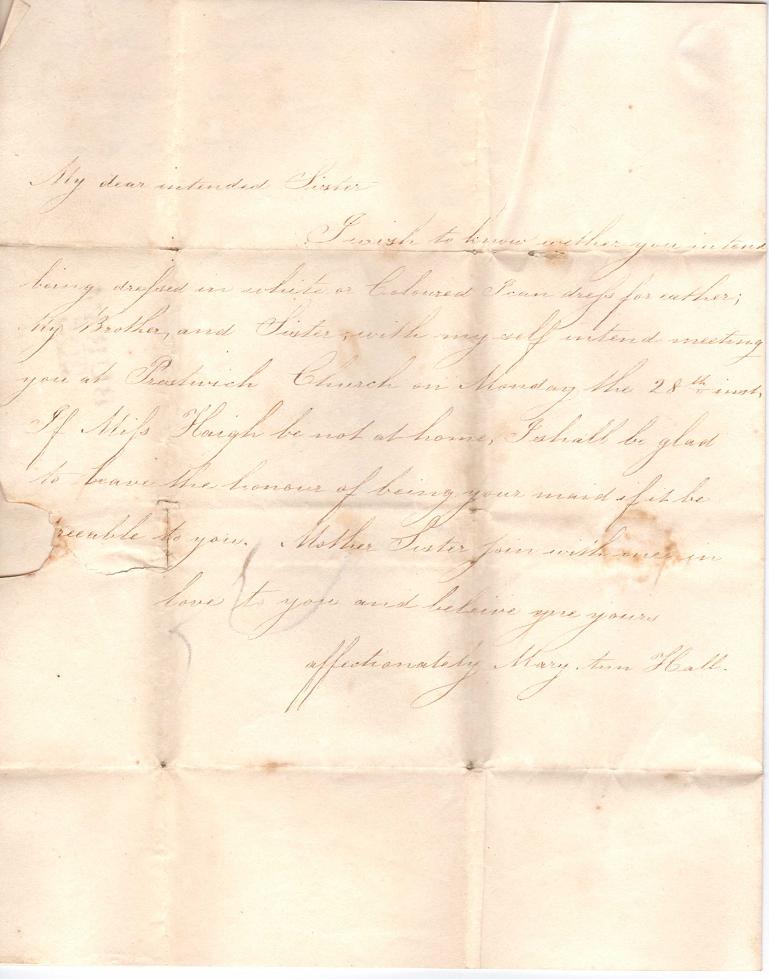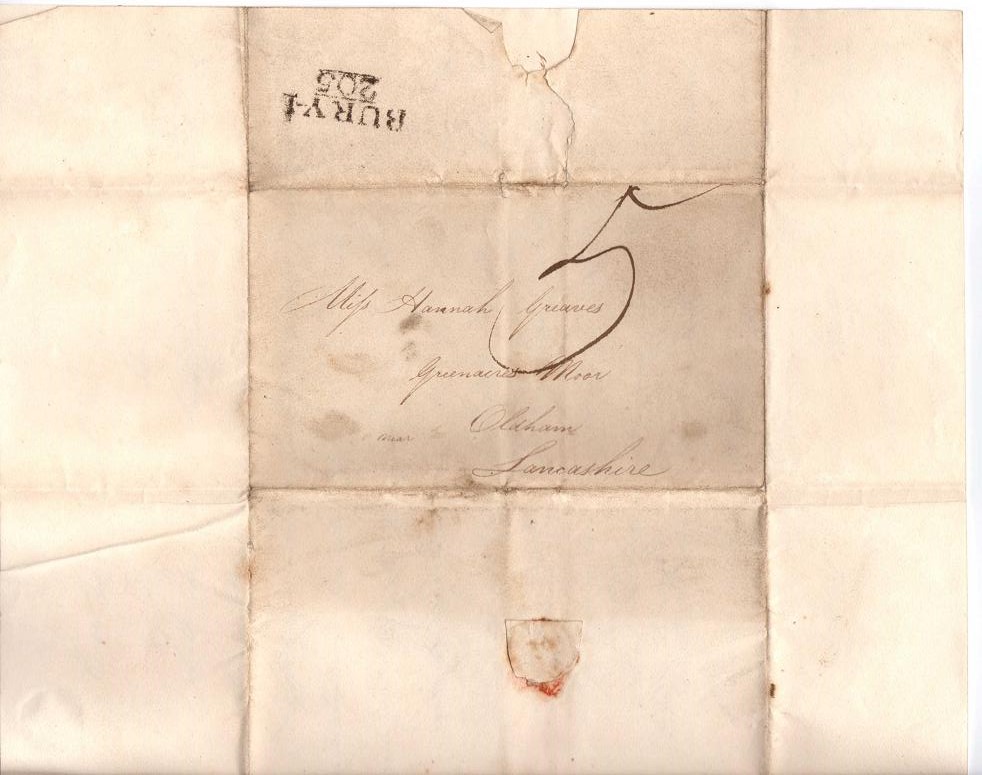 Letter from Miss Eliza Derby to Hannah Greaves Austerlands 10-Sep-1827
Derby Sep 10th 1827

My dear Miss Greaves,
Having an opportunity of sending
to Manchester I thought I would just write a few
lines to one with whom I have spent many an
happy hour and though it is very unlikely that
we will ever see each other again, yet we may desire
pleasure in our correspondence, I suppose nothing
will excite mote pleasure than your _
of Sherston, I was there about three weeks ago
to see them as Mr Shaw said when he called
(on his return from Manchester) that I was
very much altered and he wished I would come
and spend a month with them as he thought
the country air might be of use. I went and
stayed nearly a fortnight and found most of our
friends were well excepting poor Mrs Mason who
I am afraid is in a very dangerous state.
The complaint is an inflammation on the lungs
and is very ahead. I am afraid she
will never perfectly recover from it; you will
be sorry to hear that Mary Taylor was gone

from Mr Shaws very poorly but before I came
back I called upon her, and they expected she would
come in a few days, I rather expect Mary Harrison
next Thursday to spend a week or two at Derby.
I found Maria well and as lively as ever but
Mrs Harrison I thought look rather ill but
perhaps she may be in the family way. I
went to see Miss Abbott and unfortunately
she was at Derby and called same afternoon
as ever happy to se me but she came to Ilkeston to
tea with Mrs Thomas Harrison, and I had therefore
the pleasure of seeing her. She was
to come and spend a week with her and
cruelly I had so many engagements that
I could not call again, but she wrote to
me very frequently. When I was there
I could not but see she was ageing,
there was a for Miss Knighton,
the oldest in the school. They have
but five and ten young gentlemen,
I believe, so that you will be sure there.
I was quite surprised to hear that Miss
Bunby had not given your _ the _
which I stayed she would and what
could be her _ for keeping is I
cannot imagine for it was nothing _
as to endure her to do so
but I have really quite forgotten what it
was, it is so long since I _

I thank you for your kind remembrance of me.
I shall keep ...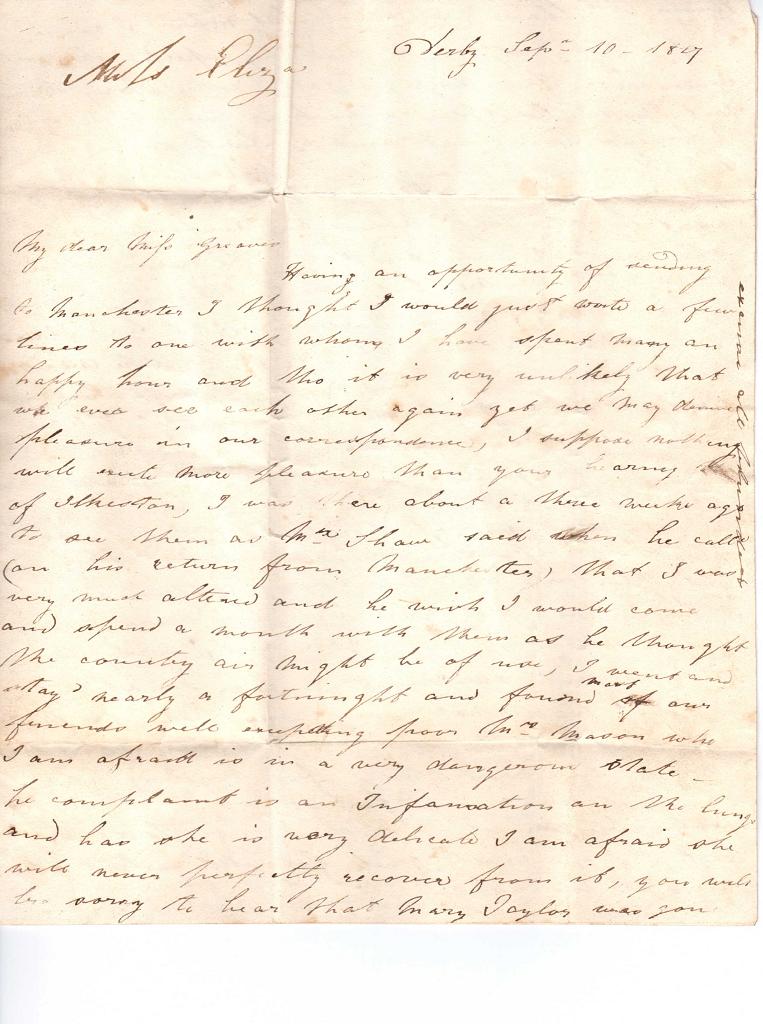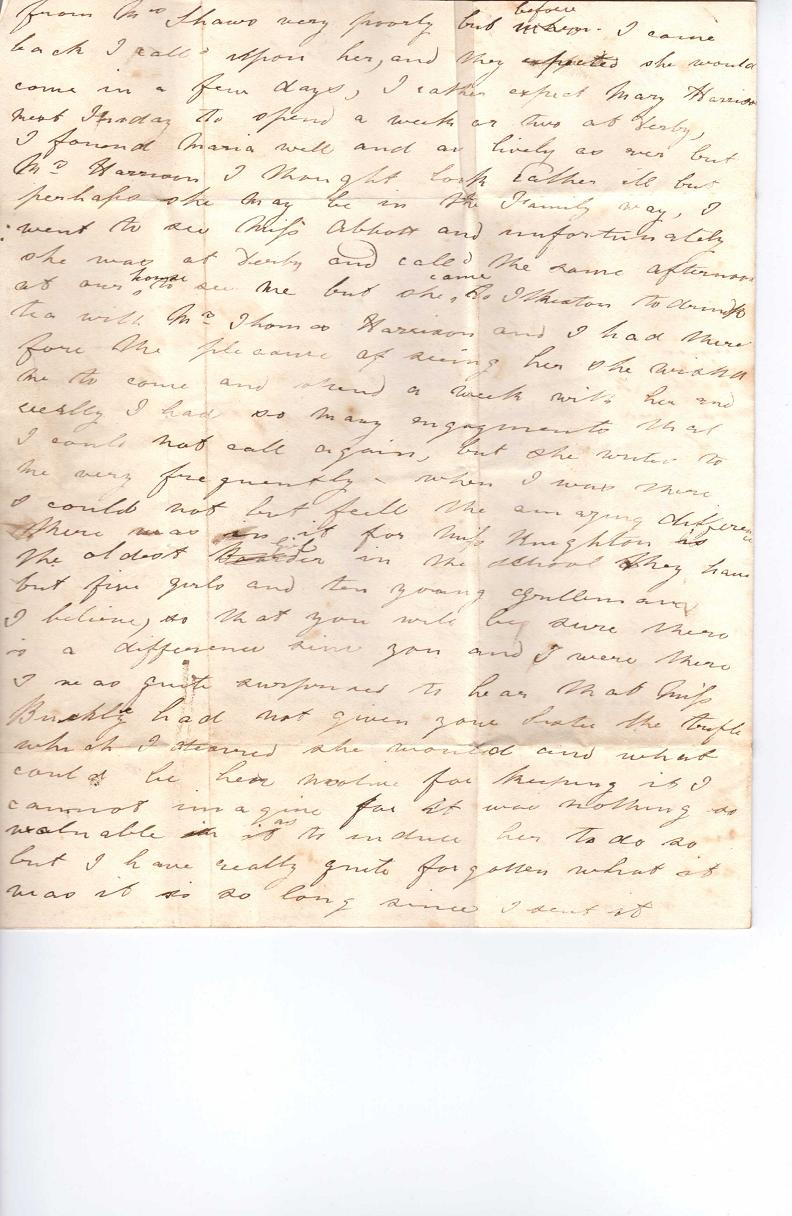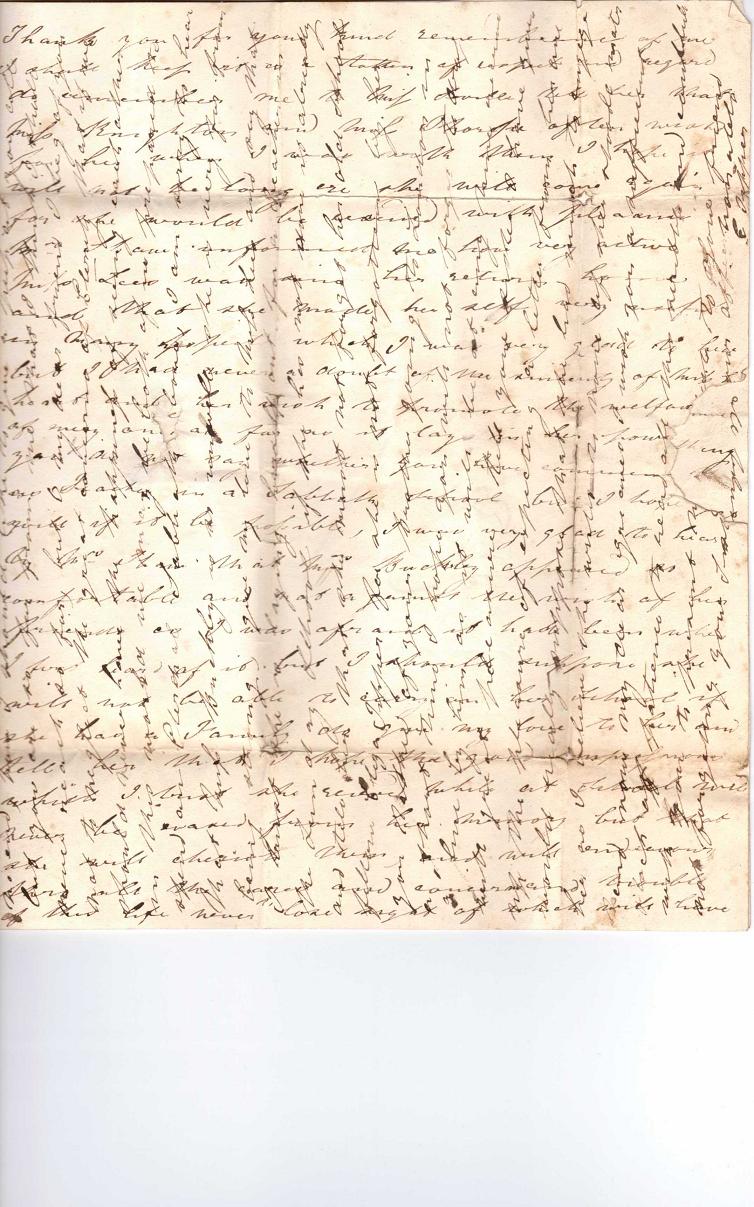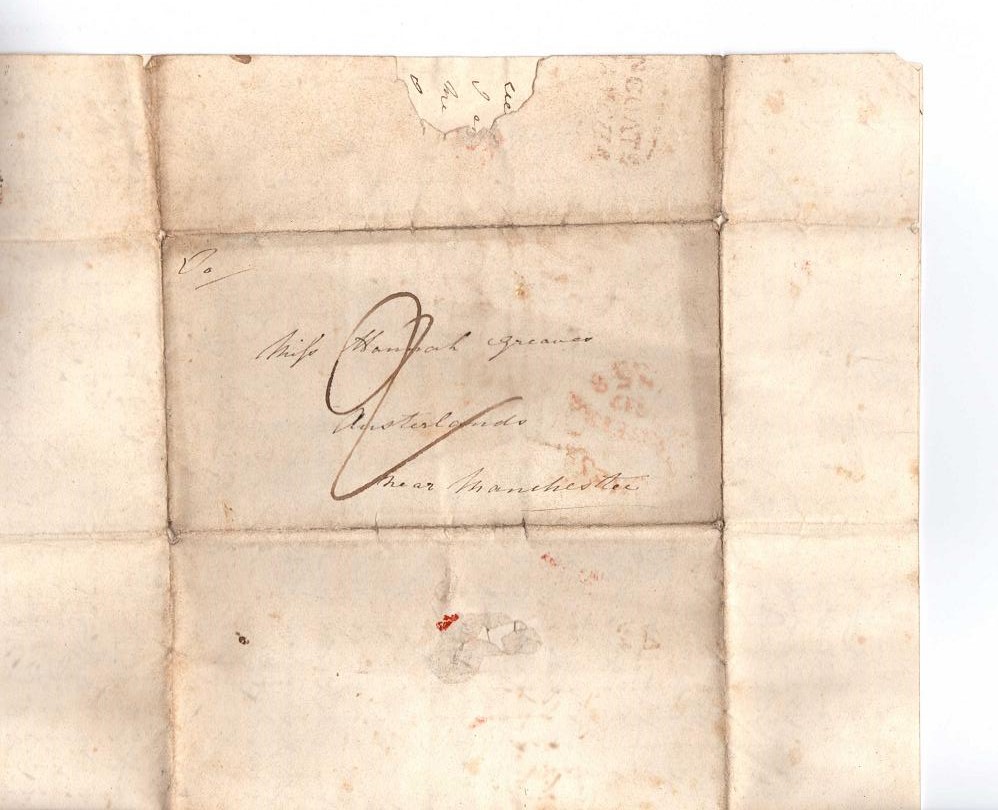 Mrs Hall Prescriptions 27-May-1831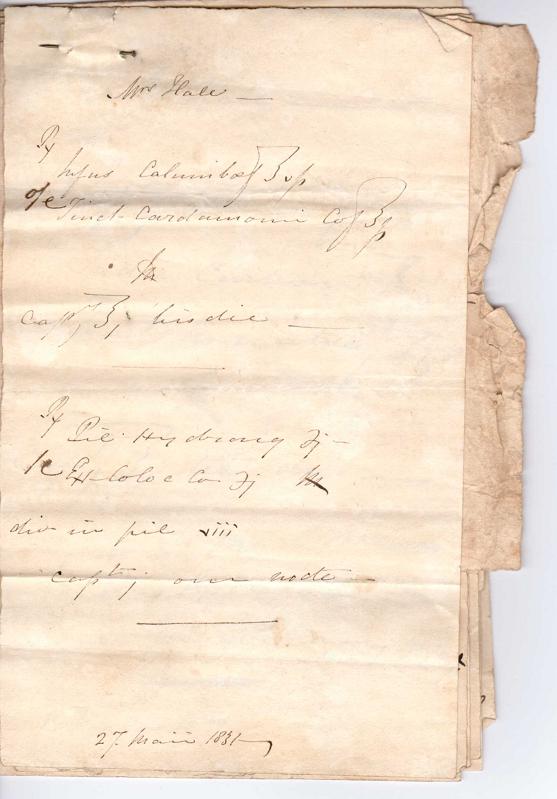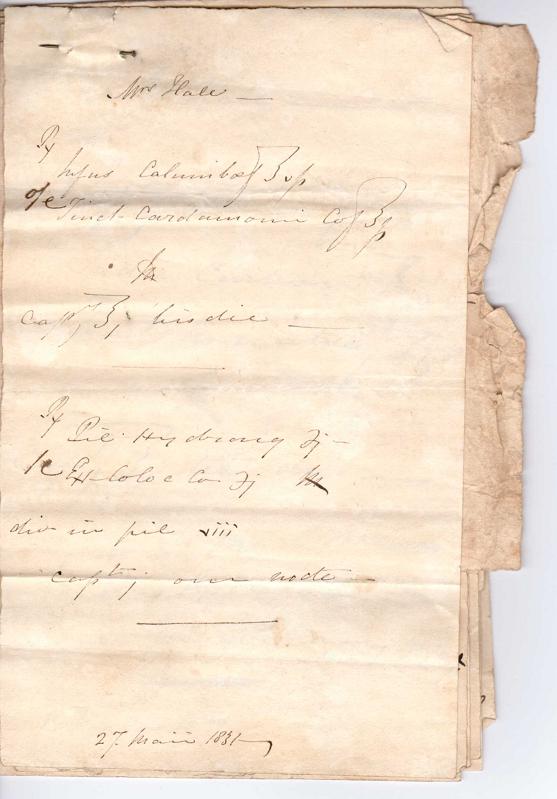 Letter from James Greaves To Mrs Hannah Hall Re Death Drowning of his son Joseph in duck pond 17-Sep-1834
Dirtcar August 17th 1834
Dear Hannah,
I am extremely sorry to
inform you that our dear little Joseph
got out at the yard door between
three to four o'clock yesterday and went
up towards Edwards Hague's and as we
think got through a hole in the gate
and fell into a duck pond and
was drowned. There was two or three out
seeking him when to our great surprise
about 4 o'clock Edward Hague's wife was cleaning the steps
of her French door when she saw his head
floating on top of the water.
We are very much depressed about it

particularly as it has happened while his mother
was from home. I cannot inform you
when the funeral will take place.
You will hear from us again.
I am dear sister yours
James Greaves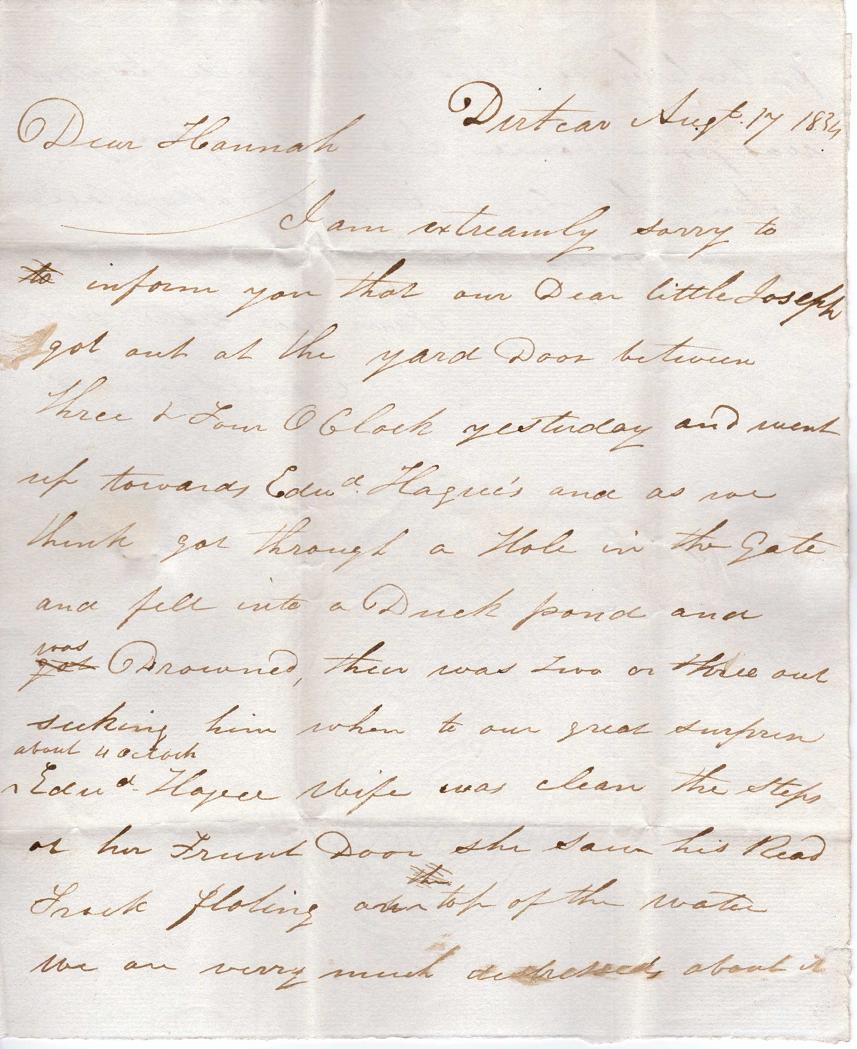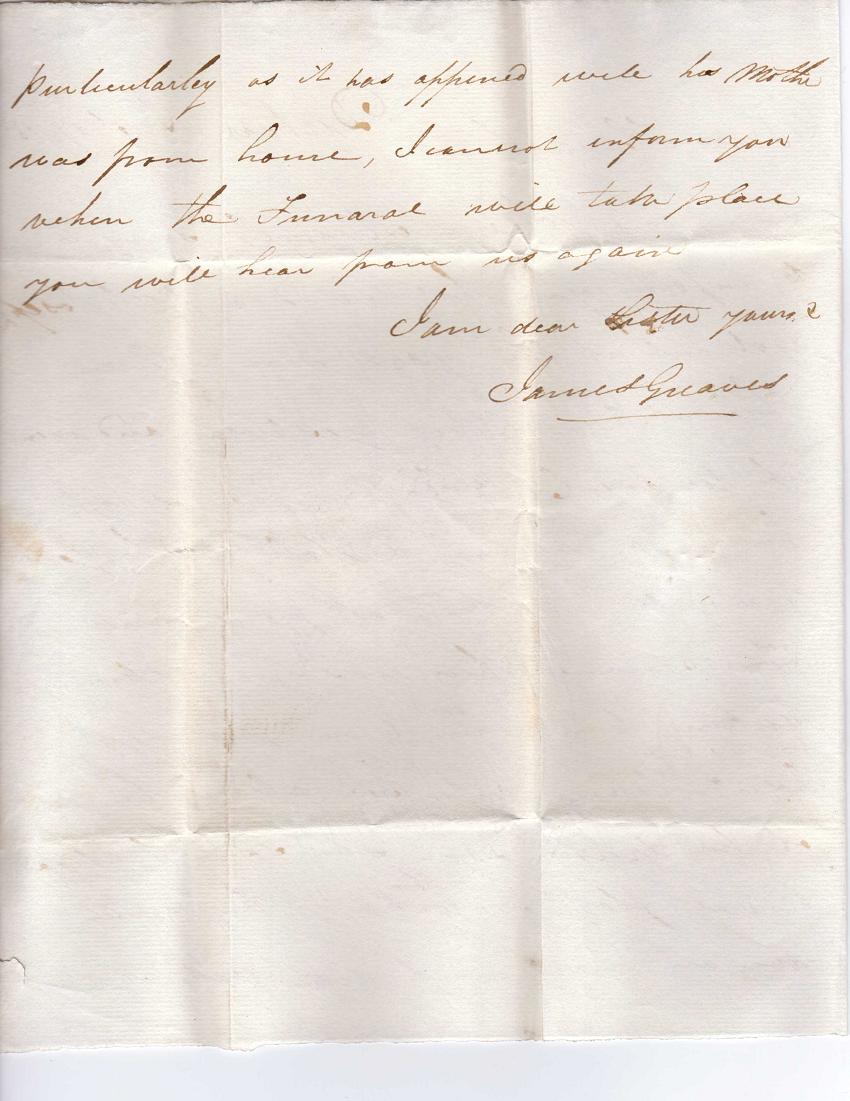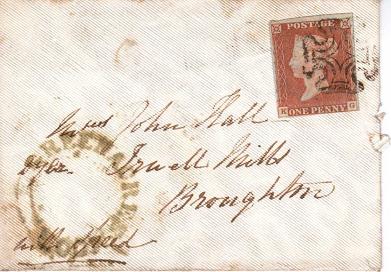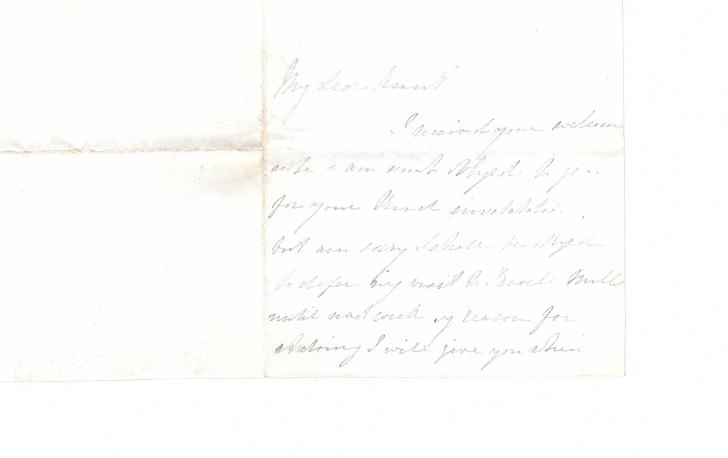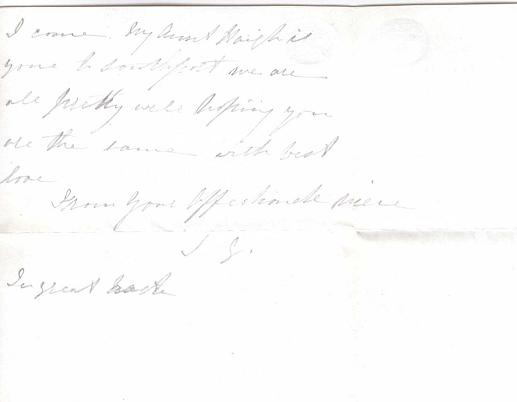 Letter from Sarah Haigh to sister Mrs John Hall 4-May-1840
Hill May 4th 1840
My dear sister,
We received yours and hope you
will be better when you write again.
Mother is rather better and I keep improving
in my health. Mary Ann was taken with
a relapse and being sick on Saturday last it
continued until Monday of course they send
us word and I went on Monday night and
brought her home on Tuesday morning.
She is rather better but very weak.
My mother has shown the writings to brother
he says you must lay down your case
that you have not yet had any thing
off the property and that you have
had poorly health for 2 years and that
John has nothing but a weekly wage from
his father and it is out of your to pay
anything at present. He wishes you to
write a letter, mother asked him where the
writings were, they are at brother John's
name is at the bottom but not yours.
Joh does not get much better, he is
very low. Please do write to us again
before long with best love to you and
family, respects to Mrs & Miss Hall and Mrs
Evans.
I remain yours affectionately
Sarah Haigh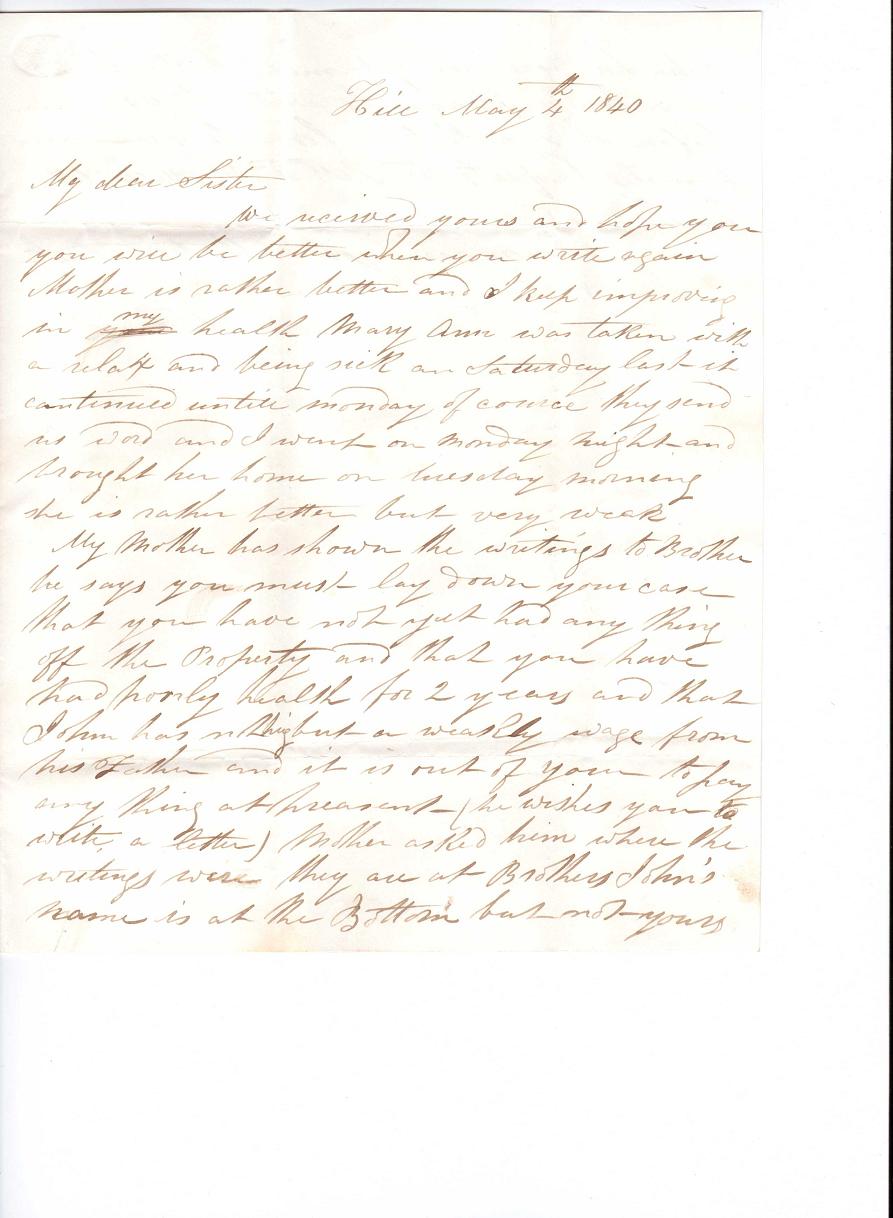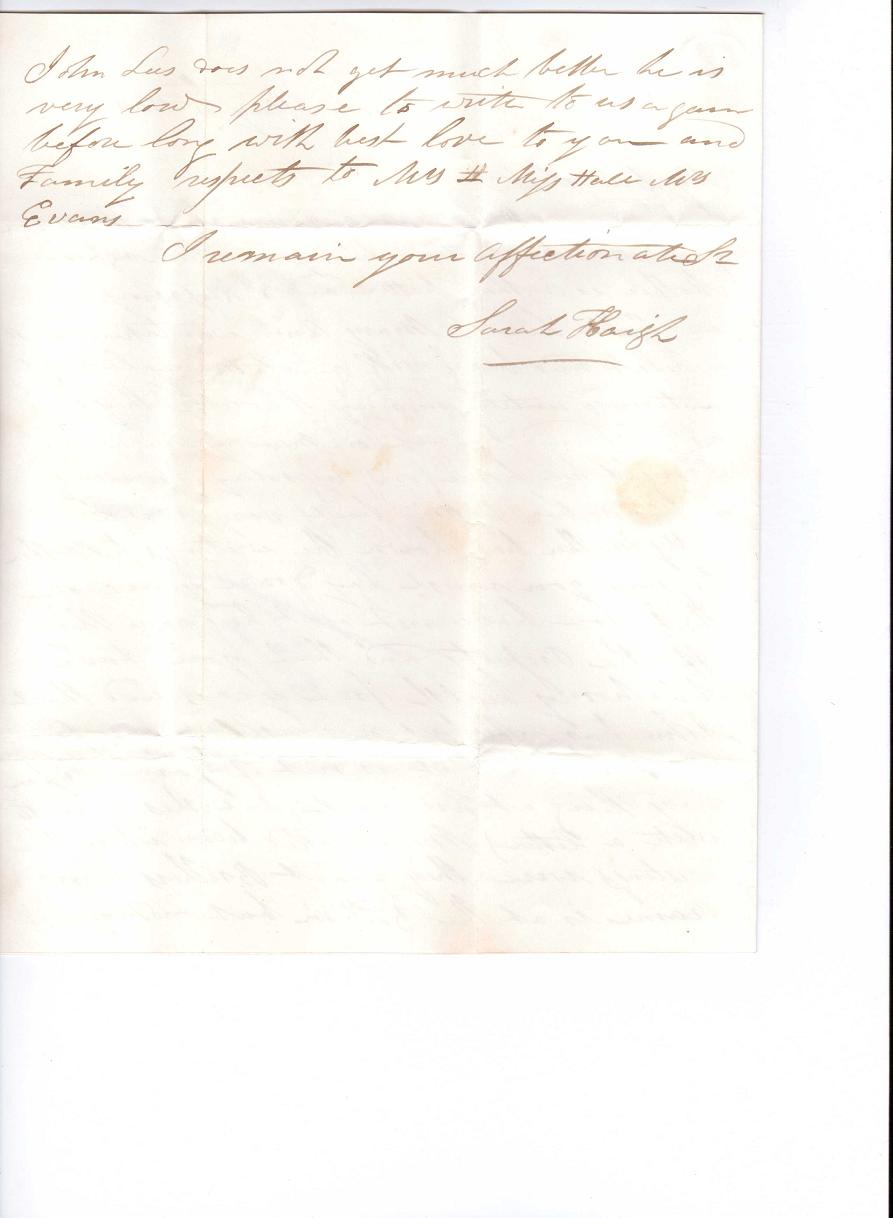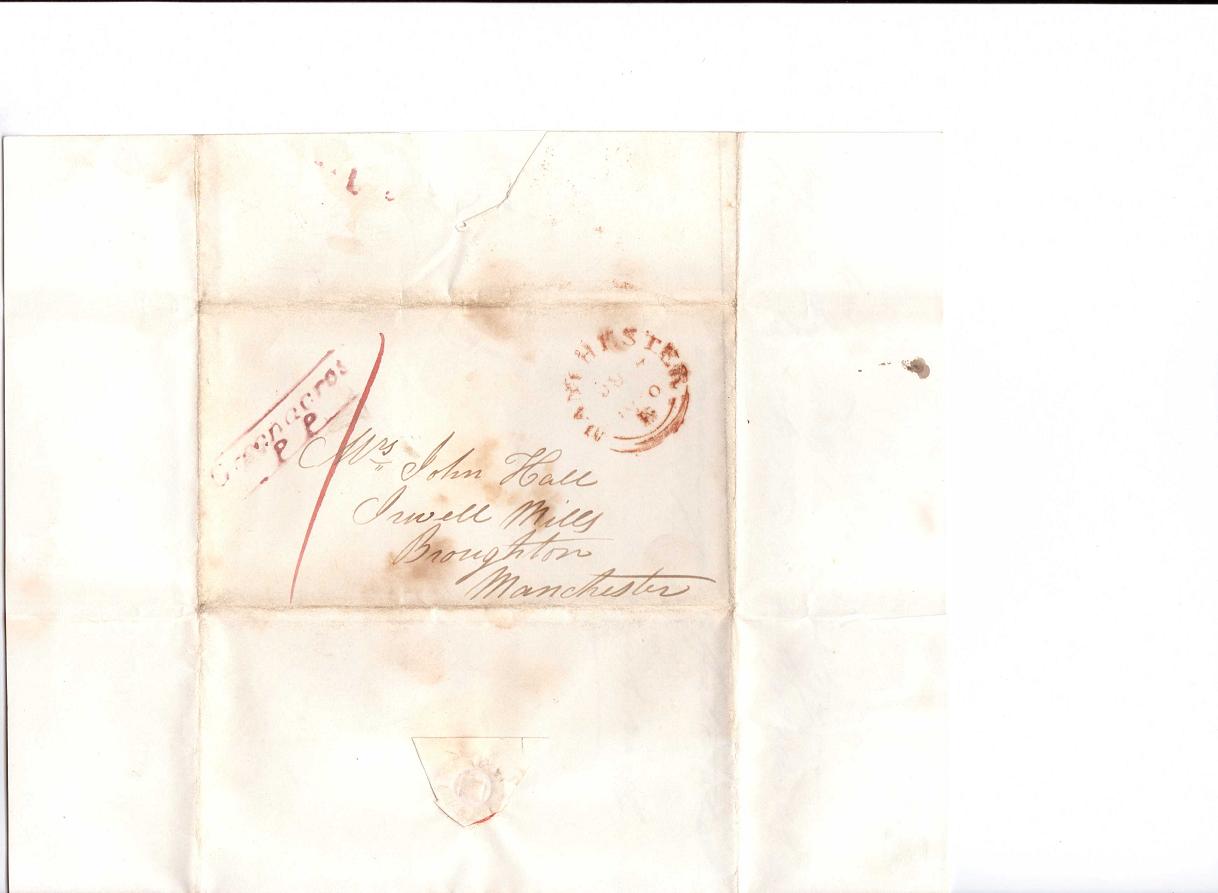 Letter from Sarah Haigh to sister Mrs John Hall 24-Apr-1842
Hill 24th April 1842
My dear Sister,
I will endeavour to answer your letter
I should have wrote sooner but thought we
would see Sarah Ann Greaves respecting
your bonnet. We saw her yesterday, she
said she would do it this next week
if nothing happened if we can send it
to the warehouse on Saturday next, we
will if it does not rain on that day;
we will drop you a line before to
say when we shall send it. We are glad
to hear you keep fairly well and likewise
to hear of William's welfare and I sincerely
hope he may enjoy good health. I do not
see any improvement in Mary Ann, she
does not grow much larger but I think
she weakens. She suffers much through the
palpitation of the heart and shortness
of breathing but the Doctor does not give
her up. He still says young people will
stand a good deal. The Lord only knows
and his will be done. She is still resigned
to his will which is a great
comfort to me.
Cousin Margaret Evans has been to see
her 'til last week. Mrs Dewar has been
poorly and complains of the liver but is
better. Mother has been very poorly for
this last fortnight but she is a little
better today. It is a pain in her back.
She has had it very bad. Mary Greaves
has had an inflammation in the eyes
but she has been to the church today.
The rest are tolerable. Hannah is
better of the whooping cough - she goes
to school again. I have no particular news.
If we have any particular change I will
write to you. Shall be glad to hear from
you at any time. Mother joins with
me in best love to you, John &
William, with best respects to Mrs Hall
and family.
I remain your sister,
Sarah Haigh
NB Brother and sister Greaves took a ride
the other day in the Gig Yorkshire Way
and called upon Mr & Mrs Woodhouse.
They were quite well. S.H.



Hill June 1st 1844
My dear Sister,
I suppose you have had a letter from Sarah
Greaves or I should have wrote sooner and she
would inform you that brother and sister Greaves
were gone to Woodside along with Mr & Mrs
Hibbert. The last account they were pretty well
since you were here I have been carried
on much in the same way. I hope I am
a little on the improve and that it may please
the Lord I may continue to gain strength
and improve in the respects which I am
doing a little every day. I do not think
myself quite so well as yesterday. I lay down
nearly as much as when you were here.
I will write you before I go to Southport.
I hope I shall be able in the course of a
fortnight if it be Lord's will. Mother
is about as usual. Mrs Cooper is
as usual. The _ are pretty well. you left
a net cap and a flannel one. We will
send them the first opportunity. With best
love to yourself, John & William and respect
to Mrs Hall & family
I remain your sister
Sarah Haigh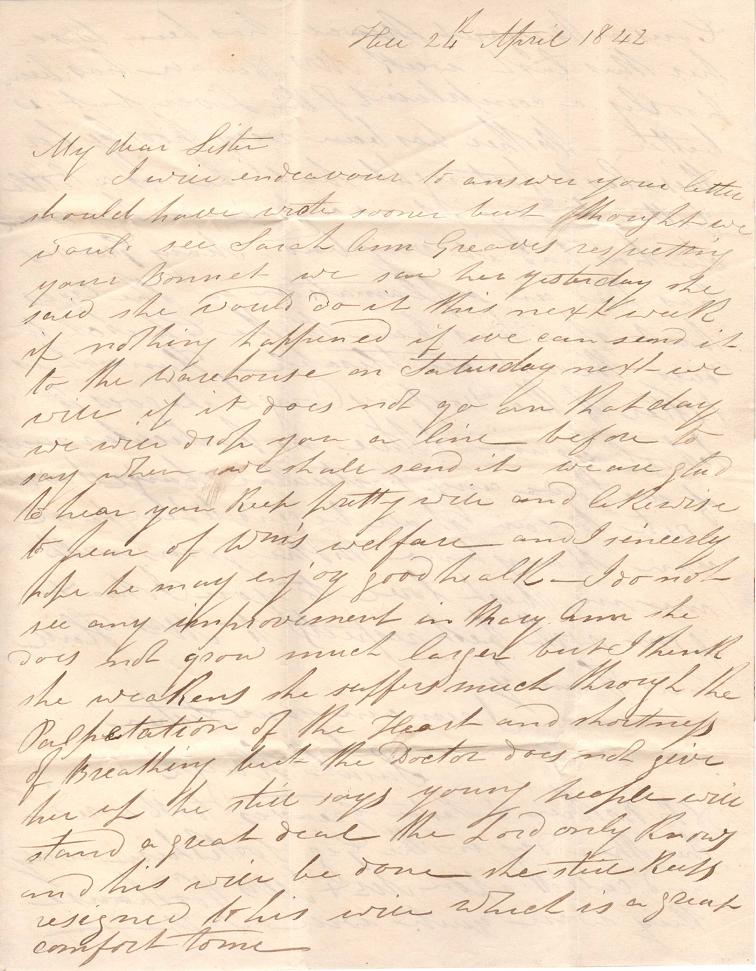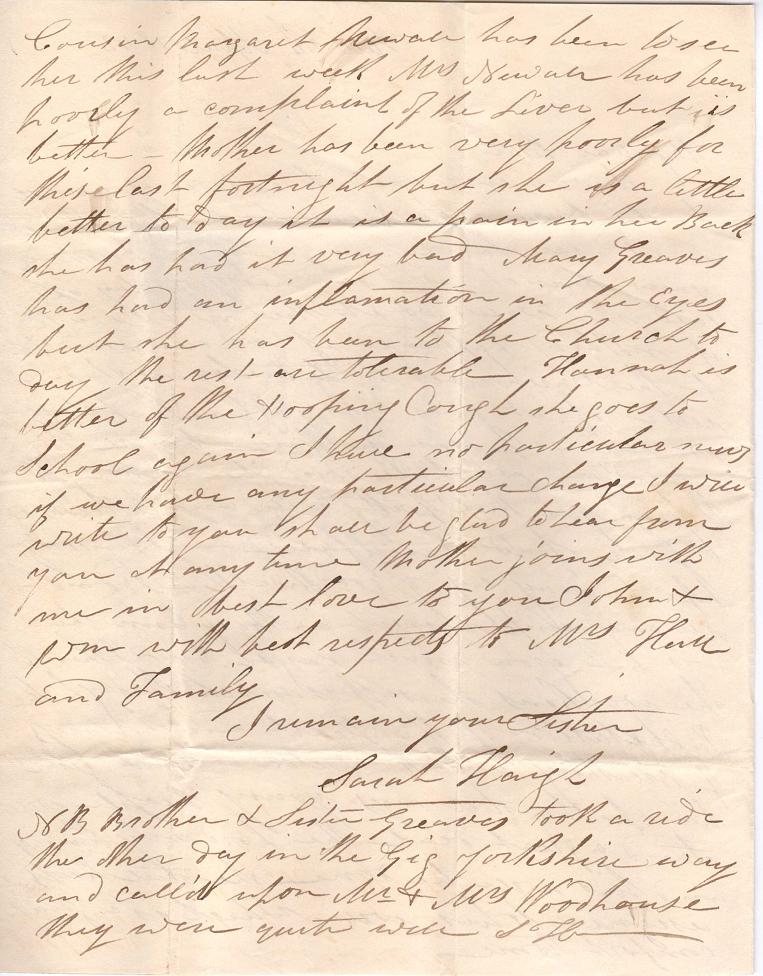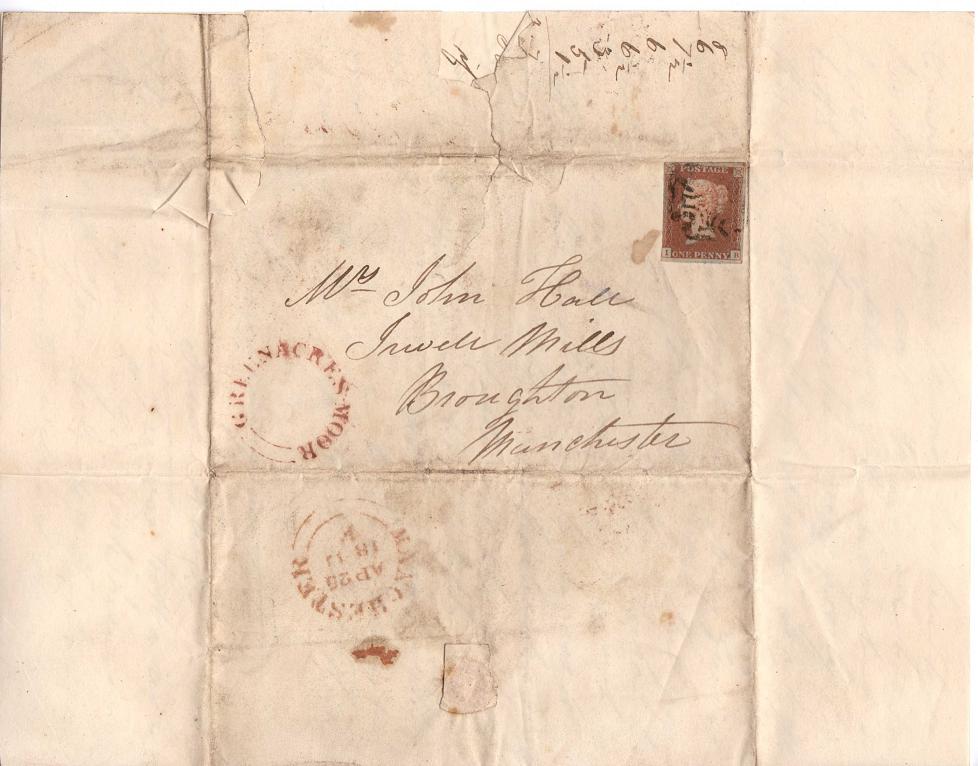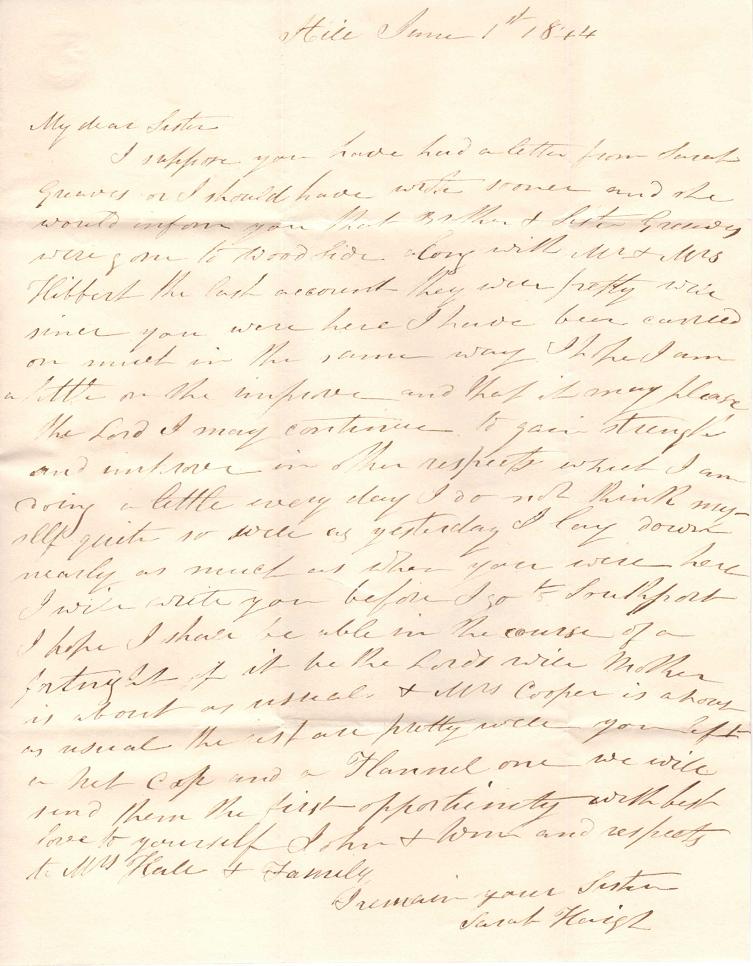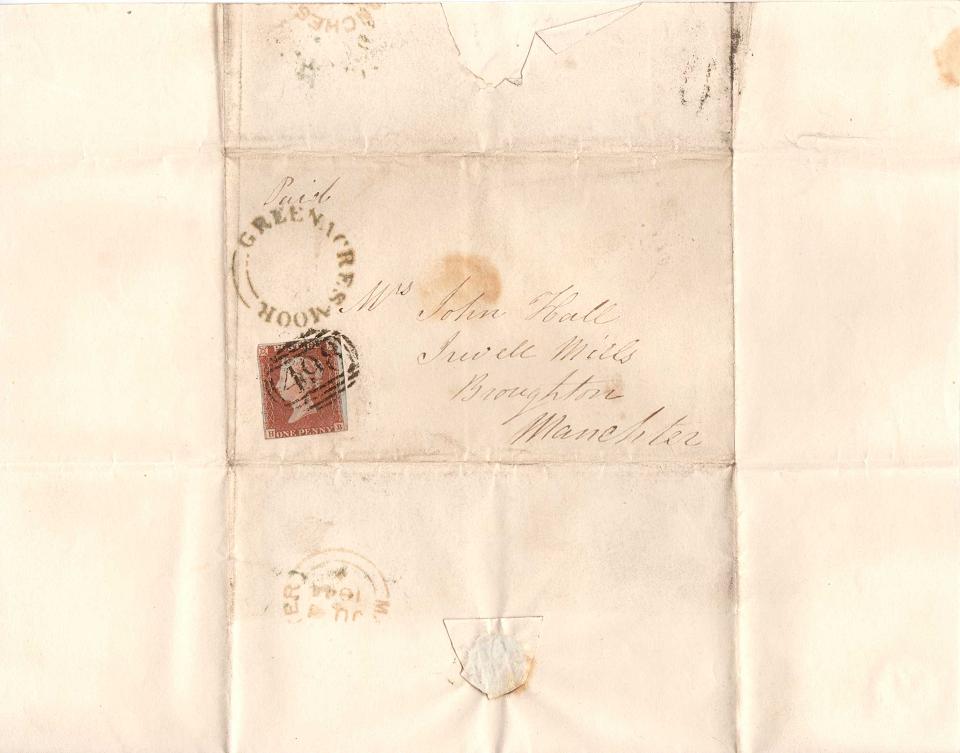 Letter from Daniel Greaves to Aunt Mrs John Hall 2-Jan-1843
February 2nd 1843
Dear Aunt,
Mother desired
me to forward you this
biscuit as I was coming to
Manchester. Father should
have brought it on Tuesday
but I suppose he forgot.
It is from my Aunt Mary.
Margaret died on the 24th January.
She had a fit on the
Sunday and she kept going
worse. Father, Mother, Aunt
Sarah and Grandmother
went to the funeral last
Monday. Tell William that
we shall expect him over
very soon, for we shall be
very glad to see him.
we are all fully well
and hope you are the same.
I might have come
down myself but it is such
a cold wet day. With love
to all.
Your affectionate nephew,
Daniel Greaves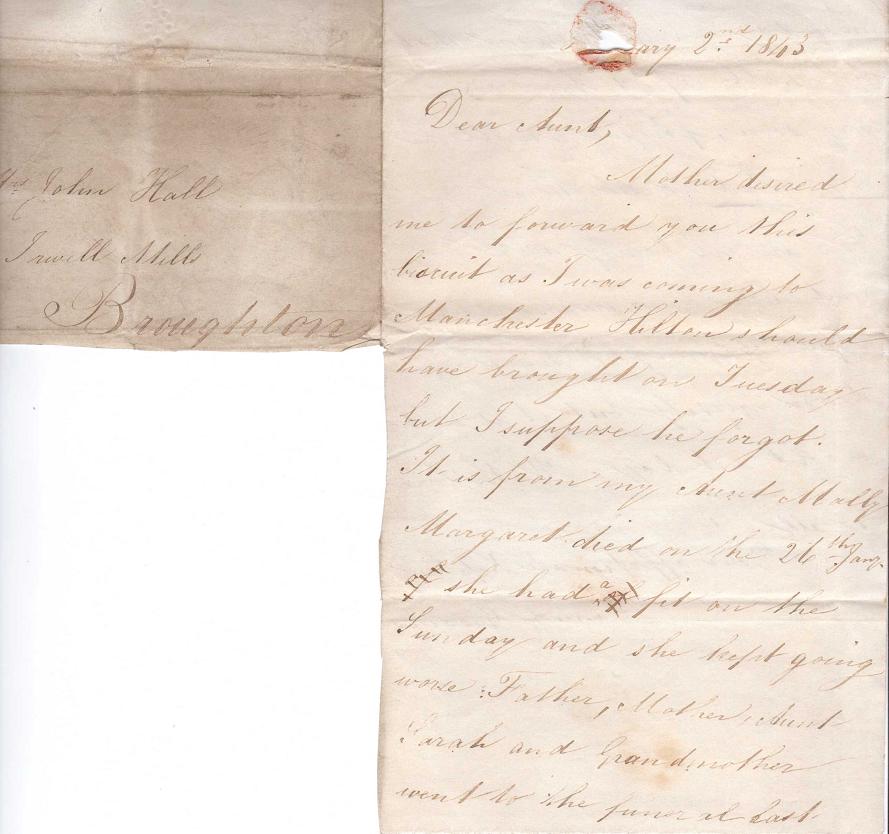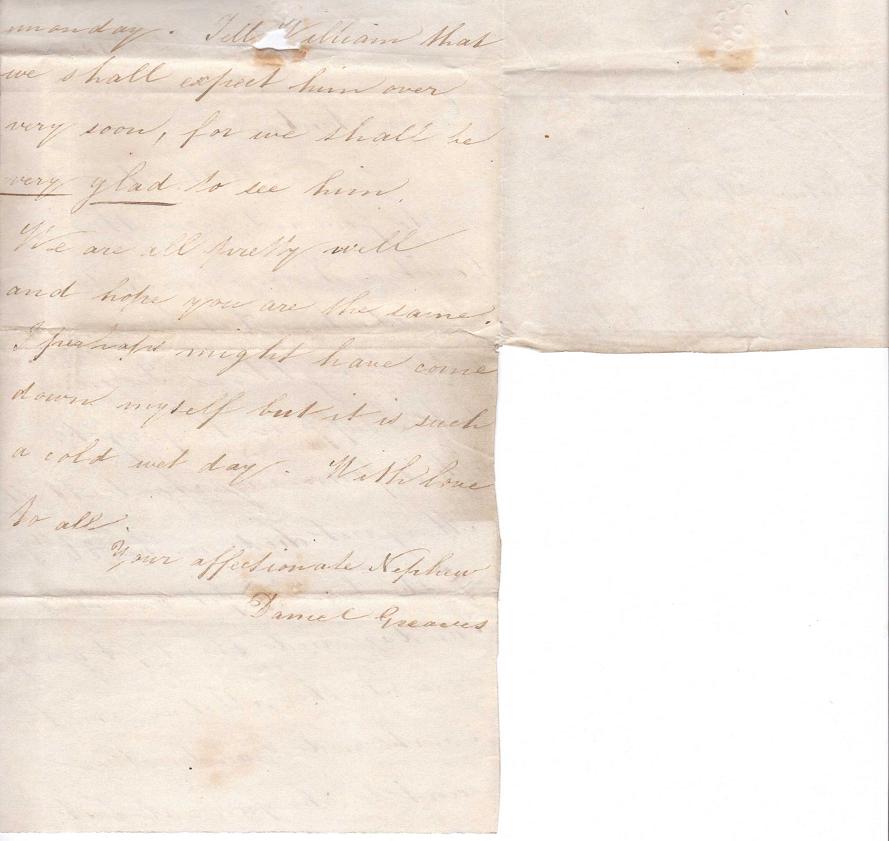 Letter from J Greaves to Aunt Mrs John Hall 13-Sep-1843
My dear Aunt,
Milton will be of age
on the 22nd and I should
like cousin William to come
with _ I and Mr & Mrs Hall.
I am sorry I cannot invite
_ Jane to stay a few days
at all events she can have
half back for one night
but I hope she will come to
Milton's party.
John will excuse this arragement

when I say I am going
to be married on the
Monday following to
your Mr Schofield.
We are doing it very
quietly.
On Sunday to go from home
as his house is pleasantly
situated in the country
and fall two miles from
Oldham, but I shall
not describe as I shall
expect to see you and
made the very first _
after we her father.
I am exceedingly _
but if you can come over do
meantime with my kind
love, believe your ever
affectionate niece
Mary Greaves
Kind regards

My dear Aunt,
My father and mother desire me to say
they request the pleasure of your company
to dinner at two o'clock on Monday.
They are only inviting the nearest
relatives therefore I hope you will not
disappoint us but do come if you

come only stay for one hour. I shall
not leave until after dinner, Yours truly
M Greaves
Excuse this bit of paper as it is the
only bit I have left - do come
We cannot excuse you.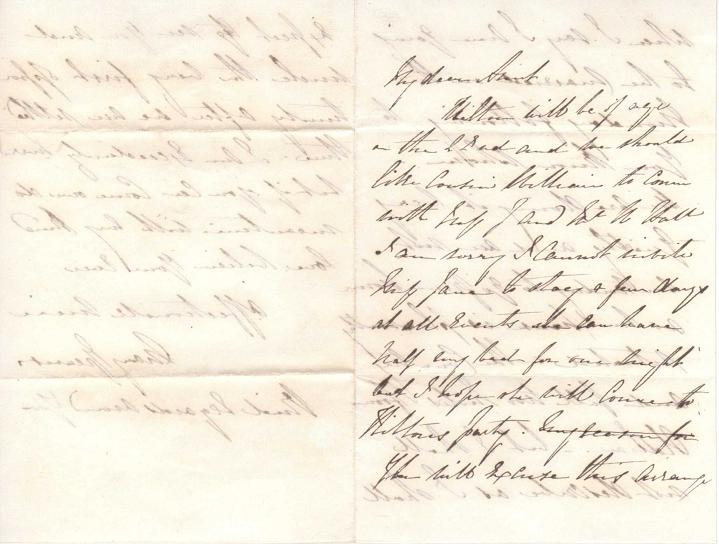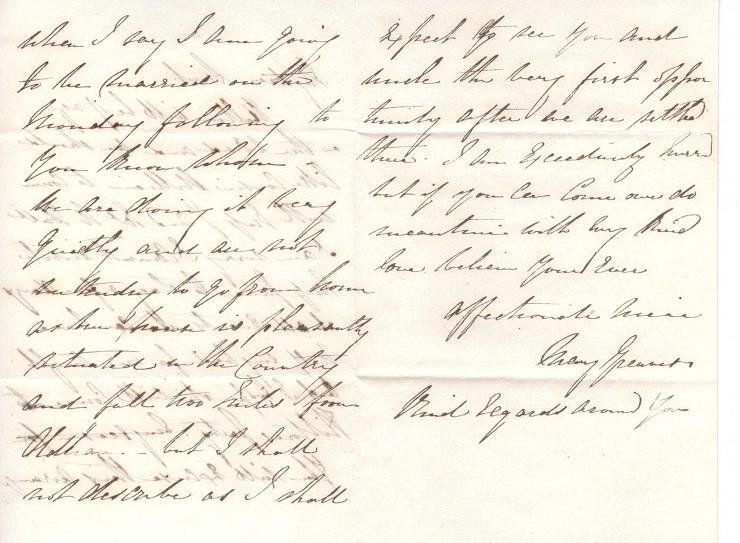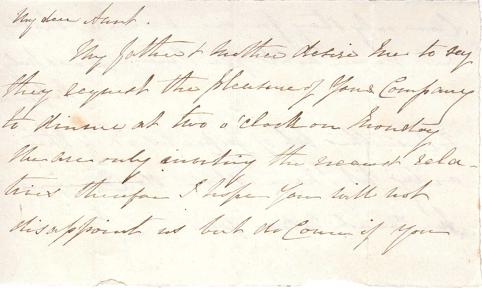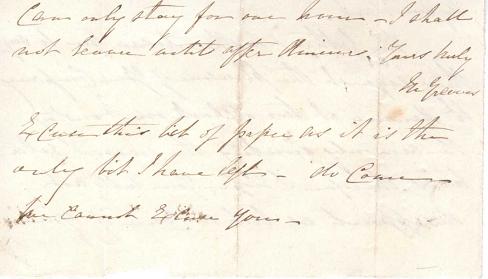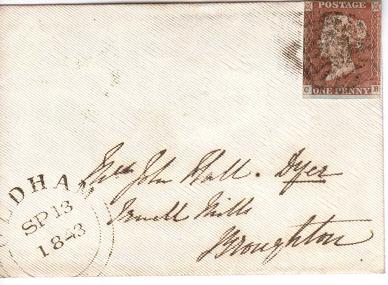 Letter from J Greaves to Aunt Mrs John Hal 25-Jan-1844
Dirker House
Jan 25th 1844

My dear Aunt,
My Aunt Sarah Hague
wishes me to write to inform
you of the death of Mary Ann.
She died this afternoon
about three o'clock. I was
there when she died. She
never sobbed once but seemd exceedingly
composed. She _ seal for
Mr Nesee, he arrived just in
time to pray for her before
she departed, indeed she
began to die whilst he was
praying, she repeated the
Lord's prayer with him and
then fixed her eyes, and
expired; from her expression
before she died easy
to hope & to believe she is happy.
She began to be worse on
Friday with the bowel complaint
and had not been out of bed since.
She said she was afraid of lacking
time coming again. She
thought she could scarce stand
it, but she seemed very willing
to die. My sister Mary & Daniel
were there also when she died.
The family are still as well
as can be expected, but I
think they should not grieve
as it is a great blessing she is
relieved. With best love from
all at Oldham.
Believe me to remain
yours dearly
J Greaves

(I will write again soon)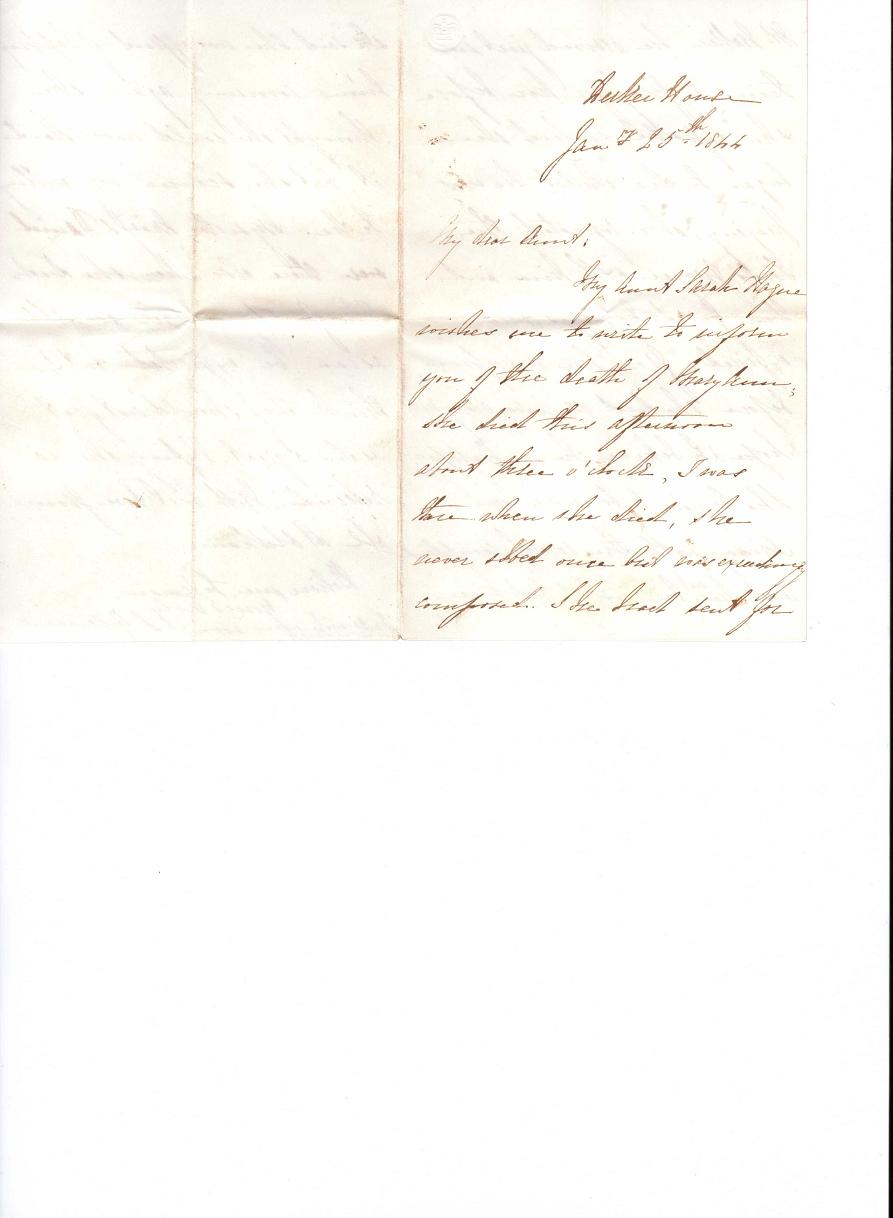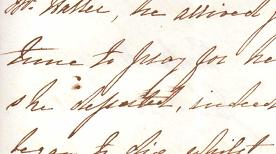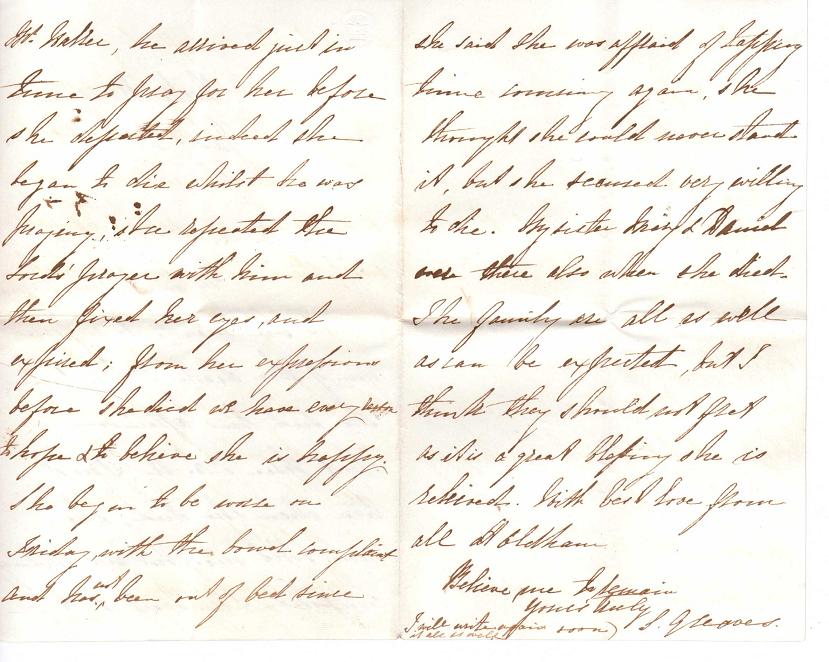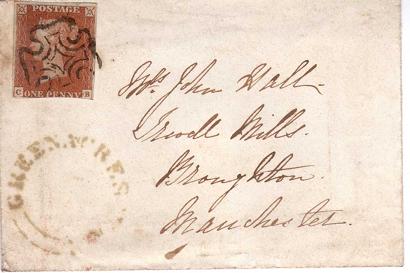 Letter from Ann Lees to Aunt Mrs John Hall 26-Feb-1844
Bottom of Mog February 26th 1844
Dear Aunt,
As I promised you that I would let
you know when my sister Sarah
had a child, she was safely delivered
of a son on Thursday morning the 20th
and they are both doing well at
present. Her father in law was taken ill
on Wednesday and died on Friday
which I am afraid will keep her back
from doing so well as I could wish.
Sister Mary little boy is lying very
ill not likely to recover. Aunt Hague
has been very poorly but is better.
My grandmother is as well as can
be expected. My father and mother
are both well and send their kind
love to you, all hoping that you are
all well. Please give my kind love to Mrs
Evans and Miss Hall and the same
yourself from your affectionate niece,
Ann Lees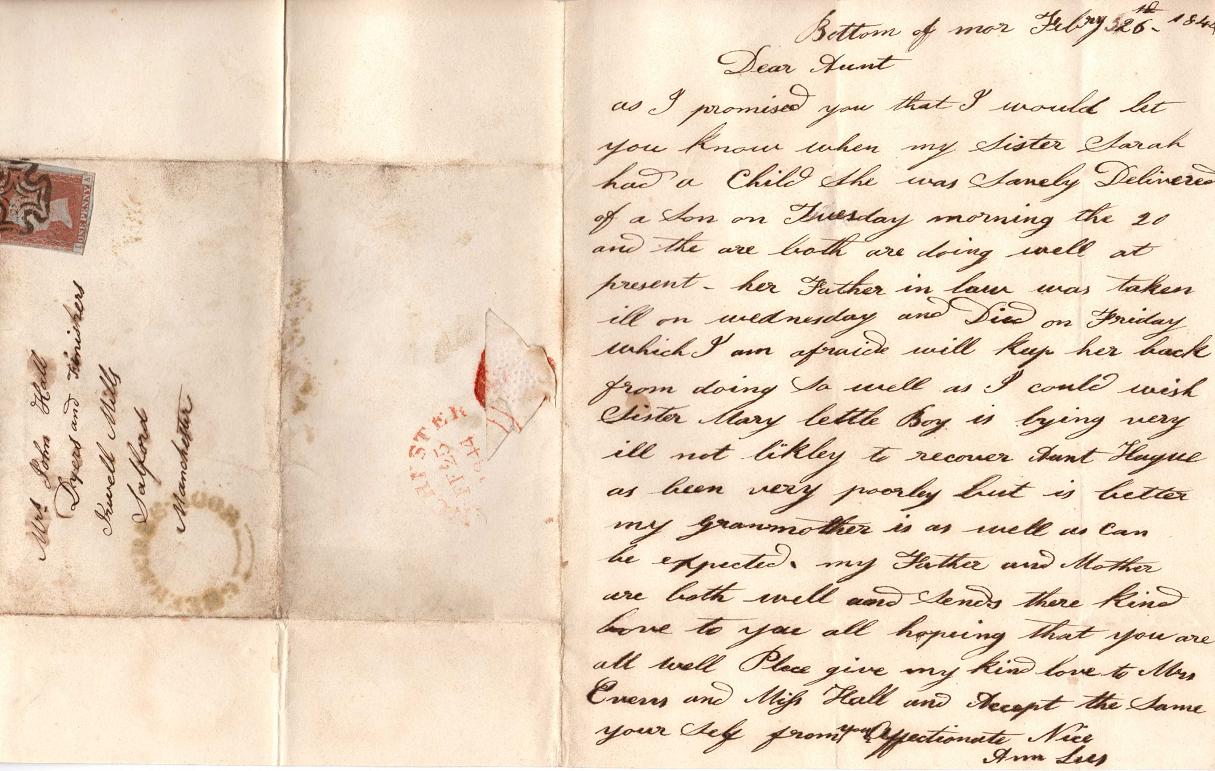 Letter from J Greaves to Aunt Mrs John Hall 30-May-1844
My dear Aunt,
My Aunt Sarah wishes
me to write and to inform you
that she is considerably better
than she was when you left;
indeed I have been to see her

twice myself & I think she gains
a little strength, & with good
nursing I have no doubt
she will recover. You will
be surprised to hear that
Mr Asa Lees married
yesterday in Ashton to a
lady who resided in that
town, a Miss Mencrothy,

but I will tell you more
about the affair when I see
you; Milton & I had gloves &
laces, the envelopes were
really beautifully embossed.
We have had two letters
from my father and mother;
they are both very well, and
like Seacomb very much, I

hope it will do them all
good. We are all very well
at Dirkar hoping you are all
well at Irwell Mills with
kind regards,
Believe me to remain
my dear Aunt
your affectionate
J Greaves

Dirkar House
Thursday evening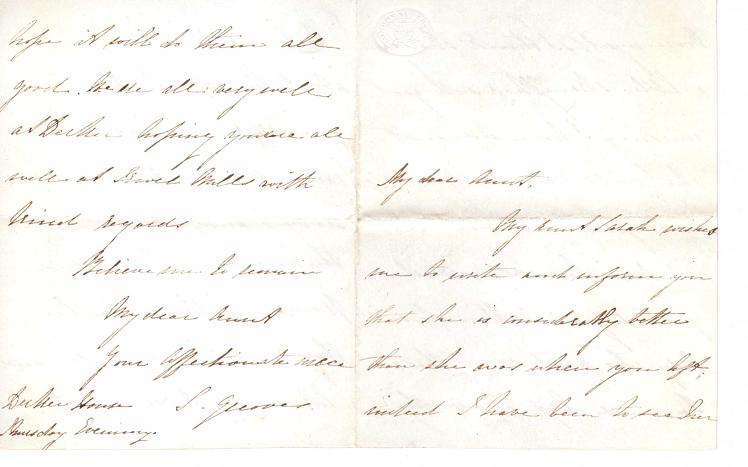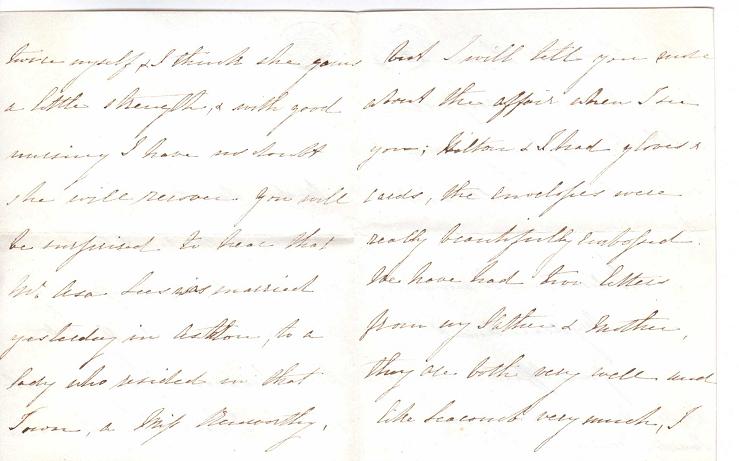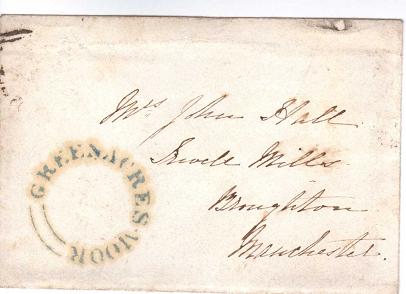 Letter from Sarah Haigh to sister Mrs John Hall 12-Jun-1844
Southport Wednesday Evening
June 12 1844
My dear sister,
We received your letter before I left
home. Mother thought I had better write
when I got to Stockport. I left home on
Monday afternoon and slept at the boar
House but did not much like my
lodgings and arrived here quite safe
last night and love the journey better
than I expected. We had pleasant
company on the boat which made it
better. I do not feel so well today
but I am keeping myself. I am low
and weak but I hope to get strength
with the blessing of the Lord. The doctor
orders are to stay as long as I can and
to bathe every other day after I have
been a few days and to be well rested.
I do not know what I feel if my
share but you shall hear when.
I have given _ a trial. I have
_ with me and she is very good.
She has had a ride to London to see
the King and Queen.

The cause is called well and my bowels
are nearly their own, my cough
rather troubles me with being exposed
to the vilery but hope it will be better.
The cloth taras right. I am with Mr Codleigh
and have comfortable there are very few
visitors in at present. Brother & sister
Greaves we got home before I left.
I left mother and all the respects
well. I hope you are well and the
rest at Irwell Mills, with love to John
William & yourself,
I remain your affectionate
Sarah Haigh

P.S. Please write and direct
Mrs Collett
Grove street
Southport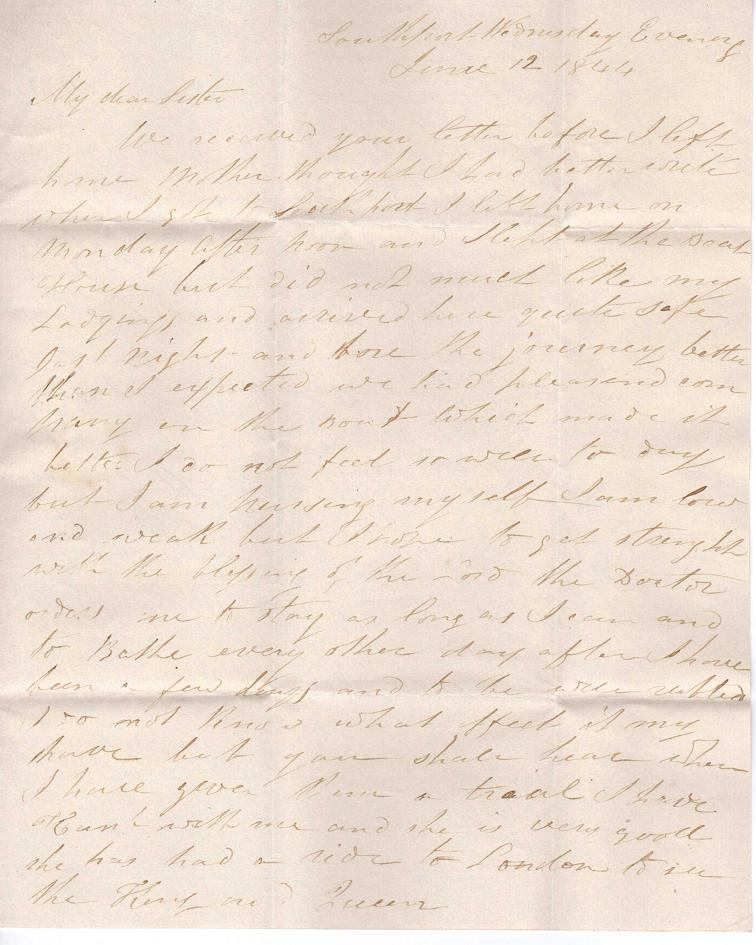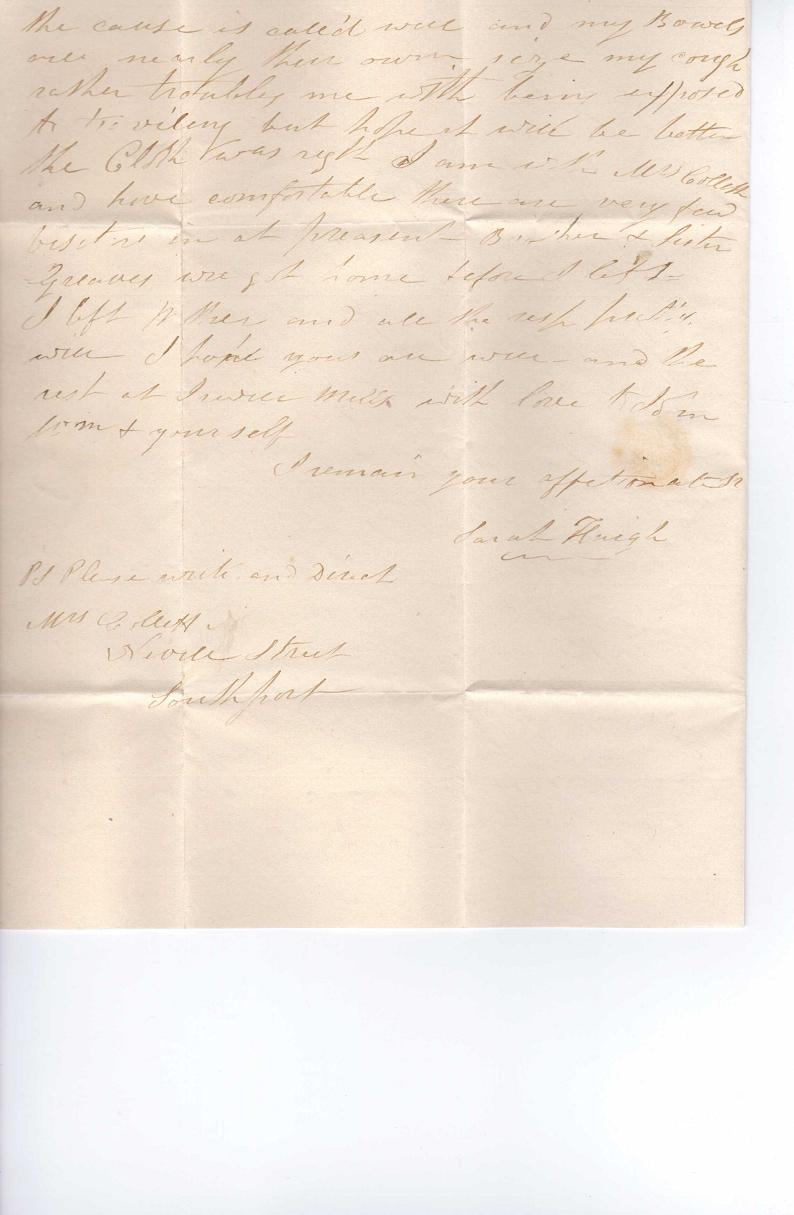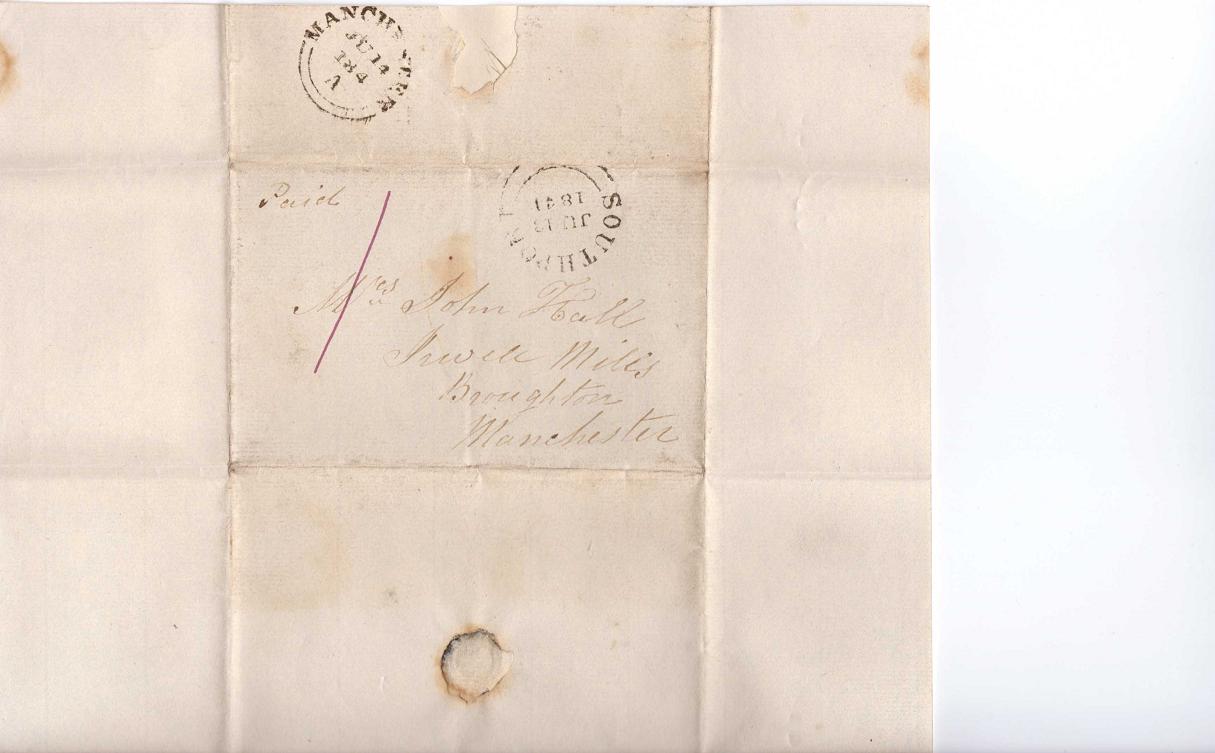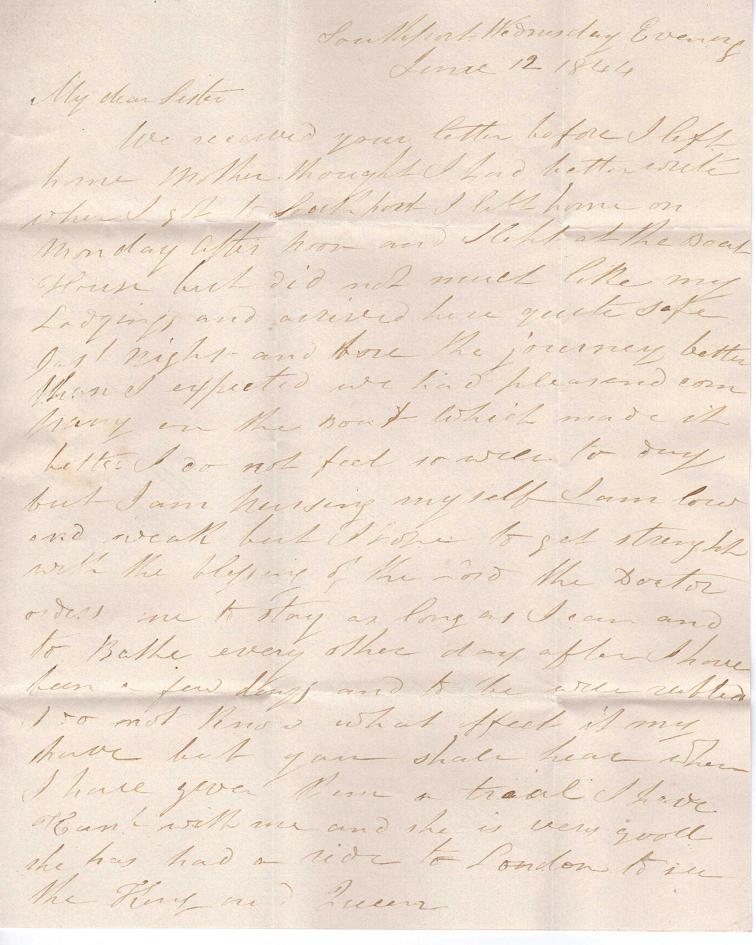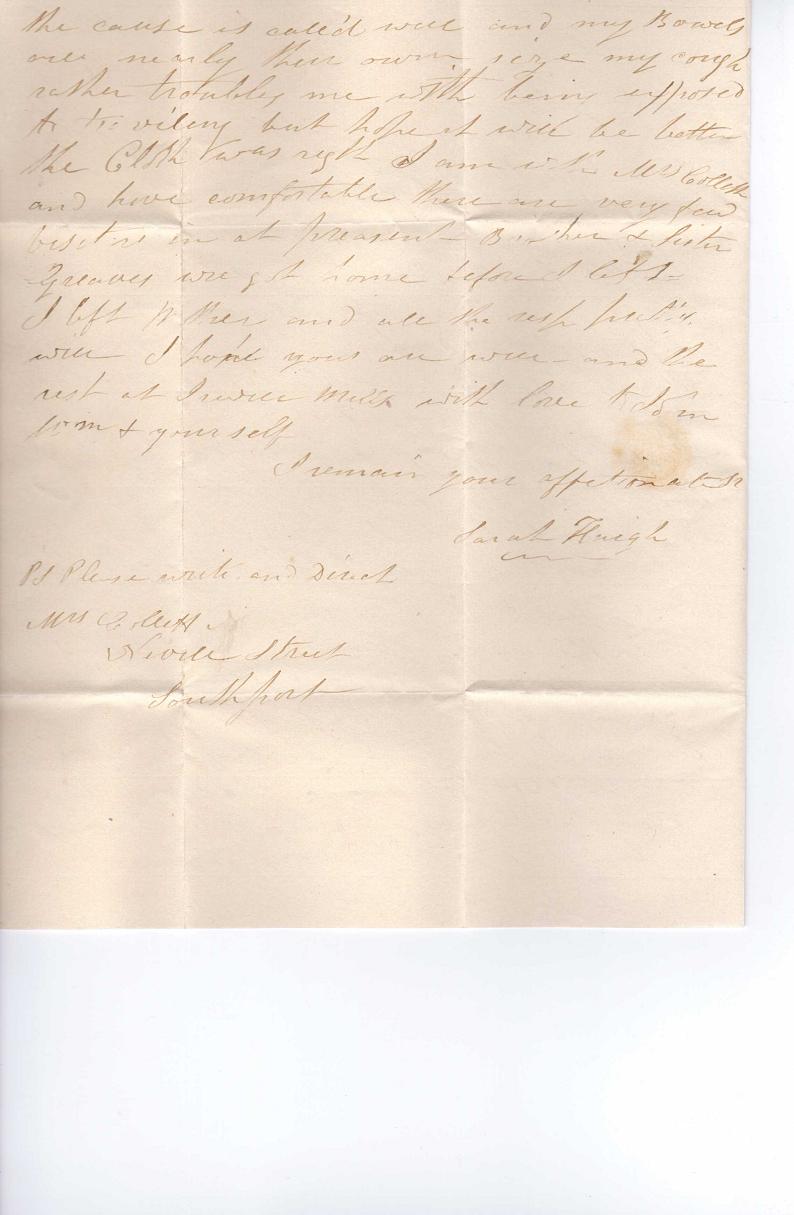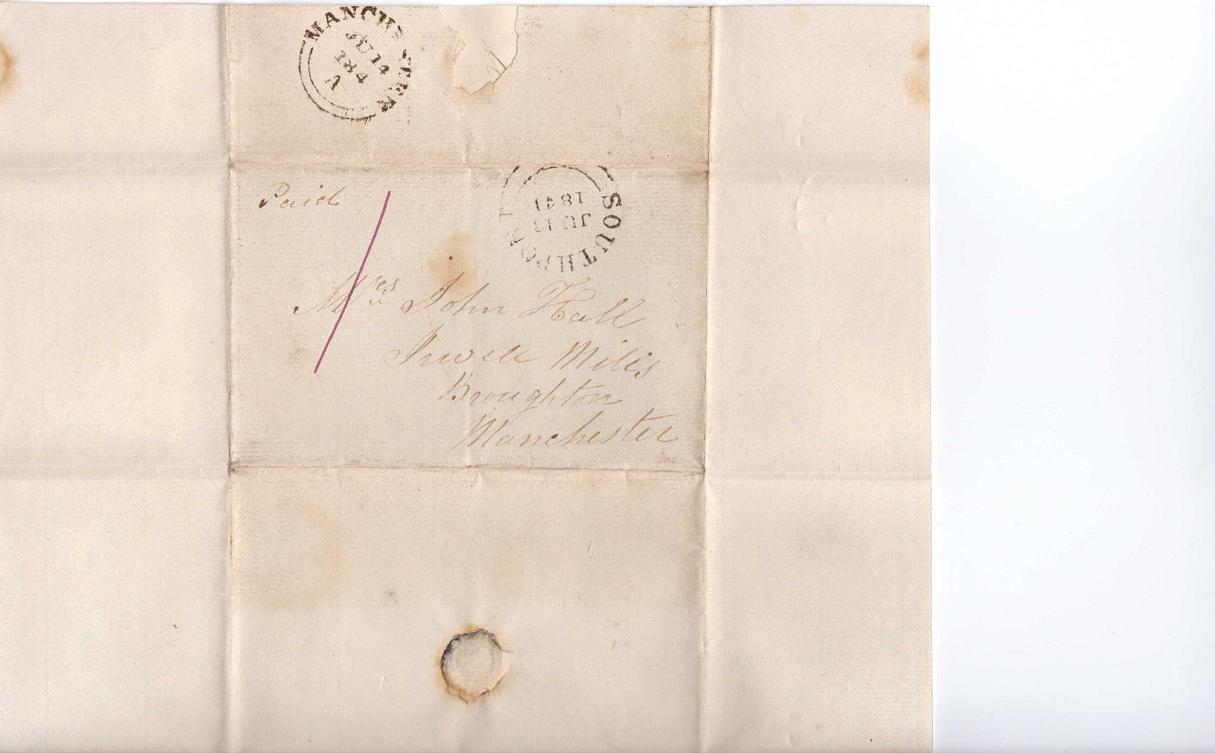 Letter from James Greaves to Aunt Mrs John Hall 18-Oct-1844
Dirkar Mill
Friday evening 18th
My dear Aunt,
You will excuse our leaving
neglect & unconscious for Grandmother's _
when I inform you that I promise to come
over to see her & bring with me the condolence
of her affectionate children & grandchildren. _
from my father requesting that you
would send over for anything she may need.
I was at Manchester yesterday but was detained
until I should not have had time to go & come
back in time for the last train. I told cousin Haigh's
_ write but I have not time between
& the post to ask for particulars think they
are all well alright also our own _
We hope that nothing serious in grandmother's
illness that she will soon be well & that you

will punish & put us to the blush by sparing
your daily bulletins in return for our neglect.
Hope the rest of our friends & relations at
Irwell Mills are as well as can be expected.
You will please to present my regards to them
particularly to Master William, Mrs E Haigh,
Miss Sarah Abigail Evans & what there is to
spare you may divide between yourself &
my dear Granny.
I am &c
Everything that's good
James Greaves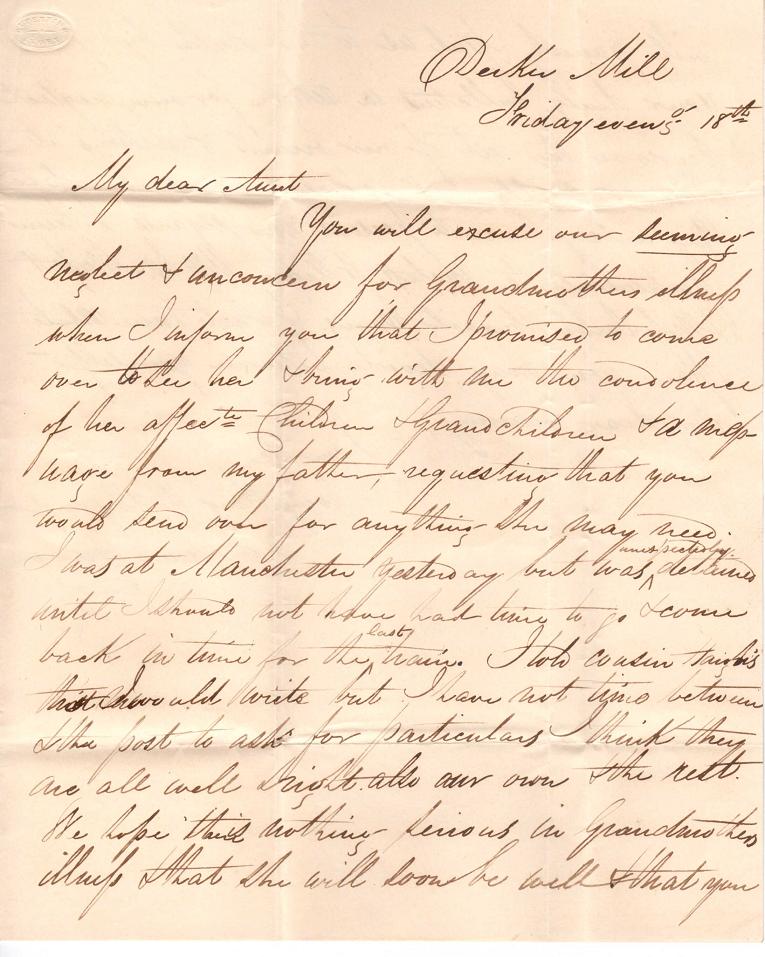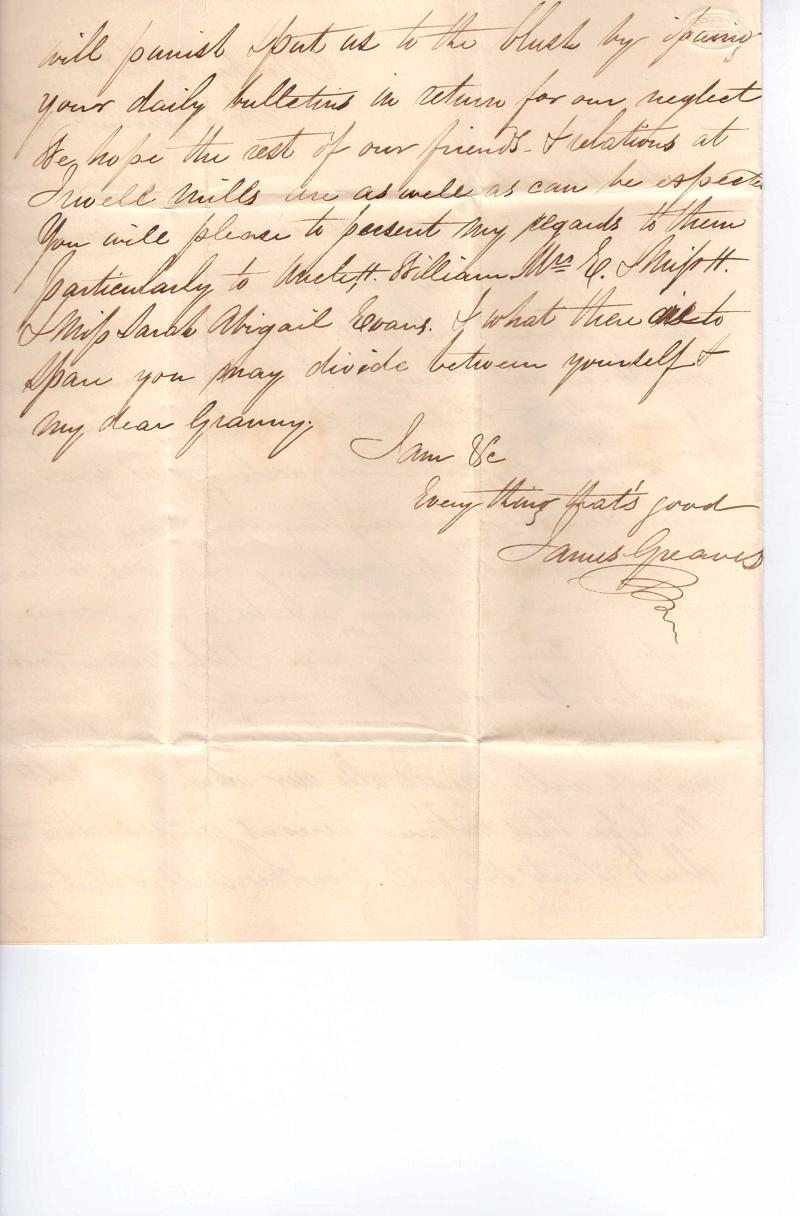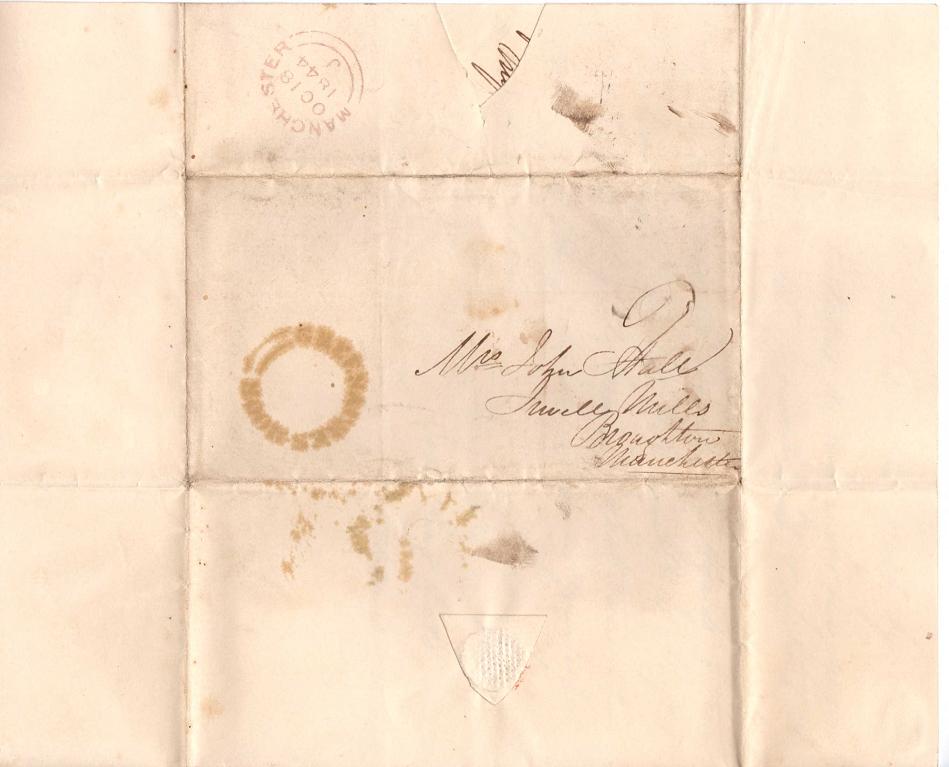 Letter from William Hall to Mother 19-Nov-1846
London
10 Molesworth square
New Weston Street
Bermondsey
Dear Mother,
From the above you will
be led to conclude I did arrive here
safely. It was 1/4 past 5 when the
train got to Euston station. I made
enquiries about lodgings, but could
meet with no suitable, all too dear
2/- & 2/6 a night, so I went
to a coffee house, got some
coffee & about 8 set out
to Bermondsey to where I am
staying, about 4 miles

from the station, so I left my
luggage when I got out of the carriage
& after I had been here &
had to go back again to fetch
it & clean myself up where I
got dinner, mutton chop &
a pint of entire & regular
blow out & tomatoes hungary.
Did not sleep at all during the
passage, ate only the sandwich
& afterwards one of the buns &
have two left. I am staying
here very cheap, it is where
Winterbottom, Fletcher & Gibbons
put up. There are I think two other

medical students here also. One
I have seen, a very nice fellow
attending at Guys. I have been
to the College & saw Will Bountfloors
name down for exams tomorrow.
If you write direct for me at
No 10 as above.
It is a very fine day over
head but London is the dirtiest
place I ever was in in my life
over shoe top; I cannot find
my way very well where I have
to go. I walk to the Thames
& have a Thames boat ride

of about 2 or 3 miles for a
penny - have been about 12 miles
today already.
It is a most wonderful place
& what I have seen now would
take me a week to relate
everything different to what
we see in paltry Manchester - only
ten times as much dirt.
Excuse me saying more at present
with having no sleep I am rather
nervous & not very steady after
such a noise with the engine
but no headache.
Believe me
yours affectionately
w Hall
19 Nov 1846
3pm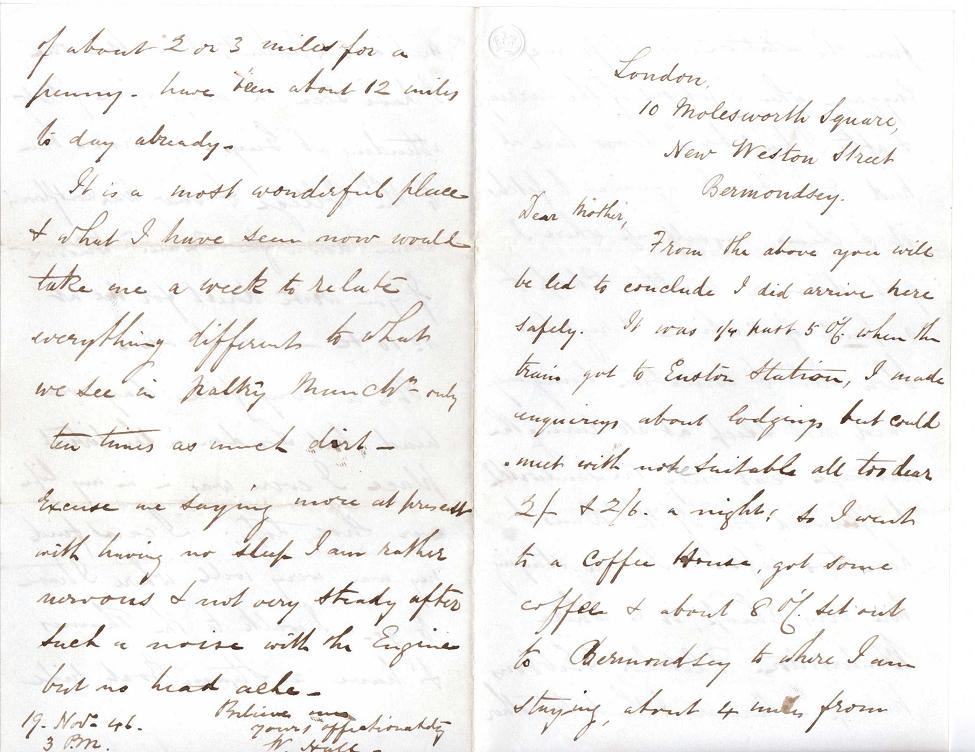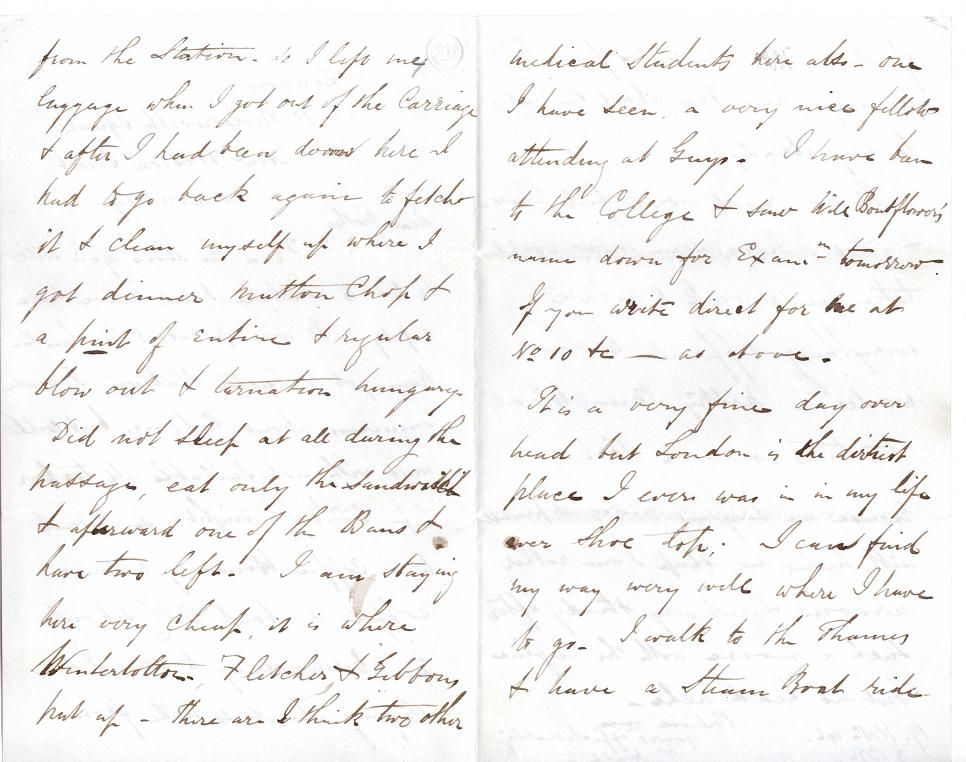 Letter from William Hall to Mother 20-Nov-1846
Dear Mother,
I have much pleasure
to inform you I passed
the College about 10 minutes
ago. I shall write again soon
(tomorrow) when you will have
more particulars.
I remain
yours aff.
W. Hall
20 Nov 1846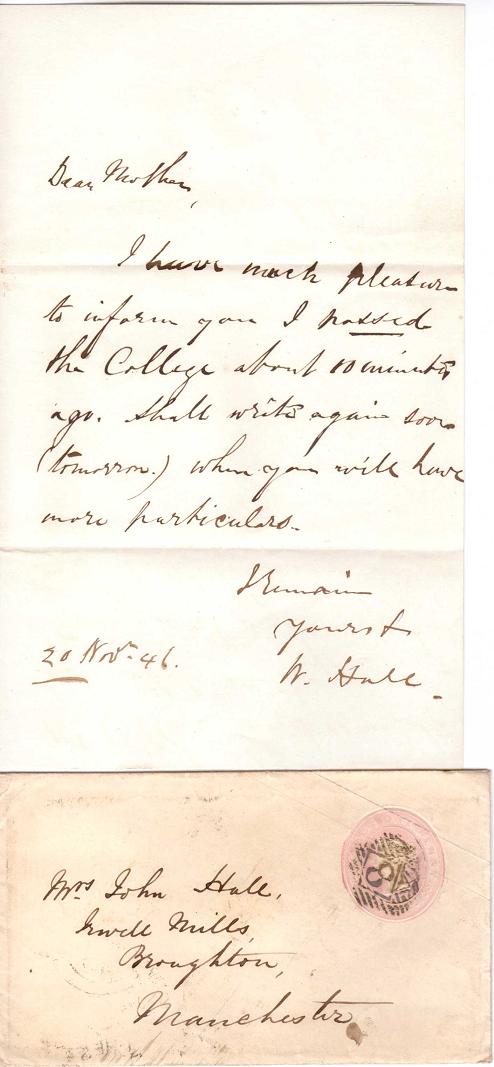 Letter from William Hall to Mother 21-Nov-1846
10 Molesworth Square
New Weston Street
Bermondsey
London
Dear Mother,
I have written the address
out again in full for fear you could
not make out the one I sent before.
During my stay the above will be
my residence. I think at present of
staying until Friday or Saturday, the
27th or 28th though I may possibly
remain a little longer.
I wrote you from the College last
night stating I had the good fortune
to pass & not without _ (no egotism).
Will Brasflower went up and passed
also. There were nine candidates, four
of whom were put back, three for a

week & to have written examinations,
and one for six months, so long!
There were two up also for written examinations
who had been up on the Friday
previous & put back.
My examiners were first _ Cooper,
Lawrence the President of the College
next, then Professor Green & lastly
Robert Lister. The exam was a very
easy one or at any rate I happened
to know it. It was about 10 when we
were set at liberty, Ridwood was
waiting outside so we went to
a singing room where we were joined
by Will Brasflower & a friend of

Harveys who also passed & some
other students. I left them about
11 & walked to my lodgings a
distance of about 2 or 3 miles &
was in bed by 1/4 past 12.
I have just got up 1/4 to 8 & am
going to write to about 1/2 dozen
friends & by that time I expect
Brasflower will call of me & take
me through St Bartholomews Hospital.
I had dinner yesterday with
Midwood.
It looks as if it would be a fine
day, at least I hope so, for you
have no idea of dirt in Manchester.
It is just like dirt fair altogether.

I should like you to write. I want
to know how grandmother's finger is. I
hope it is better, & the rest of you,
how are you?
You must wait until I return
for any description of the place,
such a many large fine buildings &
above all the bridges, they are splendid.
How is Aunt Sarah's chance at the
Infirmary? I can only say I hope
she may pass the same success as
myself.
The greatest nuisance to me is so
many persons crying different kinds
of things in the streets, they begin about
6 & continue until I don't know when
& disturb the slumber of your affectionate
W Hall M.R.C.S
Saturday morning 21 Nov 1846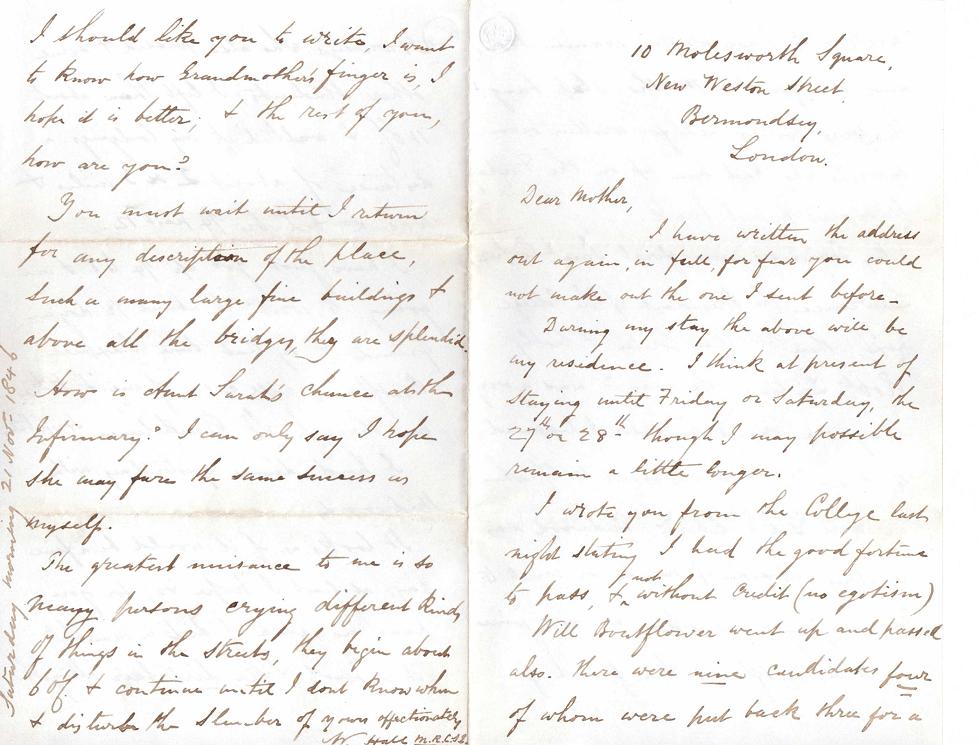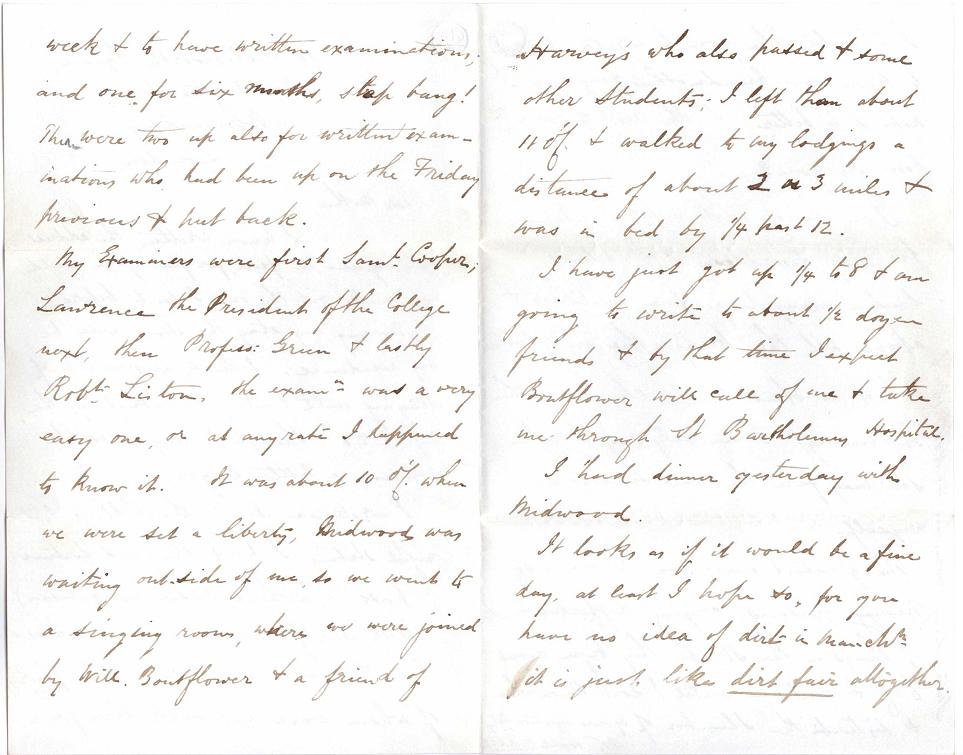 Hannah Hall Cause Of Death Certificate-15-Apr-1849