John Greaves
Born: 1762, died: 07-Sep-1827
Family Tree
Letter from Hannah Greaves to Parents including Hair Locks, Ilkeston 3-Jun-1819
Ilkeston June 3rd 1817
Dear Parents,
My sister's letter came safe to
hand and I was extremely glad to hear that you
were all well. My dear brother she said was much
better, she informed me of the death of Jessie
Winterbottom. I was very much struck but it
was a very pleasing thought that I hoped he was
prepared to meet his God; we may learn from him
how necessary it is to be ready when the time
comes or death may call us for we know not what
a day or an hour may bring forth.
I am anticipating the time when I expect to
see you and all my dear friends which I assure
you will create unspeakable pleasure. Our
vacation commences on the 20th instant but I expect
Mr and Mrs Shaw will accompany us and they
cannot leave conveniently before the sabbath day
is over. If all be well we shall go to Derby on the
Monday and be in Manchester on Tuesday the
24th. If convenient I shall be glad if you will
meet me, like them.
I remain
Your loving Daughter
H Greaves

PS. My sister mentioned in her letter that my
father would send me some money to come
home with but I have sold the 9 remaining shawls
and can take a part of that if agreeable. I sold them
to Miss Daykins of Codnor. I should like to hear
from home if my sister can make it convenient
to write. Adieu.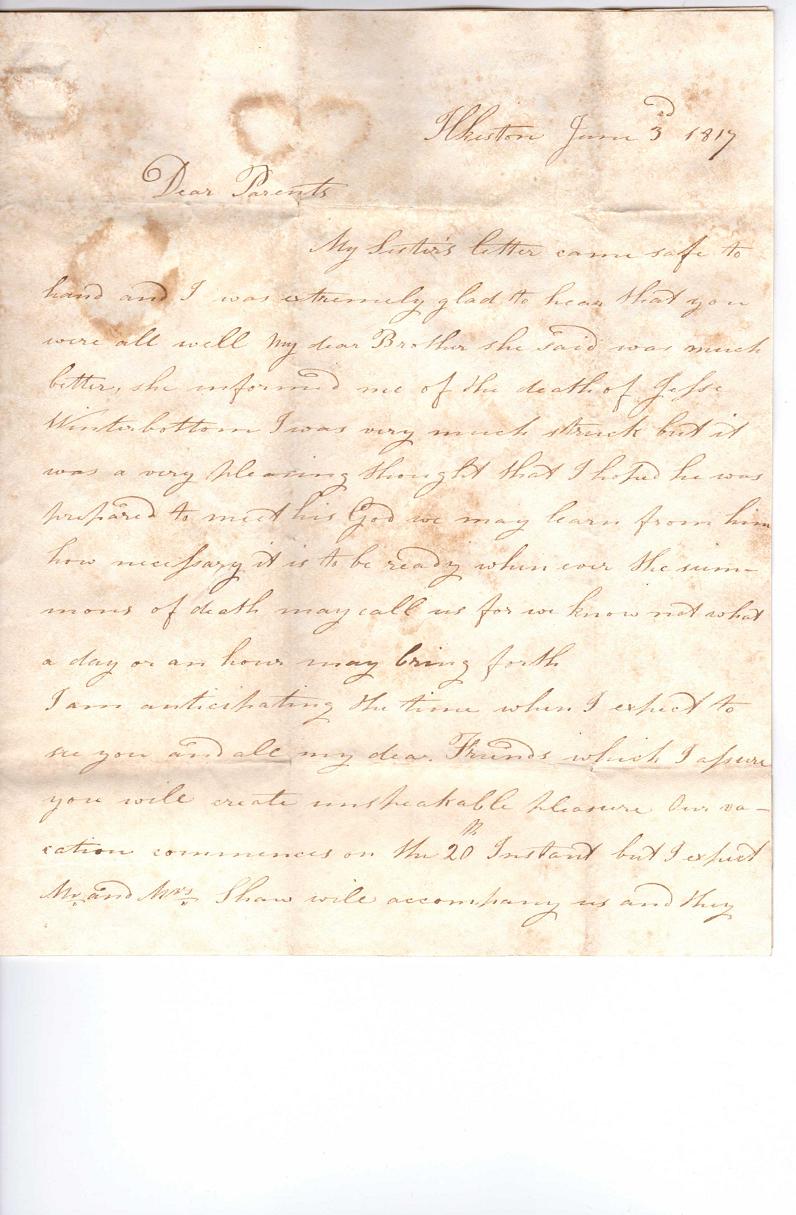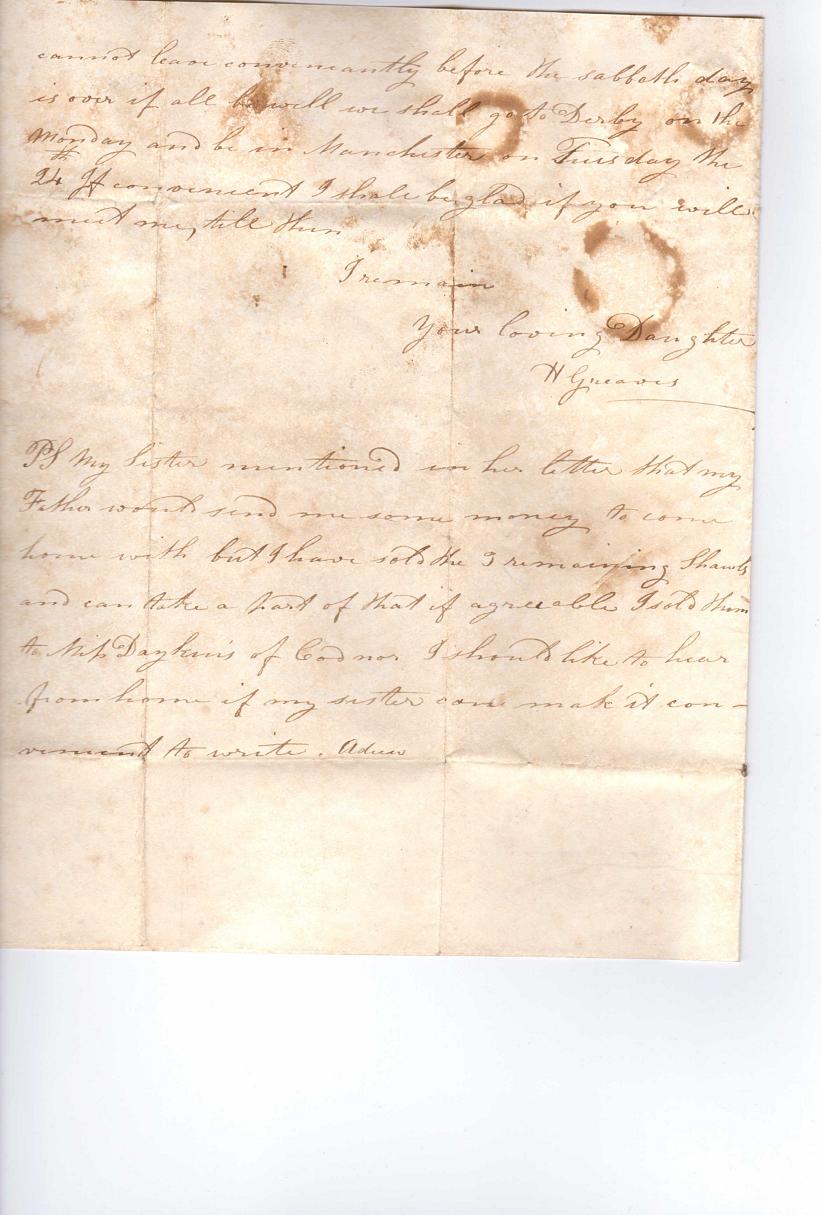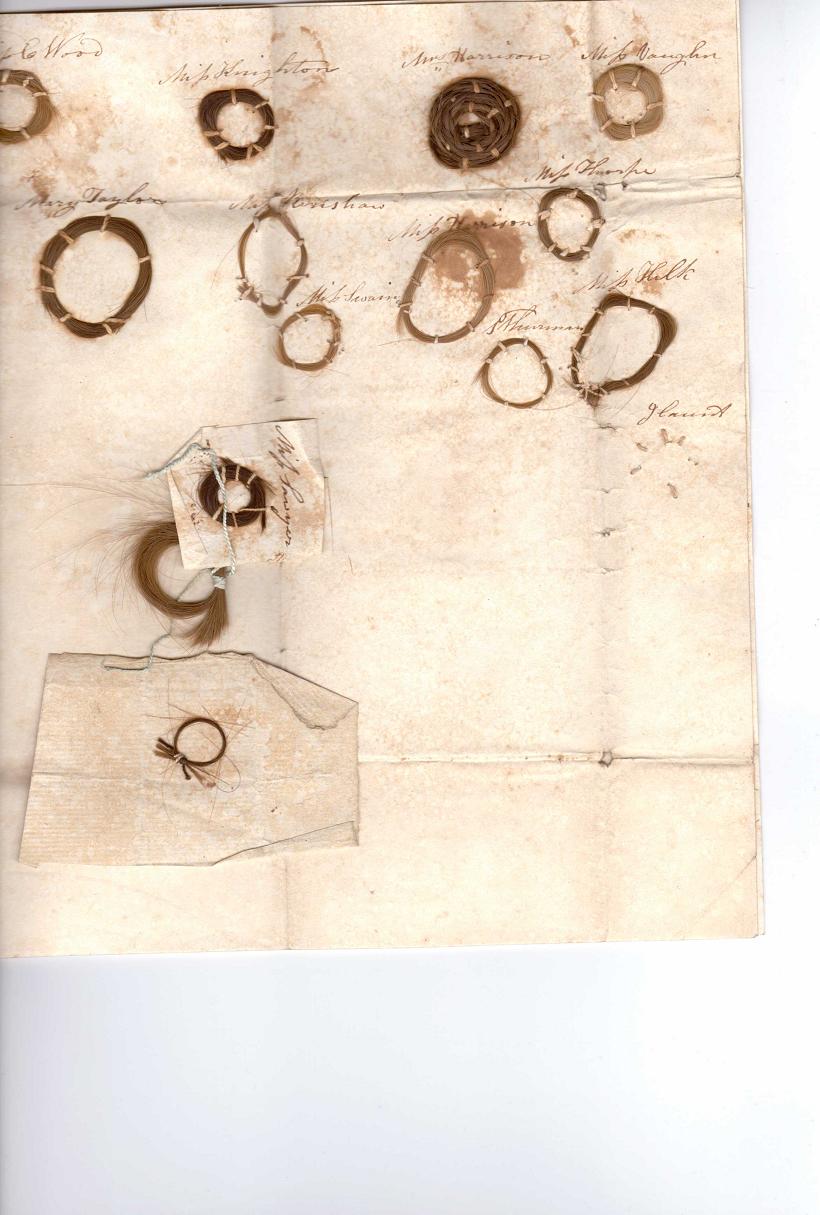 John Greaves Will of Thorps Saddleworth-died 7-Sep-1827-aged 65
In the name of God Amen I John
Greave of Thorps in the parish of
Saddleworth in the county of York
yeoman and being of sound and disposing
mind memory and understanding
praised be to God for the same Do
make publish and declare this my
last will and testament in manner
and form folllowing that is to say I give
and bequeath unto my dear wife Ann
such part of my furniture as she
may select tho the value of ten
pounds as and for her own absolute
property for ever. I give and bequeath
unto my said wife Ann for and during
the time of her natural life the
clear yearly rent or sum of thirty
pounds to be paid to her by two
equal half yearly payments in
the year. The first payment to be
made in seven days next after my
decease in here and of all satisfaction
of all Dower or thirds all common law
.....