Joseph Platt
Born: 20-Feb-1816, died: 16-Mar-1845, father: Henry Platt, mother: Sarah Whitehead
Family Tree
Letter from James Platt to brother Joseph Platt 9-Feb-1842
Hartford House
February 9th 1842

My dear Brother,
Agreeably to the wish expressed in your last
letter received here on the 7th, I shall draw a scale on the
next pages, of the premises at Werneth. I have been there
twice since receipts and consulted with Mr Schofield
first time, and second, I had with me the gardener
you saw when here, (sent by Mr S.) and we finally
agreed what was to be done. I shall preface the sketch
by a few remarks. It is now close on middle of July
and nothing done on the front of the house nor filled up.
We are thinking not to do this, till you receive this, the
reason is partially this, the steps from the front door are not
as low (by a course of brick) as back course, now as the
rise from the road will be sudden, the earth will
slant from the house, so that if it were filed up to the
bottom of steps, part of base course would be covered,
now if there was another step, it would at once set all
right, and there would be much less filling up than
at present, give your idea for another step in your answer,
if you agree with me. Another reason for not filling up at
present, is that we do not know the exact position of the
new carriage road; but on other side, I shall draw some
where near what is my own and Mr Schofield's opinion as to
where it should be, and until we receive an answer this
will be left alone, but Mr S. has promised to set it out

himself at any time. I have not curved the road in the sketch
as much as it should be, but you see the principle. If you
recall, your thought is ought to go between trees No 2 and 3 but
Mr S strongly objects to this; he wishes to keep the road close
to the bottom stone wall, than I have put it. Say whatever we
are to do in your reply, and as you have the plan below drawn
to a scale you can say what alterations must be done, and
draw to your own liking. We intend doing immediately the
following, viz filling up with the soil we have on hand, back
of _ formed behind the pond, and setting a few for the trees

earth along the new brick wall for about 2ft distance, towards
that Plum, peach, apricots , nectarines & c may be planted
immediately, is any to lie low in the kitchen garden? in fact
you must say, what must be done in both gardens.
We are wishing to know when you think of coming home
and if you leave Malta (which mother and sist do not like)
you let us know as soon as possible.
We are getting on very well in the works, as far as to say plenty
of something to do, and the alterations are proceeding
very rapidly, the foundry will be finished in 5 weeks, I
should imagine. Your views differ from those adopted
here, as Boiler house, is to be at end of factory, and they
will take our kitchen (back) in a few weeks, the nearside
for doing something is apparently , as the boiler back
or at least not in pieces again, a week or two since
and with all the power that is required they cannot
last very long.
With respect to the Continental business, John says he
knows no more than you do, or at least very little, by
making yourself known, you will accomplish all
you desire. I should imagine that you (not having a list
of prices) would not take orders, but merely make our
firm known, and get to know the different spinning
establishments, but you will use your own discretion,
but we have orders for nearly 6 months and every part
is stretched to its full extent; you will know what to do.

so far, there has been the mildest weather I have seen
known, yet I expect some severe weather. Mr Collins
was here a week or since, and he says you might have
stayed at home, for he has been very well all along. Mr
Starker was here also last Tuesday, though I did not see
him, he looks very well, and all are very eager to know
how you are getting on. Not withstanding the weather has
been so _ ( for we have hardly had 3 nights continued
frost and very little snow, no skating whatever). I do not
think it has been very healthy weather, being too damp,
on account of so much rain. My mother again desires
me to press upon you to stay at Malta till you return
home, as you have good friends, and a good medical man,
and if you remove, you will have new acquaintances
to seek, and after all perhaps not find as good as you have.
My mother desires you to give her best respects to Mr Buckley
and also your friends. Mr Drinkley thinks you may
return in April. We shall not forget your birthday on the
20th. We intend getting finished flagging, plastering and
if you say what is to be the kind of glass, it will be no worse
as Mr Butterworth seems not to know what you decided on.
Mr Schofield has displayed great skill in the laying out
of his garden, ponds, and if he was permitted would do
the same with our new road, (it needs not to be paved tile
you come). My mother and Sarah Anne and children all
desire their best love, and it is our earnest prayer
that you may be restored to us in health and strength.
Yours,
James Platt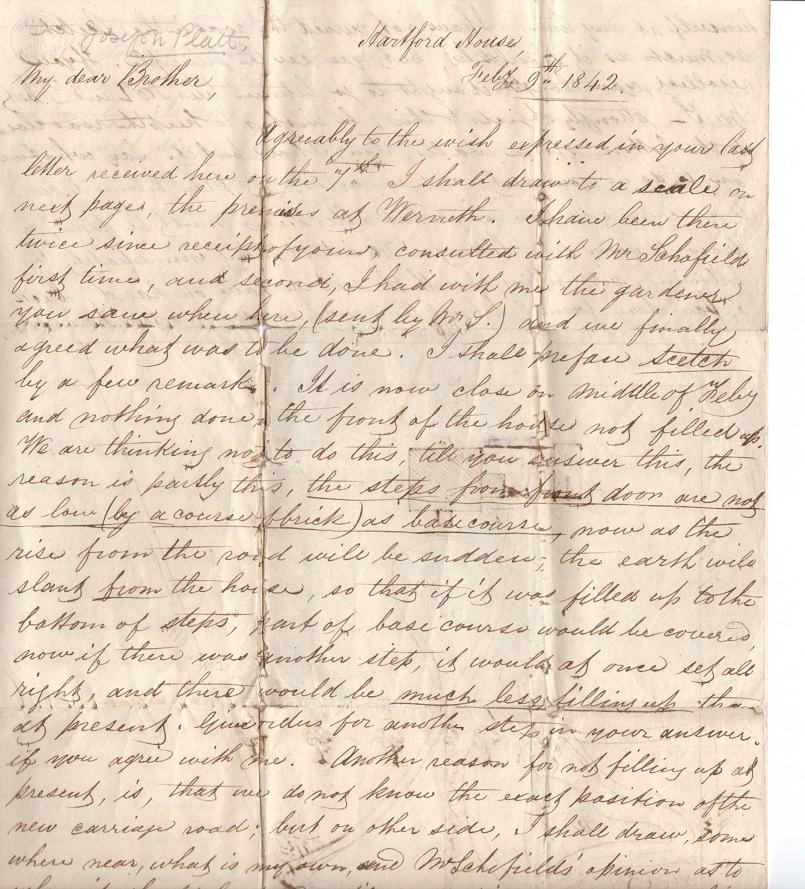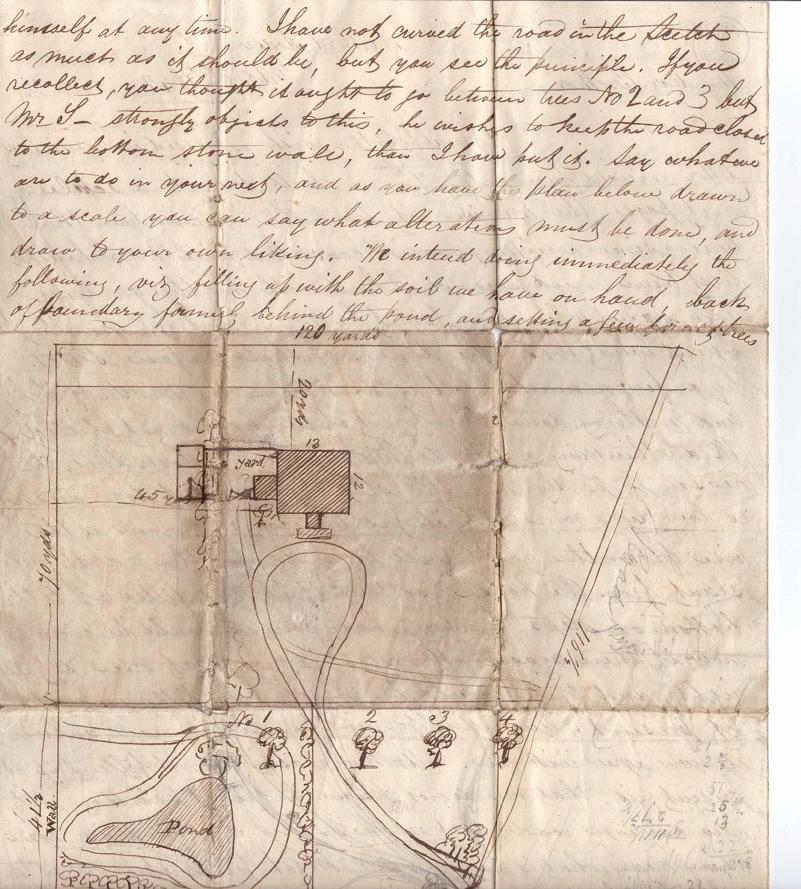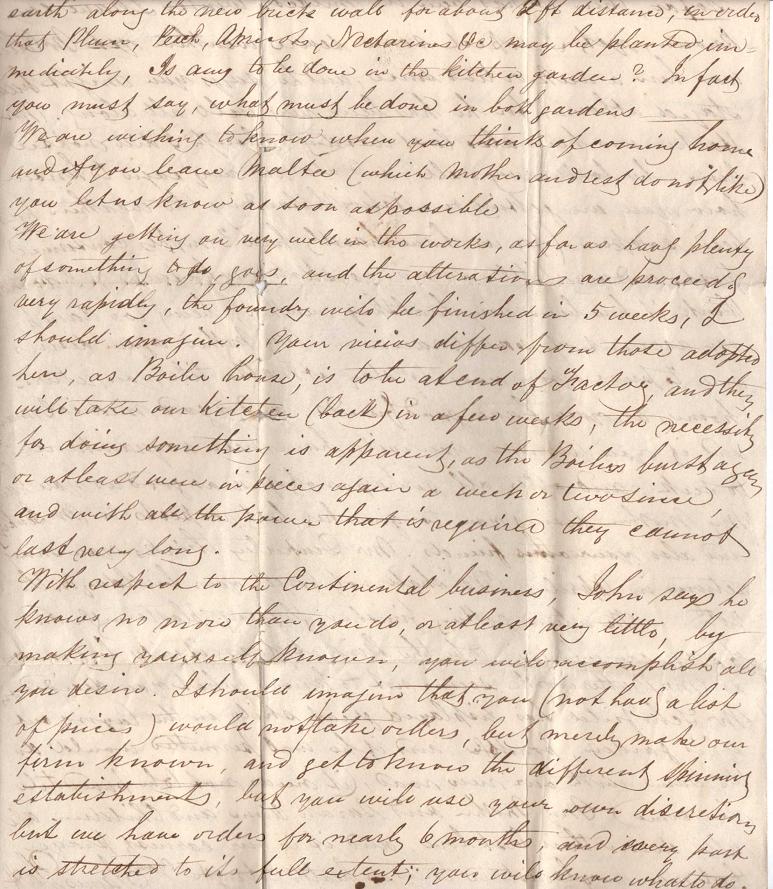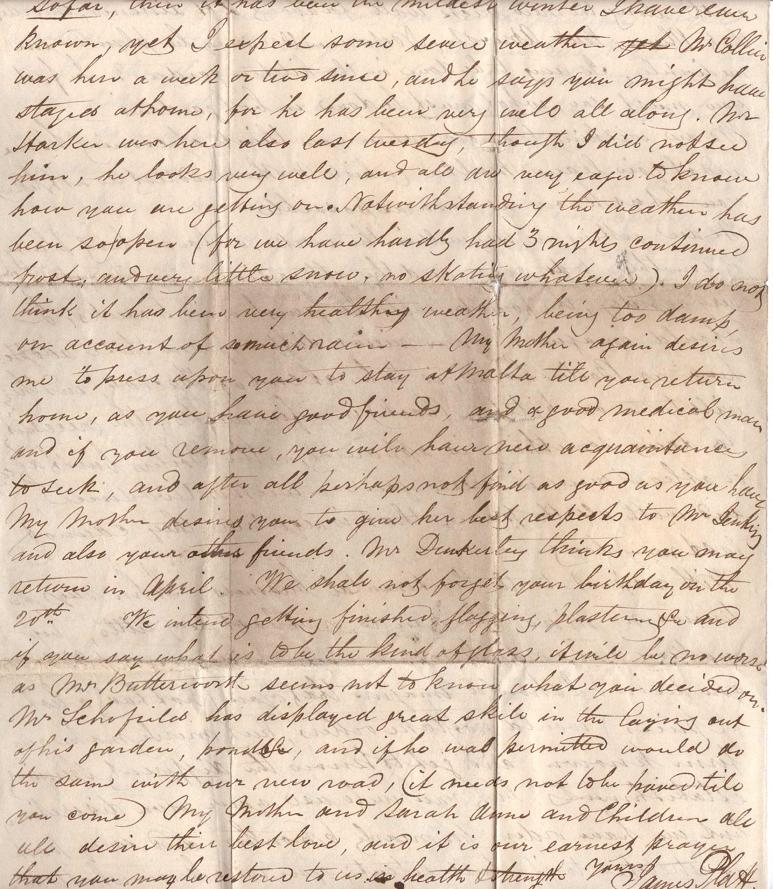 Letter from Henry Platt to Children 2 Joseph Platt 14-Sep-1842

Dear Children,
We are glad to inform
you that we got safe
to Blackpool last night
which I think we shall
like the place!!!
Yours
respectfully
H Platt
Blackpool
Sept 14th 1842
Direct to the post office
then no time to write further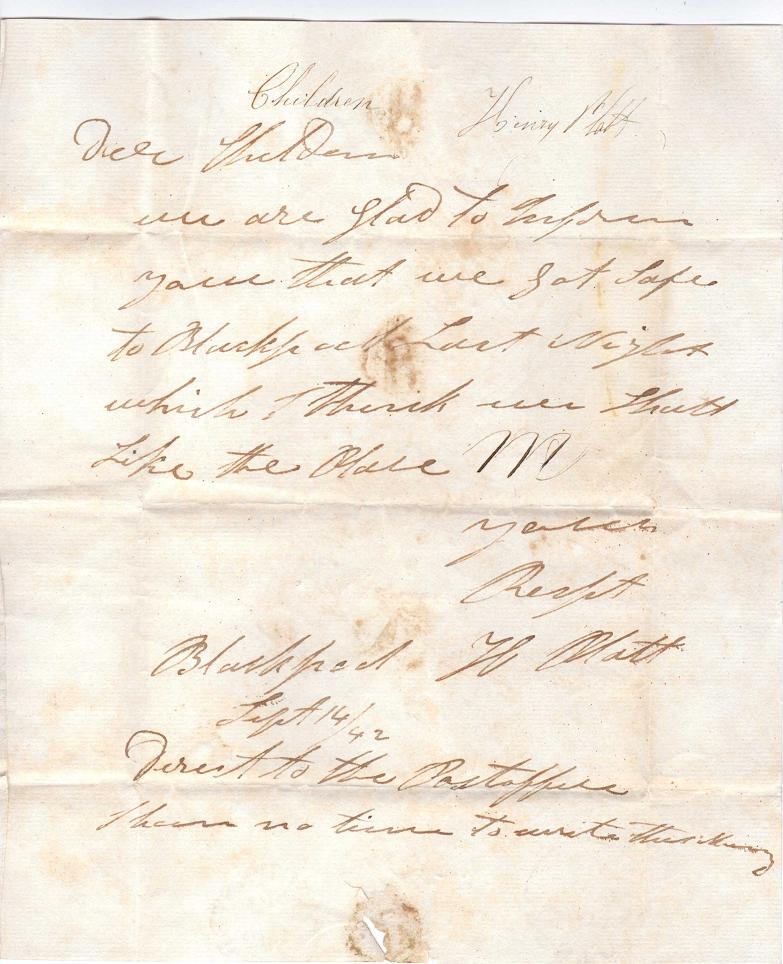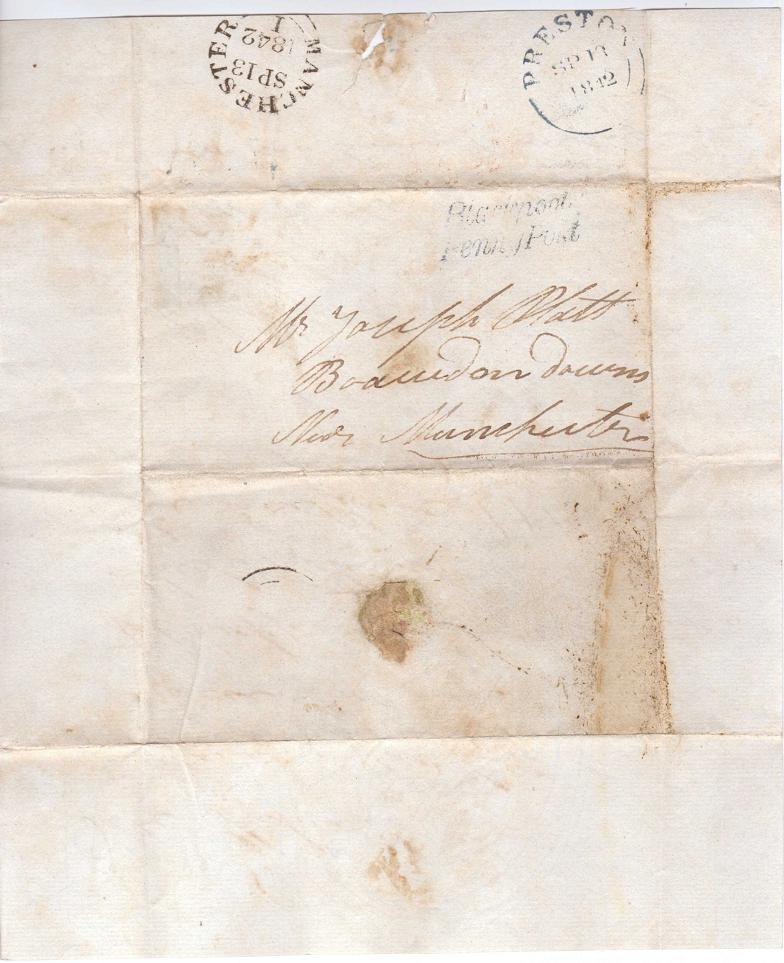 Letter from Henry Platt to Children Joseph Platt 14-Sep-1842
Dear Children,
It is with great pleasure
to inform you that we are all very
well. The weather has been very fine.
I think I shall find a benefit reading.
I feel rather uneasy finding from
your letter that you had been eagerly
about more land but I hope that you
will never think at it may make
for it would only bring more traceable,
let us have all the news you have
respecting how you are faring and
I infer you will have yourself accept
this and have not had a letter for him yet
from him must take time of the _
your affectionate
father & mother
Henry Platt
Blackpool
Sept 17 1842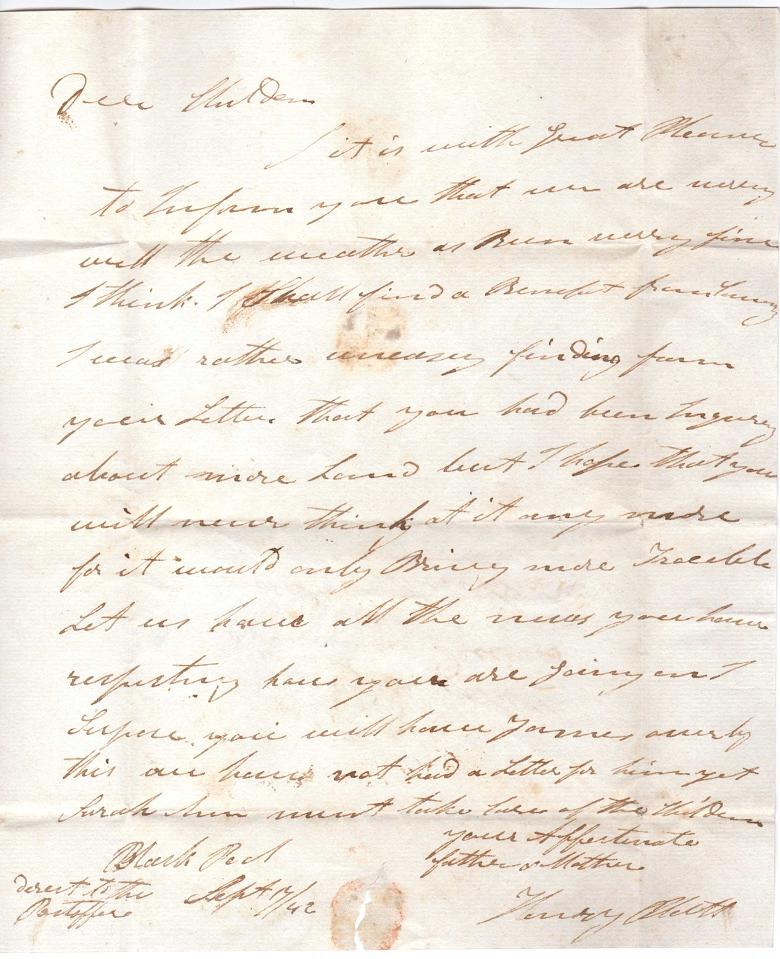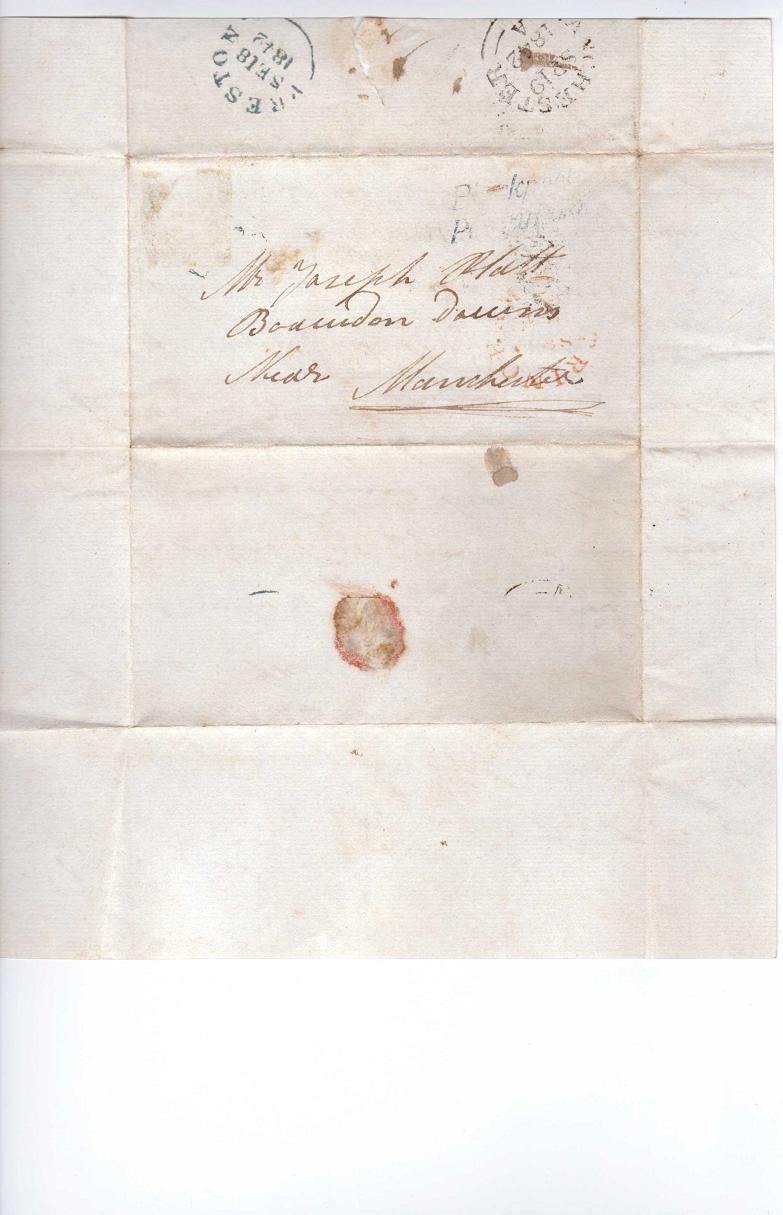 Letter from James Platt To Joseph Platt 21-Sep-1844 From Dieppe
Dieppe
Sept 21st 1844
My dear Brothers and Sisters,
I am now safely arrived
in France; you will see I altered the
plan of my route, as I felt anxious
to see Brighton, where are 2 of the
Royal children, and many of the
nobility. Mr Hughes King of Franks
came over in the same vessel that
I did, we had a very pleasant
passage indeed, and arrived at Dieppe
at 4 o'clock this morning. I slept in
my hammock from a little after 10
to 3. Mr H was sick, but I felt
not the slightest attack. We leave

Dieppe for Rouen at 11 o'clock and shall
arrive in Paris at 11 at night.
I am going to stroll about the town
and get a bath. So far I do
not feel at all at a loss with my
French, but shall tell better in
a few days. I am very well
though I feel the want of sleep
but shall be all right - after
being a night at Meuriers.
Hope all will go on well. Shall
write again tomorrow from
Paris (if all well).
Believe me,
Your affectionate brother
James Platt
Hotel de l'Europe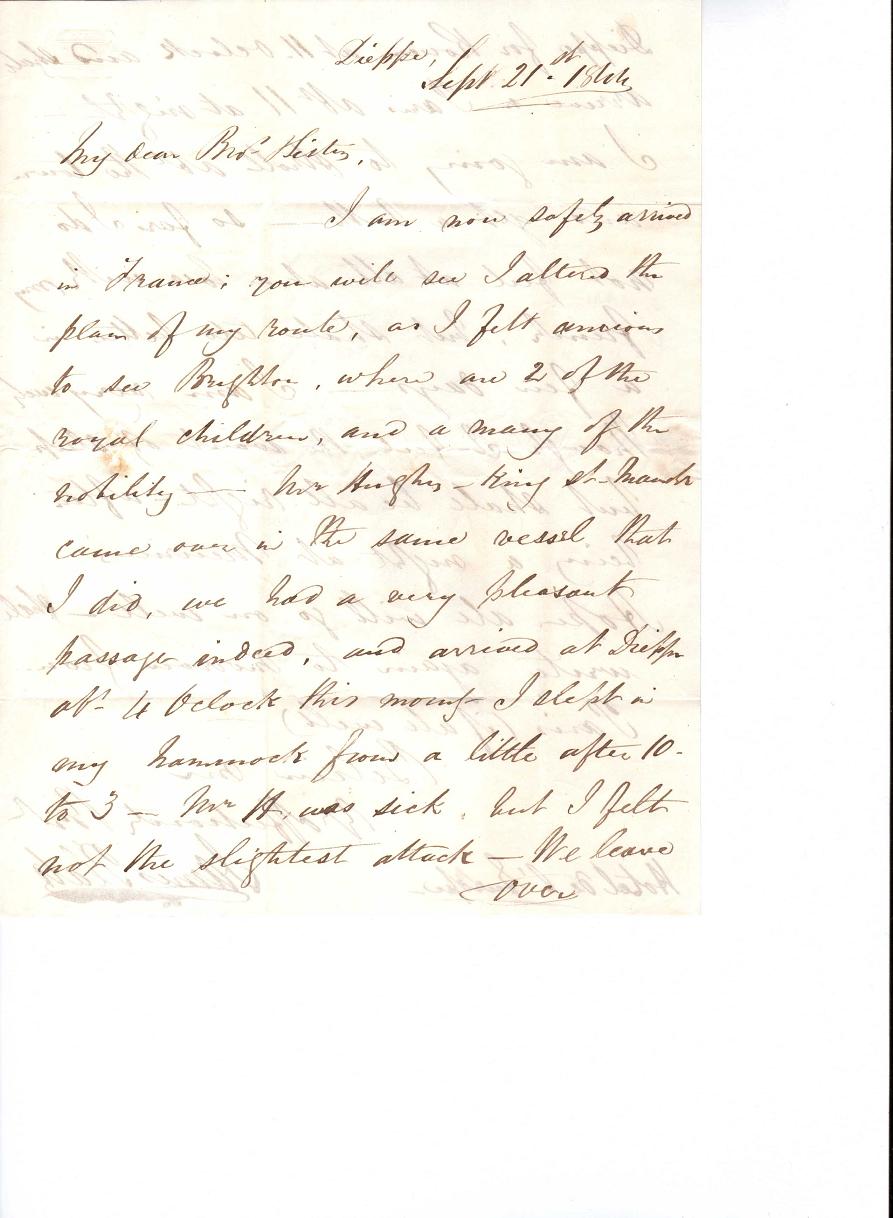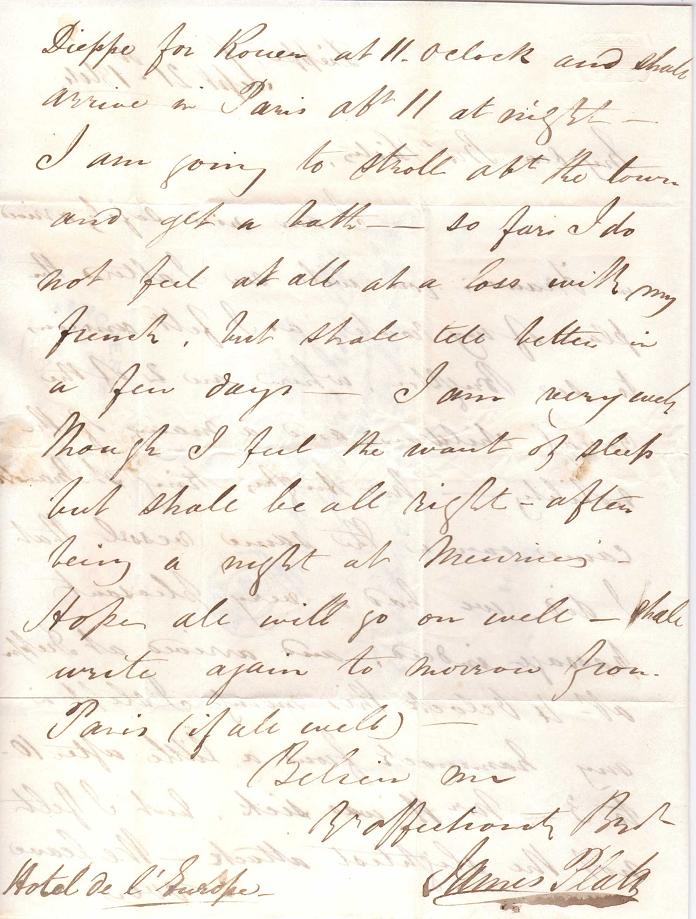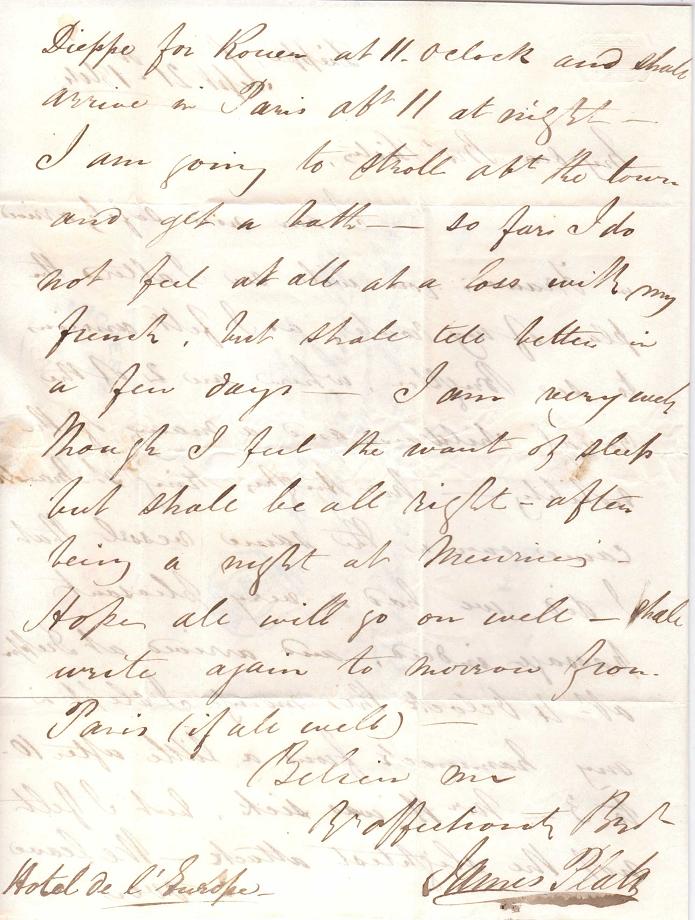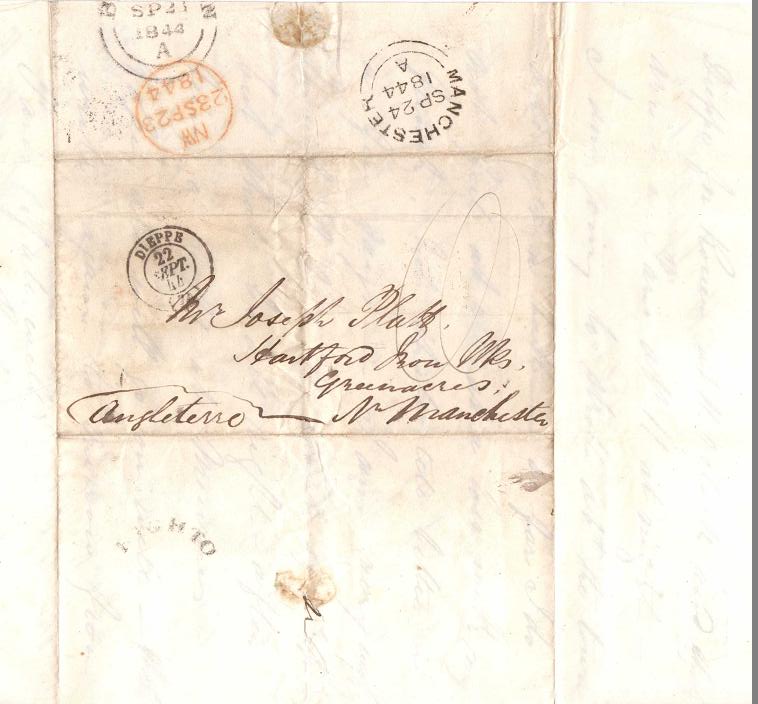 Letter from John and James Platt To Joseph Platt, Torquay 29-Dec-1844
Hartford Iron Works
Greenacres Moor near Manchester
Dec 29th 1844

Dear Brother and Sister,
Both your letters came
duly to hand this morning, and I can
communicate the contents of facts
_, who some to think _
the _ improper, for you, to leave
Torquay so early not knowing how yet
to ascertain what the evidence
of the place is, but he still thinks
that if your cough does not improve
in the course of a month or more, it
might then become a question
as to your going to Mater_
or what you think is advisable. I will
come over towards the end of this
month - when we have finished taking
stock - for a day or two - and have
some conversation with you.

above, tell Sarah Ann that Alice will
answer her mother - we are all very well
and things are going on satisfactory
as far as we are concerned; sure we are
very often thinking what to do with you
but hope for the best. My mother &
all the family desire to be
remembered and with a
description of the best way of
getting at you as _ in the
night.
Your affectionate brother
John Platt
My dear Bro.,
From what doctor says, you have
no cause to lower your spirits in the manner
you seem to be doing, as you will know
it is half the battle, we are each compelled
to wage at some day. Mother says keep up
your spirits and don't fret yourself so.
Believe me
Your affectionate brother
James Platt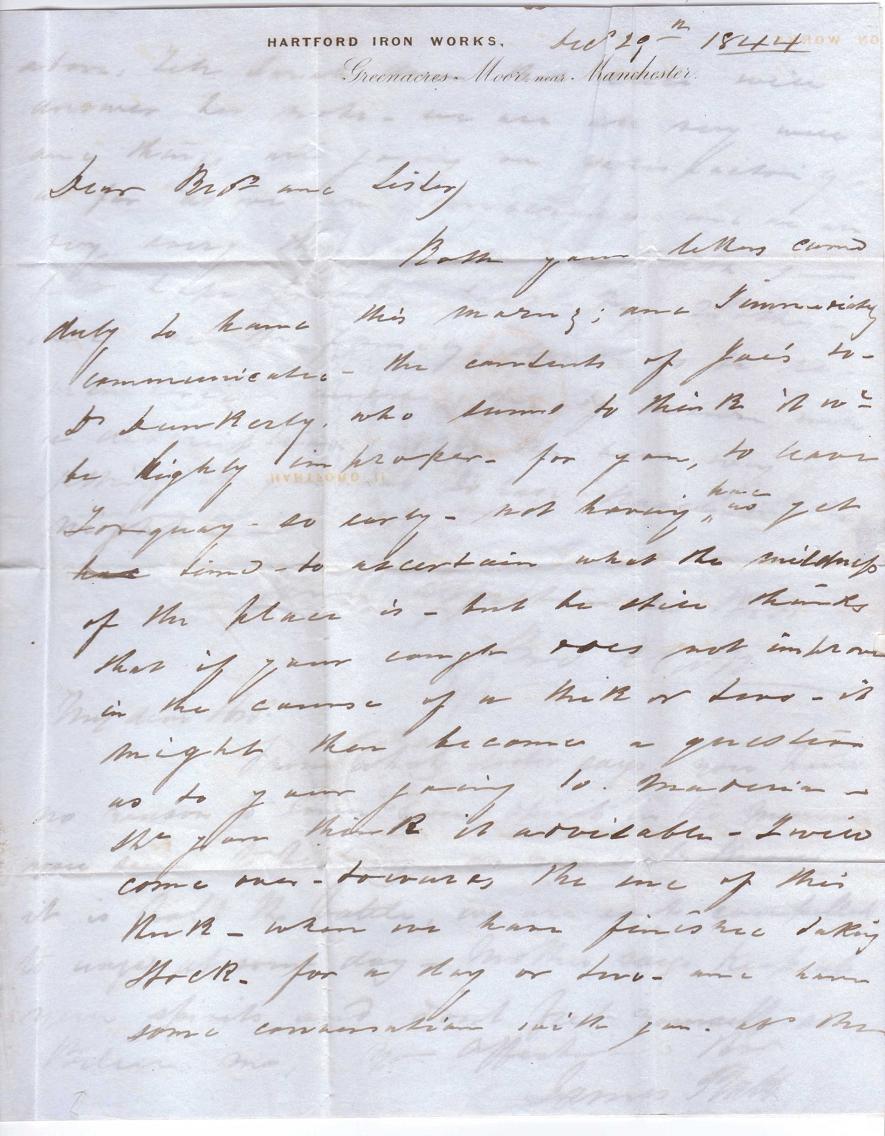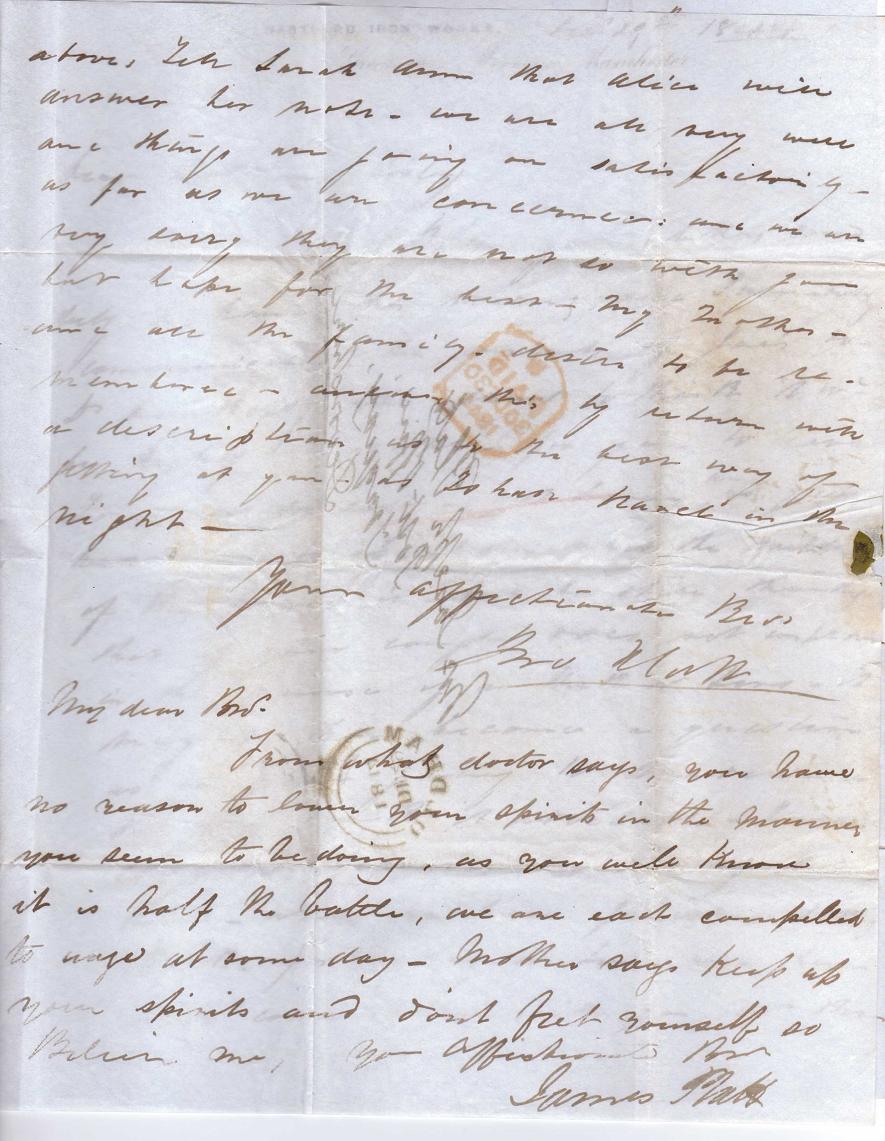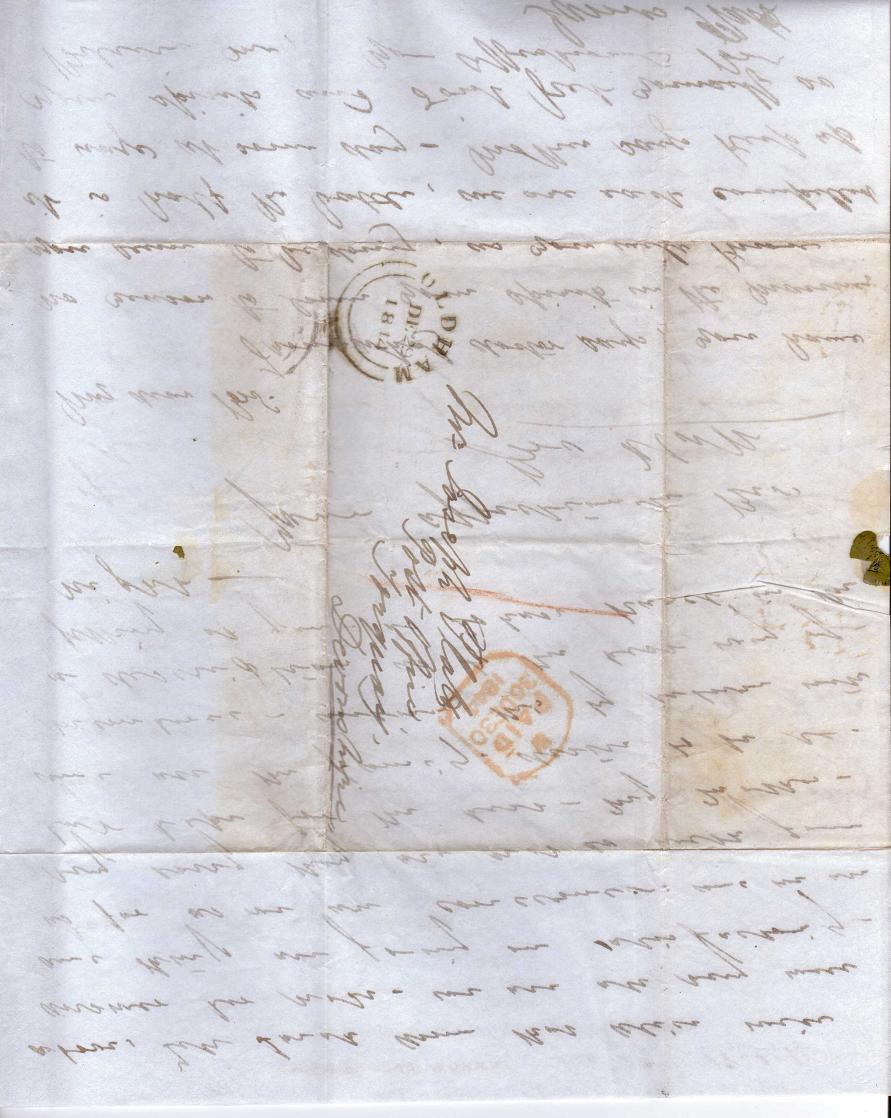 Letter from James Platt To Nephew Joseph Platt 31-Dec-1844
Shubrook Dec 31st 1844
Dear nephew,
My intention was to write you
before this, but owing to your Uncle
Will being in a dangerous state have
deferred till now. His pulse has been up to
a hundred & ten but is down to about normal.
Your mother has been over to see him
but durst not go in on account of her family
Doc. James considered him much better
but I should say not out of danger.
You know that fevers are very stressful.
Your brother James came for his horse
the night after and seems to be
quite anxious to become possessor
of some property that would magnify
all three of you, I should say a chestnut

if it can be come at on fair terms
his what I should prefer before any
sort of property I have seen Due form
since, but he tell me they are selling
at over 25 years. Perchance you can
give me your opinion what you
should prefer.
I am very glad you stood
your journey so well and arrived safe &
trust that you strive all that in you lays
to mark good weather, and bury all mechanical
calculations in the ashes, I trust you are
enjoying the same blessing that I now enjoy
that health and still to continue till we meet
again, my son William had a stomach complaint
but Doctor Tom set him all right.
Remain
your affectionate
Uncle
James Platt
NB Give my respects to Sarah Ann
and tell her that I am very anxious to know
after seeing another part of this little island
whether she still intends to take the vale.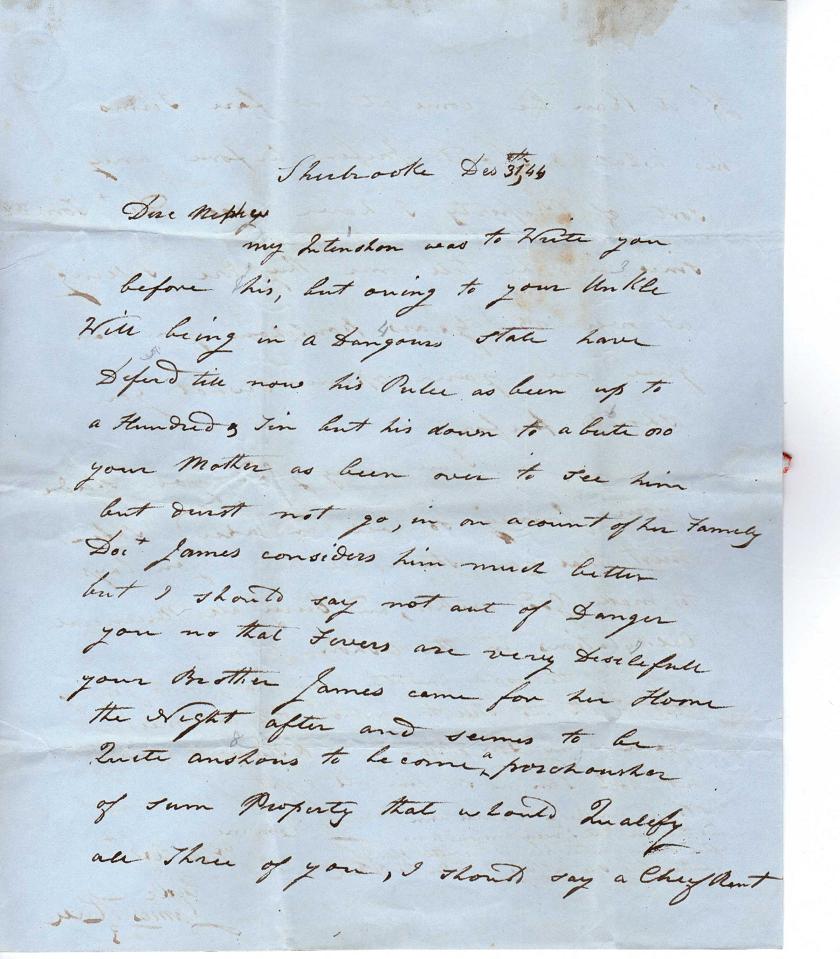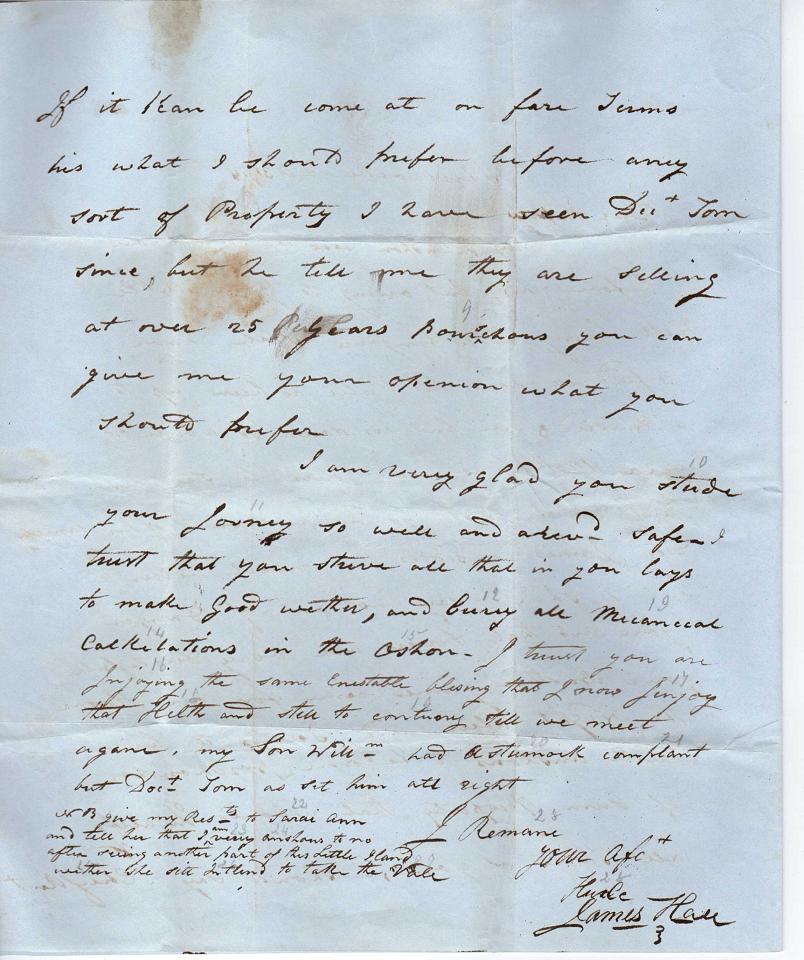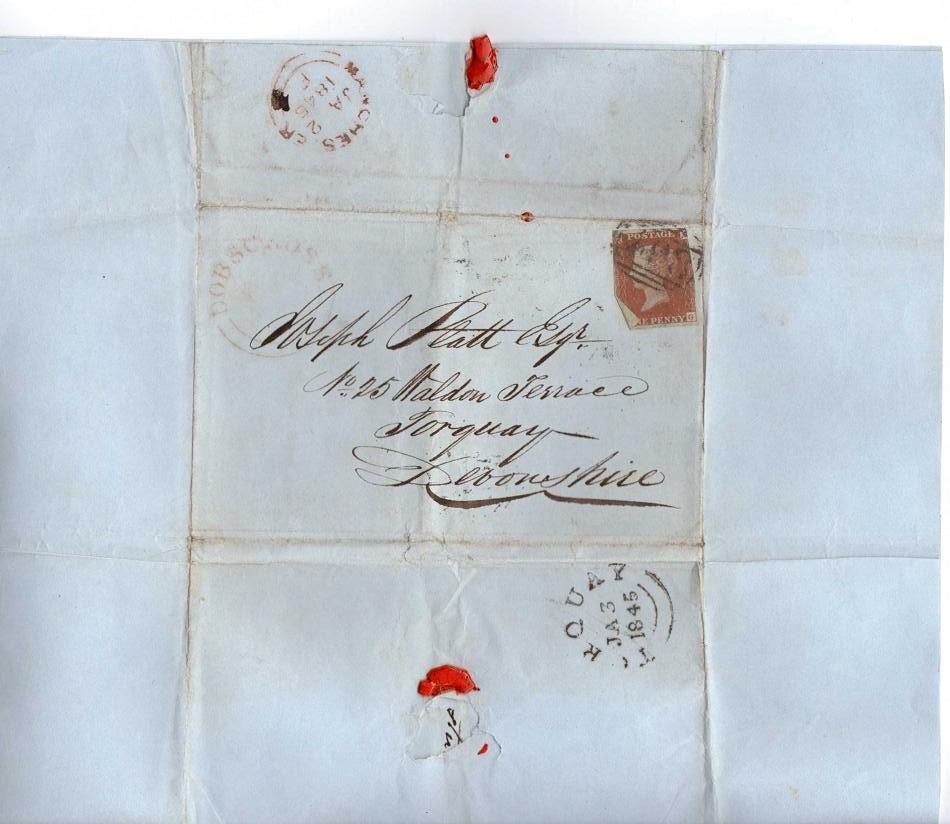 Letter from John Platt to Brother Joseph Platt 18-Jan-1845
Hartford Iron Works
Greenacres Moor near Manchester
January 18th 1845
My dear brother,
I can hardly sufficiently
thank both you and Sarah Ann
for your kind atlas - for you
must be since that envy making
North with intense interest
to what may have to communicate.
I can't fully enter into
- am approaching unknown
to fine ...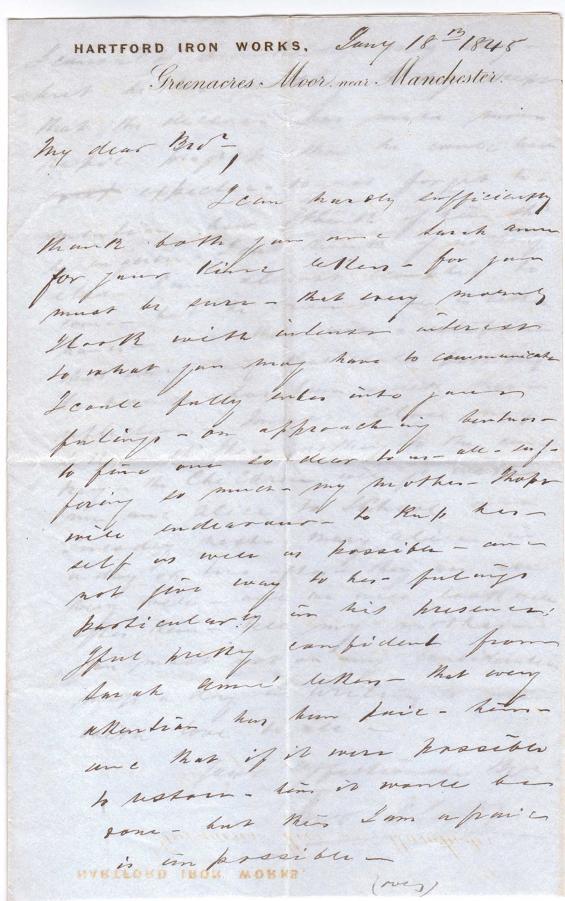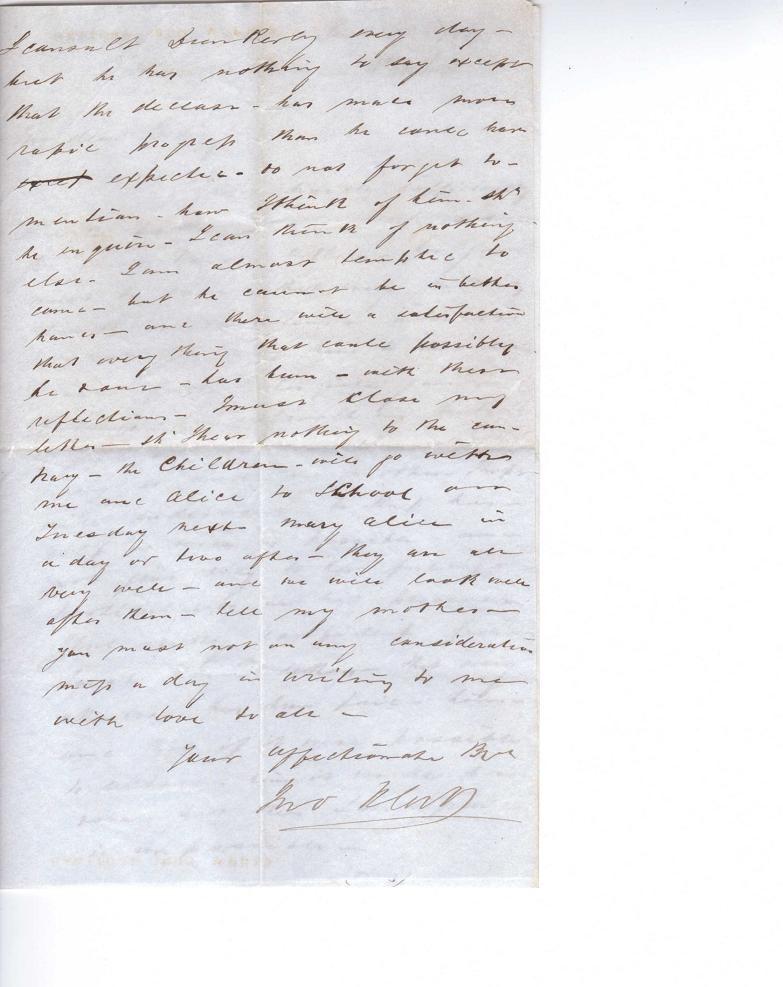 Letter from Rich Davies Greenacre Moor to Joseph Platt Hotel Isle Of Wight 22-Feb-1845
Greenacres Moor
22nd February 1845
My Dear Sir,
I should have written to
you long ago, but was fearful that any
communication, such as I should send,
might produce an excitement, which in
your weak state, would prove inconvenient.
My gratification in receiving your note
is so great, that I shall fail to express it
& remember your susceptibility of excitement,
and fear to raise it, but it should be
prudent to your recovery. Yet I should
like to convey to you of
my joy. You ask, will I propose you a
member of my church?' Yes sir, and with
the delight which can be felt by none, but a
Christian Minister, many of whose prayers are
in this case.

I shall hardly require, your long
afflictions have afforded you ample time
for consideration, and I feel satisfied that
this is no lack of resolve. You know the self
denying course, which gives dignity to a
Christian profession, and your uniform
determination to do well, whatever you undertake,
assures me that you will be a christian in earnest.
You say, it is perhaps applying at the 'eleventh
hour' - it may be so - but if it is - we will
pray that the time may go back upon the
dial, and that your eleventh hour, may be
prolonged to a distant day.
I want to say more, but I fear you
will not be able to bear it. Accept my hearty
congratulations upon your hoped for prospect
of heaven, daily has it been prayed for
and still it shall be implored.
My kindest regards to your devoted
mother, and excellent sister. God bless you
and grant you the largest desire of your
heart, is the constant fervent prayer of
my dear sir,
Your humble faithful pastor,
Richard M Davies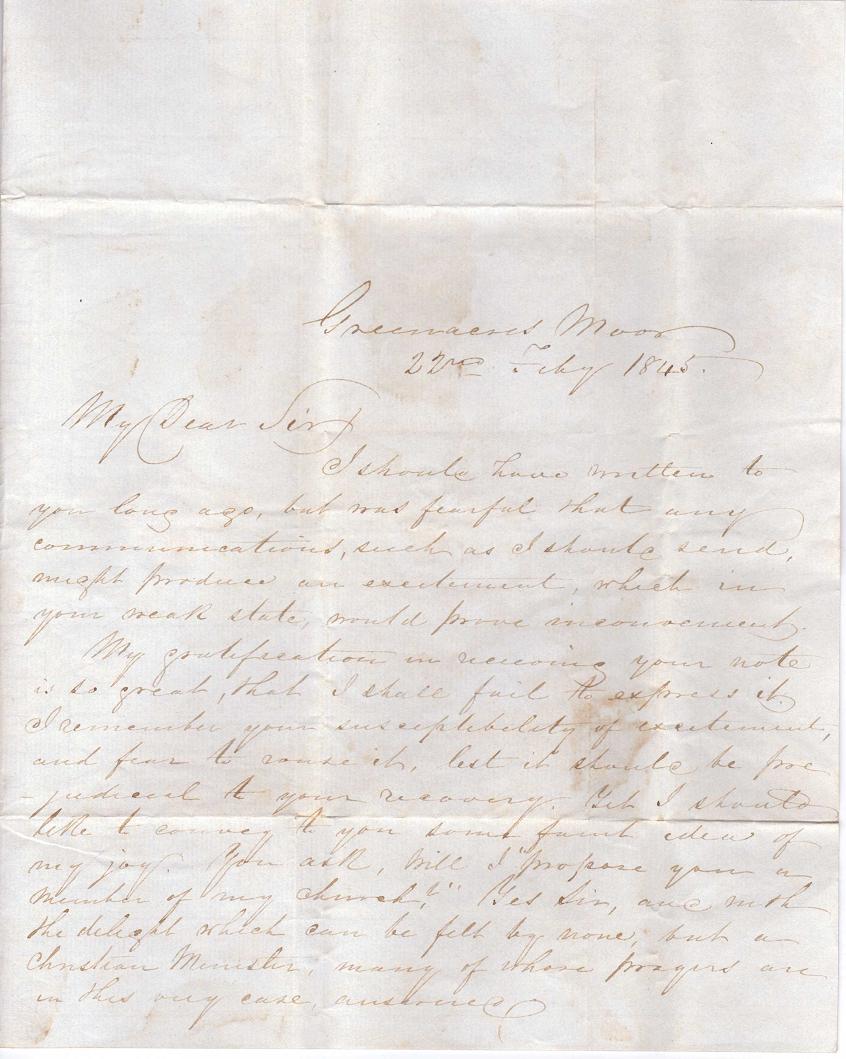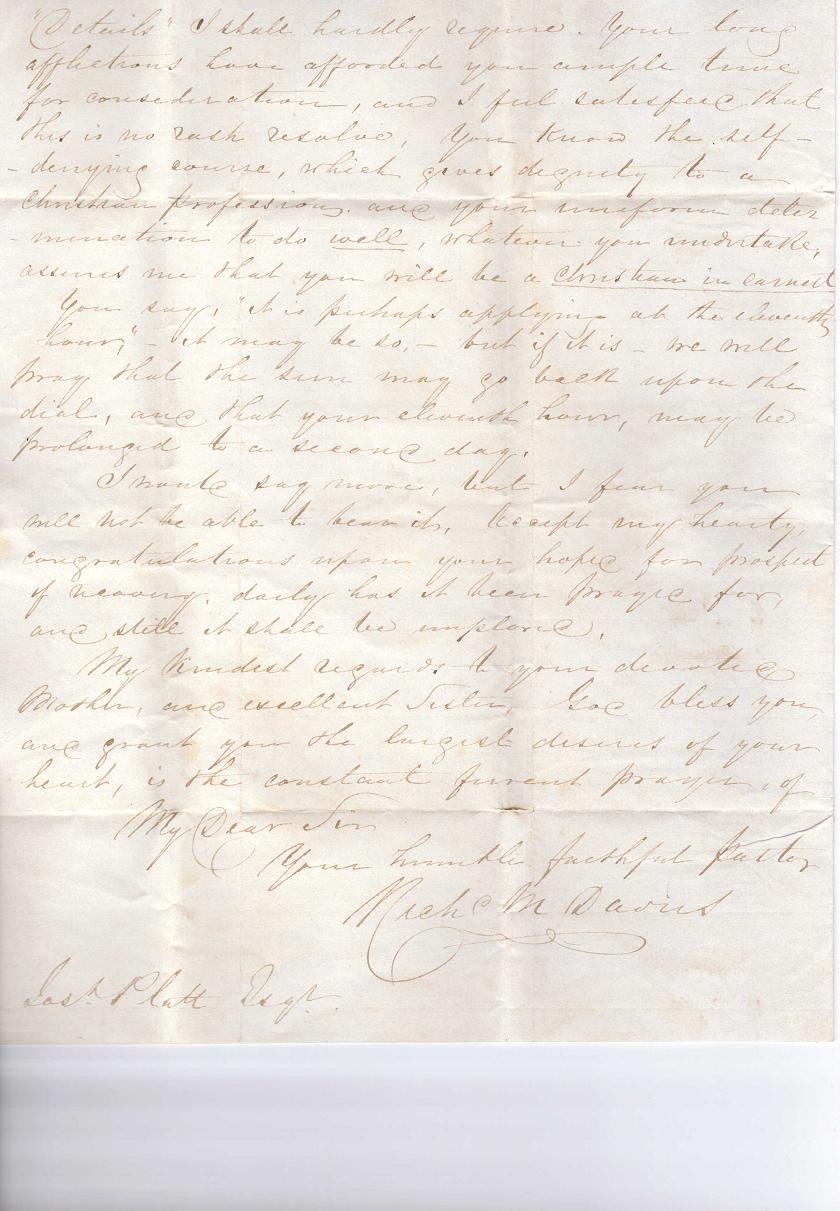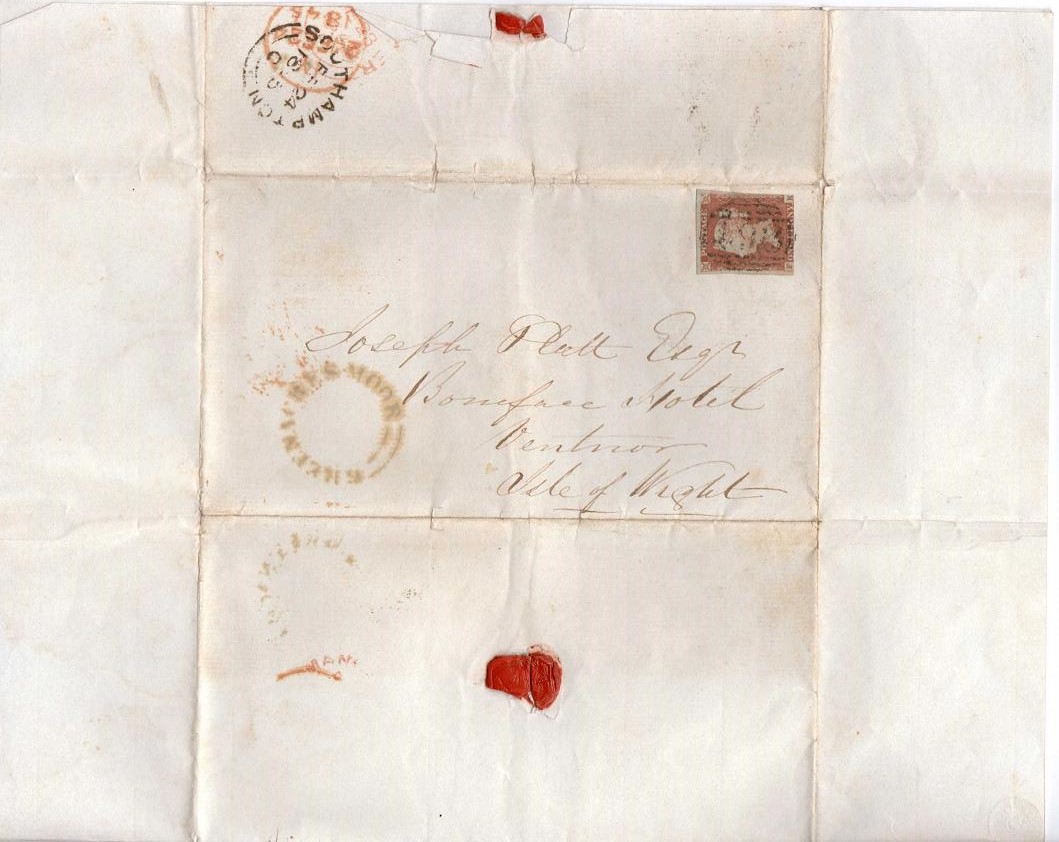 Letter from Jack Platt to brother Joseph 11-Mar 1845
Hartford Iron Works
Greenacres Moor near Manchester
March 11th 1845

My dear brother,
I was rather startled
this morning on receipt of sister's
letter, for I had hoped you
were gradually improving &
that spring would soon cause
you to rally - but I confess
I had no idea you were so
much reduced; let us hope
that God, who can cast down
and raise up at pleasure
when earthly hopes are low
will now dissipate our fears
and once more grant you

comparative health. I had
intended coming to Brighton
about a week before Whit
suntide, but shall make
it convenient at any time
you may think proper.
I am sorry you should put
yourself about respecting garden
or anything else. I shall
take the whole expense for
next month to myself, that
you may not have slightest
anxiety in that respect -
nothing is being done that
can be left undone, and that
you would see if you were
here. I think perhaps George
will do better, since this morning
I told him distinctly what I

thought, and he is shaping better
at finishing, as I have told what
shall be done and what not, and
that I must have it done with
less mess. He is rather stupid
and nothing but plain talk will do
but as he settled here on purpose
and takes great interest in the place
it makes me rather lenient.
I beg you will not write yourself,
as I am sure it will excite
you, and you are very well
aware of what importance
it is to be free from agitation.
I saw Sarah Ann's letter to
Donksley, but he talks like
_ of spring reviving you
which I may pray God it may.
I had the Rev W Davies
with me all night at Werneth
last week, when I engaged him

to propose one as a member of
Hope Chapel at the next meeting.
He discussed matters over till
after 12 o'clock. I have quite
made up my mind and feel
relieved at what I have done,
and I humbly hope it may
stamp my character for ever.
There is a vast deal to contend
with in this world, and it is not
always I am in the hopeful
humour - yet I always look
to the future, when things look
dark, and forget or try to forget
the present - at such times -
for what slight and brittle threads
hang our destiny, and yet nothing
will satisfy me, but onward, onward,
may it be in grace and wisdom
also. I hope that such inspiring
promises of the word of God are
your consolation and strength,
whatever happens he is our friend
and will be when this chequered scene
is over -
yours affectionately Jack Platt