Louisa Platt
Born: 04-Jan-1835, married William Hall on 19-Jun-1862, died: 28-Feb-1904, father: Henry Platt, mother: Sarah Whitehead
Family Tree
Letter from Sarah Anne Platt to Little Sister
St Bonniface Hotel
Ventnor
Isle of Wight
February 28th

My dear little sister,
We have long been
expecting to hear from you,
but I think you have forgotten
us altogether, James
often writes always
tells us when he has seen
you, but you have never sent
a single message to any of
us, perhaps Mrs Green will

be kind enough to let you write
as soon as possible, so that
you can tell us all the news
you have got; we heard of
you going to take tea with
Mrs Radcliffe, when you see
her again, tell her I should
like to know where she lodges
when she was on the Isle of
Wight, give
my kind love to her. I suppose
before this you have found
out Mr James Willoughby &
remember me to her and tell her
I was sorry we could not
call upon her before we left.

Joe I am glad to say keeps a
little better. I expect we shall
be at home in six or eight weeks,
that will be before you, but
we shall call to see you as
soon as possible. So we are
very anxious to see how much
you are improved. I expect
you will be quite clever,
but I must so end. Accept
of our kind love, I remain
my dear little sister
your affectionate sister
Sarah Anne Platt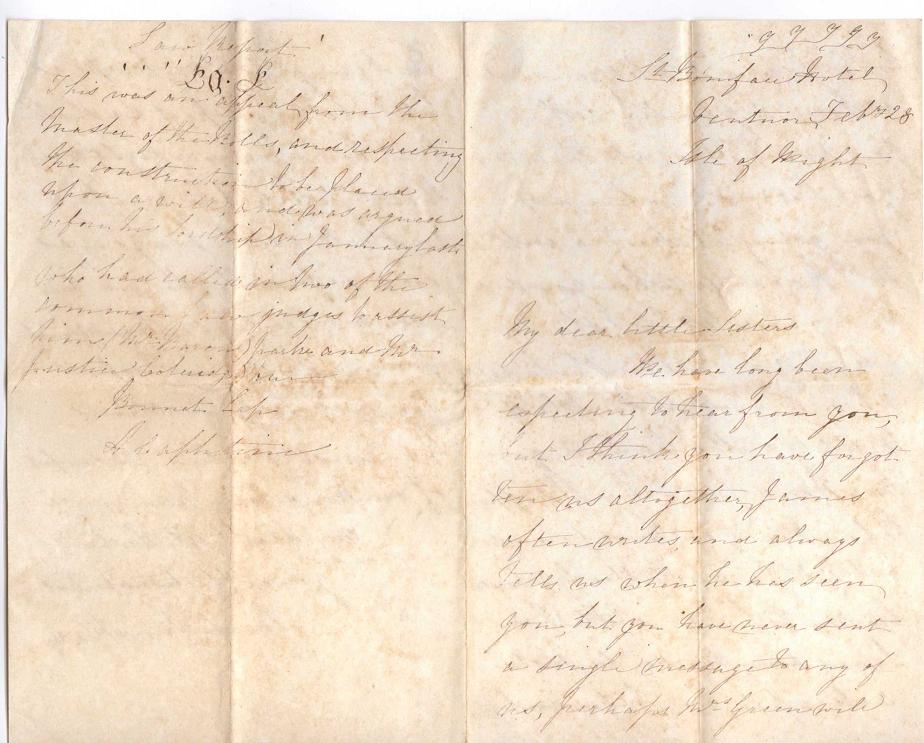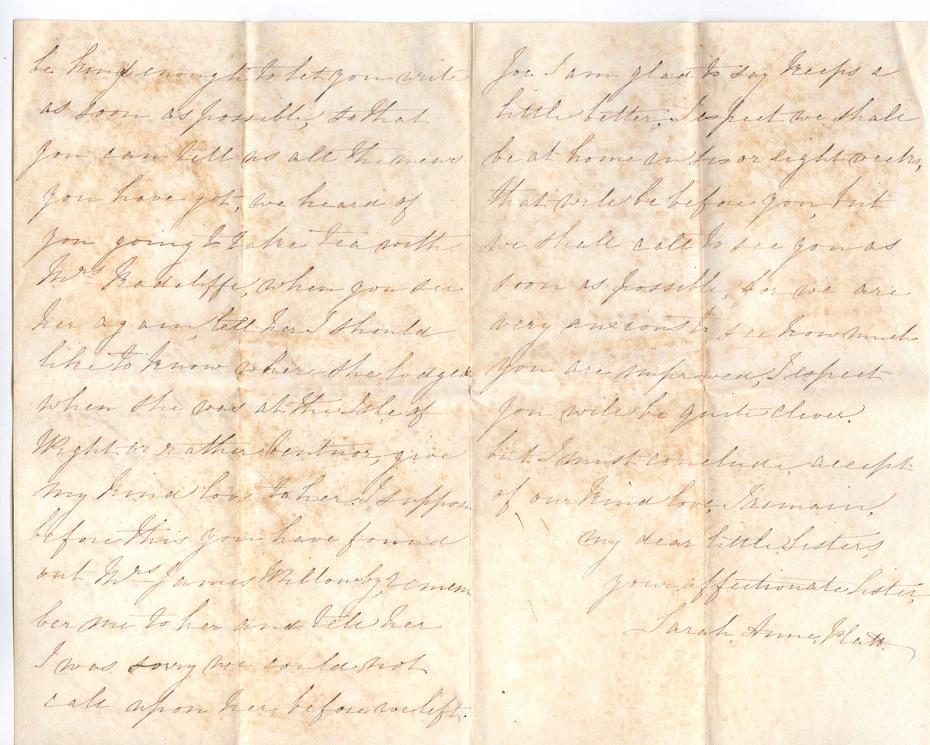 Letter from Sarah Anne Platt to sister Louisa at Southport - Crossed Writing
My dear sister,
I fully intended to
have written to you
long are that and are
quite ashamed of
myself for not doing so
but I have been so much
engaged that you really

must excuse me. I have
heard that it is very warm
in Southport if it is just the
same.
...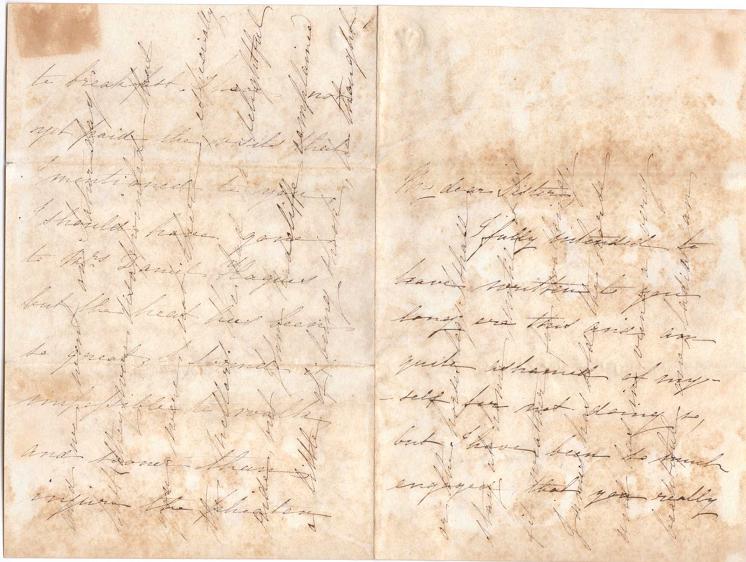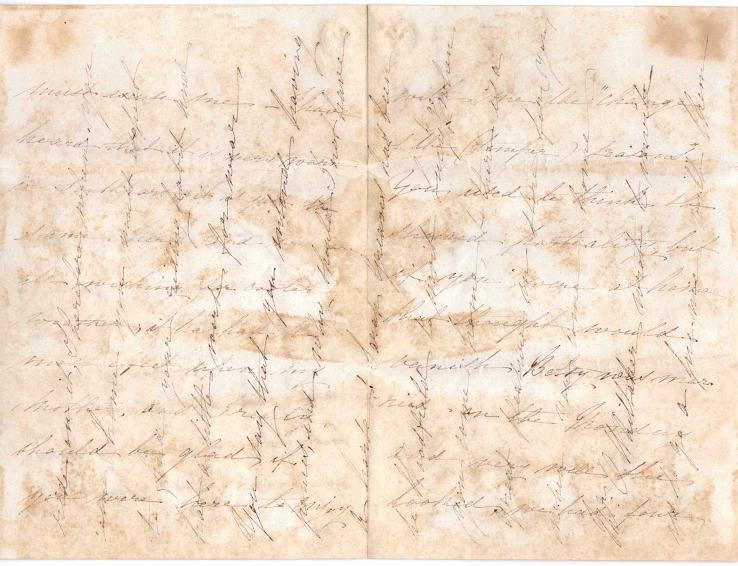 Letter from Sarah Platt to Miss Platt Clapham 26-Mar-1850
My dear Louisa,
You must excuse
me being so long in
not writing for your kind
note to me on my
birthday but I am
so much engaged
that all my friends
are _ that
I do not go more
it is hard to please

every body but I wish
to write you
as often as possible.
John is much better
_ ...
I shall fully
expect to have the
pleasure of her
company in February at the
_ with _
to you
..
Yours affectionately
Sarah Ann Platt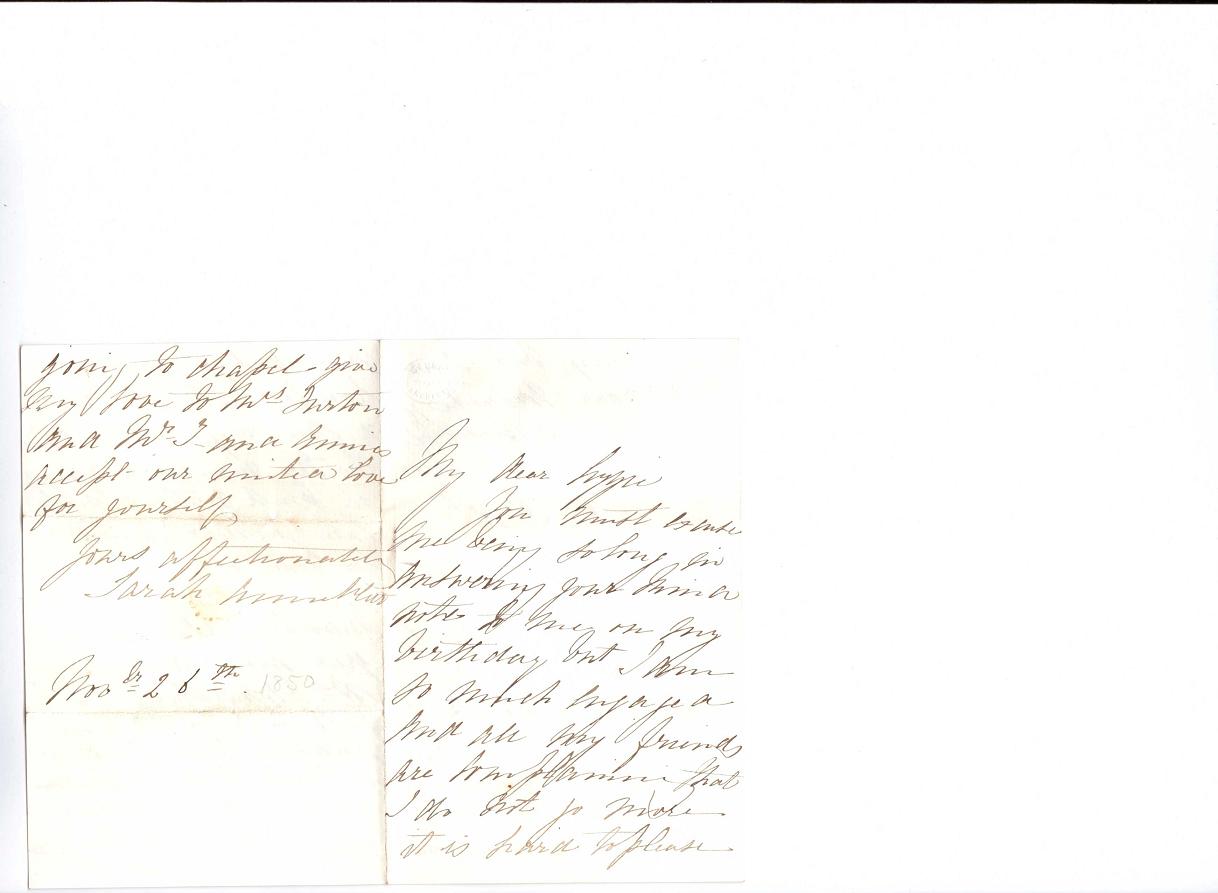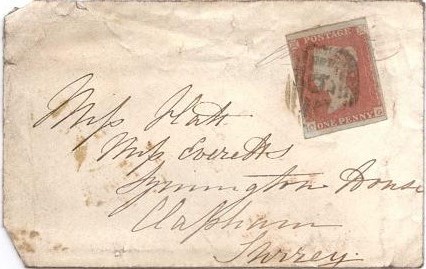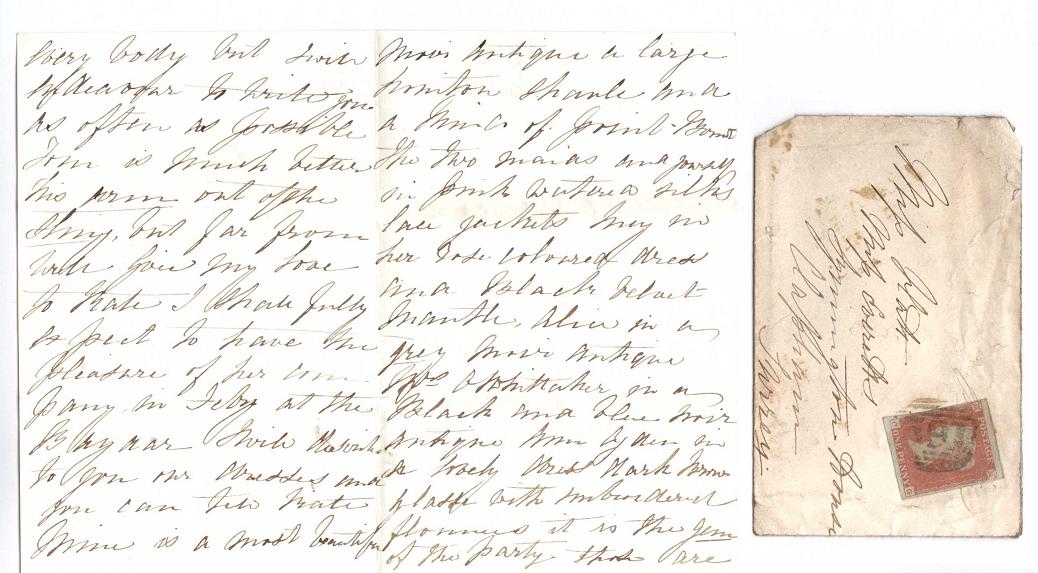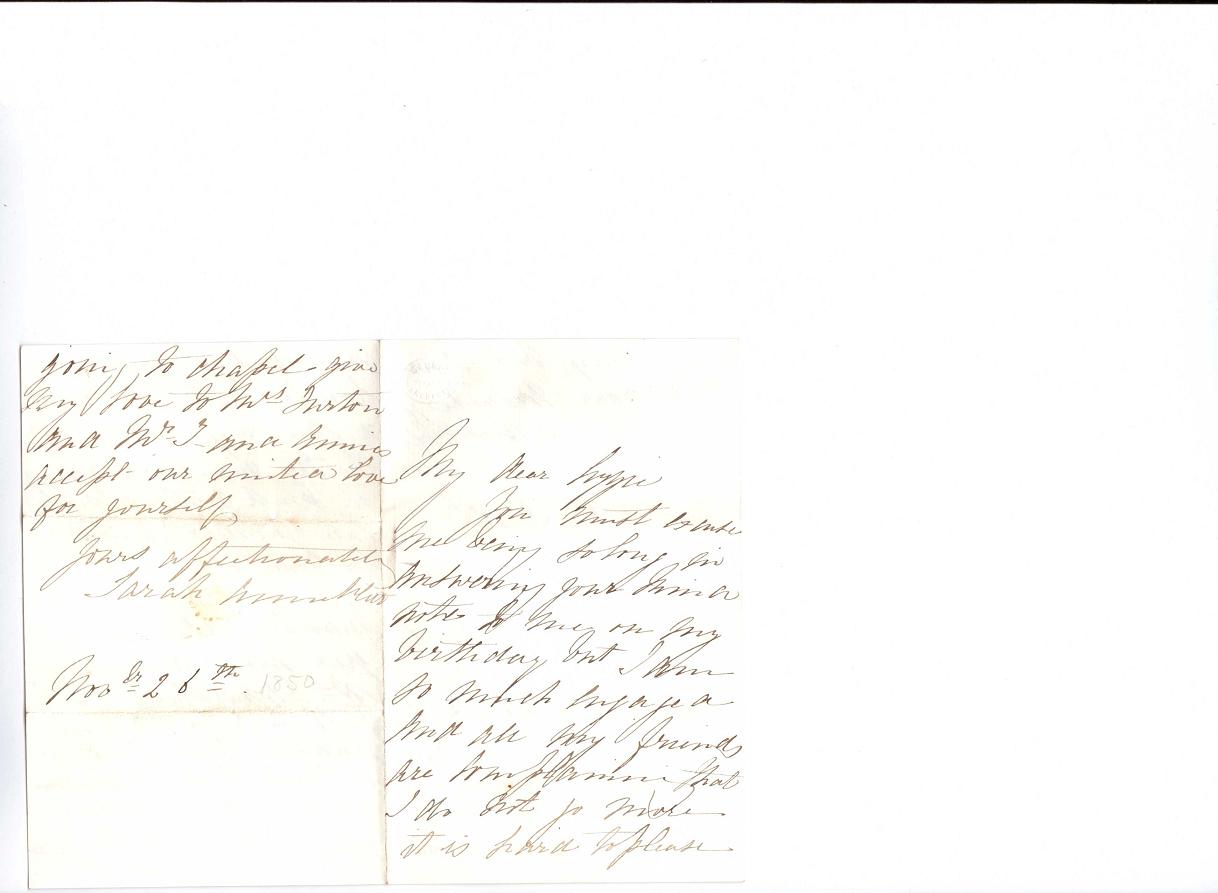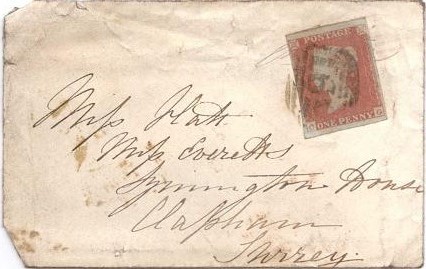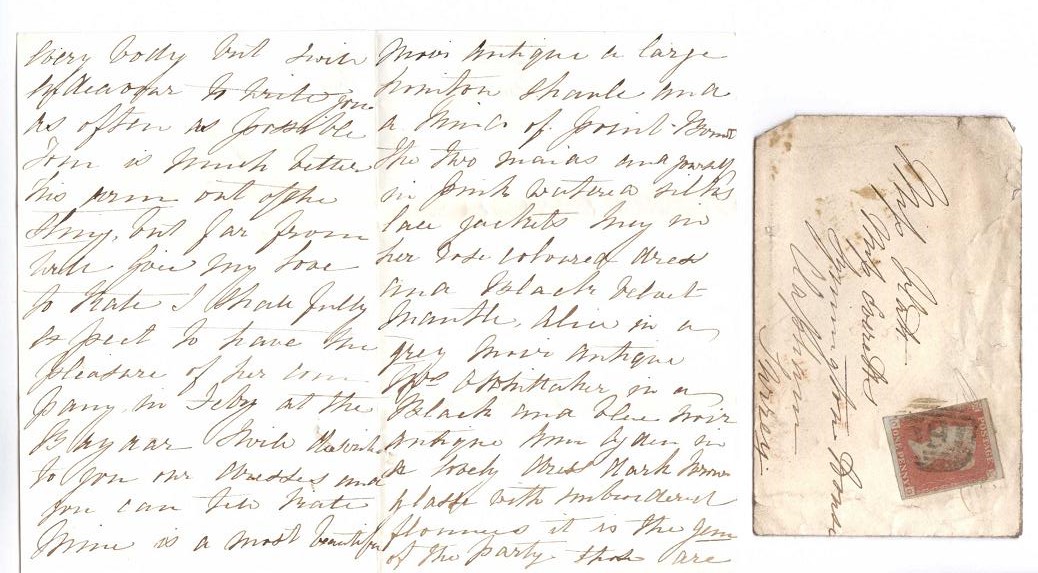 Letter from James Platt to Louisa 19-Dec-1854 from Regent Hotel Leamington
The Regent Hotel
Leamington
Dec 19th 1854

My dear Louisa,
You can tell my
mother that I am gradually
improving, though still
comparatively weak. Today
I have had a drive as far
as Warwick Castle. The
weather being very clear
and brilliant, but cold and
frosty. Yesterday was very
fine also, so that I have
nothing to complain of,
and am able to walk
about or run every day.
I hope therefore that I

shall not have any more
attacks. What have you
new in Oldham? Is there
anything stirring? as I want
or course, to know how things
go on. I hope my horse
will be a little better
conducted now trip I reason
is irksome. It is very
strange, no one could let
me know more, but I
suppose no one liked to
meddle with other peoples
business. I have nothing
at all in the way of news
here, and can only assume
from that I am taking every
possible ease of myself,
and as my appetite has
returned, markedly I may
be all right again given
what might be expected.
Remember me to all at
home, and believe me,
Respectfully yours,
James Platt
P.S.
The above is from your
affectionate brother, never
mind the weighty form
which slipped in by mistake.
J.P.
The money for W Davies
will do when I come home.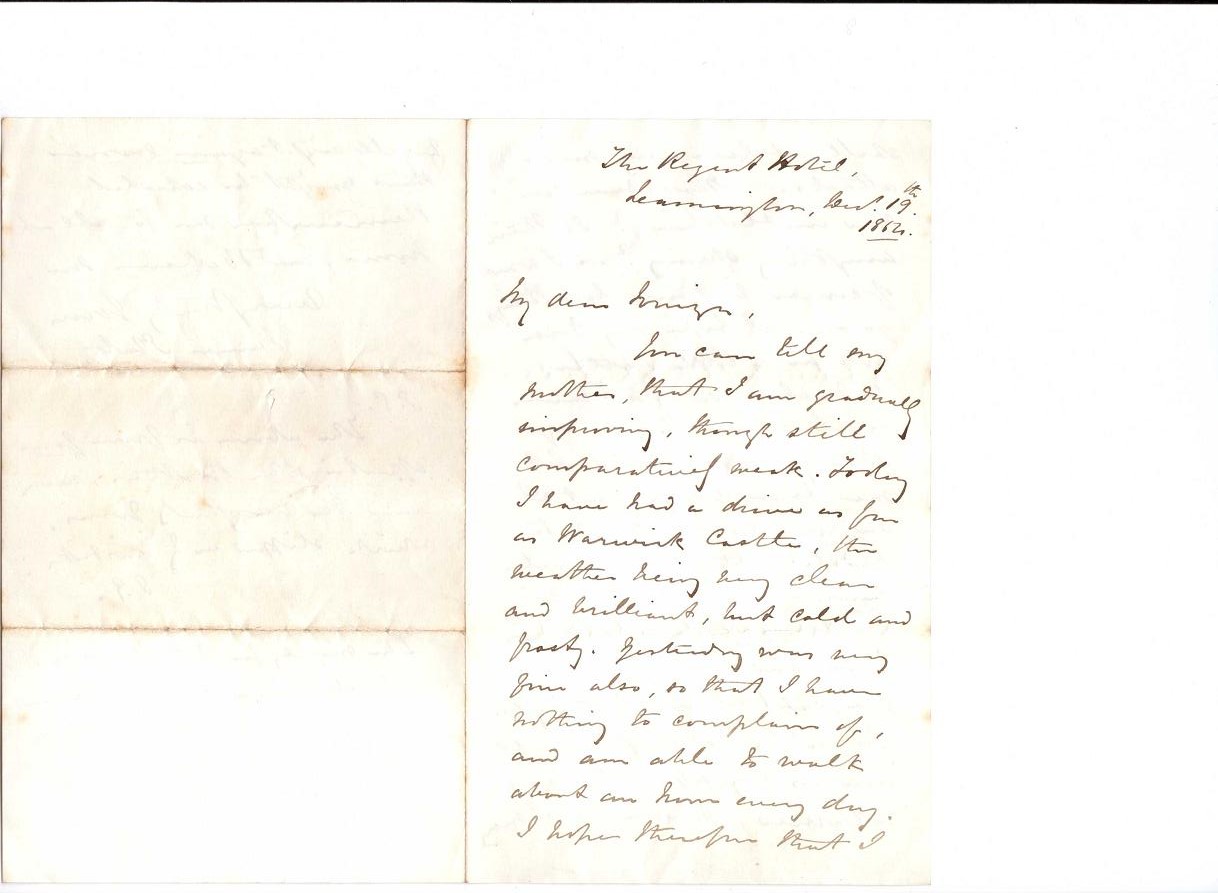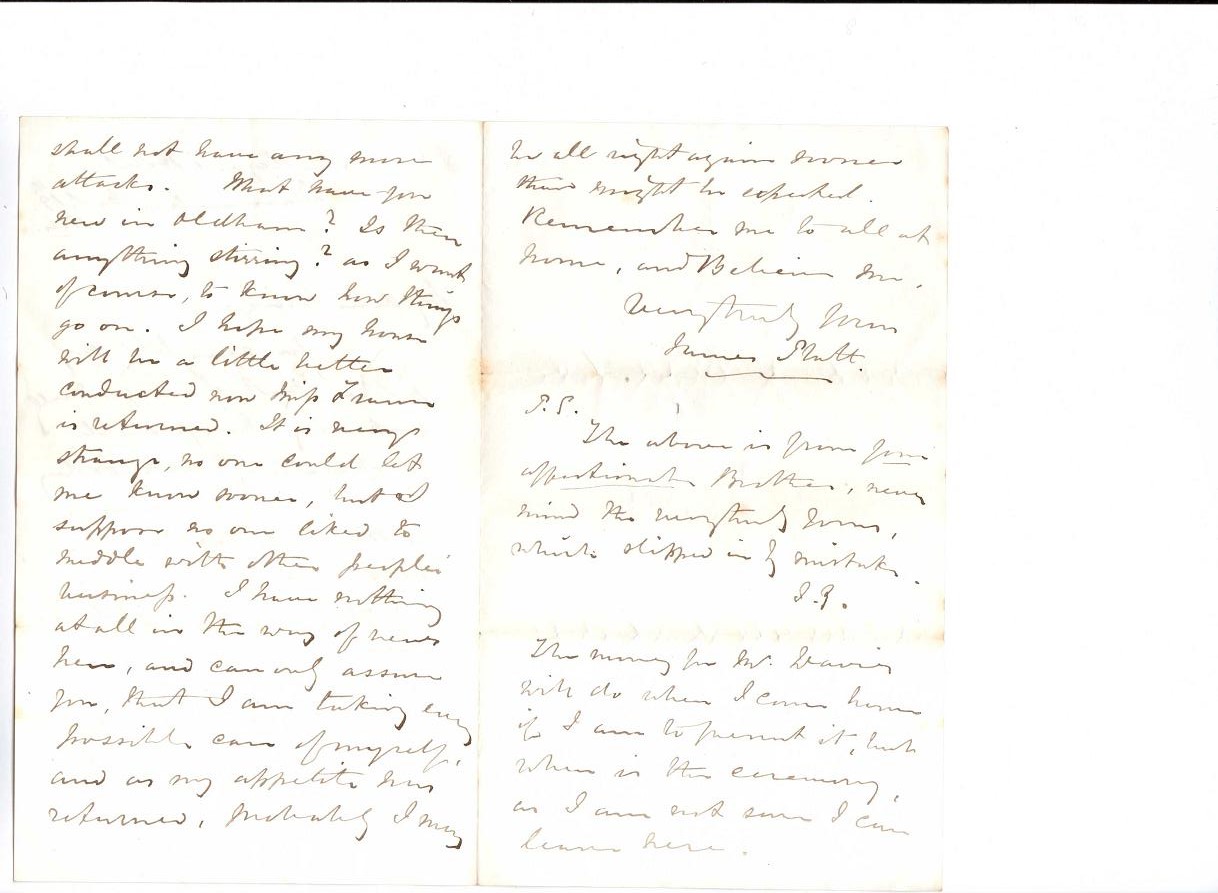 Letter From James Platt to Louisa Platt - 1854
The Priory
Cheltenham, Dec 31st 1854
My dear Louisa,
We left Leamington
yesterday, and intend staying
here with Mr Byrn, for about
a week, and hope on my return,
you will find me looking decidedly
better, as I have improved
wonderfully the last ten days.
I hope with the blessing of
God, I may continue to do so,
till I am perfectly restored.
My appetite is good, and you
can tell my mother I am
taking every care of myself.
Of course I am not very
strong or able to walk very
far, but compared with

what I was a week or two back,
I am not like the same man;
so , I have great reason
to be thankful. Our lives are
in the hands of our makers, and
whatever he wills, we must
humbly endeavour to submit
to, in a proper spirit, as he
knows, better than we do,
what is best for us.
With experience to the 10 guineas,
you had better get it from
Mr Palmer, as I shall not be
at home, and if I were I could
not venture to take part in
any ceremony, connected with
the presentation. My love
to all, and so and give Elitt
a dozen kisses from me.
Your affectionate brother
James Platt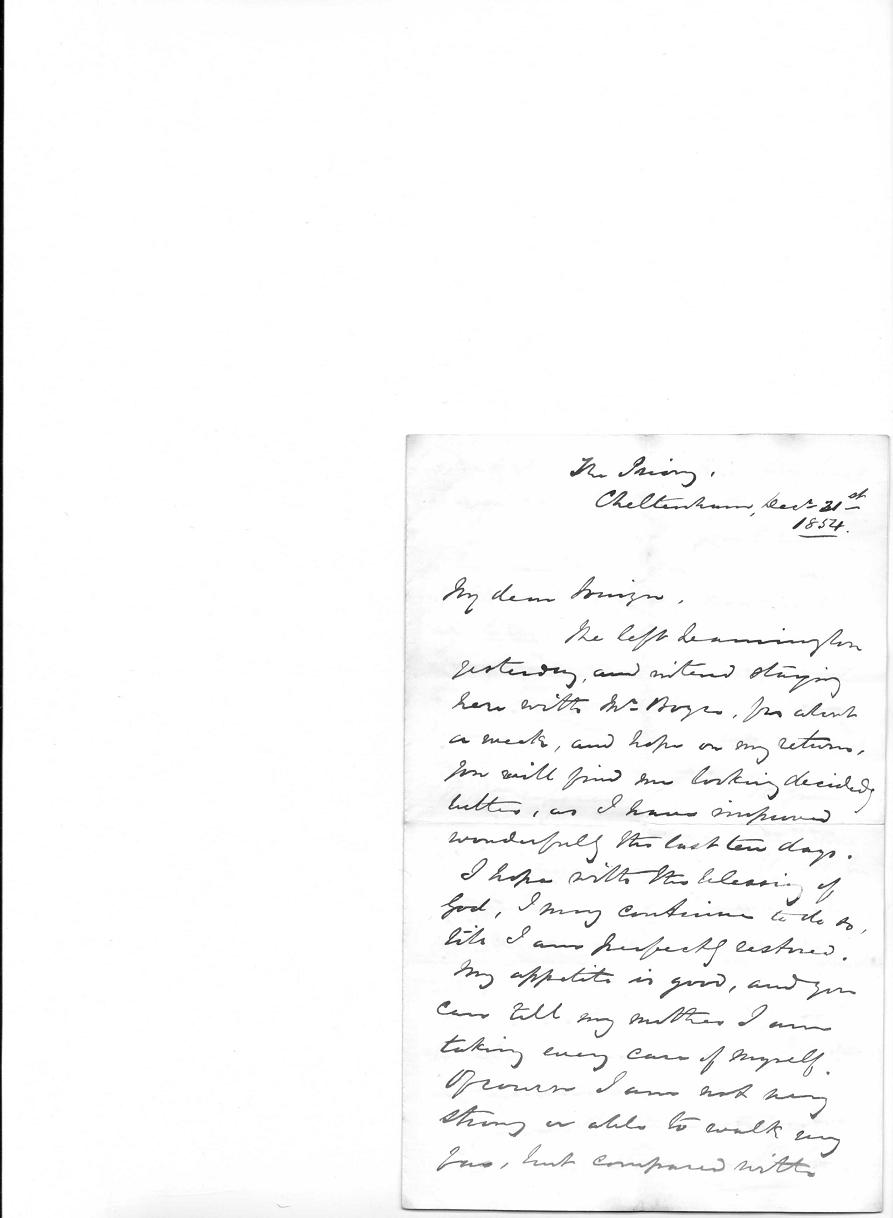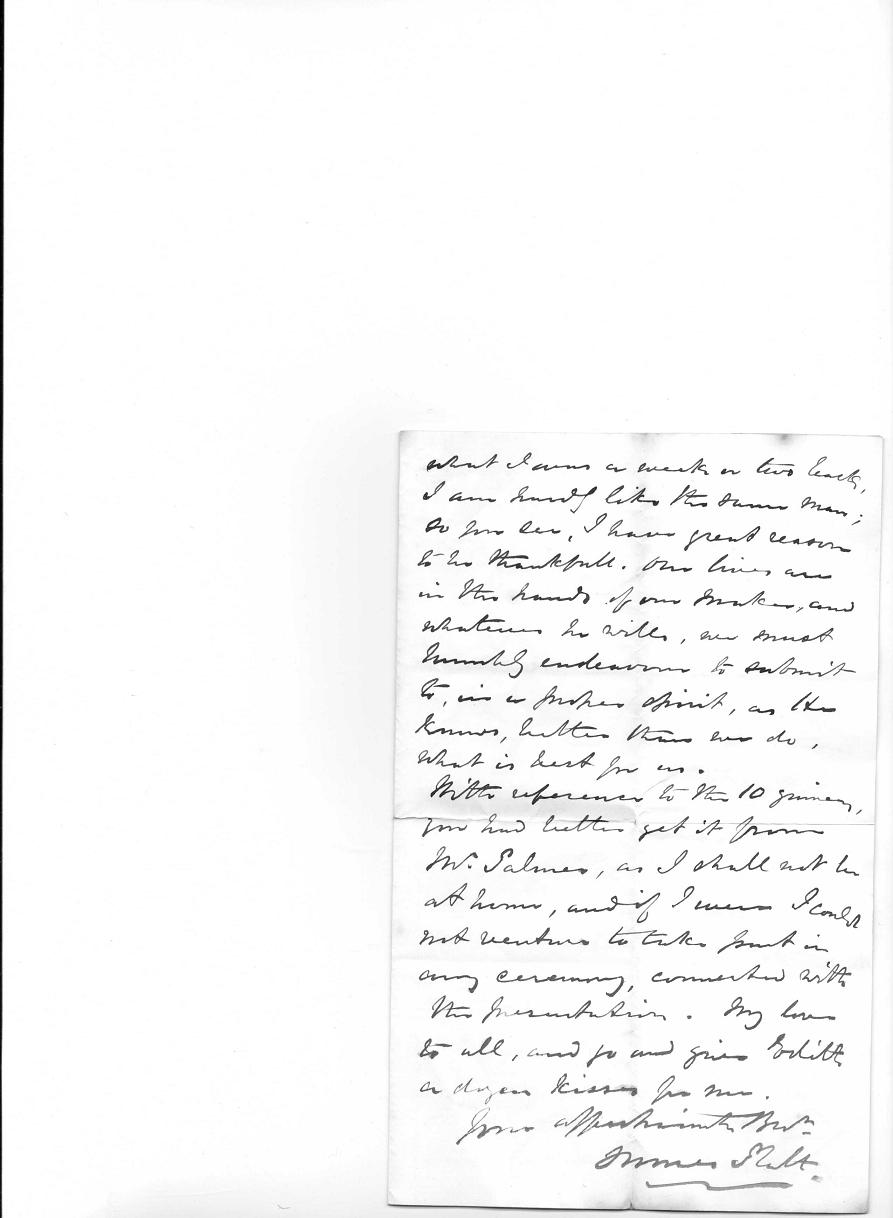 Marriage Certificate William Hall Louisa Platt 19 Jun 1862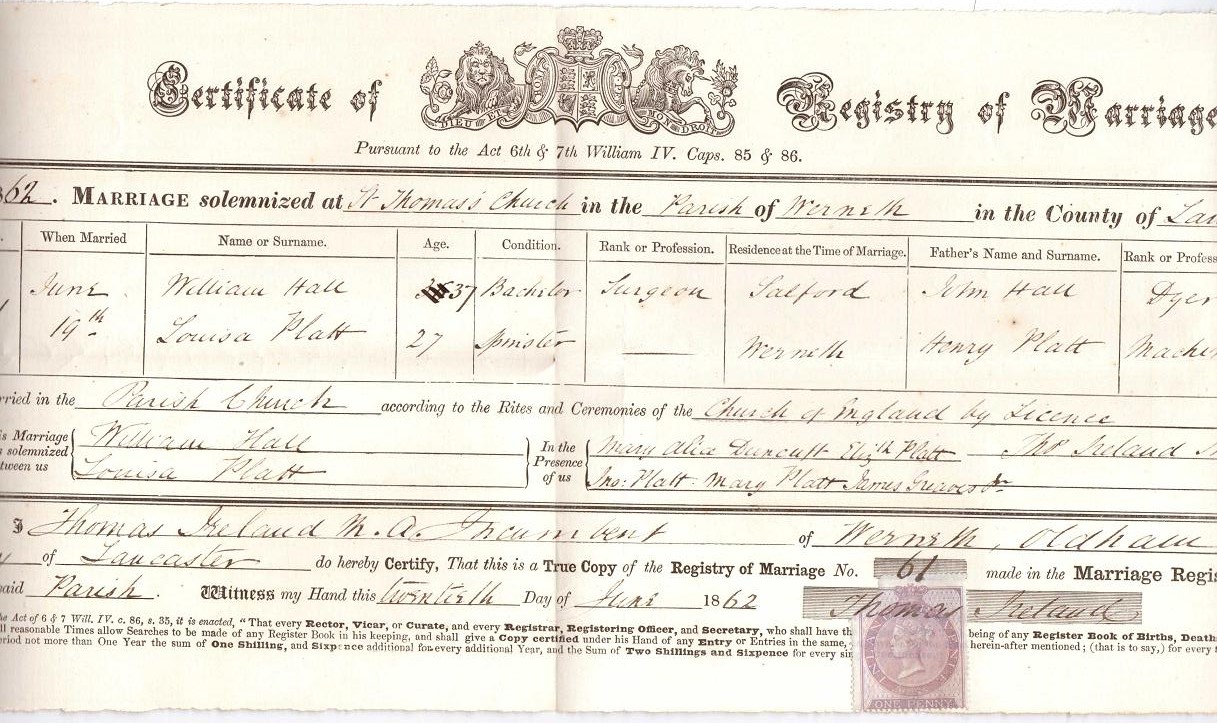 Will of Louisa Hall nee Platt 21 Aug 1875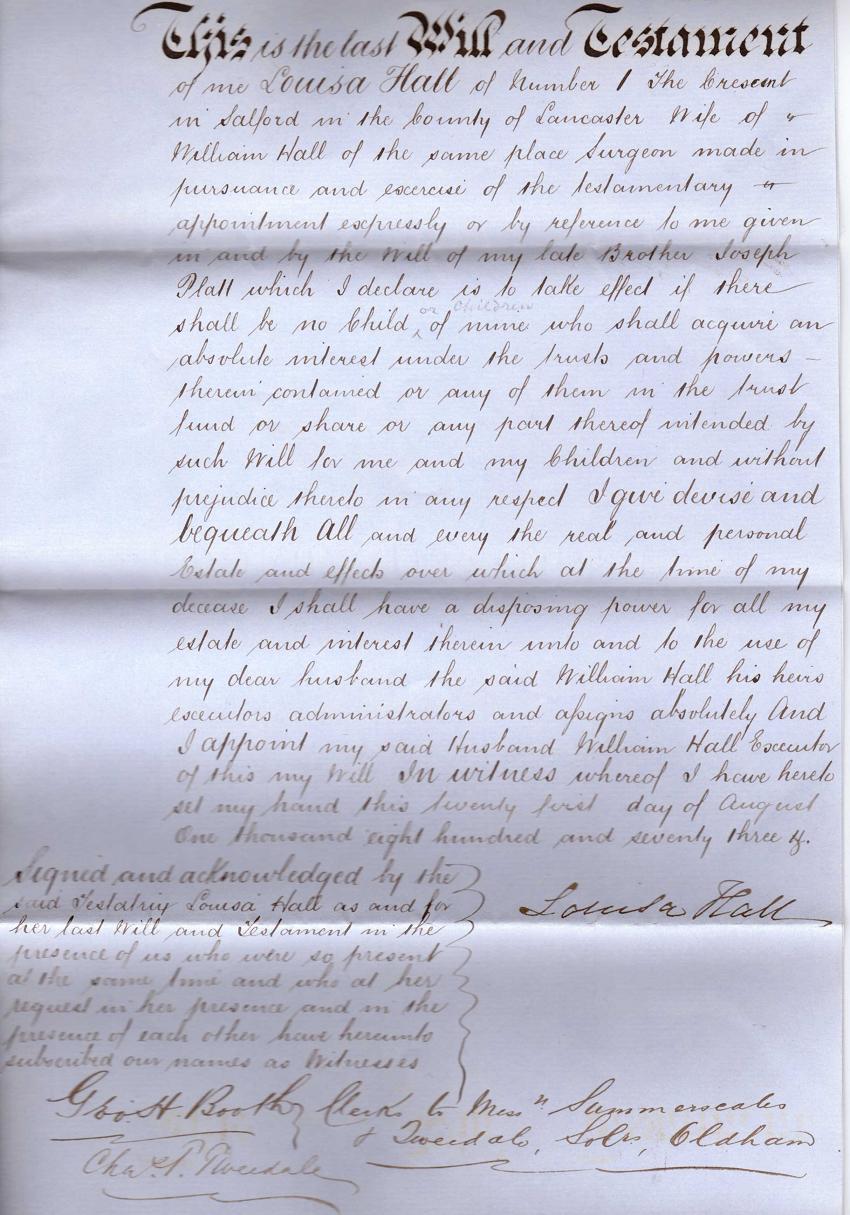 Letter from Joseph P Hall to Mama 9-Jan-1877
January 9th 1877
215 Laud Street
Dear Mamma,
Aunt Polly wants
me to stay until John
goes to London. Tell Miss
Townend that I have not
had time to write to her.
I should have written to
you before, only I forgot.
Tell Henry to save
sparrow for my
_

I did not catch a
seagull today.
I was fishing from
the pier and I had
a bite which broke
my hook Amen.
I am
yours truly,
J. Hall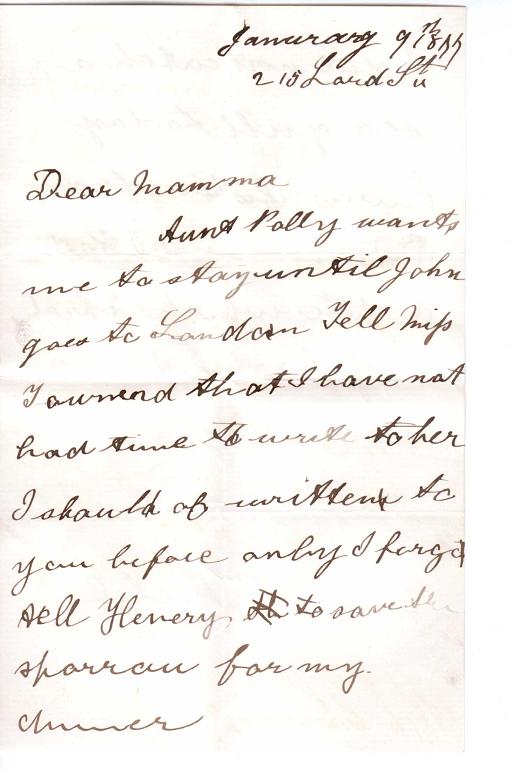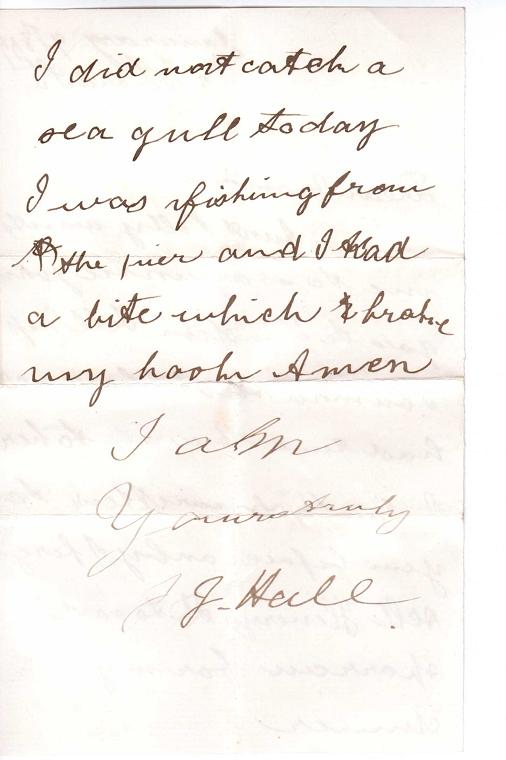 Letter from Joseph P Hall to Mama 12-Jan-1877
12 January
215 Lord Street
Dear Mama,
I hear that Henry
has burnt his face and
Henry wrote a letter to Aunt
Polly and said that he
has burnt his face with
something. She did not
say what of course. I
intended to write last
night but it was bed time
so it had to be written
this morning.

John is going to London
on Monday. What train
am I to come home
by. Ask Alfie if
Alister Reid's rabbit
has had young ones yet.
What was Alister in the
sulks about that
day.
I am
Yours truly,
J. P. Hall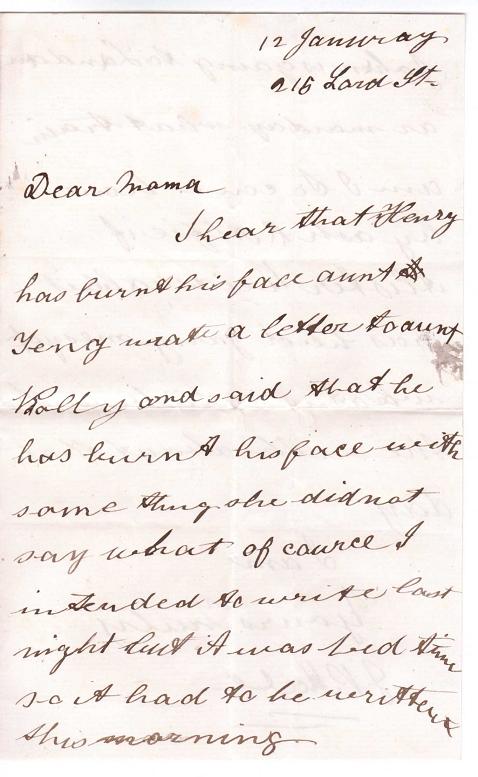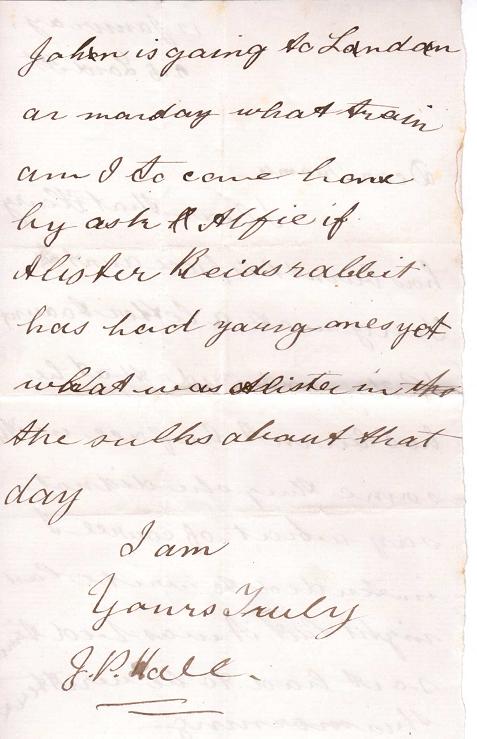 Letter from Henry P Hall to Mama, Charing Cross Hotel 26-May-1877
Welch Row
Saturday
26 May 1877

Dear Mamma,
Rosa & I went
to Hankelow on Thursdau and
enjoyed ourselves very much.
We went by train in the morning
and Mr and Mrs Cawley drove
over in the carriage and brought
us home in the evening.
There was a gala here last
Wednesday and we went and

I had six bowls at some cocoa nuts
and won three, one of which was bad.
I am coming home on Monday by
the 12.25 train arriving at London
Road at 1.40
With love
I am
your affectionate son
Henry P Hall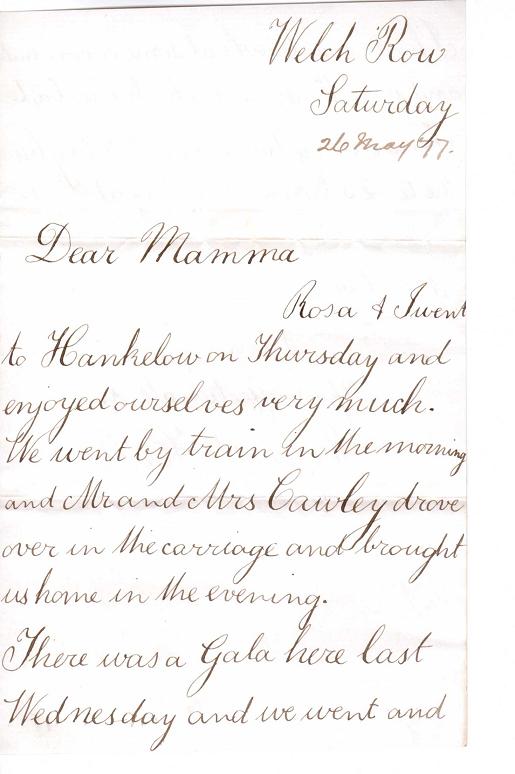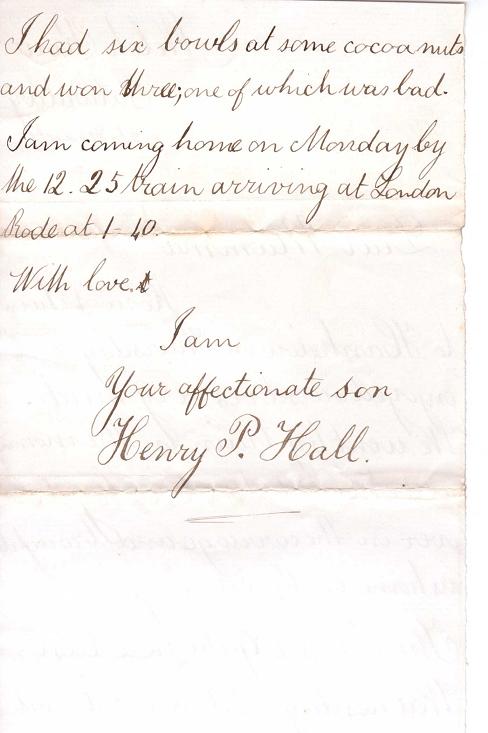 Letter from Joseph P Hall to Mama 28-May-1877
May 28th 1877
Dear Mama,
We arrived at school
as usual. I have made six pence
for Arthur Roby in stamps.
Alister as usual is as nasty as he can
be in school but in the playground
and after school
he is alright. Alfie had
50 lines today for making a
blot in his copy book.
I knew my lessons very well
but I only learnt them as I
went to school. We were
not in time for school this
morning. Mr Wilks asked me
about the catapult affair. He
said that he was very glad that I had

not got into much jaw
about it. Eight of the boys
have gone to the Oxford
Examination with Mr
Wilks and we have some
fun in the afternoons.
They will be at the
examination all this week
and some days in the
next week. There were only
30 boys today. There were only
nine boys to dinner today.
I am
your affectionate son
Joseph Platt Hall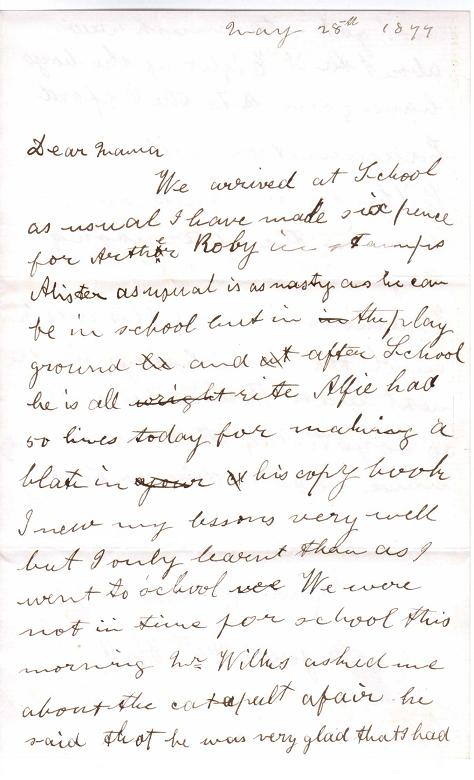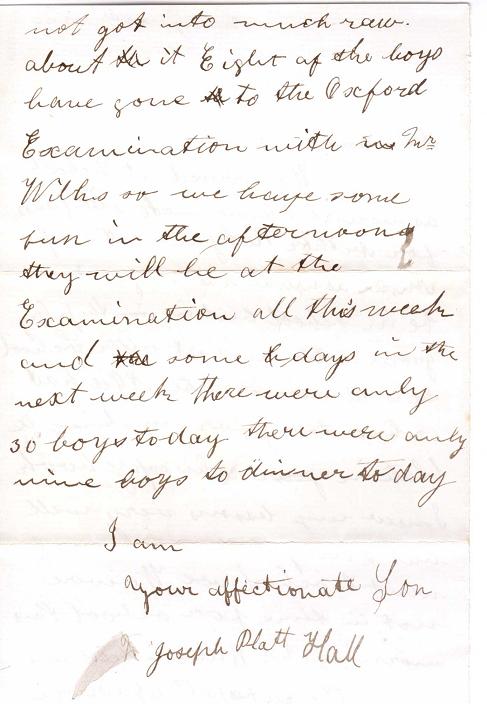 Letter from Joseph P Hall to Mama 30-May-1877
30 May 1877
Dear Mama,
I received your &
Papa's postcard this morning.
As a matter of course I have
got into a row about my
Latin. This is the sixth time
and I have made up my
mind that I will not learn
Latin any longer. Will you
write by return of post to say
whether I am to learn it any
longer or not, but
if you will not let me give
over learning it I shall not
stay better any longer. Alfie's
arm is very very
sore he says and it has swollen

considerably. Before dinner
today we were playing
cricket in the field and two
cows were walking near the
wicket. I was in at the time
and I hit the ball against
one of the cows hides so hard
that it nearly knocked it down.
Alister and eleven more went
to the exams this afternoon.
I am
your affectionate son
Joseph Platt Hall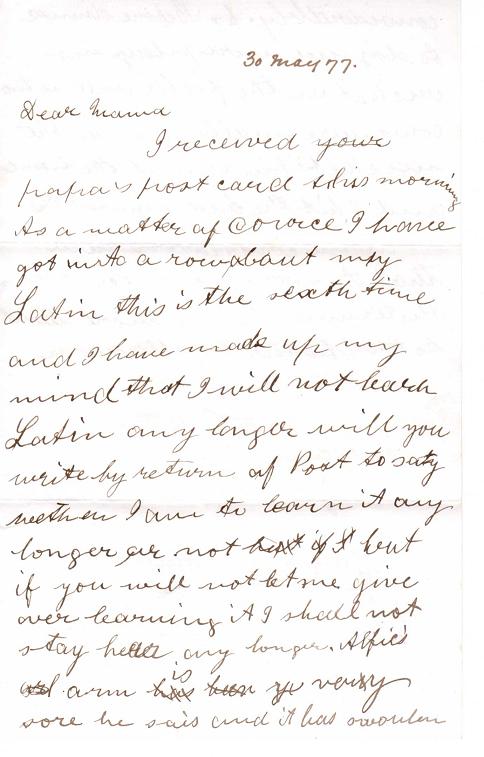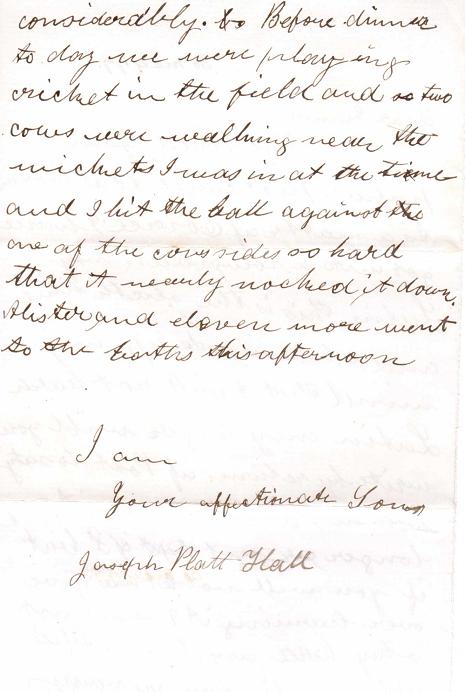 Letter from Alfred G Hall to Mama 11-Feb-1878
February 11th 1878
Dear Mamma,
Mr Wilks asked me
when Joey was coming back
to school because he said
he was going to call on you
some day this week, tell
Joey that it is James Massey
that has come to school,
tell Henry I have sold
about one shilling worth
of stamps for him and I

think I shall sell some
more, excuse this short
and badly written.
I remain
Your affectionate son,
A G Hall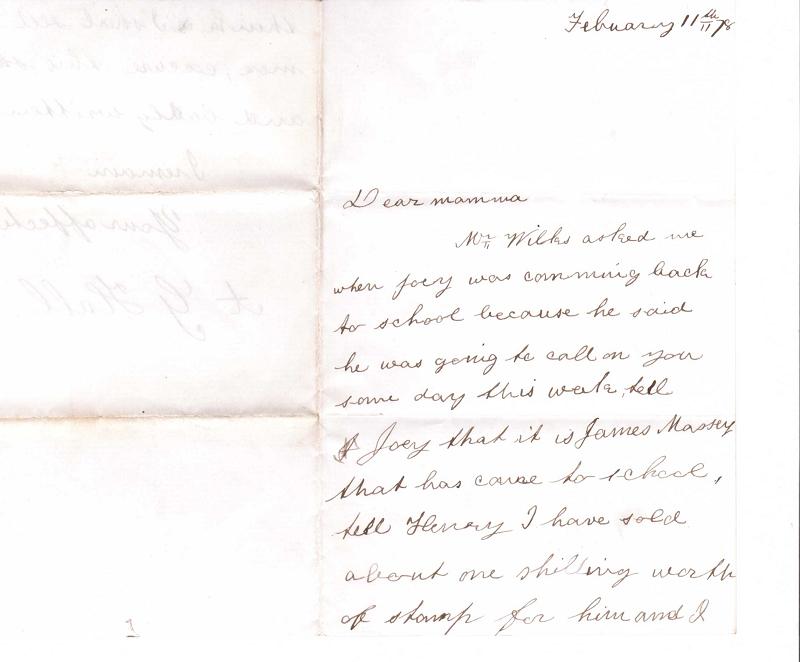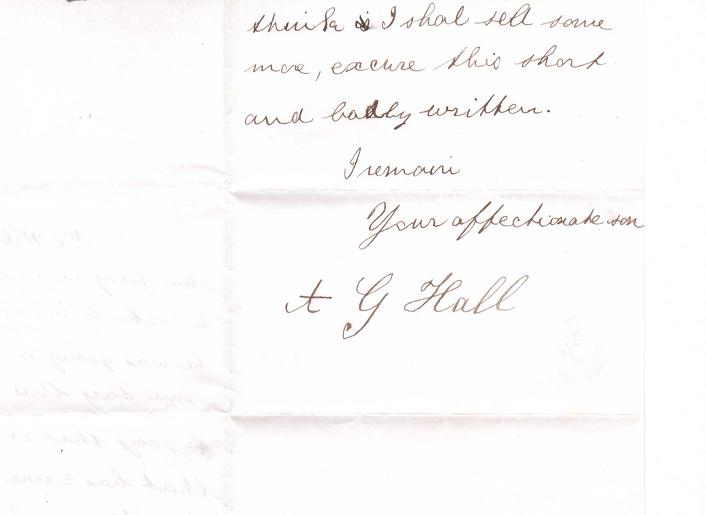 Letter from H P Hall to Mama 22-5-1879
17 The Crescent
22/5/1879

My dear Mamma,
I was very sorry
to hear that Papa has been
troubled with tooth ache,
but hope he will be better.
I have been at home with it
this afternoon, it came on at
dinner in the one Papa drilled
a hole in and was so bad that
I went to Rodgers who took out
the cotton wool and made it

all right. I should have gone
back to school then but he had
kept me so long, rather over
an hour that it was
altogether too late to go, as I
could not have got admitted,
so I came home.
We have had a very heavy
shower of rain this evening
and I've expected thunder
as it was so close, but as
yet we have had none.
We break up tomorrow at
half past twelve in the
morning, and I have an

examination at night and on
Saturday night.
All is going on well at home,
and we shall be very glad to
see you on Saturday.
I am
Your affectionate son,
H P Hall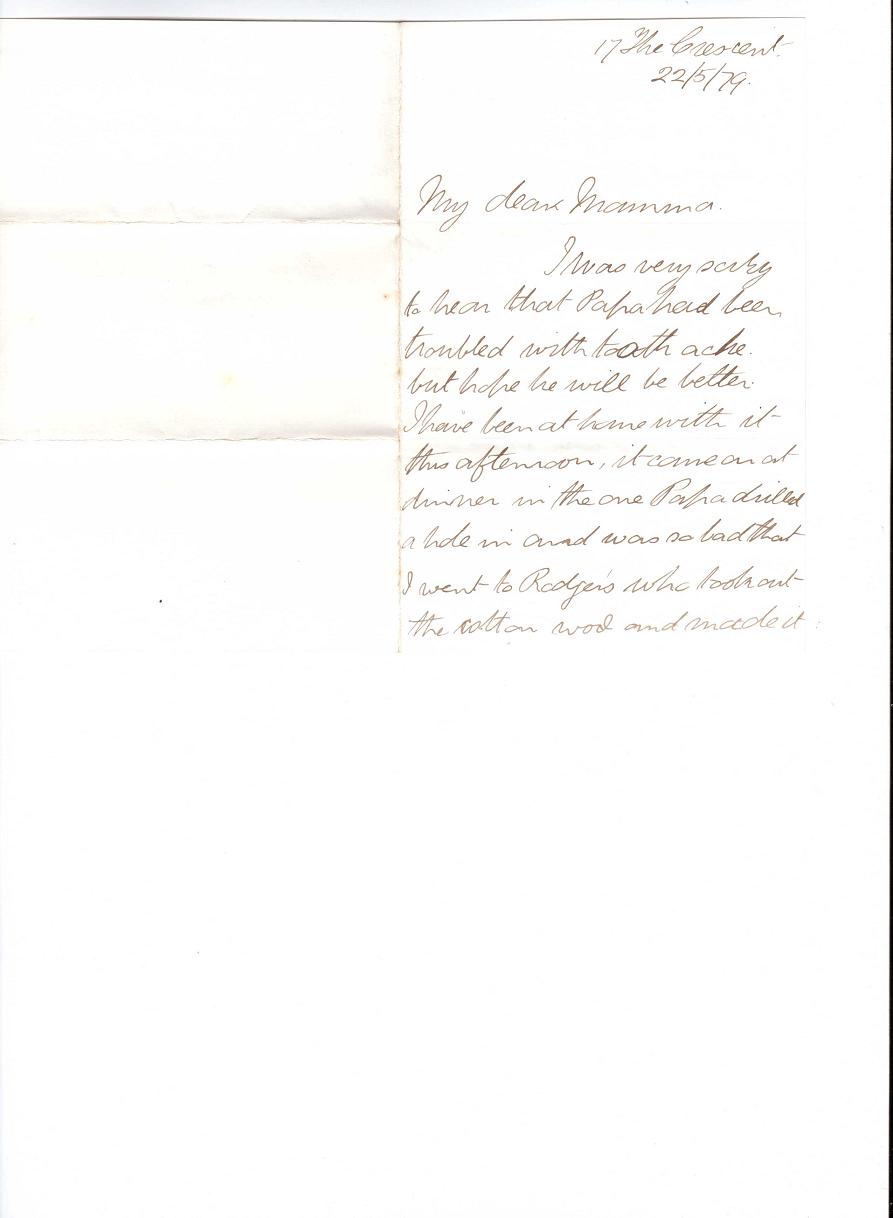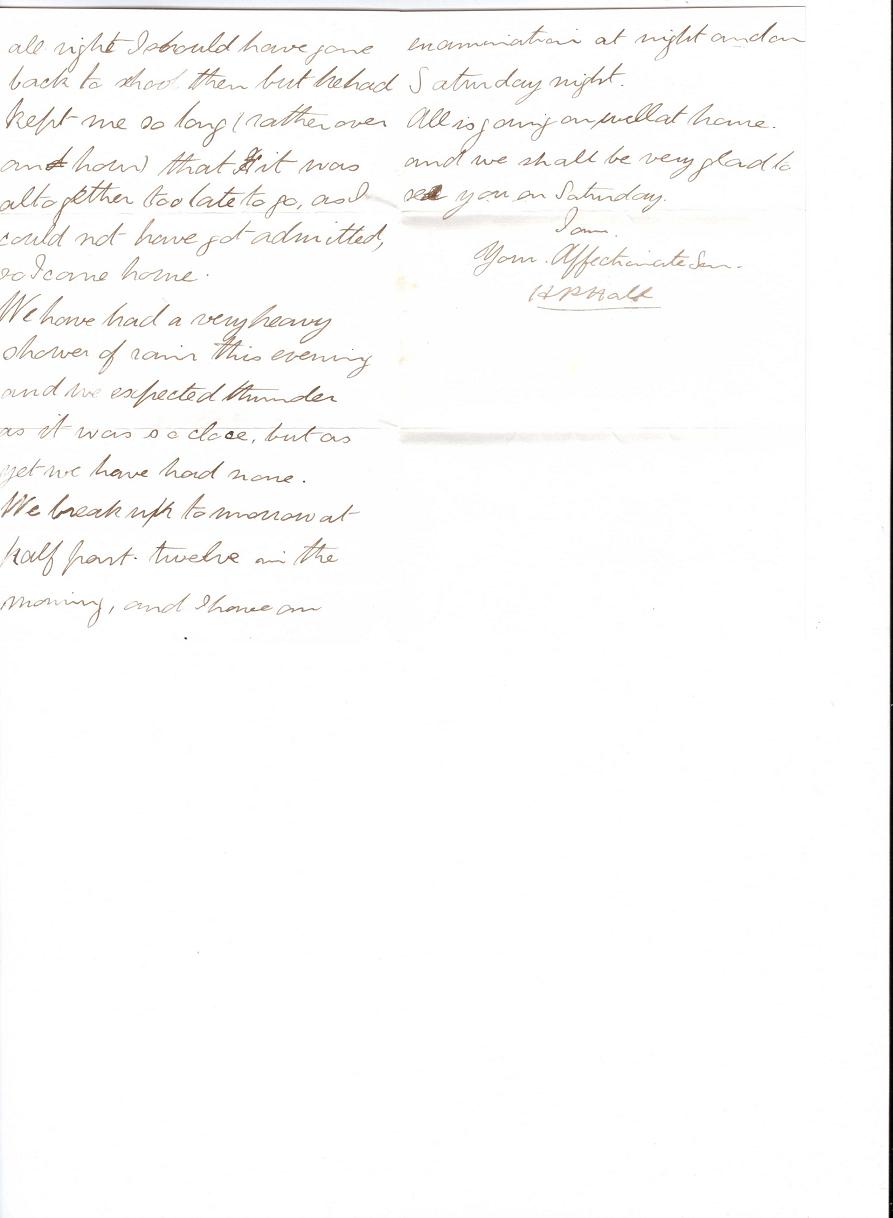 Letter from Hannah L Hall to Mama 7-Jun-1880
17 The Crescent
Salford
1 June 1880
My darling Mama,
I was so
glad to have
a letter from you.
Aunty brought
me such a
lovely doll and
Alfie came to

play with me,
Miss Glasmere
We had so we
for me called
dolly Louisa
after my dear
darling Mama.
Henry is too
busy to write,
go he to Mrs Reeves
to tea. Alfie

is going to move to
Wales. I am going to have
my porridge & good night
my dear Papa and Mama,
I am
Your loving child
Hannah Louise Hall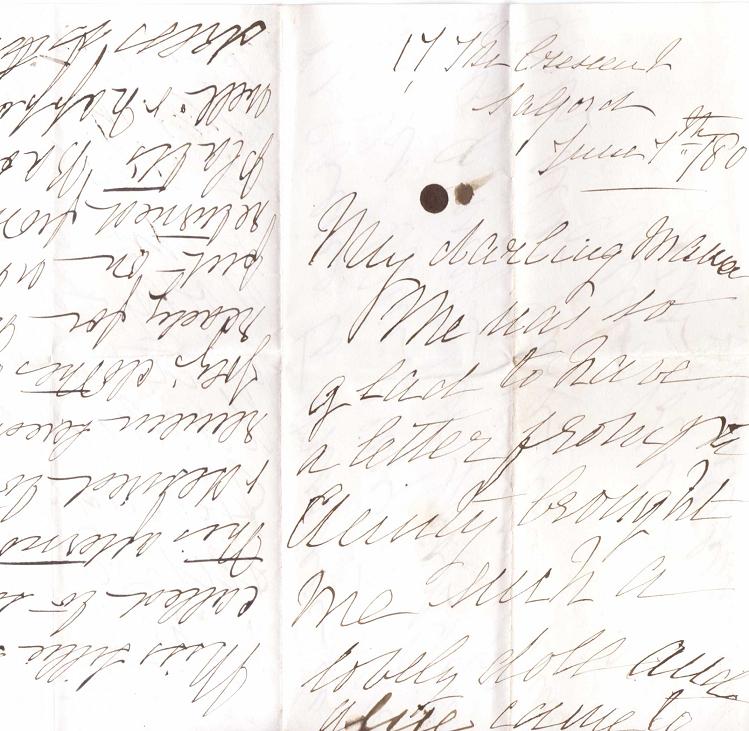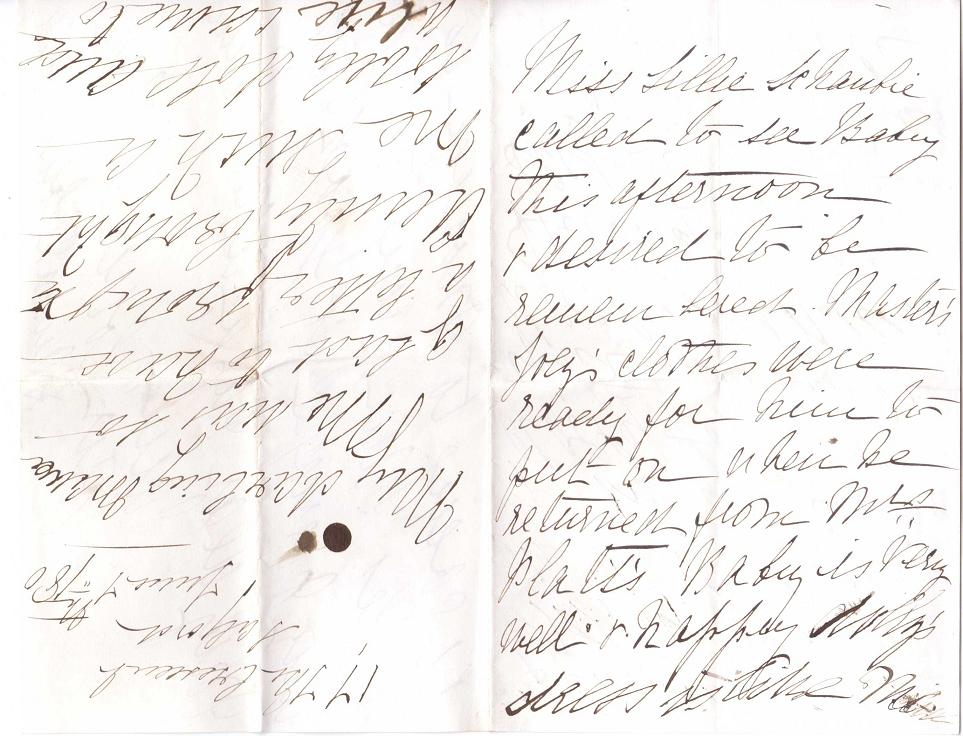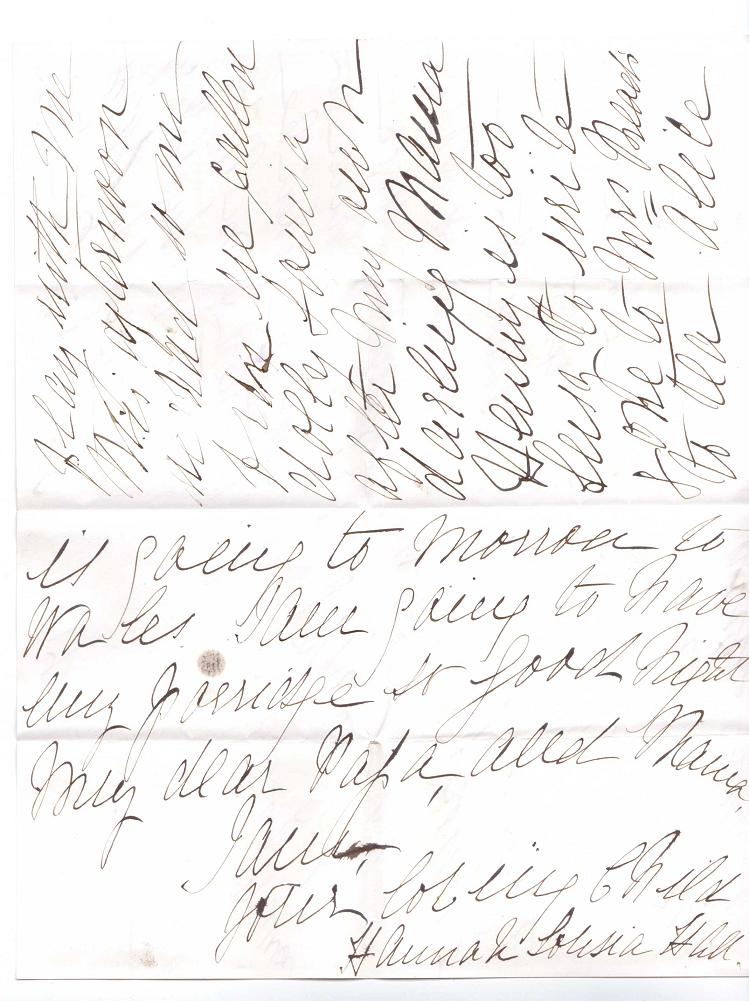 Letter from Joseph P Hall to Mama 7-Jun-1880
17 The Crescent
Salford
June 7th 1880
Dear Mama,
We went to Reid's
to dinner yesterday. I mean
Alfie & I but Henry had
promised to go to Aunt
Libie's so he went. Alfie
& I went to Aunt Libie's
to supper instead.
Henry has gone to Reids
to tea tonight and
Alfie has gone to Stowell
to prepare for the
sports which are
on Friday next.
All is going on well
here of course.

Alfie says he is going
to have his photograph
taken tomorrow
for 2/6 in the proper
size.
Baby went to tea at
Aunt Libie's on Sunday.
I forgot to say before.
I hope you and Papa are enjoying
yourselves.
At Reids we have
3 young green linets
which we took the
other day and we
put the cage with
them in outside
& the old birds feed
them.
If you have not got
me a knife you must
please yourself what
you get me.
When are you coming
home?
I am in a great hurry
so you must excuse
the letter being
written as it is.
I remain
Your affectionate son
Joseph Platt Hall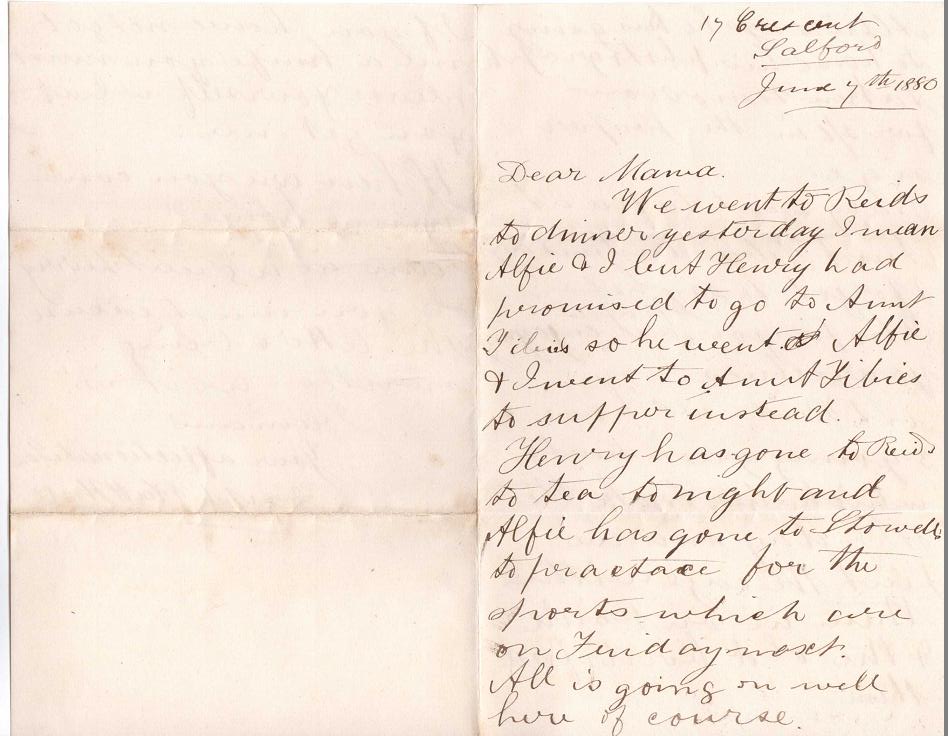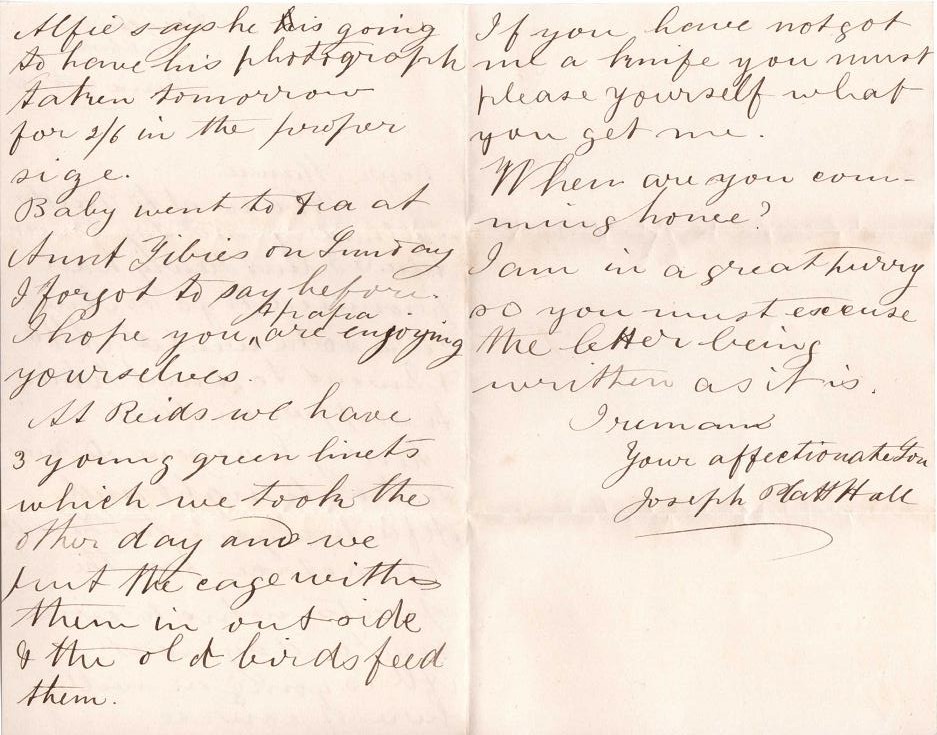 Letter from J Platt to Aunt re Condolence 19-Mar-1887
Bruntwood
March 19th 1887
Dear Aunt,
Many thanks for
your card conveying the
sad news. Poor man he
has gone at last & perhaps
it is the best it should
be so under the long
painful circumstances
& feel very sorry for Aunt.
She has had a long time
of trouble & now the end
has come I hope her nerves
will not give way, although

they will be sorely tried.
She should therefore bear up as well
as possible otherwise a
reaction might retain, after
the long trial her strength
has had to bear. She should
in my opinion get away
for a month's quiet rest
as soon as possible for a complete
change of scene. I am sure
she would derive the greatest
benefit from it. I would
have run over today to see
her, but then I thought
I could no nothing. I might
only be in the way. I have
written her a short letter
of condolence. I told her I
will look in early on
Monday about 10.30 to
see if I can do anything
for her. Be sure you make
her bear up & face bravely
the terrible affliction God
has sent to her.
Believe me
your affectionate nephew,
James E Platt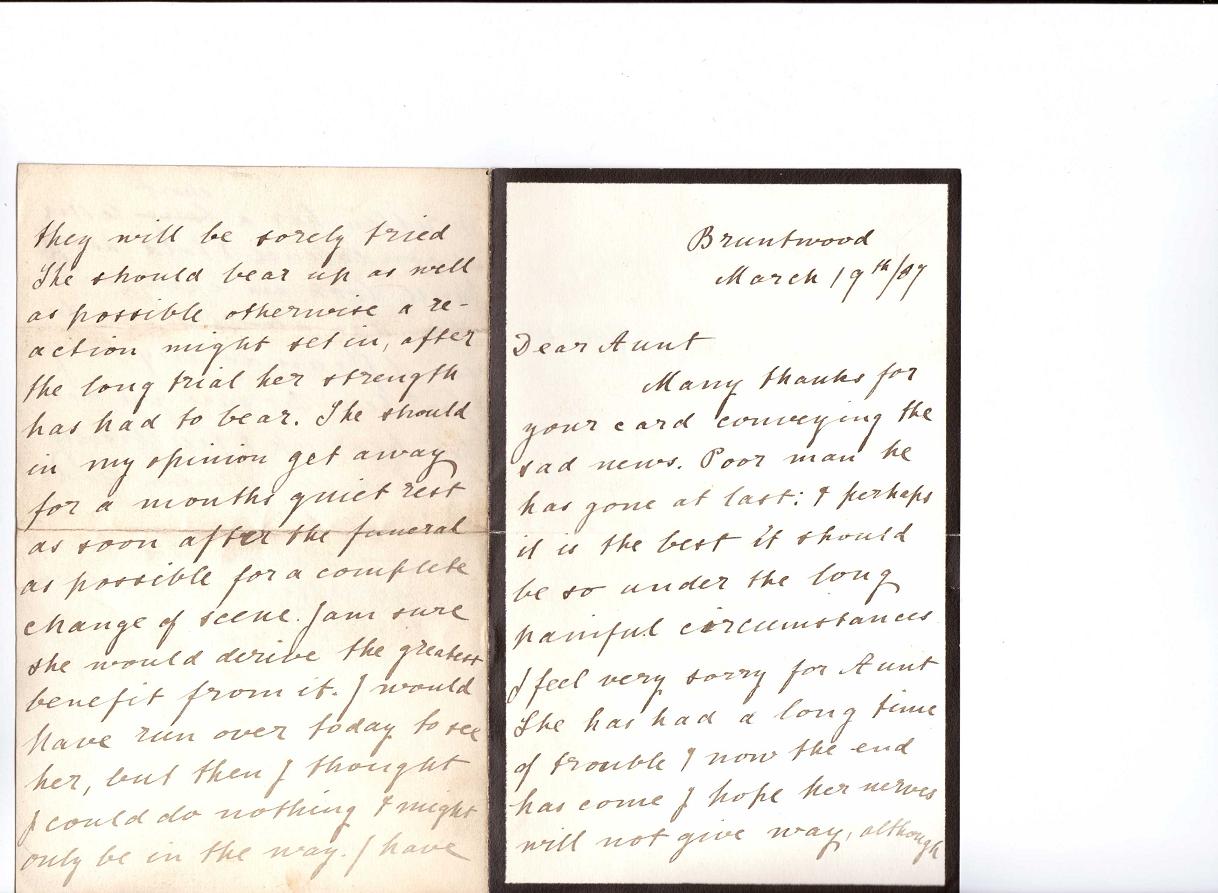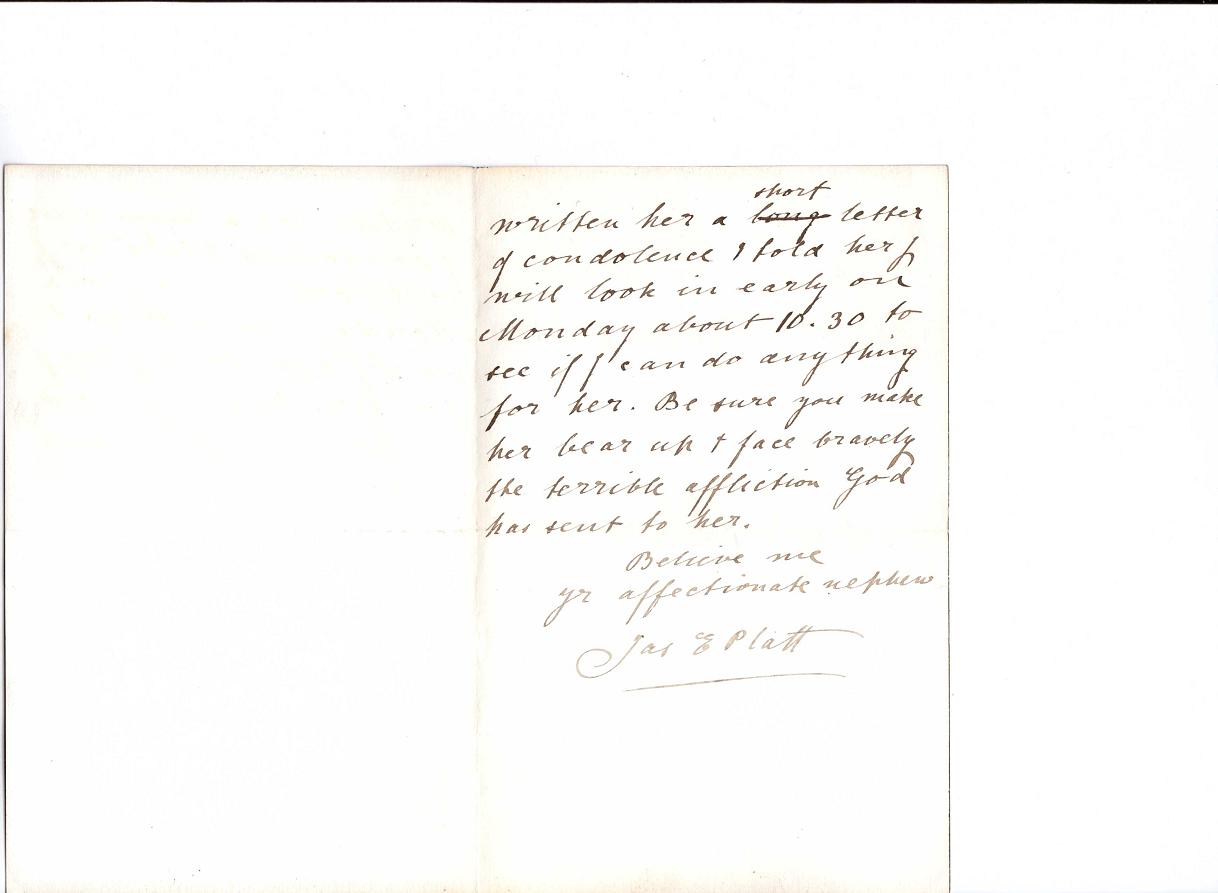 Edith Campbell Willoughby Garmons Gwatkin Marriage Inivitation-23-Jun-1888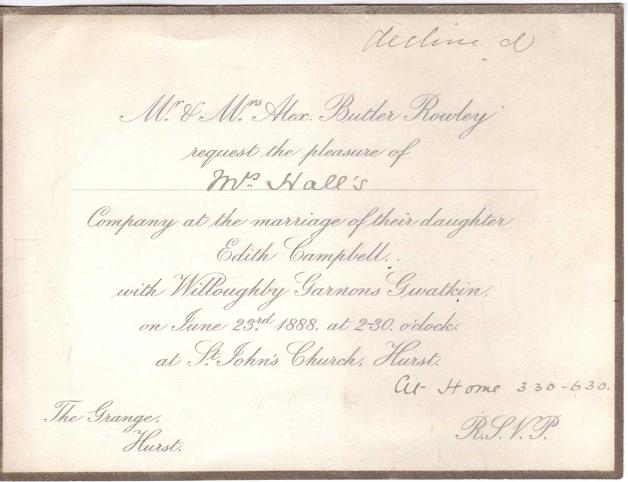 Letter from the postmistress at Wentworth to Mrs Hall regarding newspapers
Post Office
Wentworth
24th March 1891
To Mrs Hall
Madam,
There are three
papers, "The Sheffield
Daily Telepgraph", "The
Sheffield and Rotherham
Independent", and
"The Mexboro & Swinton
Times" which are

most in circulation
in & about the
neighbourhood of
Wentworth & Rotherham.
Yours truly,
Amanda Dobson
Postmistress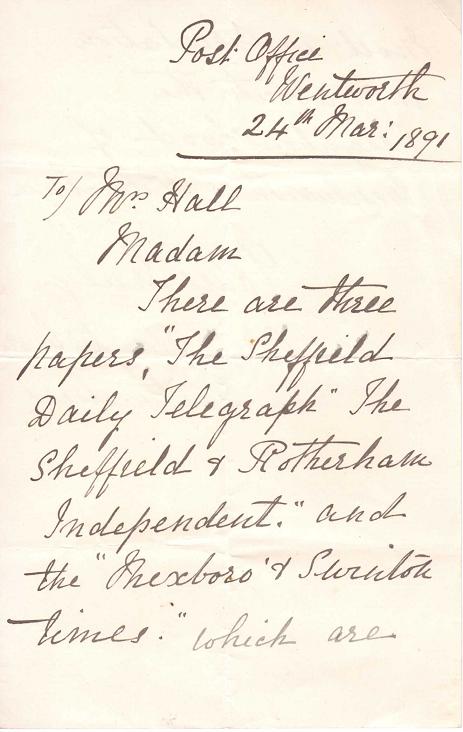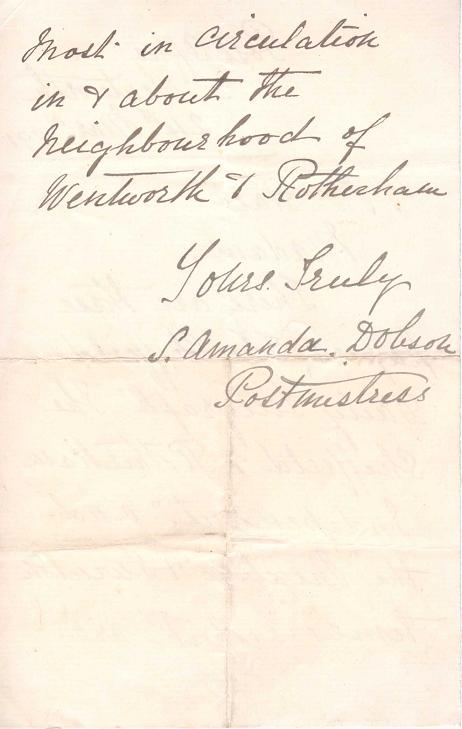 Letter from Joseph Platt Hall to mother from Gulf of Aden 1899
R.M.S Peninsular
Gulf of Aden
February 5th 1899
Sunday
Dear Mama,
My last letter was posted
at Suez & the one before that
from Port Said. I hope you
received them in due course.
I have very little to say
except that I keep well &
have had very little headache
and that only very slight. I
think I am sleeping better
although I still wake up
very often. I think I do not
lay awake so long, on the
whole I am better than I
have been for some time &
think I am making satisfactory
progress.

As there is so little to report
I may as well take each
day in detail.
Thursday 2nd (left Suez about
9.30 last night). Wind slight
& with us. Temperature, cabin 64
in shade, on deck 74 at 10am
& bright during day.
Small dance on deck after dinner
but a failure as there are only 6
or 8 girls who dance & they are
very little good.
Run 219 miles Lat 26-49-0 Long 34-31-0.
Friday 3rd. Fine calm day, wind
still with us. Temperatures
9am in cabin 70 F
do on deck in shade 78 F
5pm in cabin 70 F, 11pm deck 72 F.
Run 340 Lat 21-54-0, Long 37-34-0
Saturday 4th Feb. Wind went
round to the south in night & has
increased in strength since.
Cabin 9am 78, deck sahde 79 F.
in shade on deck down day 84 F
Cabin 79 11.30pm
Charades & dance after dinner
Sports in afternoon.
Run 330 Lat 17-7-0 Long 40-33-0
Sunday 5th Passed out of
Red Sea about 11-30 am had
good view of Perin Island and
Arabian coast. Wind strong
from south. Saw a sandstorm
on the Arabian coast, the
sand made a cloud which I
estimate was at least 300ft
high. Now that we are out
in the Arabian Gulf the wind
is slightly less, we have had
no heavy sea since the night
before we reached Marseilles.
We had a death on board between
Gibraltar and Marseilles of a
stoker. I don't know the cause
but he was buried quietly while
we were at dinner & nobody

found out anything about it
until afterwards.
Since we left Suez we have
had parkers going at meals
but as the highest temp we
have had has only been about 85
it seems to me to be a great fuss
about nothing. I have felt no
inconvenience at all from the heat,
simply because there has not been
any.
Hoping you are all keeping well and
taking proper care of yourselves.
Your affectionate son,
J.P. Hall
You will next hear of us from
Bombay and then we shall have to be
guided by the plague as to whether
we go near Calcutta or not. You had
better send copies of all letters to the P.O.
agent at Aden to be called for as by
changing our arrangements we may
miss all letters sent to India or
Ceylon. If any alteration of arrangements
is necessary I will wire you.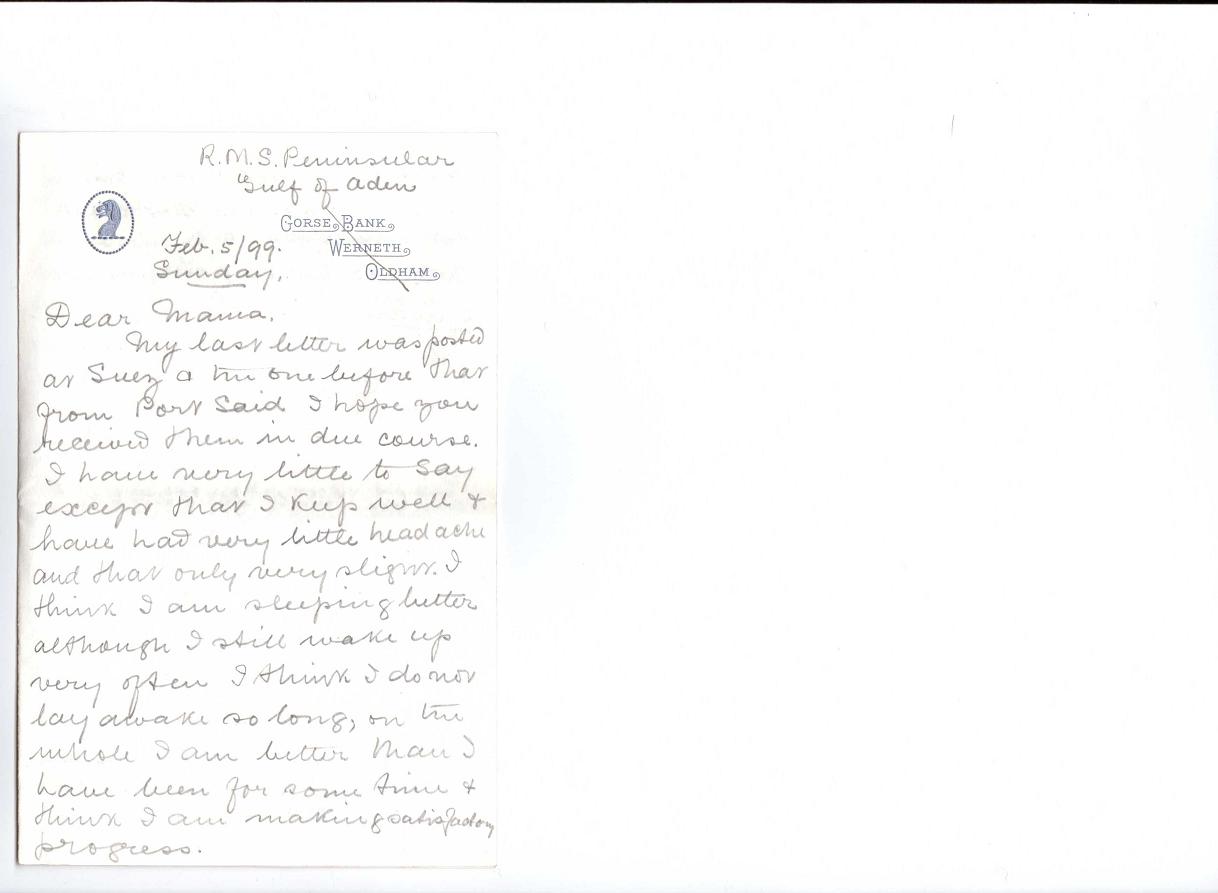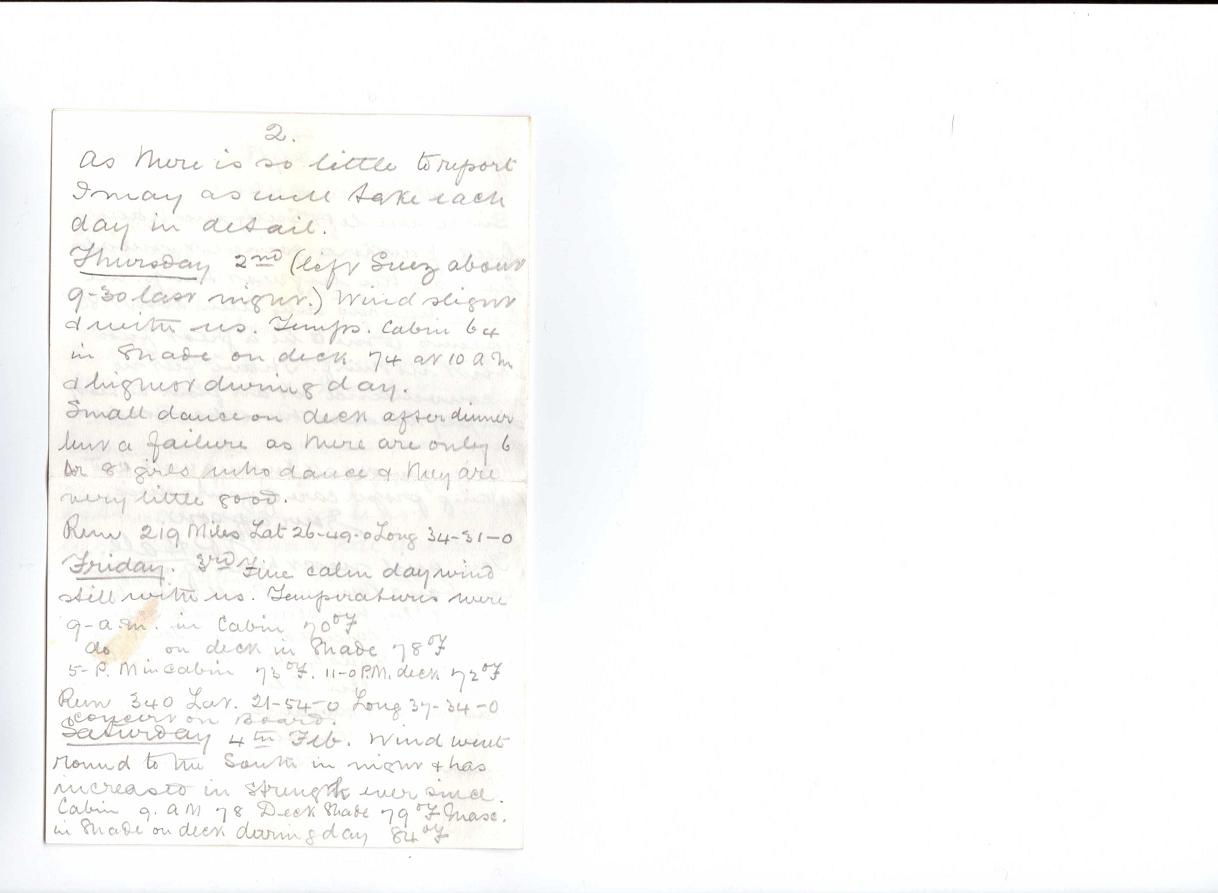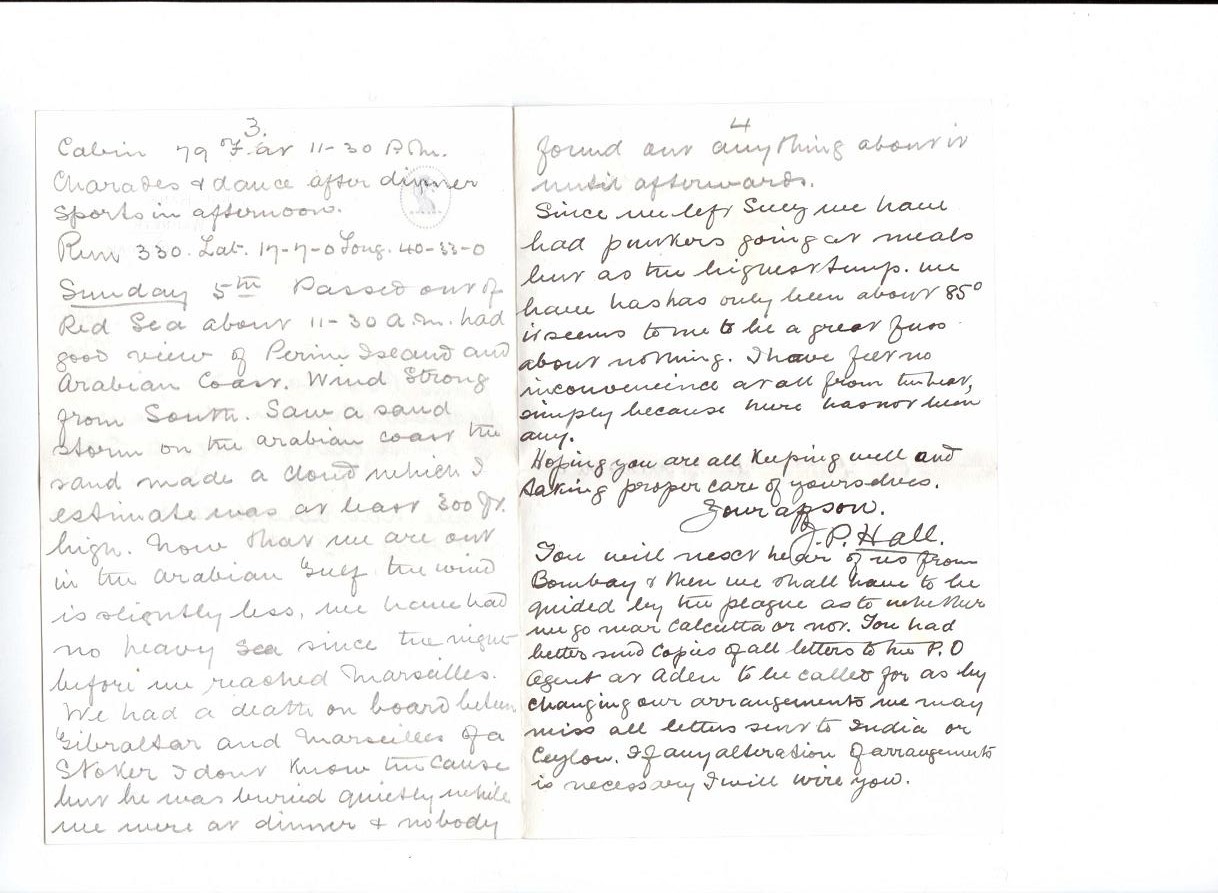 Letter to Mrs Hall, Gorse Bank 1900 regarding will of Greaves
Marys' Place
Waterhead
Oldham
11th Jan 1900

Dear Mrs Hall,
Please accept
our thanks for letter and
enclosure rest of "Ex Greaves"
we shall attend to the latter one
very shortly, and acquaint you
afterwards of the result &c.
I now send you herewith
copy of Uncle Robert Greaves

will which I trust may
assist your purpose alternately
the other matter rest of late
Garndmother's affairs need
not trouble further.
With our united regards,
I remain
yours sincerely
_ Greaves
Mrs Hall
Gorse Bank
Werneth
Oldham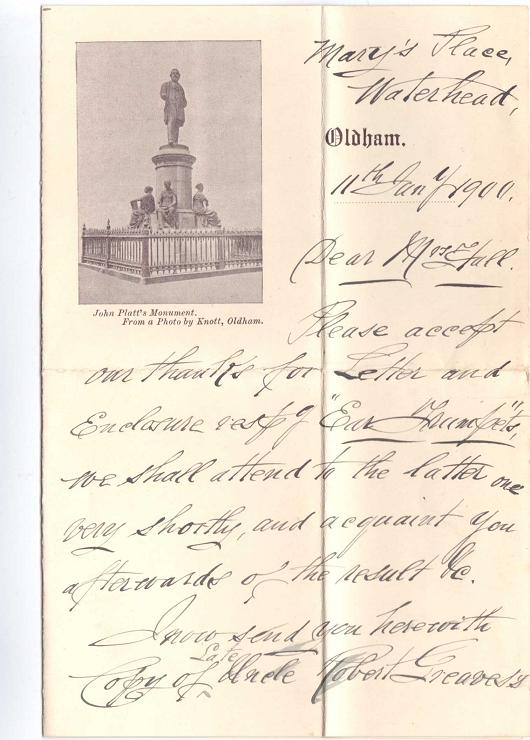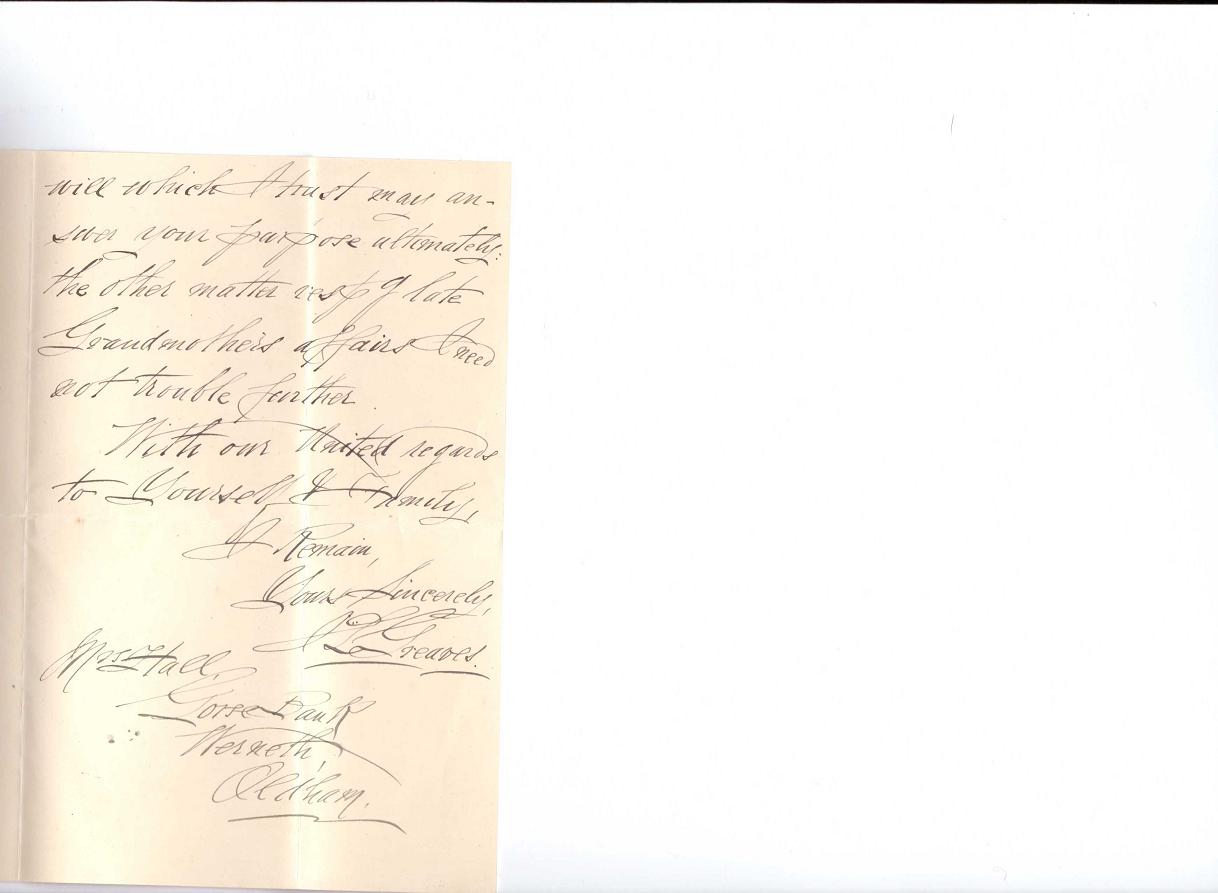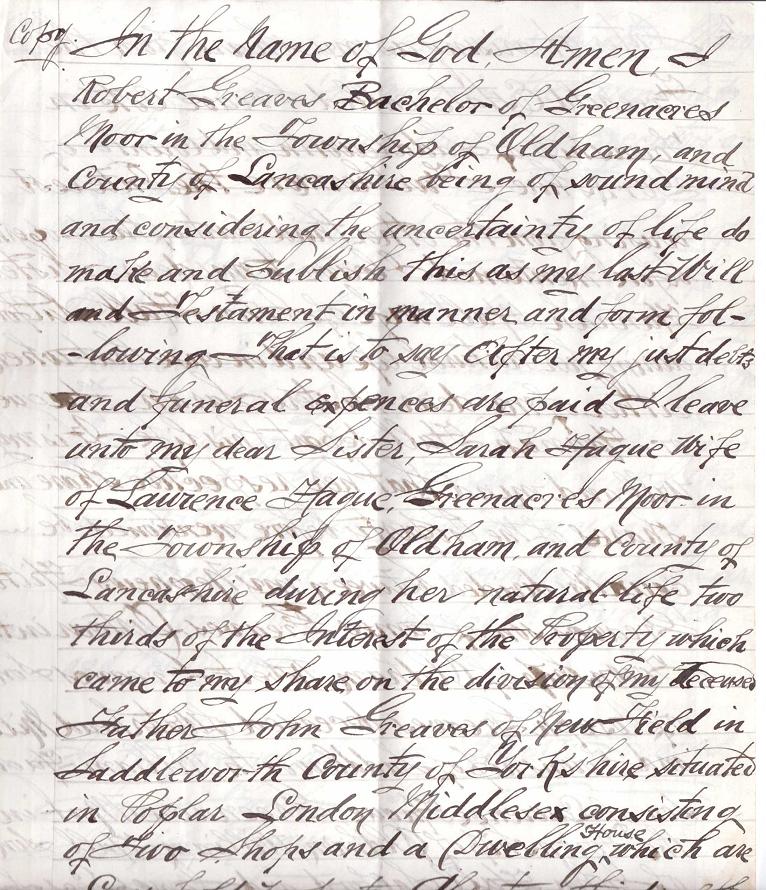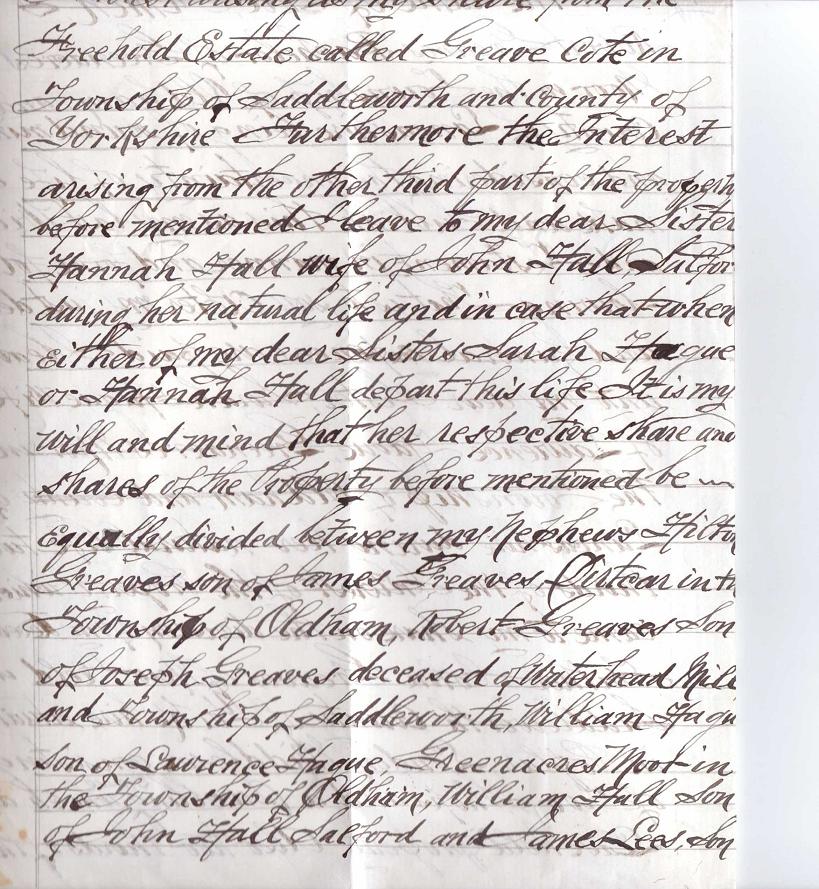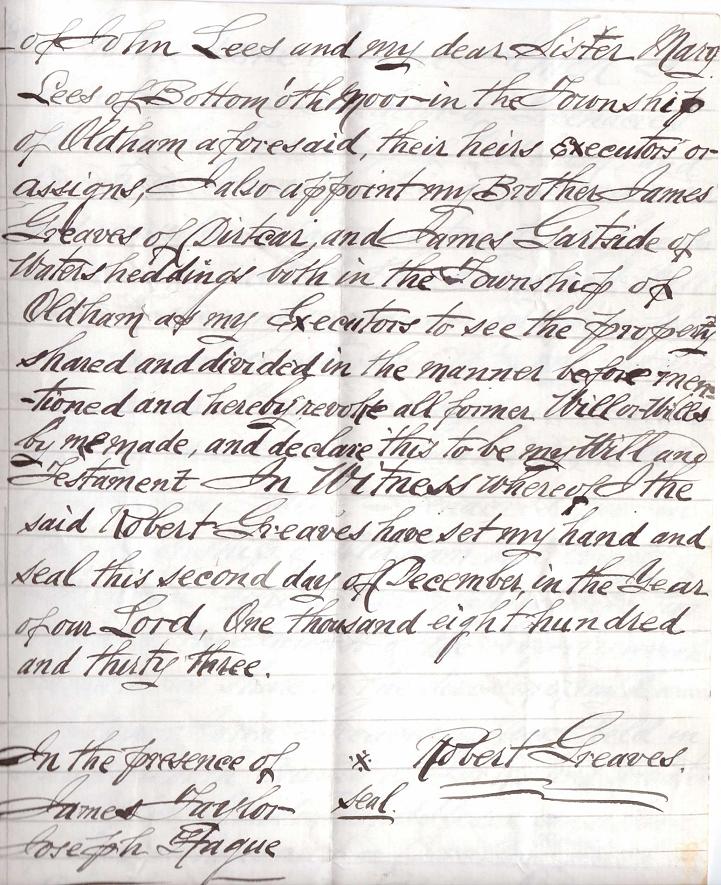 Letter from doctor to Mrs Hall Re Sam Platt Death 6-Sep
6th Sep
Dear Mrs Hall,
I grieve
to say my good friend
and patient died rather
suddenly about 9pm
last night. He was
apparently no worse all
day until 6pm, and
not until after 8pm
did Ive apprehend

immediate danger. His
heart suddenly failed
then and it was soon
all over.
Mrs Platt has had
no sleep since and is
quite shattered. I am
keeping her in her room
and in bed & I think
she is hardly fit

to see anyone; but
if you want to come
see what is left of
poor Sam, you will find
me here. I have wired
to all relatives &
expect James & the
Colonel will
be kept at home.
With kind
regards to Mrs Duncuft
& yourself,
yours faithfully
George Moussa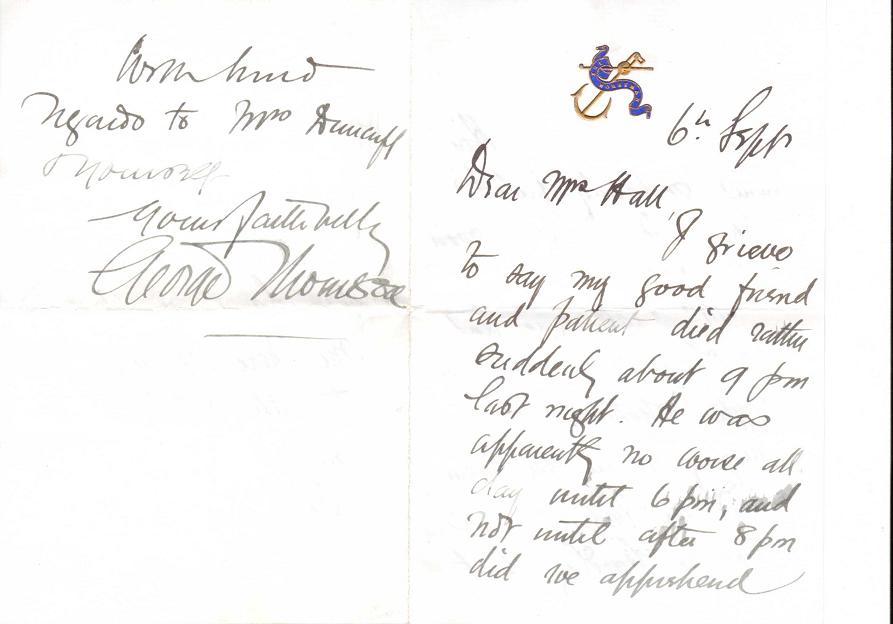 Letter from Henry Platt To Aunt Louisa from Gorddinog 3-Dec-1903
Gorddinog
Llanfairfechan
N. Wales
Dec 3rd 1903

My Dear Aunt,
I cannot let another
year of life pass & still another
come into existence without
dropping you a line to let
you know that my thoughts
gravitate towards my old
friends & associations.
Every year we seem to lose
someone we love, which arises
dear recollections & connections
with the past. I hope you may
be long spared. Nellie asks
one to convey to you together
with sincere best wishes for
a Happy New Year to you & yours.
I am sorry to hear of Alison's
accident. It is near the end for
treatment. With love
Your affectionate nephew
Henry Platt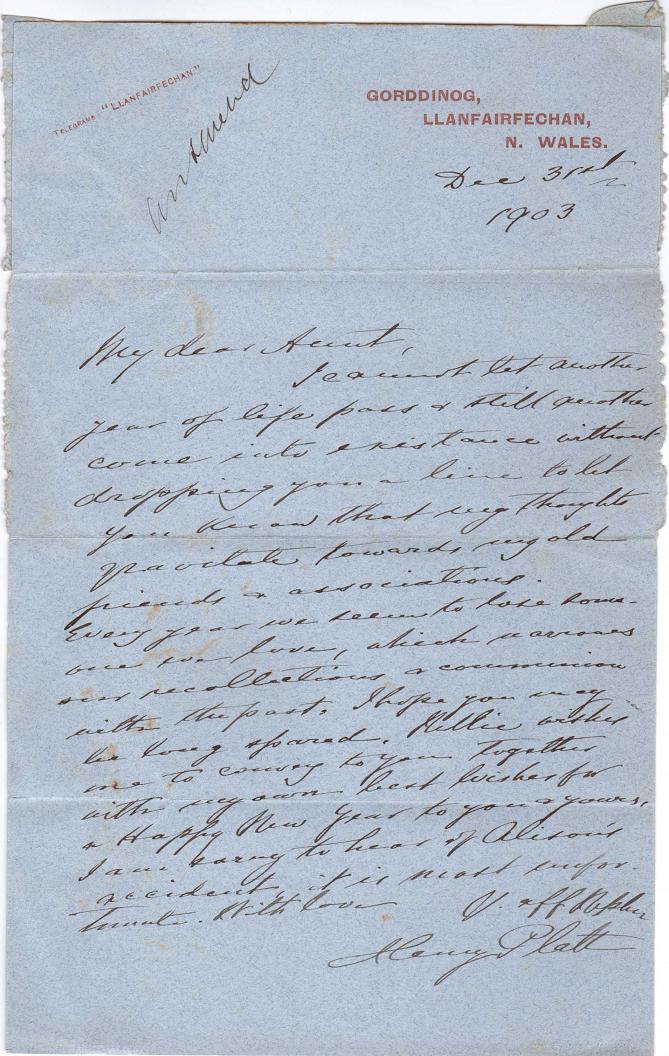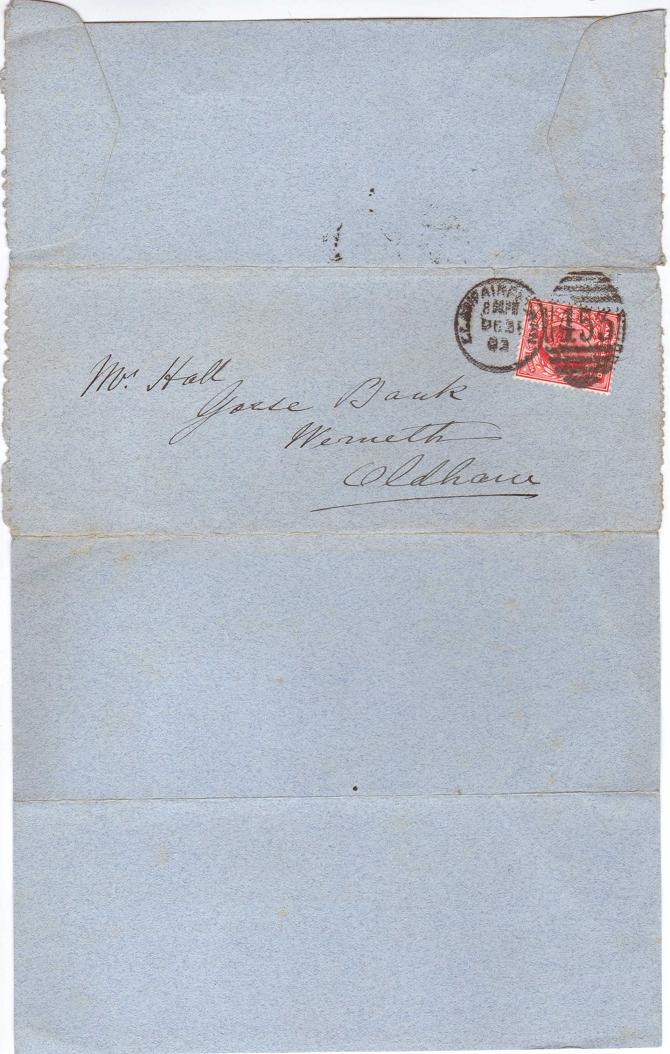 Letter from Henry Platt Gorddinog to Aunt Louisa Dec-24
Gorddinog
Llanfairfechan
N. Wales
Dec 24th

My Dear Aunt,
How can I thank
you for such a handsome
& historical present.
It arrived today safe and
sound. I appreciate
things that belonged
to my family more
than anything & I will
take care they are handed
on. Nellie, the children
& myself all join in

wishing you & your
family a Merry Xmas
and Happy New Year.
With love,
Your affectionate nephew,
Henry Platt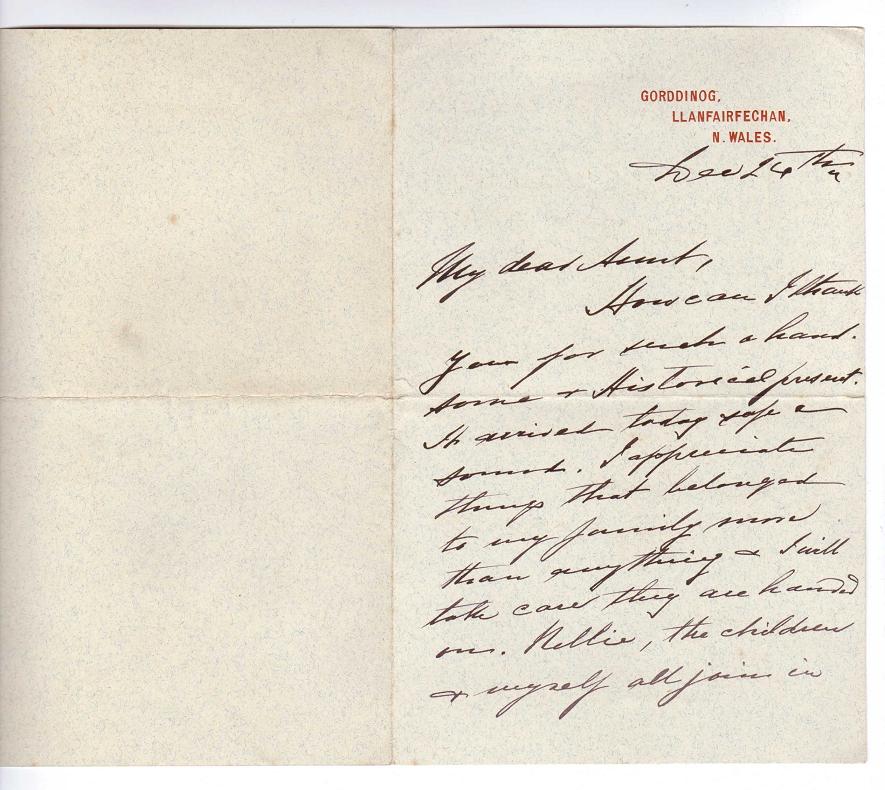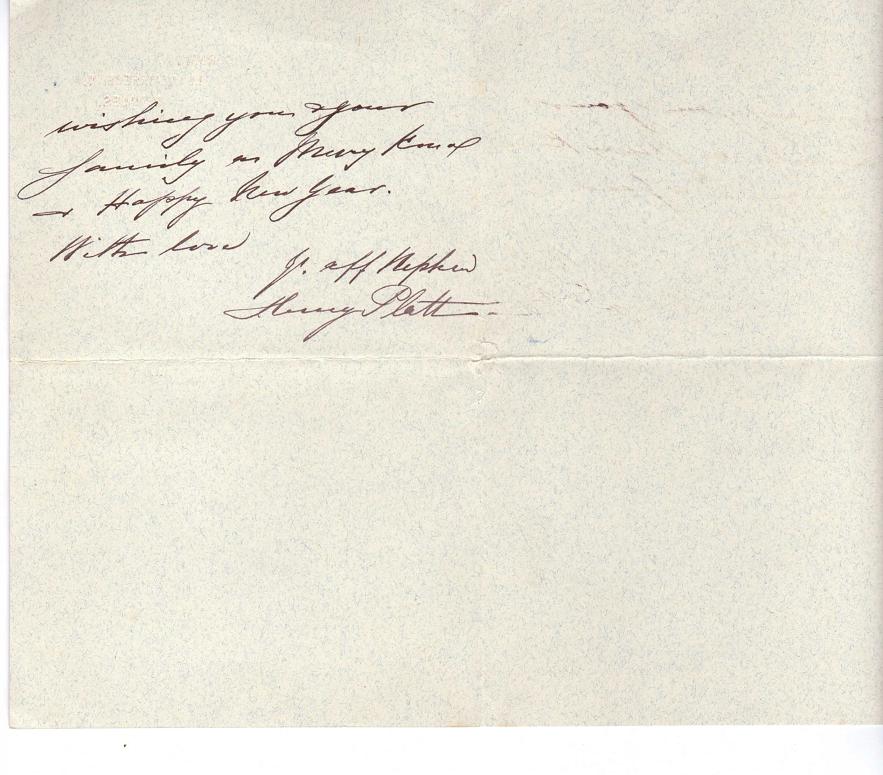 Death Certificate Louisa Hall 28 Feb 1904 Gorsebank