Sarah Whitehead
Born: 28-Feb-1792, married Henry Platt on 20-Mar-1815, died: 04-Feb-1860
Family Tree
Letter from Henry Platt Oldfield School to Parents Hartford House 27-Oct-1840
Oldfield School 27 Oct 1840

My dear Parents,
Mr Race was so kind
as to allow me to go and see my sister on Pater
day when she told me that it was your wish
that I should write a letter to you. I am
happy to say that I enjoy very good health.
We had the pleasure of seeing the Fox
Hounds on Wednesday the twenty first as they
came past the school. Christmas is fast
approaching and I begin to think of the time
when I shall come to visit you. I hope that
I shall continue in good health and that I
shall have the pleasure of finding you well.
Please do give my best love to my brothers
and tell them that I think that I am
beginning to make some improvement in my
learning. Mr Henry has asked me if I will
learn Latin, but I do not know what to do as
I am not acquainted with your intention
respecting my learning that branch of
education. Mr Race and Miss Races desire
their kind regards to you all. In dearest
love believe me to remain,
My dear Parents
Your affectionate son,
Henry Platt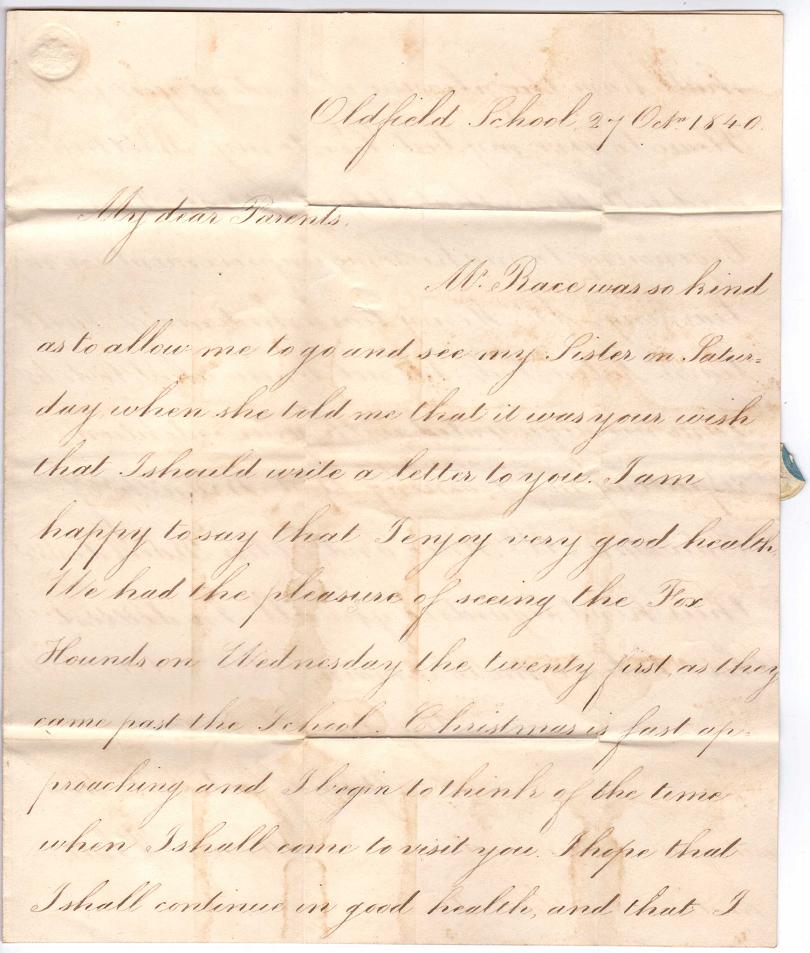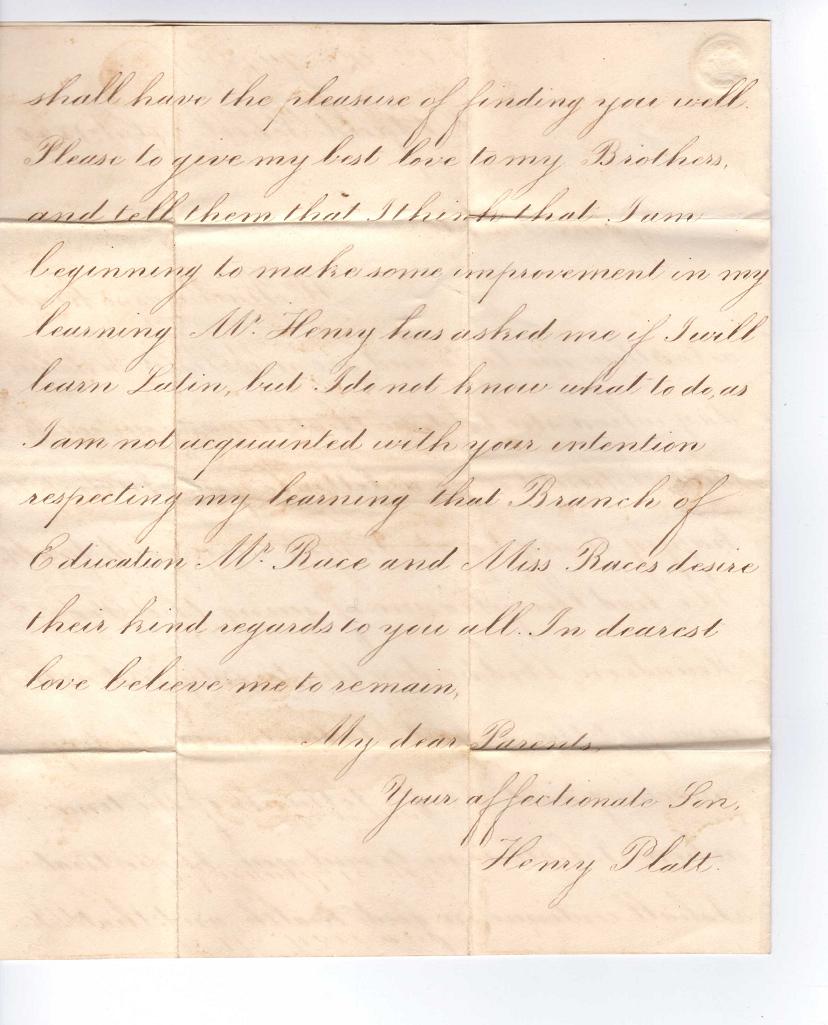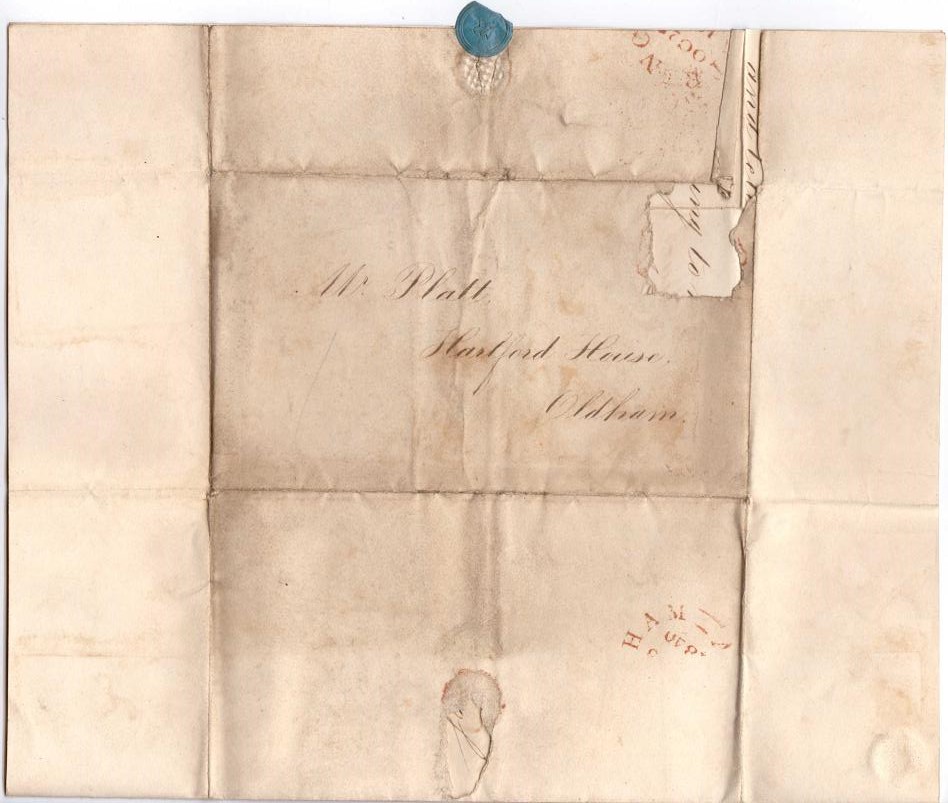 Letter From James Platt to Mother Bro Sis From Paris 26-Sep-1844
Rue Neuve de Petit Champs
Paris
26th Sept 1844
Dear mother, brother & sisters,
I called on the Marks
with my letter of introduction from Mr Mather
on Tuesday morning, and hitherto, must say
he has paid me a deal of attention, and
found me the present lodgings, at an English
professor's, which with being 6 stories above
ground, and his being an Englishman, are
about the only objections. I have a good large
room, well furnished - a balcony at front
15 or 20 yards long. The family use French
and are very attentive, and including two
lessons a day and dejeuner - it is only
40 francs per week. They asked 37 1/2 francs
but I afterwards called on Mr Coulier (who
also has not been afraid of his trouble) and
went to see some lodgings, but they were
42 francs per week and I should have had
to pay a professor, which would have made
it very dear, besides the lodgings were
scarcely as good - so that I am in a fair
way of being very comfortable.
When I called on Mr Crodier, he wished me
to go with him to M Delafoutaine as
the mills were at a complete stand.
Next morning we went and saw Delafoutaine
who appears to be rather an intelligent spinner
for a Frenchman. He too would do anything
for me in his power. I believed him.
I found the mules with nearly all the motions
on the floor - a good fortnight's work for one
of our own mechanics. I stayed 3 or 4 hours with
2 mechanics at my elbow all the time and
left them sufficient to go on with after I was
gone. This I have repeated 3 times - all is
now together except bands - or nearly so - for our
mule. He talked hard about a spinner on
Tuesday, but seems to have slipped his memory
since. We can have one mule at work next
week, but should never have begun, had I thought
the French mechanics so bad. I almost think I
shall persuade him to send for an English
mechanic - Mr Bradly - the carriages, roller bearers
are nothing like truth, and I shall not square
them up, for it is already interfering with
my French - though it does me good being bored
with Delafoutaine and 2 French mechanics who
cannot speak English.
I have seen little or nothing of Paris, nor
entered a public building except the circus -
I have been so busy.
You must write me soon, for I can assure
you, there are many inconveniences being alone
and if I were not busy in one place or another
it would be worse.
How are the new works progressing, there is
sufficient to write about. What I have seen of
Paris has been often told, so shall spare you for
the present. The caps of the Normandy women
amused me much, I will give you one.
It looks 2 centuries old. I am very well
and hope your letter will bring the same
news. From Yours affectionately,
James Platt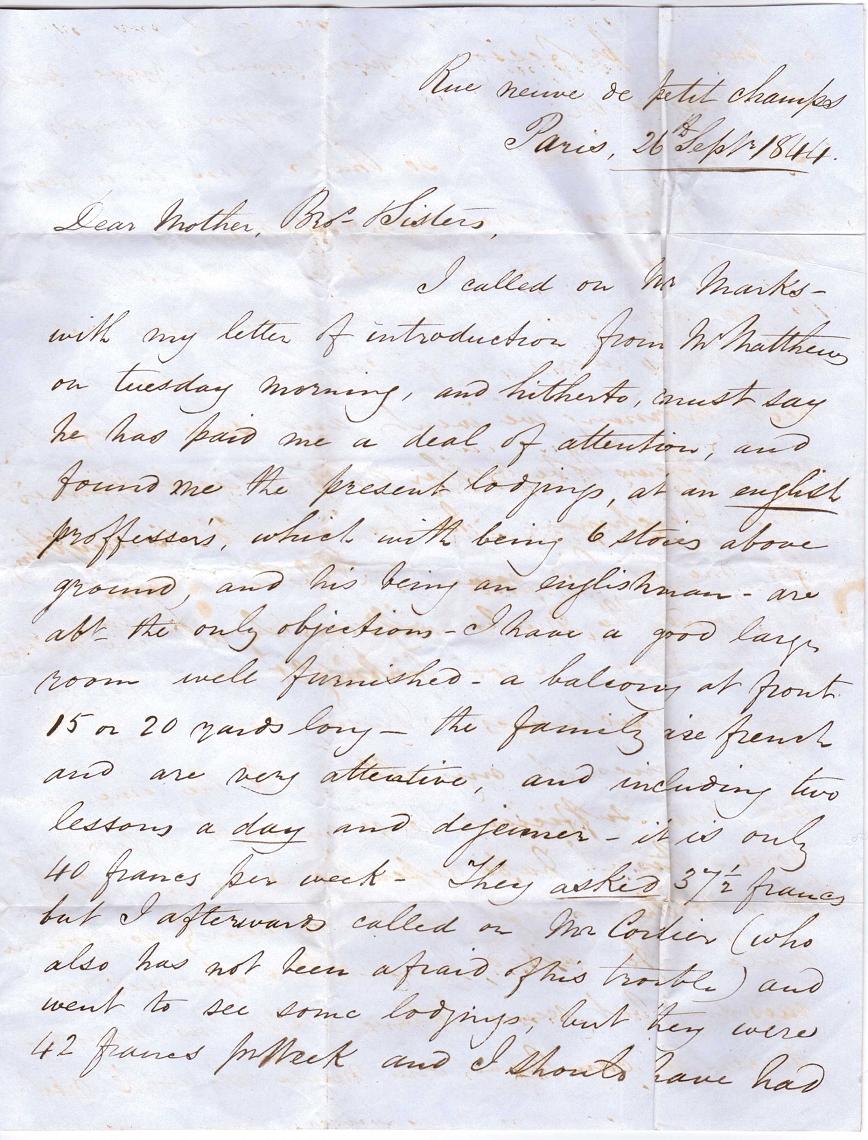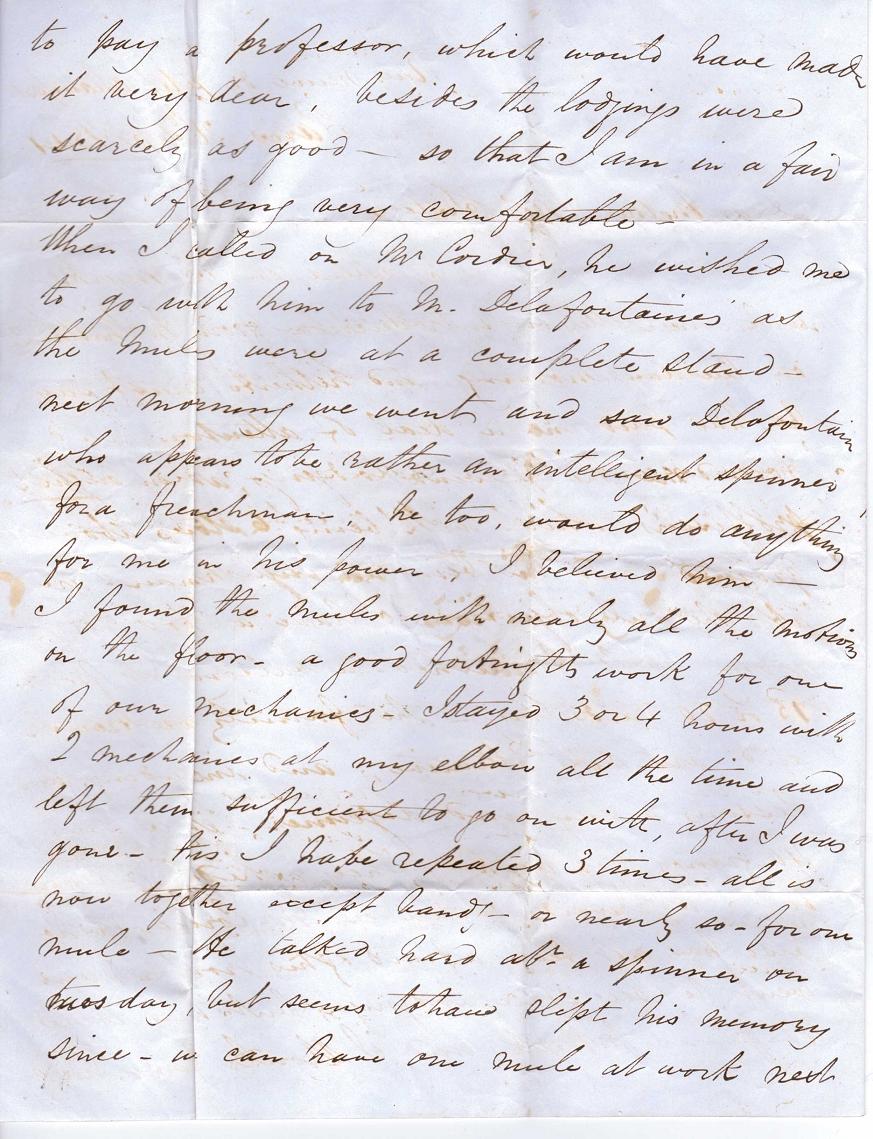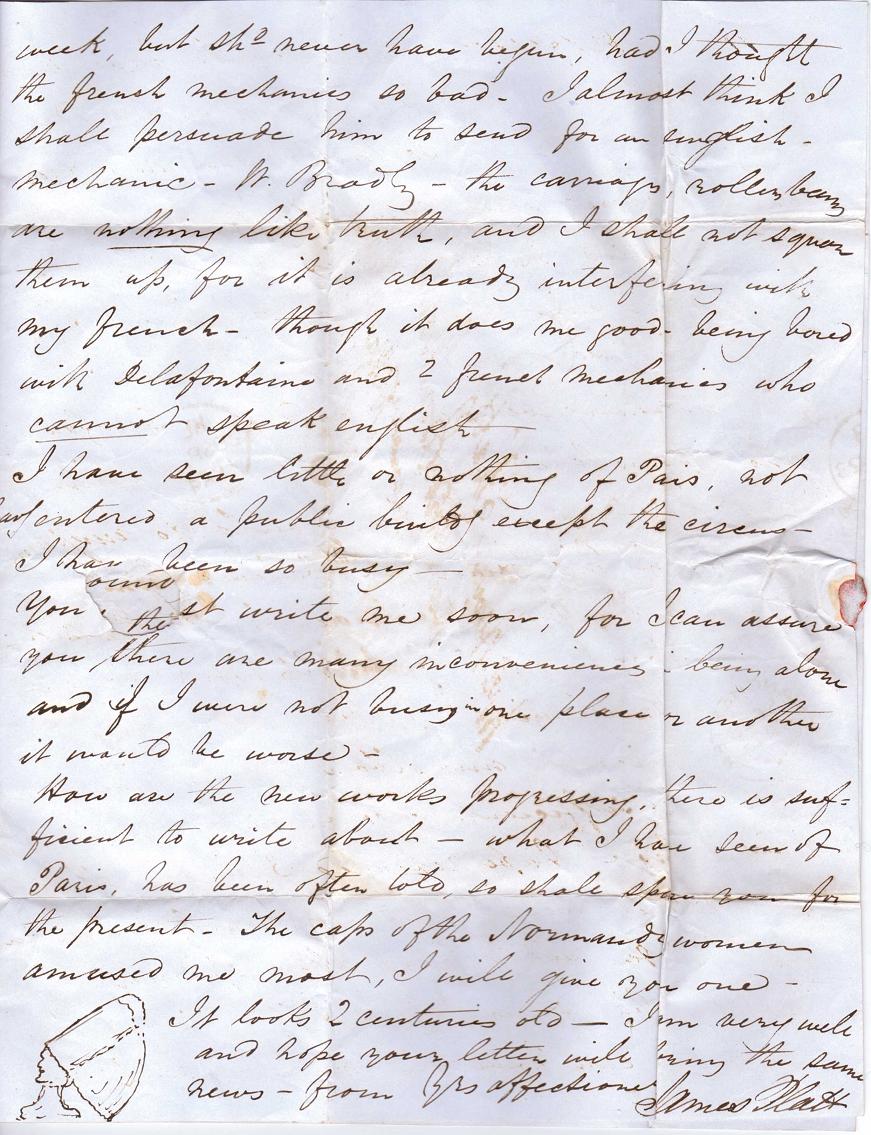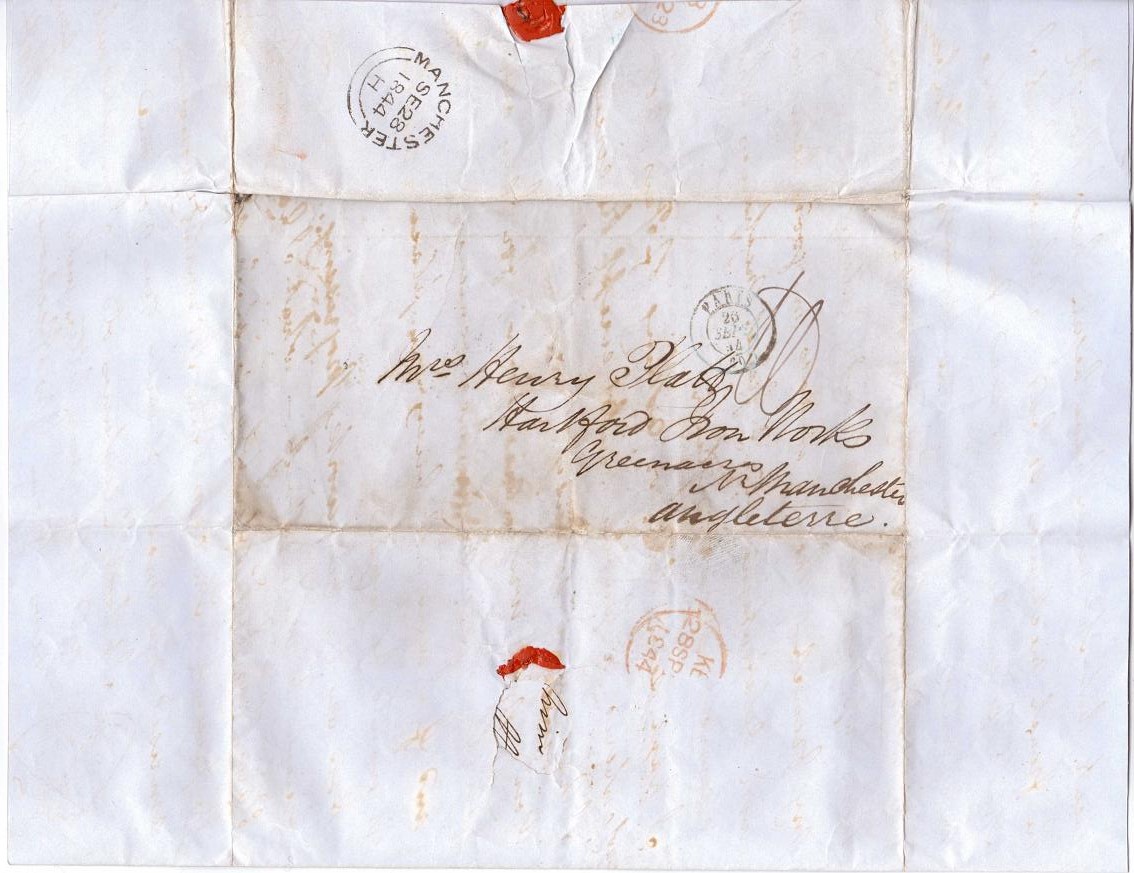 Letter from John Platt to Mother 5-Jul-1845
Hartford Iron Works
Greenacres Moor near Manchester
February 5th 1845

My dear mother,

We received Sarah Ann's
letter - of this matter _
sorry to hear that Joe has had
another slight attack but hope
he will be over the worse for
its _. Mrs Radcliffe
of Manchester and she told and
she has just seen the children
at school - and that they were
very happy and comfortable,
she also says they were going
to take tea with her - on Saturday
next - This means I thought might
be interesting to you. - I _
the what James _
and therefore scarcely can
tell what to say. - The liver gives
shap is late and easy to
hear. I am not like the ' sell
of night' The weather here has been
dreadful for some time
and no doubt to some extent

it may be whether James but
the place _ not be so can.
_
but the weather will too
delightful, and that Joe
will reap the benefits accordingly.
Our children are very
well. I am happy to say and
Henry is always talking of his
Uncle Joe. He tells everybody
that uncle is getting better;
I hope Sarah Ann will
be better. You be careful
and not over anxious; you
must of course be writing so
often - as Thomas _
for anything. I have been thinking
it would be much better if you
could get a little assistance
as it must be very tiresome,
so much attention, as well
as detrimental to your health.
Alice with
_ of sympathy to you

and beg you will remember
us kindly to him and although
we don't write perhaps
..
with kind love to yourself
and Sarah Anne.
from,
your affectionate son
John Platt
P.S. Mrs Hibbert called
yesterday and desires to be
remembered to all of you.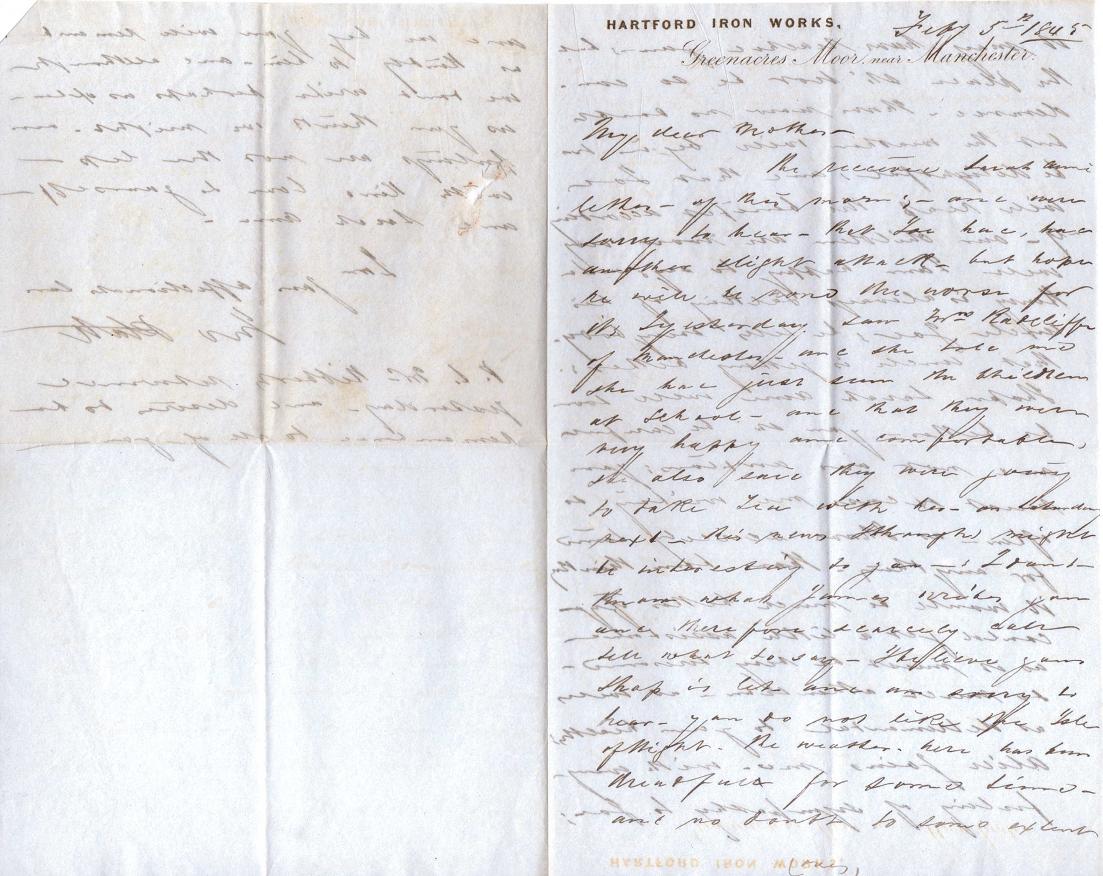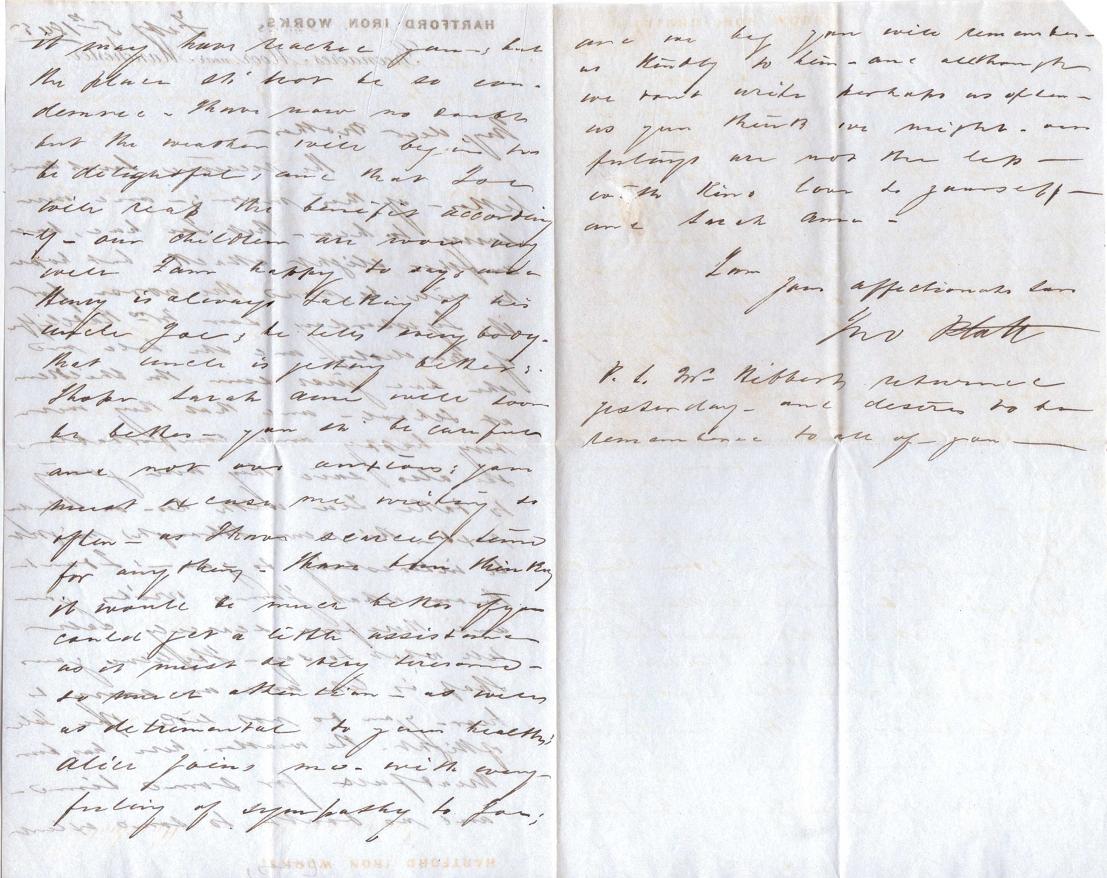 Letter from Richard Jessop to Mrs Platt 1-Jul-1846
July 1st 1846
My dear Mrs Platt,
By the visit of Mrs Cross I have been reminded
of past times and old friends, and although I have not
the opportunity of connecting with you personally yet I avail myself
of a few moments for the purpose of having a few words with you
through the medium of a letter. I long to be considered time
has passed since I wrote to you, yet you have not been forgotten
by one. I have often wondered how you are getting on and
especially have I been anxious to know whether my late
ministry among you has produced fruit. I hope it
has not altered the heart in vain in reference to you and
some branches of your family. And if I be not

present to see the fruits of my labours, if you have the benefit
and God the glory that is may be. It certainly is more pleasant
and rewarding to reap that you continue to sow, but if one
are faithful in the discharge of our duty, we are accountable for
no sorrow. And whose imperfections tonight be chargeable with,
you know how I have longed for the salvation of souls, and
if there was one family to whom my anxiety was directed more
than another, it was yours. I hope that anxiety has not been
lost on those who are now no more. Often did I _
amusements with the deepest solicitude, and had they been
respect and I continued at hope. I flatter myself they
would have seen my joy. I hope that through words are left
behind will be enabled to show that my labour has not altogether
been lost on thorns. I was sorry to hear from Mrs Cross
that your health has not been so good as it was used to be.
I hope however that amidst all your trials and disappointments,
you have your consolations and special

support, that as your day is so is your strength also. Many
a painful change have taken place since I left you. Yet
what may to know that we lie in a world that is superintended
and controlled by an all seeing and merciful God. So that in
our most distressing trials, and successive afflictions, these dealing
by the permission and appointment of a father that cares
for us. And if they are _ as coming from him over
heaviest states of affliction cannot be arrived as ill timed
for they are guided by infinite wisdom, they cannot be too
scarce because they are adjusted by unbounded law, they
cannot fail of accomplishing this design because they are
controlled by infinite power. And we know that the
design of all our trials is to make us better. In knowing
Father always chasteneth us for our profit. The profit of
holiness. It be impoverished, it is to enrich us, if be afflicted,
it is to heal and sanitise us, if he censors our friend and
acquaintance it is to us closer to himself, the glorious

creator, if be out of the stream, it is to bring us to the founding.
I hope dear Mrs Platt you have experienced this, and
that you have been enobled to say.
"Trials make the promise scant
Trials give new life to progress."
And if _ on this sacrifice, they are blessings
in disguise. It will afford me great pleasure to
hear from you, and especially to hear that you are living in
the enjoyment of the precious promises which _
may better. Mr Jessop and Richard unite in
kindest to you to yourself and all your family
and accept the same from
Dear Mrs Platt
Yours very sincerely
Richard Jessop
Please do remember us to Mrs Cross and all friends.