William Hall
Born: 24-Mar-1825, married Louisa Platt on 19-Jun-1862, died: 18-Mar-1887, father: John Hall, mother: Hannah Greaves
Family Tree
Pictures of Hall family card backs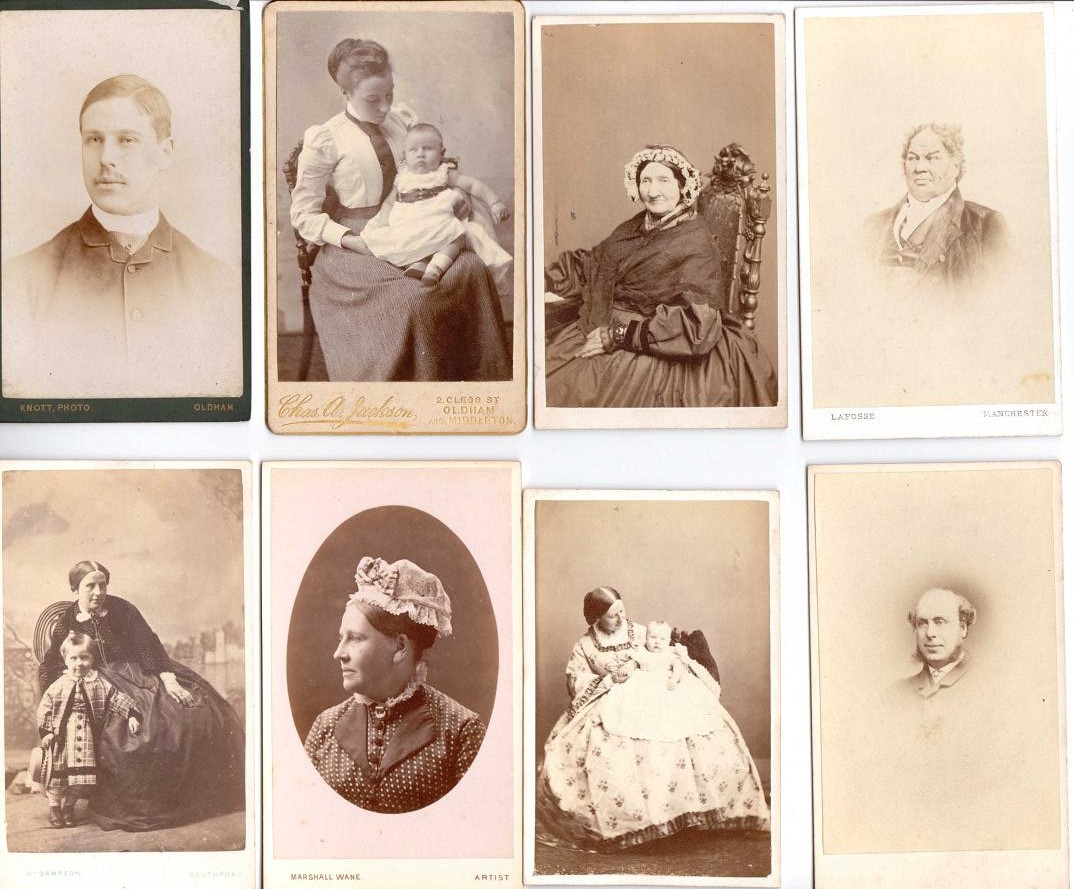 William Hall Payment Receipts for hospital practice and lectures at medical school 1840-1844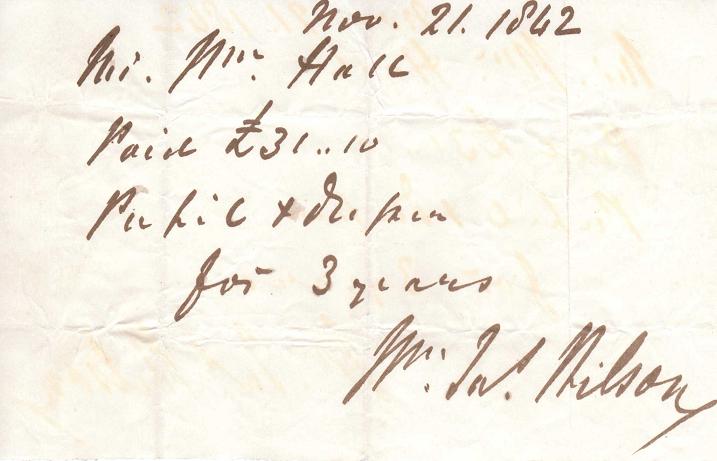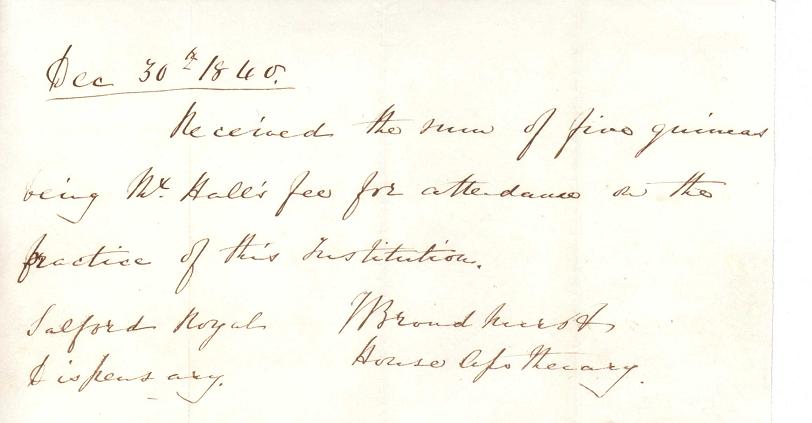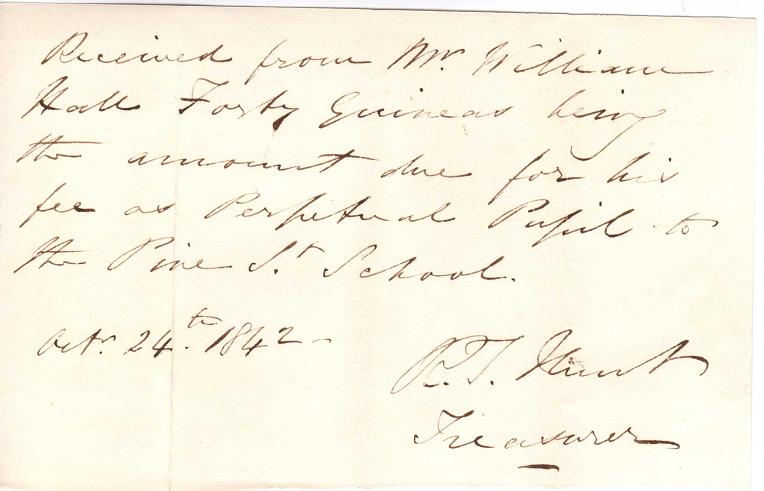 William Hall Moral Conduct Certificate from George Gailon Surgeon 4-Nov-1846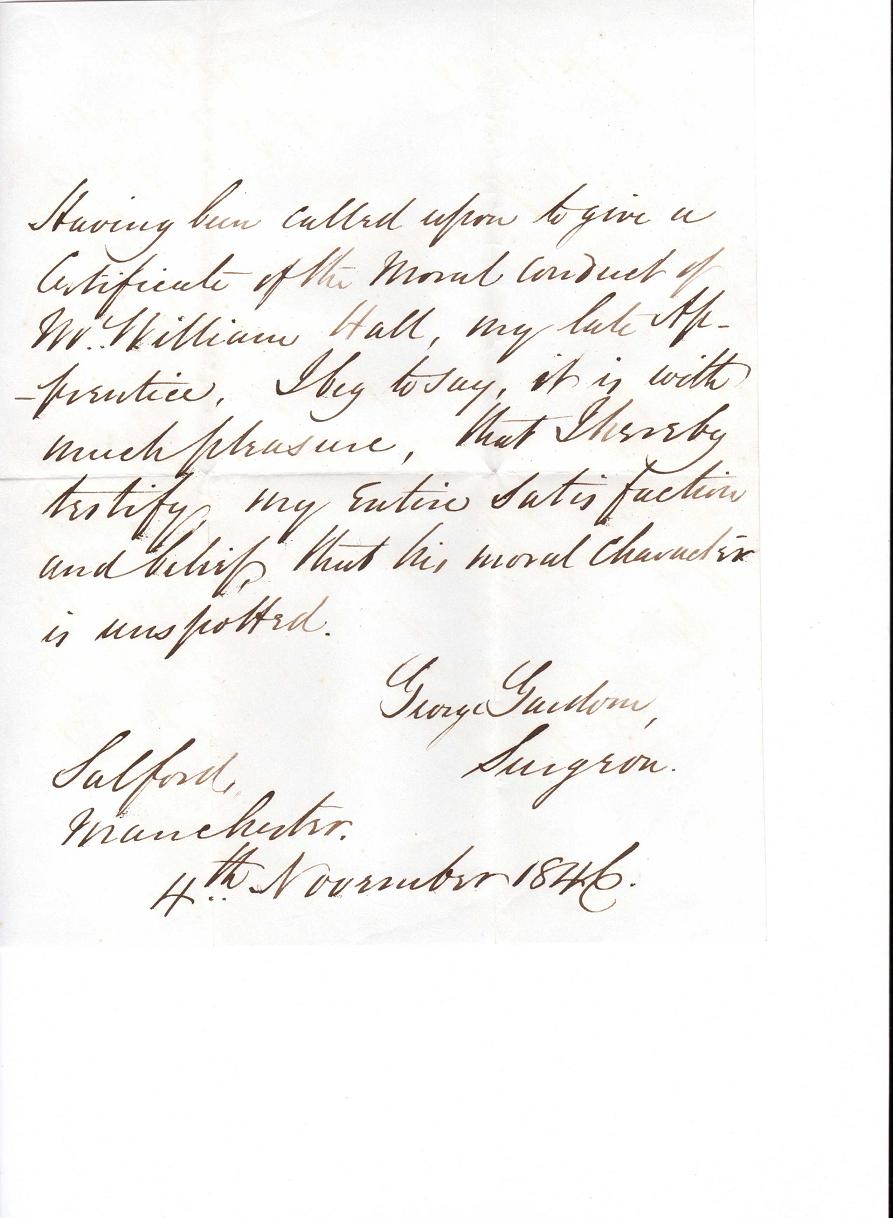 William Hall Patronage Favour-from john Davies to Jon Cocker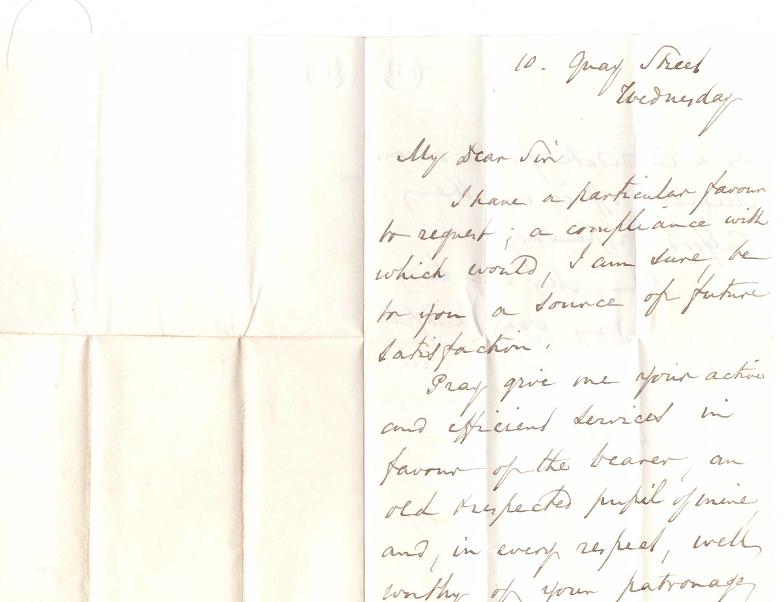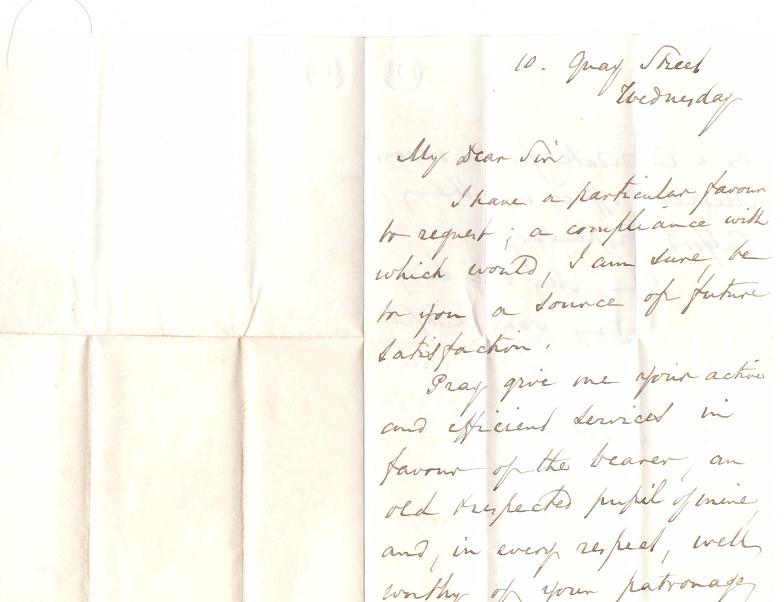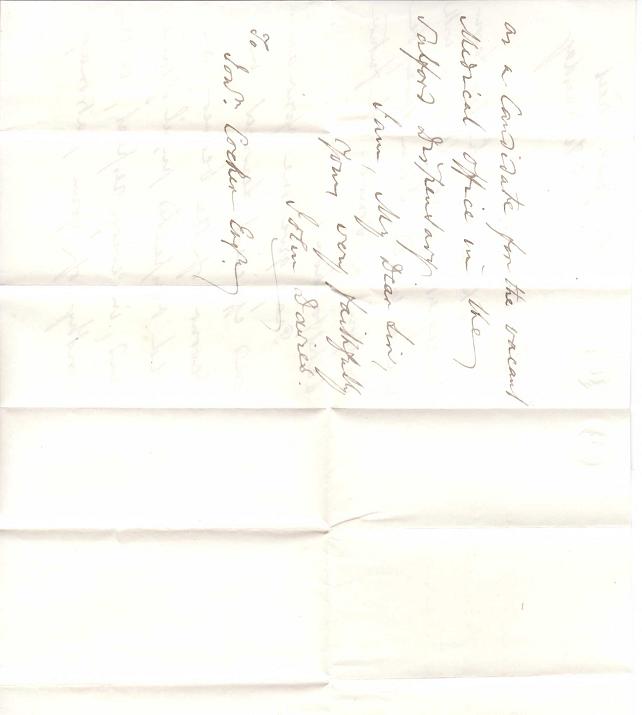 William Hall Pathology and morbid anatomy lecture confirmation 24-Feb-1847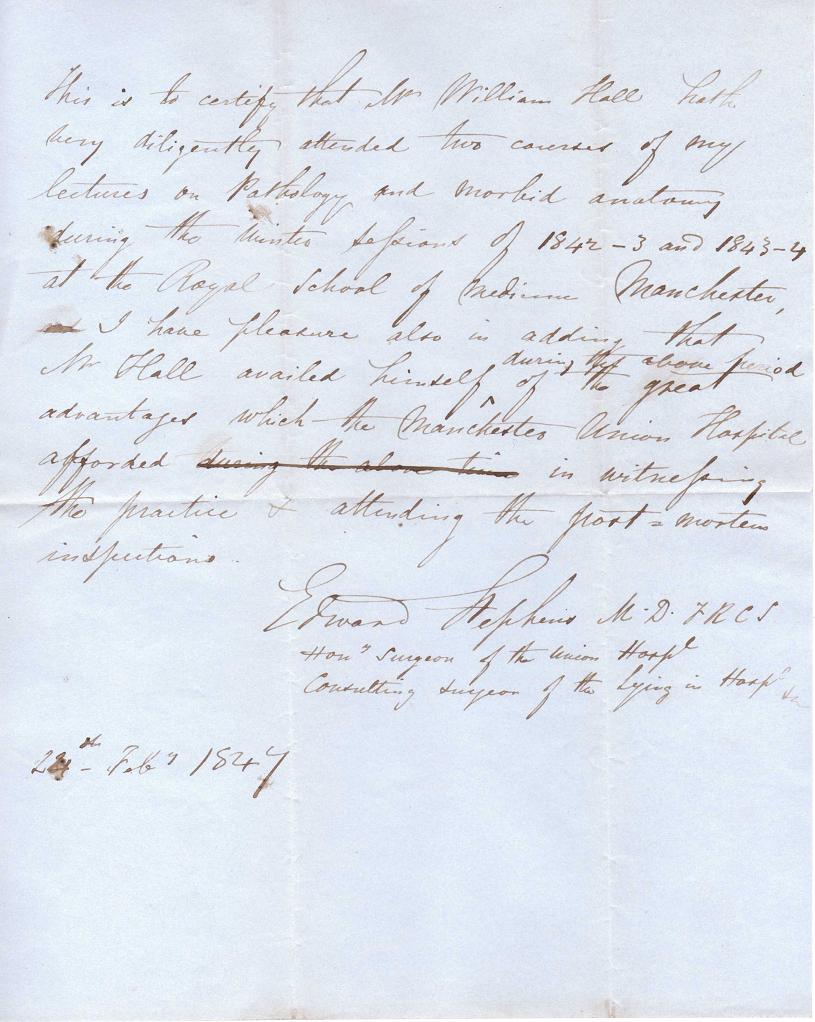 Letter from Mr Wilson FRCS to Trustees Royal Salford Hospital Re William Hall 2-Jun-1847
(Copy)
To the Trustees of the Royal Hospital
and Dispensary of Salford.
Gentlemen,
Understanding that Mr William
Hall is about to offer himself a Candidate
for the office of Surgeon to your excellent
establishment, I feel great pleasure in
bearing testimony to his great industry,
zeal and humanity, with which I have been
personally acquainted; Mr Hall having
for a long period officiated as my pupil
and dresser at the Manchester Royal
Infirmary. I also beg respectfully to
express my opinion as to Mr Hall's fitness
to discharge the important duties of any
hospital appointment, and from his regular
and gentlemanlike demeanour on all occasions,
I feel convinced he would do credit to a public
appointment.
I have the honour to be,
Gentlemen,

Your obedient servant
Mr James Wilson FRCS Eng
Surgeon to the Royal Infirmary
Mosley St. June 2 1847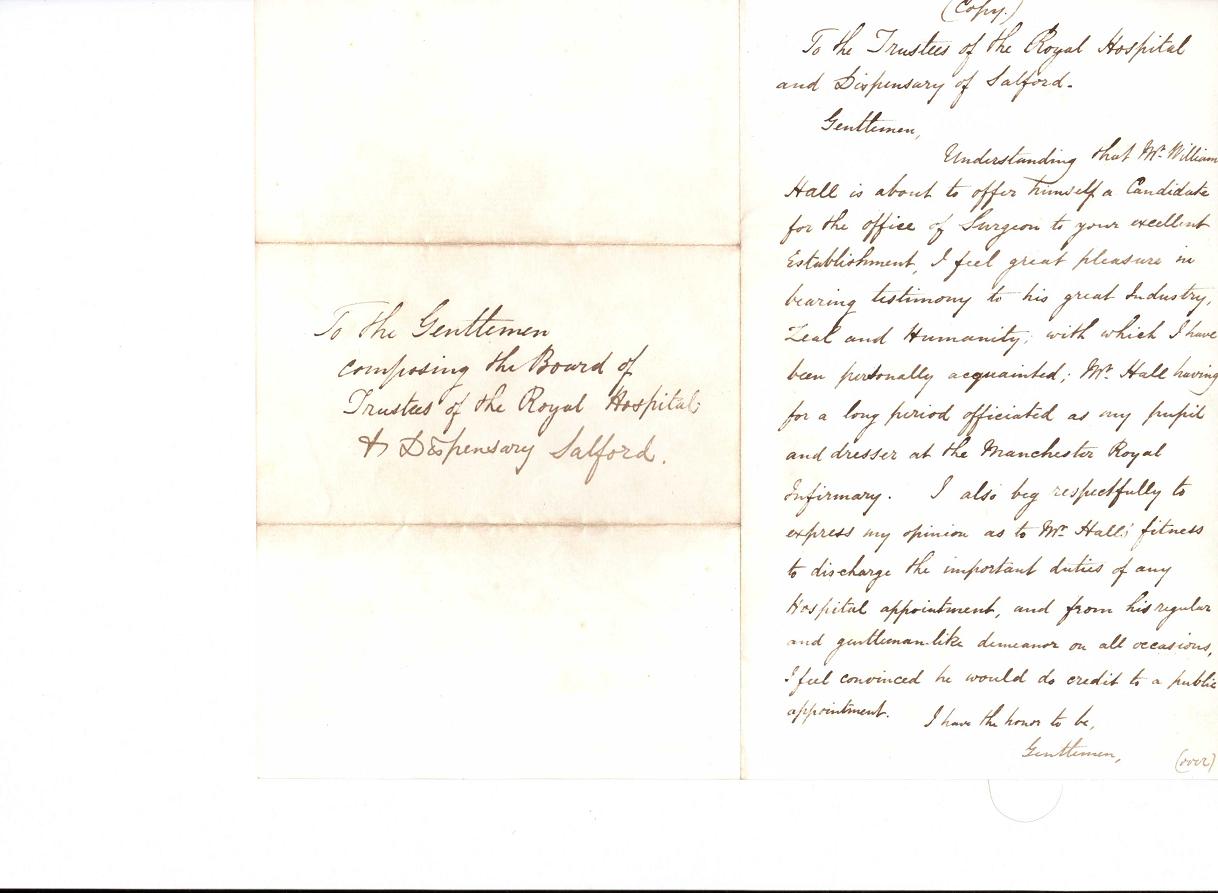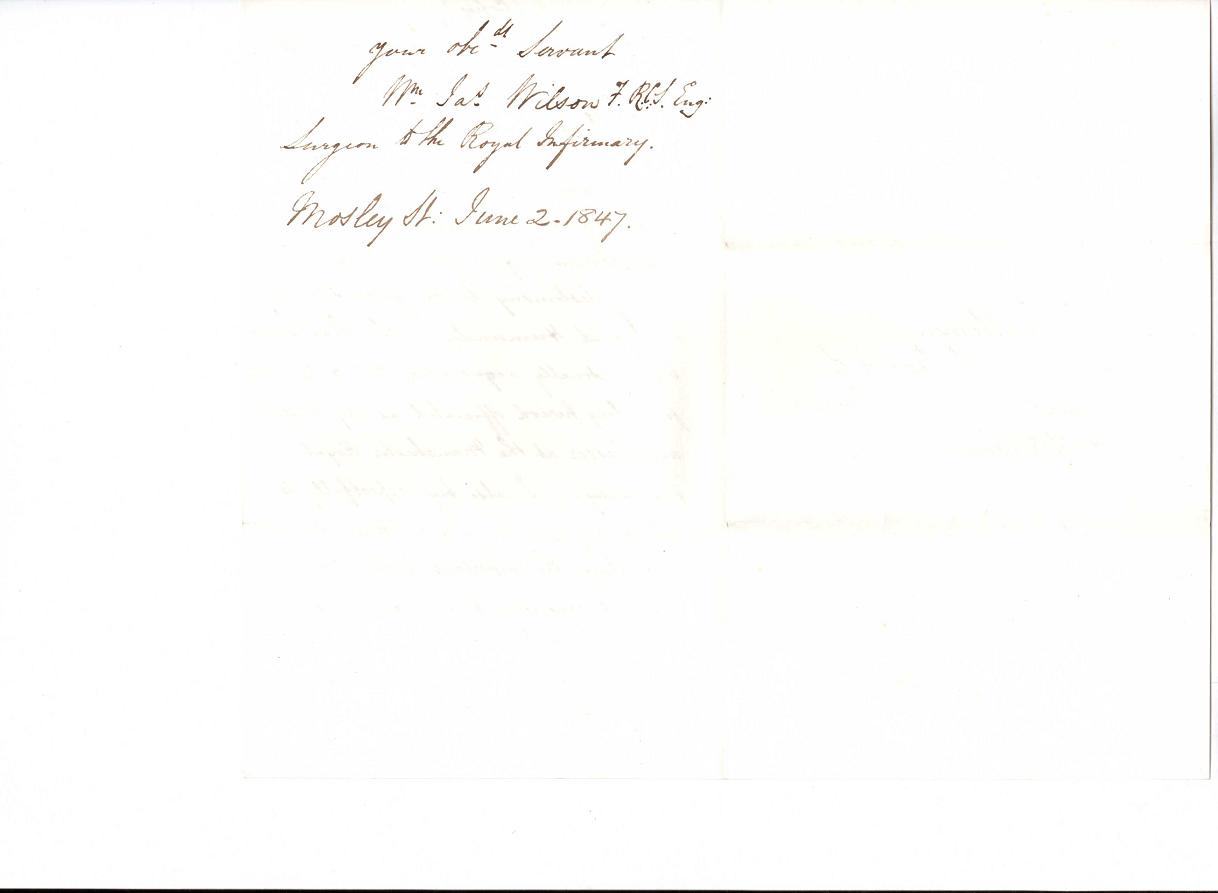 William Hall Election of Surgeon Salford Hospital-16-Jul-1847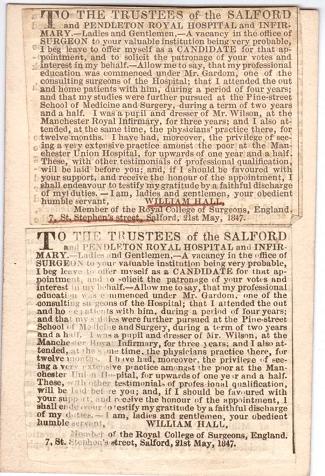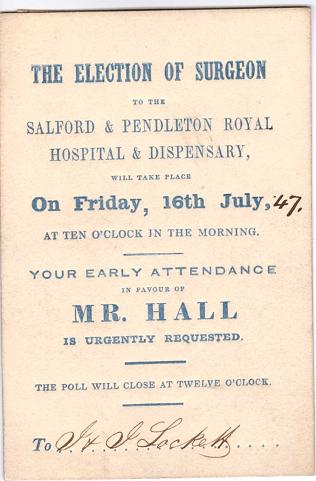 Letter from John Stead to William Hall 19-Dec-1849
Huddersfield Dec 19th 1849
Mr William Hall
Dear Sir,
You will have learnt from
your family the decease of your Uncle
Joseph Woodhouse, and it is my duty
to inform you that you and I are
left executors under his Will dated
the 10th instant. The tenor of his Will is
that Mrs Joseph should have all the
furniture, stock in trade & c, after payment
of the debts, for her own benefit,

and the dividends or profits of Joseph's
share of the Ramsden Mill Property
for her life, and at her death, to be
equally divided between the two
children. I do not know at present
what the liabilities may be, but have
no doubt but there are Book debts
sufficient to pay all demands.
The funeral is fixed to take place
on Friday at Golcar to leave here at
eleven oclock am, when if convenient
you are desired to attend, and then you

would be abLe to judge better the position
of affairs, and I could learn your
wishes, with respect to the future
management, and as soon as some
valuation can be fixed on the effects it
will be necessary I believe for to go
before the surrogate and prove the will.
I am Dear sir,
Yours truly,
John Stead
at Messrs John Cooke & co, Huddersfield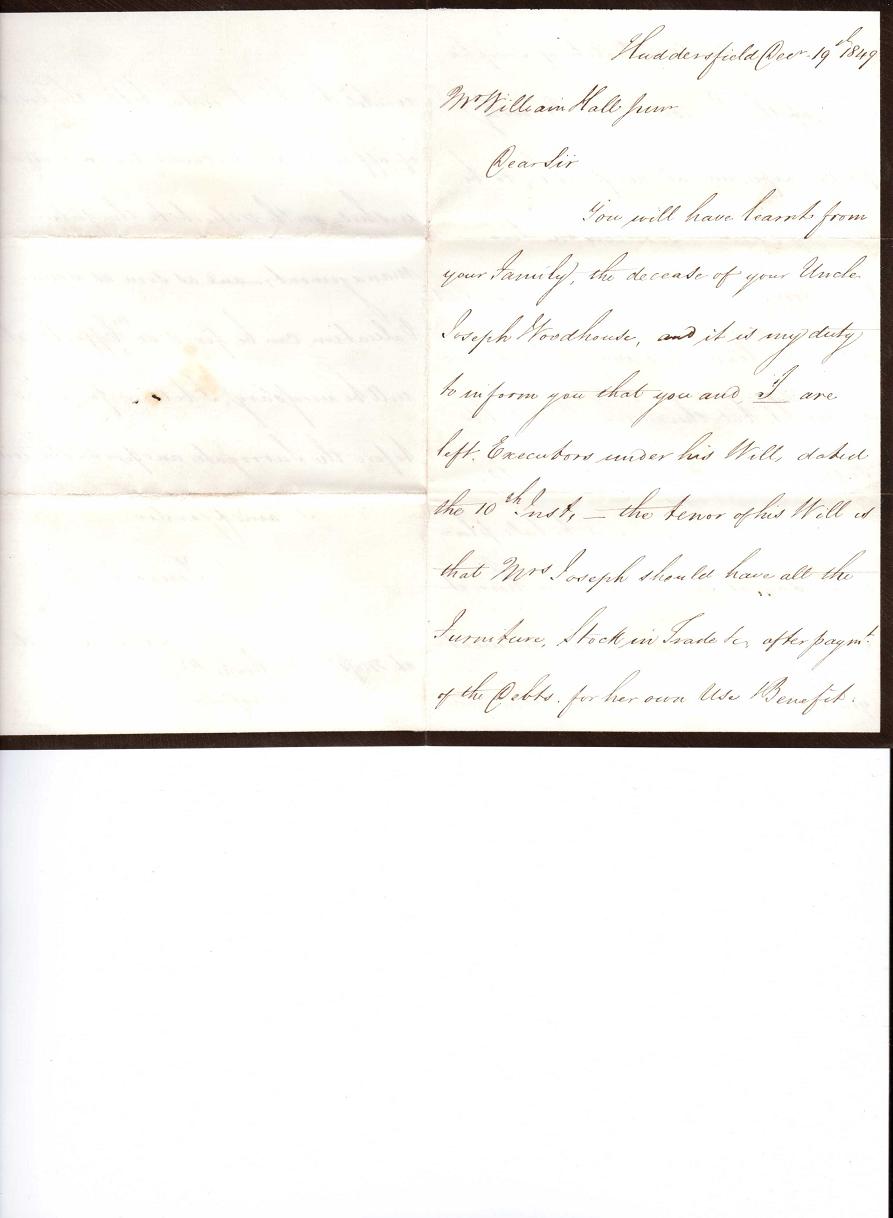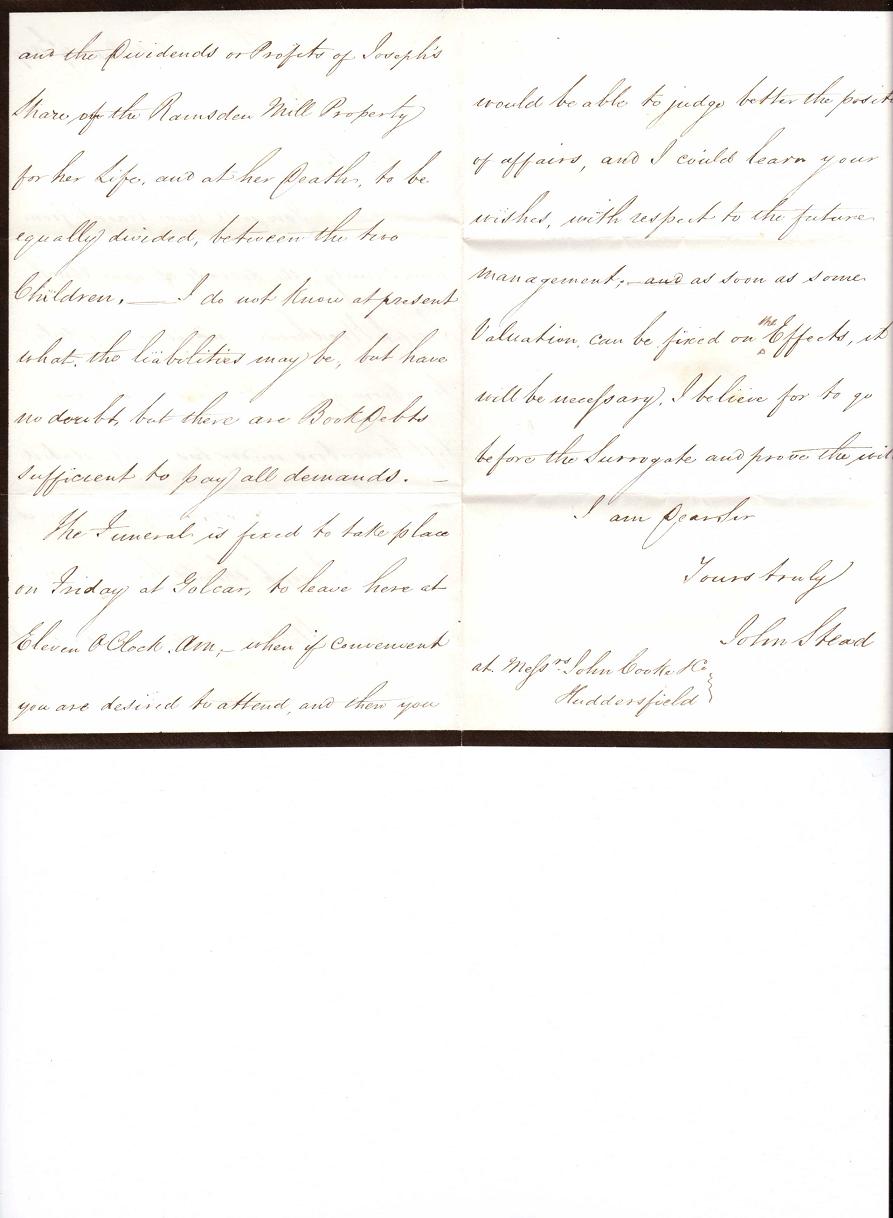 Letter from John Stead to William Hall 26-Dec-1849
Huddersfield, December 26 1849
Mr William Hall Jnr
Dear Sir,
I duly received yours of the 20th instant and should
have replied sooner, but have been very much engaged owing to the
death of our Mr William Cooke the senior partner in the firm by which
I am employed. I have not as yet made a complete analysis
of Joseph Woodhouse's books, they are in a very confused state
though perhaps not more so than the general state of tradesmen's
books in his line, and I am sorry to state that since I
last wrote, I have been informed of very old long standing
account to trust Joseph Woodhouse & Mr Henry Roebuck a
wholesale butcher, by which it seems that Joseph will be
indebted to Roebuck above £150. I do not know how
they have managed between them but a balance was struck
in 1845 leaving J Woodhouse D £100 and since then two or
three other balances of £20 & £30 each to his debt, and then

they seemed to have opened a fresh account, leaving the old
balance unprovided for. If Roebuck persists in his
claim to the full, I do not know what is best to be
done except to let him take all, and make the best of it.
I think £20 will cover all other liabilities, and perhaps
there is £40 or £60 recoverable book debt, the furniture
would not fetch more than £40. Of course, I am merely
guessing these respective amounts, from a cursory glance at
the books, though as I before stated they are in a very confused
state, and no regular postings, but can for innumerable.
You are perhaps aware that Joseph Woodhouse on the death
of his father would have become entitled to the freehold as heir at
law to his mother, in the Ramsden Mill Property, the Interest
of this, he leaves in his Will to his widow for her life and at her
death to be divided equally between his two children, now if
Mr Roebuck insists, this might I believe will have to be sold
but I intend to see Mr Roebuck, and inform him how affairs stand

and learn from him what composition he will accept, but if
he seems disposed to wait until something turns up, I think
it will be better to consult some respectable attorney, and let
him wind the affairs up, it is no use the widow attempting
to go on with a weight of debt over her head, and all had
better be settled now. Waiting your opinion on the various
points.
I am Dear Sir,
John Stead
direct
Mr John Stead
Messrs John Cooke & Co
Huddersfield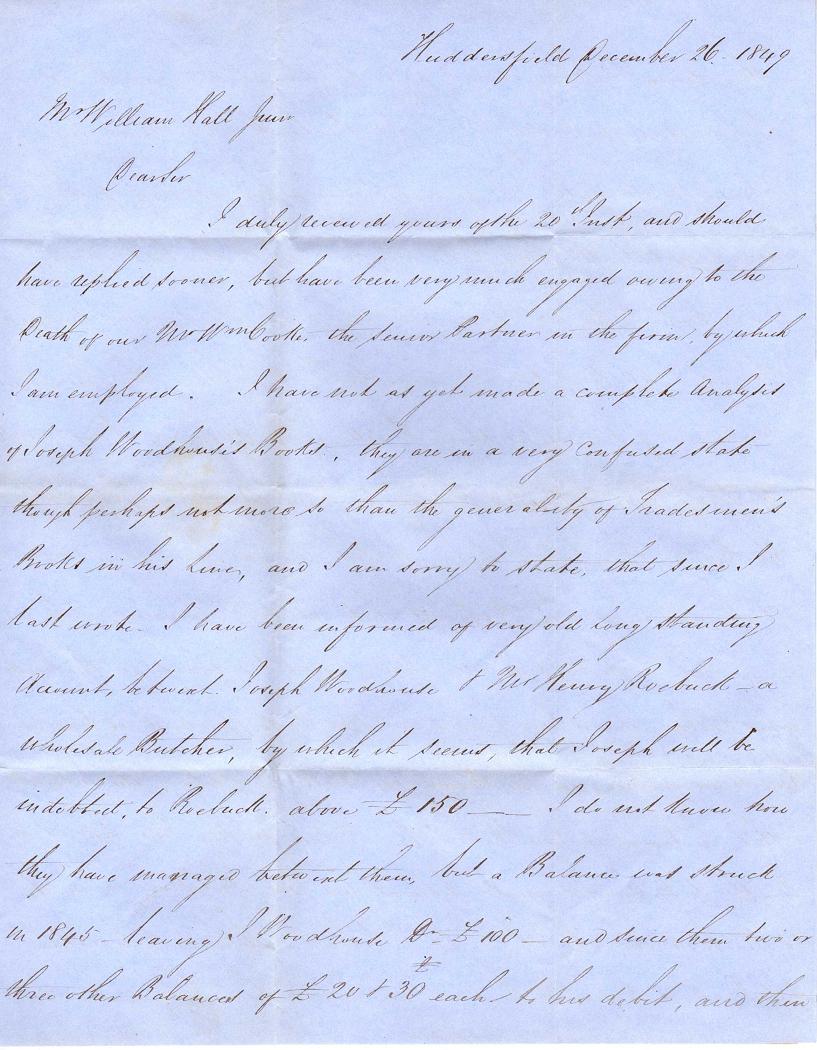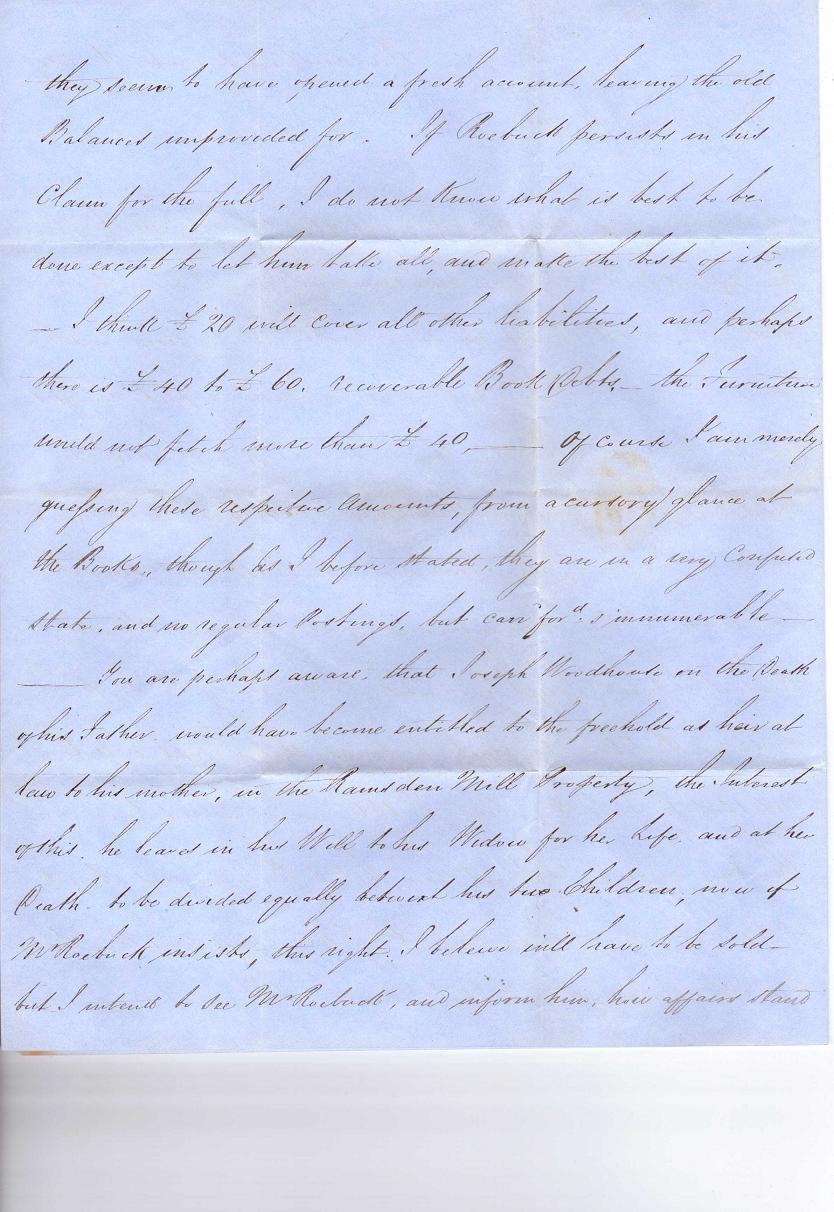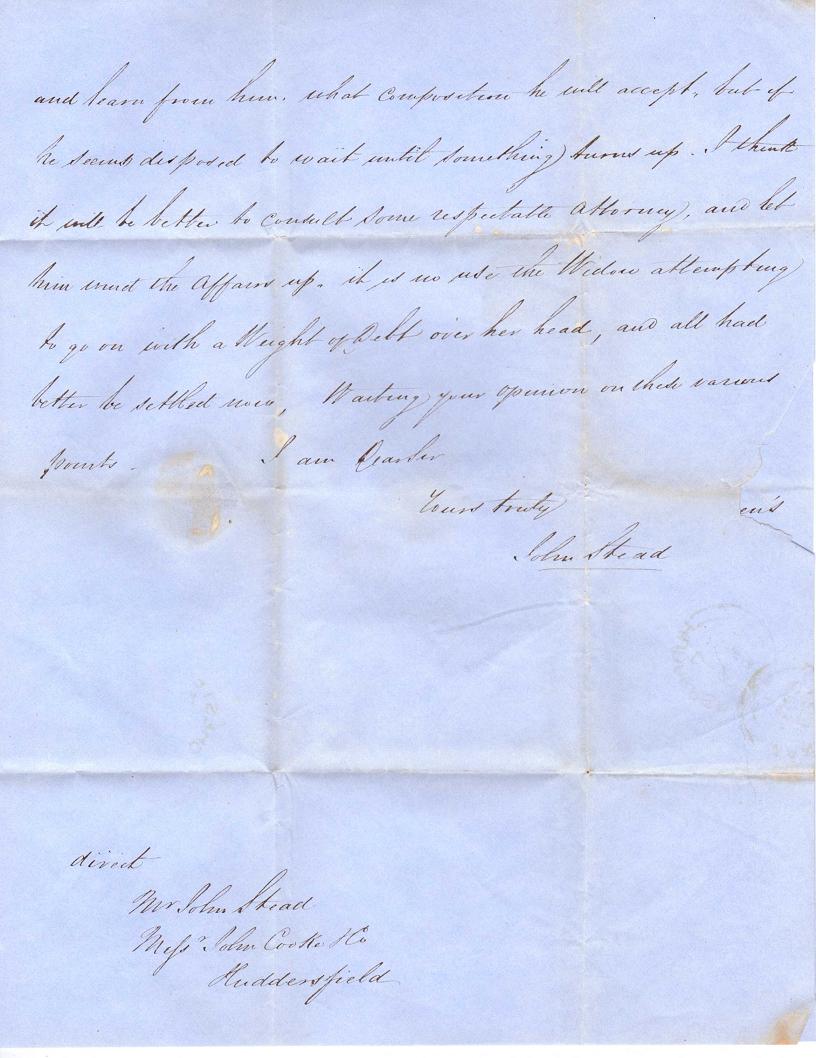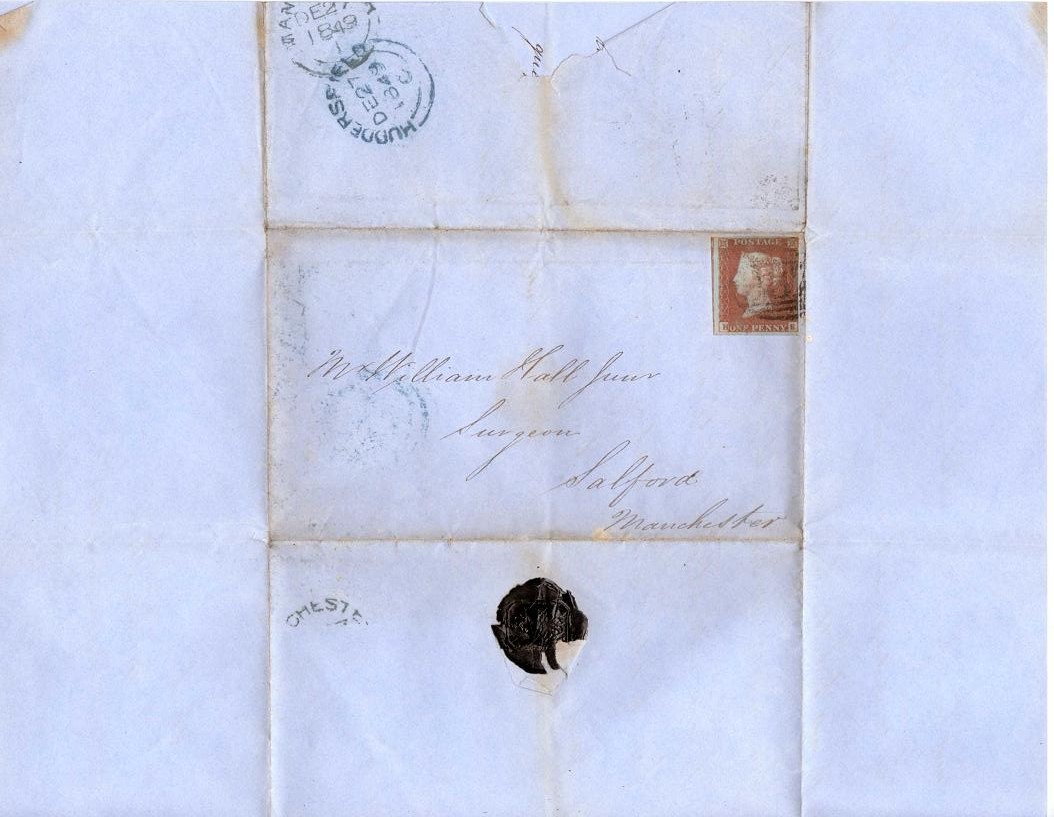 Letter from John Stead to William Hall 16-Jan-1850
Huddersfield Jan 16th 1850
Mr William Hall
Salford,
Dear Sir,
Yours of the 15th instant (yesterday) is duly to hand. Since
I last wrote. I have made out a list of Joseph Woodhouse's debtors
which I find amounts to £70.8.9 but from the reception I
met with at several places when I waited upon them with their
accounts, I do not suppose we can realize above £40 inclusive
of £19-0-0 odd that by Uncle Joseph Woodhouse which I am
afraid we shall have some difficulty in gathering. I have written to
him to tell him we shall require all we can get by the end of the
month, and as he pleads Mr Donning, the incumbent of Golcar
owes him £35, I have told him to get an acceptance of him
if he can; I think I can get all things in place for
a meeting of the creditors to lay a statement before them on the
evening of Monday January 28th at 7 oclock at which I should

wish you to be present or if this evening is inconvenient for you, you
will please to fix on another, only giving me timely notice, that I may
send a circular to every creditor. We sold the Pony Cart, harness
& stable utensils yesterday by public auction. They netted £6.14.10
this with 15/ received old debts and about 30/ balance left after paying
the funeral expenses out of the sick club's money, are all the assets
so far. I have written for the Doctor's bills, and shall put in the
list of creditors, the rent, poor rate, rent of stable, shop in the_,
Money Club at Golcar, and every debt we can find out, and then
we can calculate how much to offer in the £. I think from 4/
to 5/ in the £ might be raised, that is to say by disposing of the furniture
payable in 3 & 6 months, and if the principle creditors will not
agree to the proposition, why then we will give up the whole
concern into the hands of some solicitor, and he must work it
through as he can according to law. Mrs Joseph and me
wish respects to each and all. I am yours very truly,
John Stead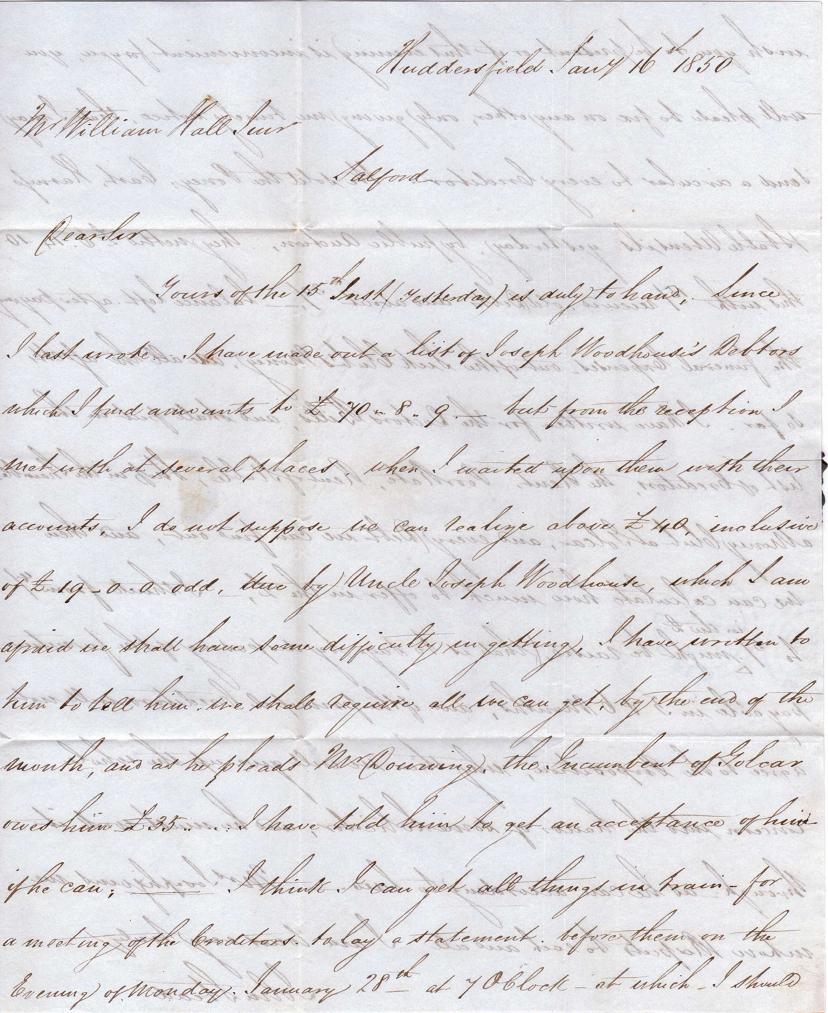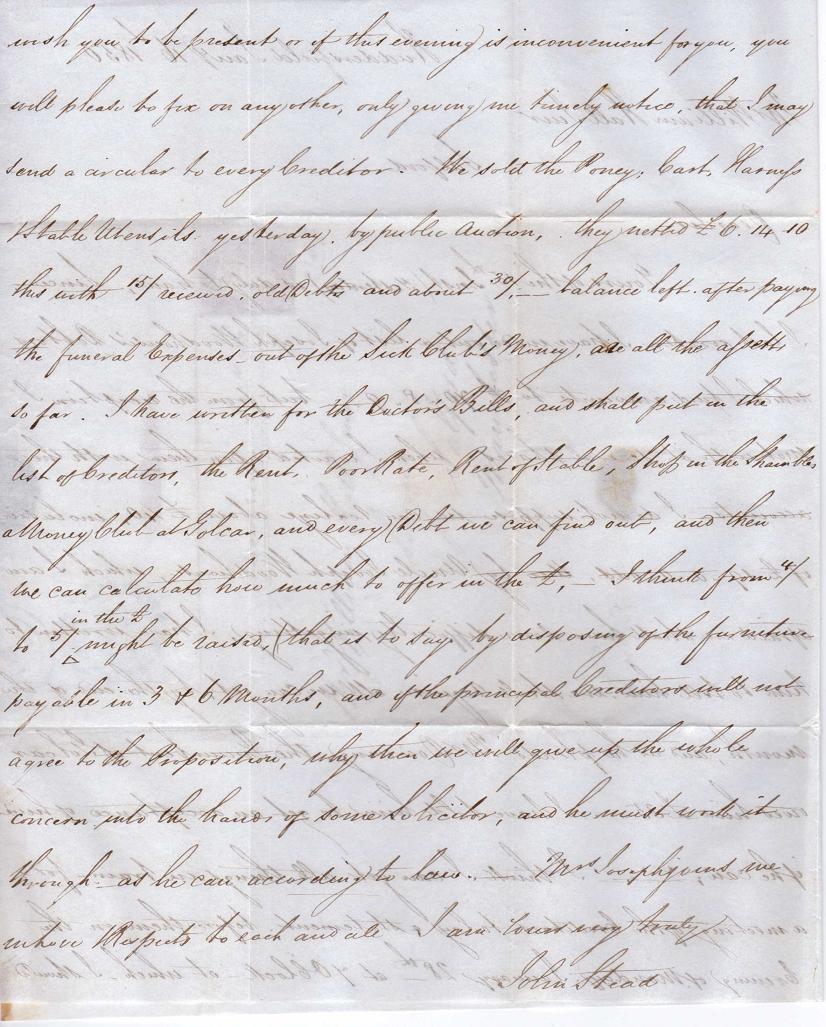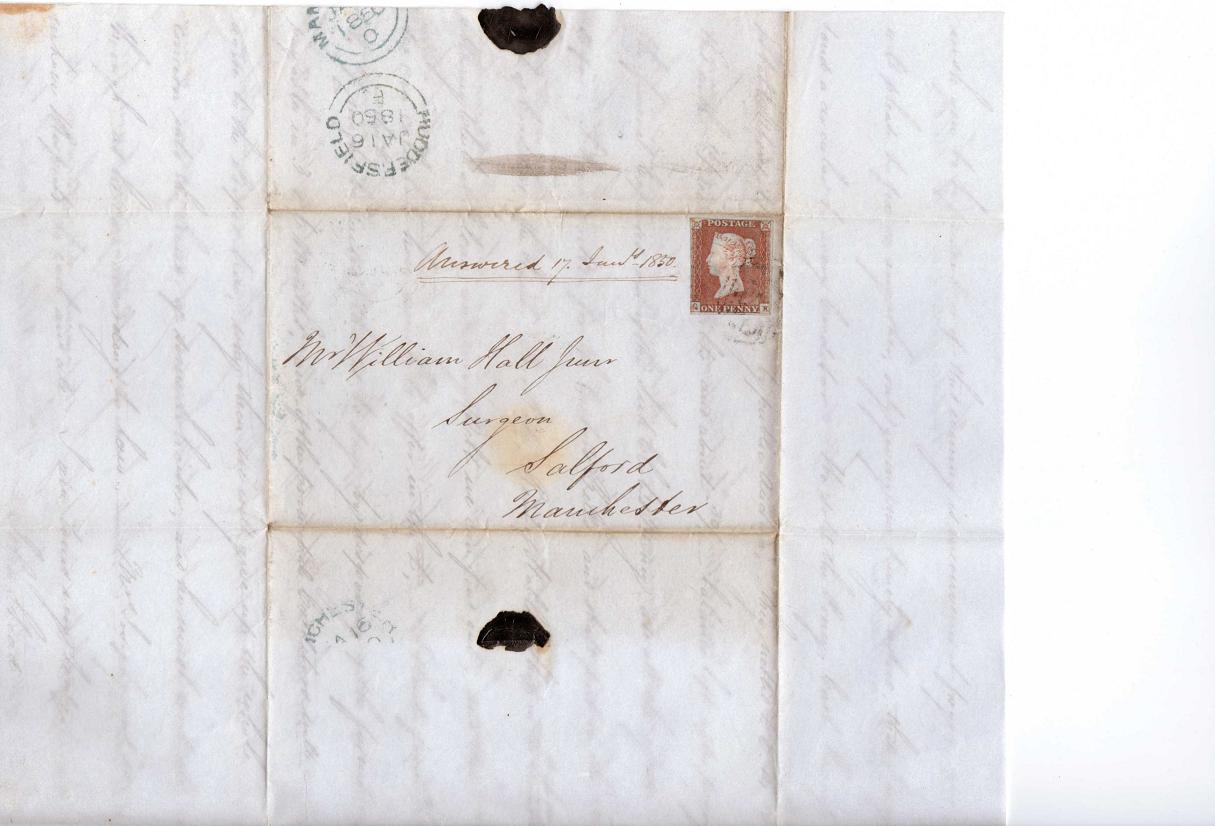 Letter from John Stead to William Hall 22-Jan-1850
Huddersfield, January 22 1850
Dear Sir,
In consequence of the unfortunate
events into my father in law's affairs,
which has fully occupied my mind for
the last four or five days, I shall be
obliged to postpone the meeting of your
Uncle's creditors for a week or two, until
we get something more settled, as what
with one thing and another I am completely
run off my feet, to the neglect of own
proper affairs. Excuse the brevity,
you will find more details in your Aunt's
letter. I am dear sir,
yours truly,
John Stead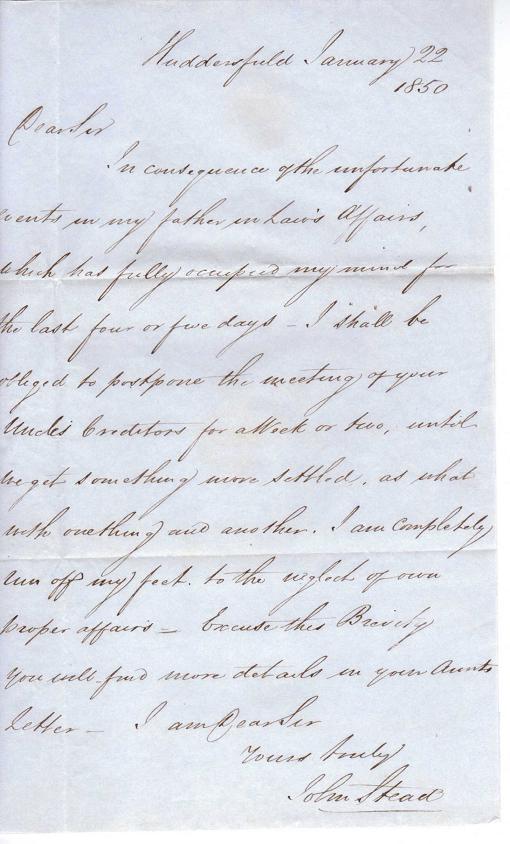 Letter from John Stead to William Hall 6-Feb-1850
Huddersfield Feb 6th 1850
Dear Sir,
Yours of the 26th was duly received
and having in some measure got settled again
after my father in law's sudden though not
unexpected overthrow, I think I can get
Joseph Woodhouse's affairs into a train for
examination, by the this day week, Wednesday
Feb 13th or Friday the 15th, whichever day you
can make it most convenient. When I
receive your reply, I will address a note to
each executor calling the meeting for seven
oclock in order that you may arrive by the
train leaving Manchester at 3.15 and we
can examine and talk things over previous
to the meeting. if any man had done
his utmost to derange and entangle his affairs

he could not have done more than my father in
law. Ignorant of the common rules of arithmetic
he has been buying & selling houses & land, getting
money out of clubs, mortgaging one property
to buy another with, that you never saw not
heard of such an entangled state of things &
though I have had the best professional advice
to save the wreck, though the cargo has gone,
yet I should think it advisable to leave all
to its fate, for fear that I may get engulfed
and yet he sticks as tenaciously to the idea
that 'they will not do this' and 'they cannot
do that', and so he will i think until he
gets fastened up in York Castle, which I
really think will be the upshot.
Mrs Joseph is very well, and seems very

anxious that her affairs at all events should
be brought to a settlement, as though the
shop may just be keeping itself, yet there
is not any profit to encourage her to
carry on that line of business.
With respects to all
and awaiting your reply
I am Dear Sir
Yours very truly,
John Stead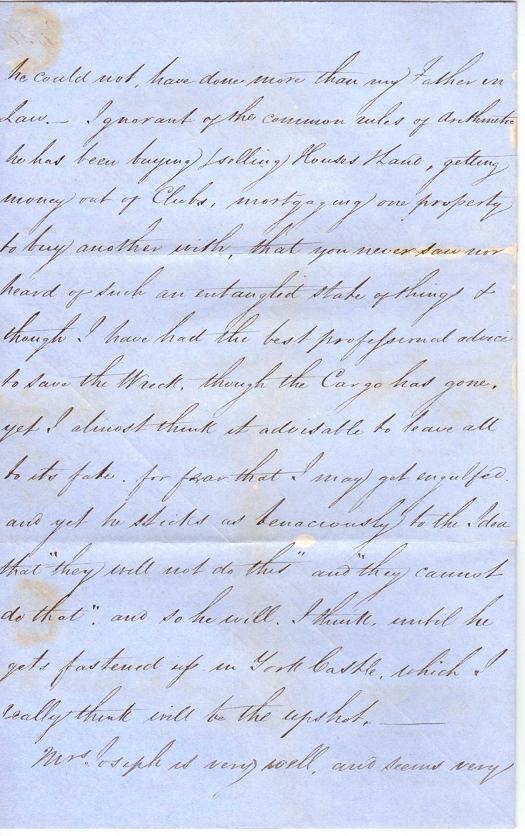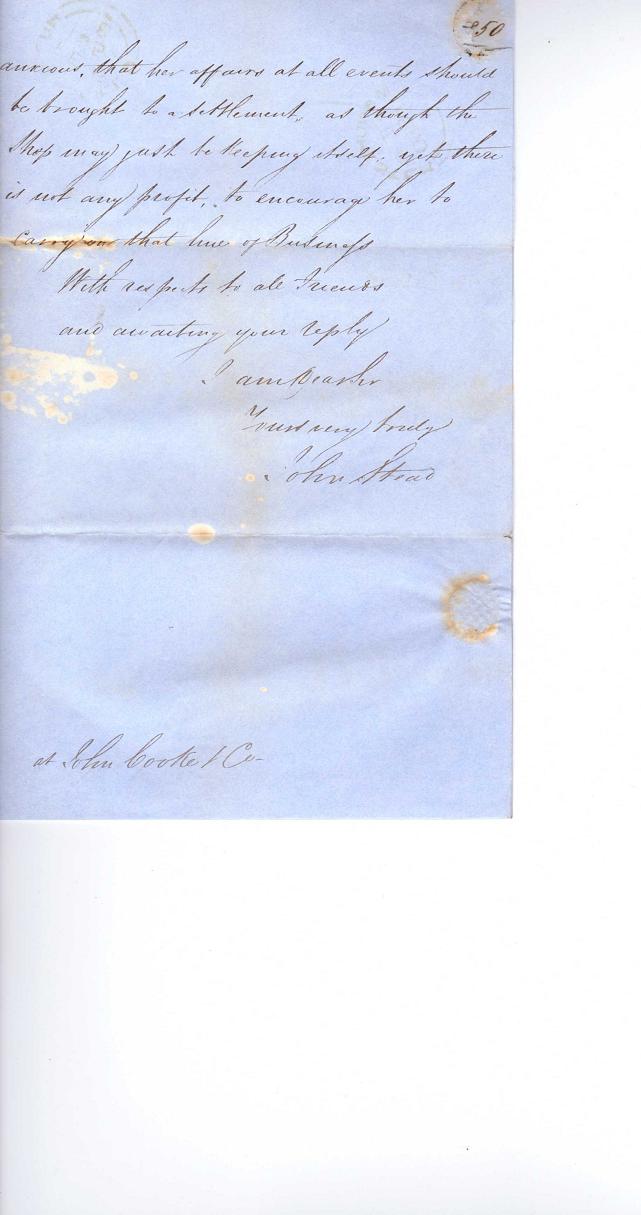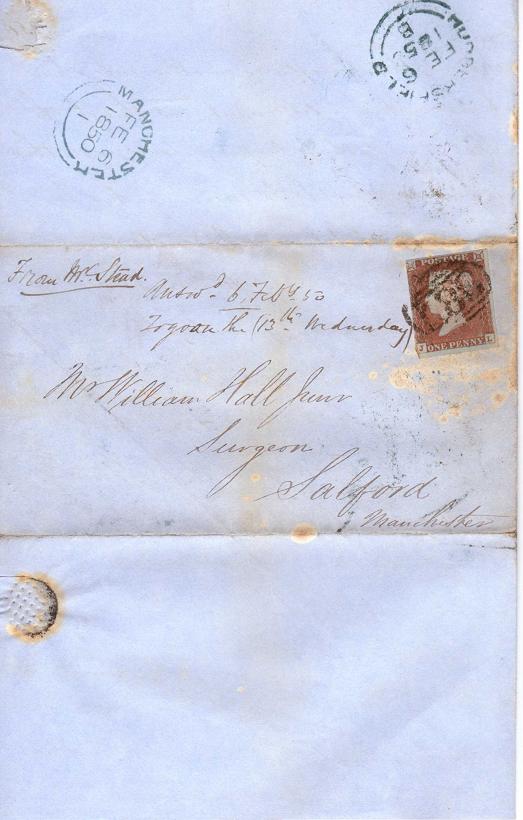 Letter from John Stead to William Hall 18-Feb-1850
Huddersfield, February 18th 1850
Mr William Hall
Dear Sir,
Yours of the 15th instant is duly to hand, and Mr Donning shall be
applied to either personally or by letter in a few days, though by all reports
the Reverend Gentleman is just as good a shifter and as short of money as our
debtor Joseph Woodhouse, and his pew rents are in general all spent before
they come due, and some money which he borrowed a few years ago to discharge
on account of your Uncle Joseph who was then pressing him, is still to pay back.
Mrs Joseph to whom I communicated the contents of your letter feels rather
unsettled since, with respect to coming to Manchester, as she had decided on
trying something here, but she will do what her family may consider the
best. With respect to disposing of the furniture, we scarcely understand
what you mean by saying let all be sold, and then anything that 'might go
cheap, or be useful hereafter to be bought in again', for I see no necessity to sell
at all anything which Mrs Joseph would think useful in case she had to furnish
another house, it could unnecessarily swell the auctioneer's bill, the only
question is what to reserve and what to sell, however this can be settled
when you and father have seen the inventory which I enclose, and which
I do not consider so highly values, besides we were obliged to say between £30
& £40 to save appearances, or it might have been remarked by the creditors at

what a low sum we had put in for the furniture. You are aware also that
several things were omitted purposely, having been removed to a safe place for
we did not know at one time but that Roebuck might have been saucy and
taken proceedings against Mrs Joseph. These things Mrs Joseph purposes keeping
almost under any circumstances, and they might remain where they are, at
my house until something was settled at Manchester as to Mrs Joseph's future
residence and intentions. On the inventory you will find marked the Siege
of the Pier Glass and carpet. I have settled with the Doctors, for one sovereign
each which I think is well done. Mr Taylor grumbled and said his profession
always expected their fee previous to leaving the house, and added when he was
in London he never kept any books. We have put large bills up in the
windows of the house and also the Shambles shop To Let and several have
looked in, enquiring rent & c, and I doubt not letting the shop in a very
short time, so some decision ought to be come to whether it is to be a partial
or clear offsale. Since writing as above, I have seen your Aunt and
read her what I had written; she says she has thought if she came over
to Manchester for a day to talk matters over, she might form a better idea
of the family's wishes & instructions, but will await your reply to that.
Mrs Joseph & family join me in love and respect to each and all.
Dear Sir, I am yours, very truly,
John Stead.

For your grandfather's information, i send a list of the debtors
& creditors
To Henry Roebuck - 168.14.11
Ian Heptenstall - 7.5.4
John Poppleton - 9.6.9
Ian Hurst - 1.1.4
Bradshaw surgeon - 2.18.6
Dr Taylor - 4.4
Estate of Sarah Hall -6.0.0
Money club at Golcar -4.4.0
Clapham Simpson - 1.10.6
Mr Broadbent - 20.10.0
Rent of Shop & House- 5
Rent of Shambles shop-3
Rent of Stable -12/
Gas Company 1.9.6
1.18
________
£237.14.10

Sundry creditors including
Joseph Woodhouse 19.7.2
Costs of hearing summons} £75.1.9
Furniture & other effects £41.11.10
_________
£96.13.7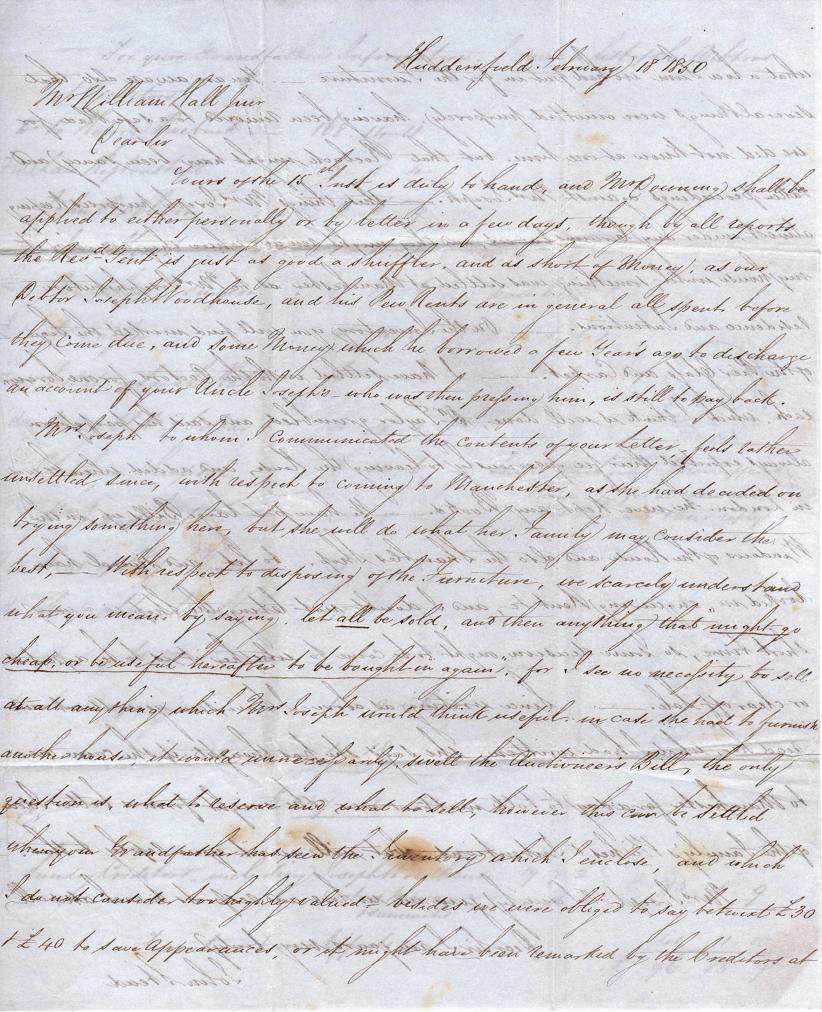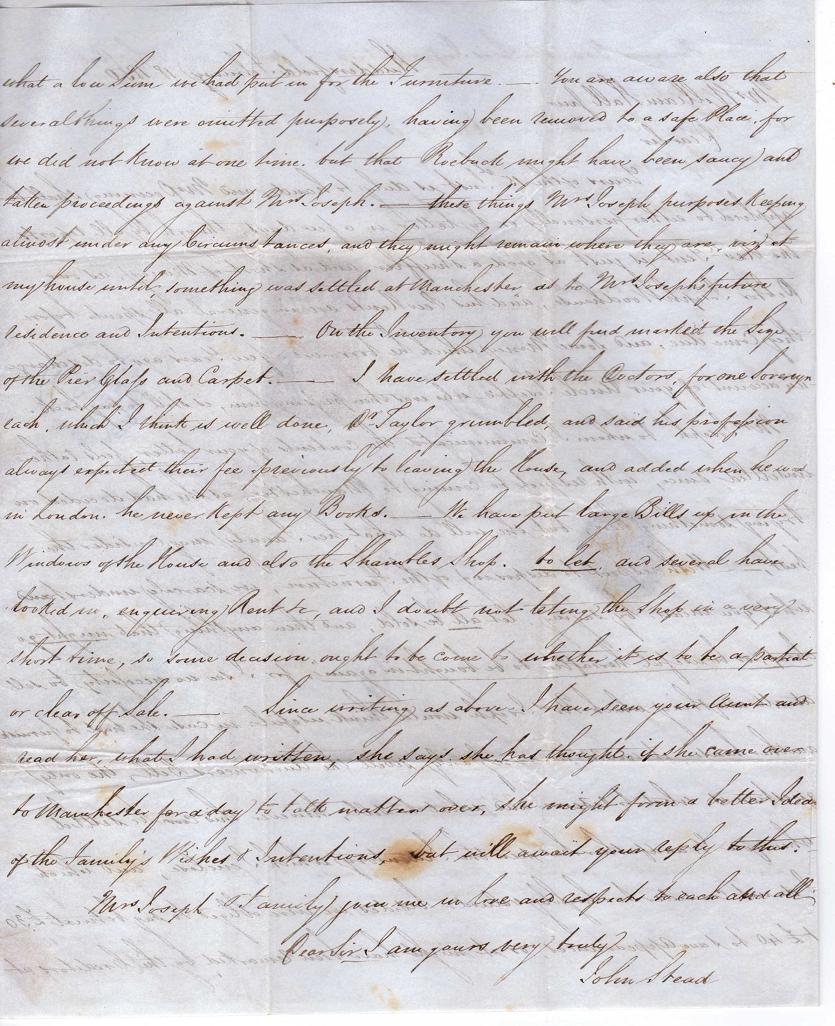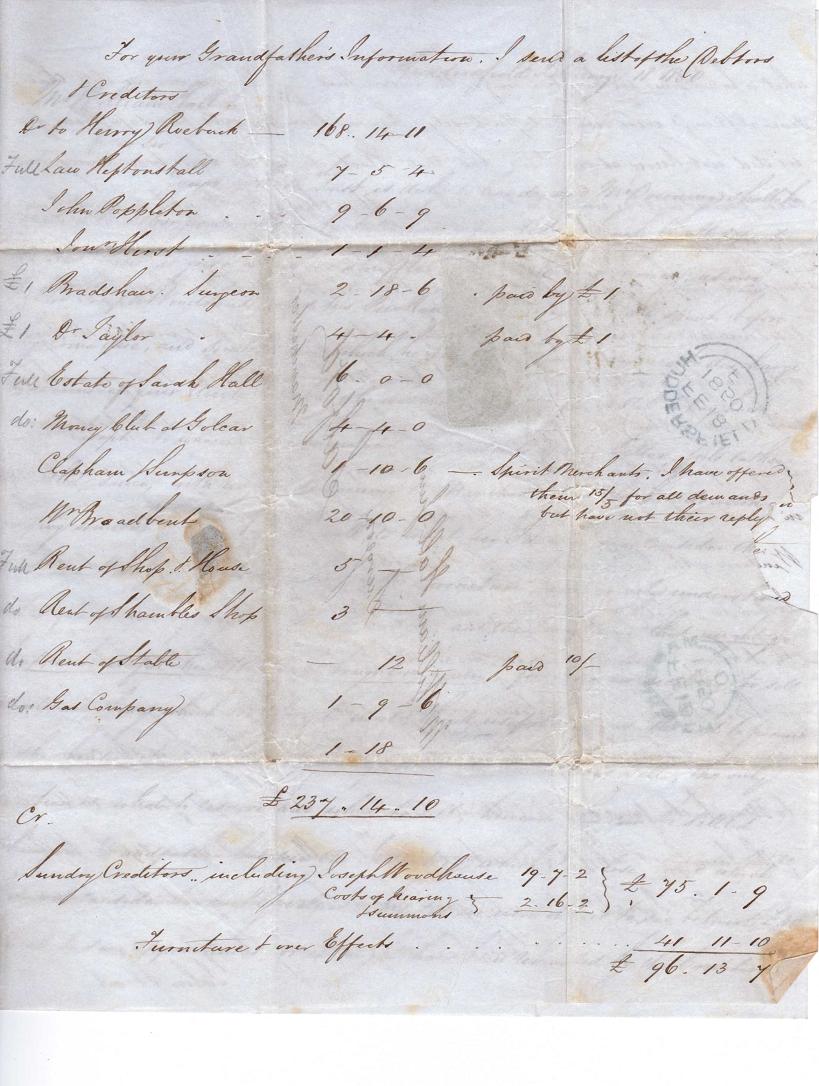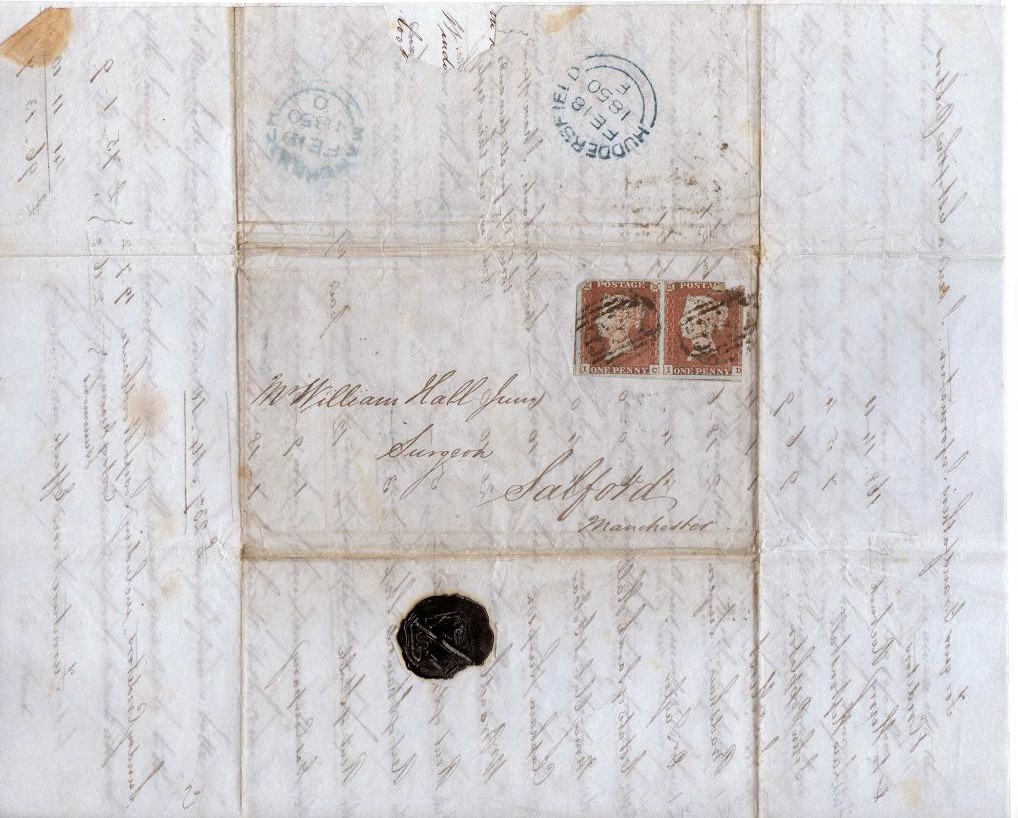 Letter from John Stead to William Hall 21-Mar-1850
Huddersfield March 21st 1850
Dear Sir,
You would begin to think you had almost lost me for your
correspondent, but since Mrs Joseph's visit to Manchester, we have been
gradually bringing the affairs into smaller compass. On the 7th instant
Mrs Joseph removed to her new dwelling and we had a sale of the old and
other articles that she did want to take with her. The Gross amount was
£ less for auctioneers charges £ realising only £ 12.17.5
but we did not sell the most valuable articles, such as the chimney glass
mahogany drawers, bed & best bedding, dining table, large cupboard & c.
We have since succeeded in finding a tenant for the old premises
but have had a great bother with the landlord or rather landladies
whose demands were so exorbitant respecting the pictures, making up the
windows, and leaving the premises in the same and as good a state as they
were when Joseph Woodhouse entered, that we were obliged to leave the
fixtures to the incoming tenant in order to induce him to take the premises
off our hands, thinking it was best to sacrifice something at present than
to have a rent recurring on. I have just money in hand to pay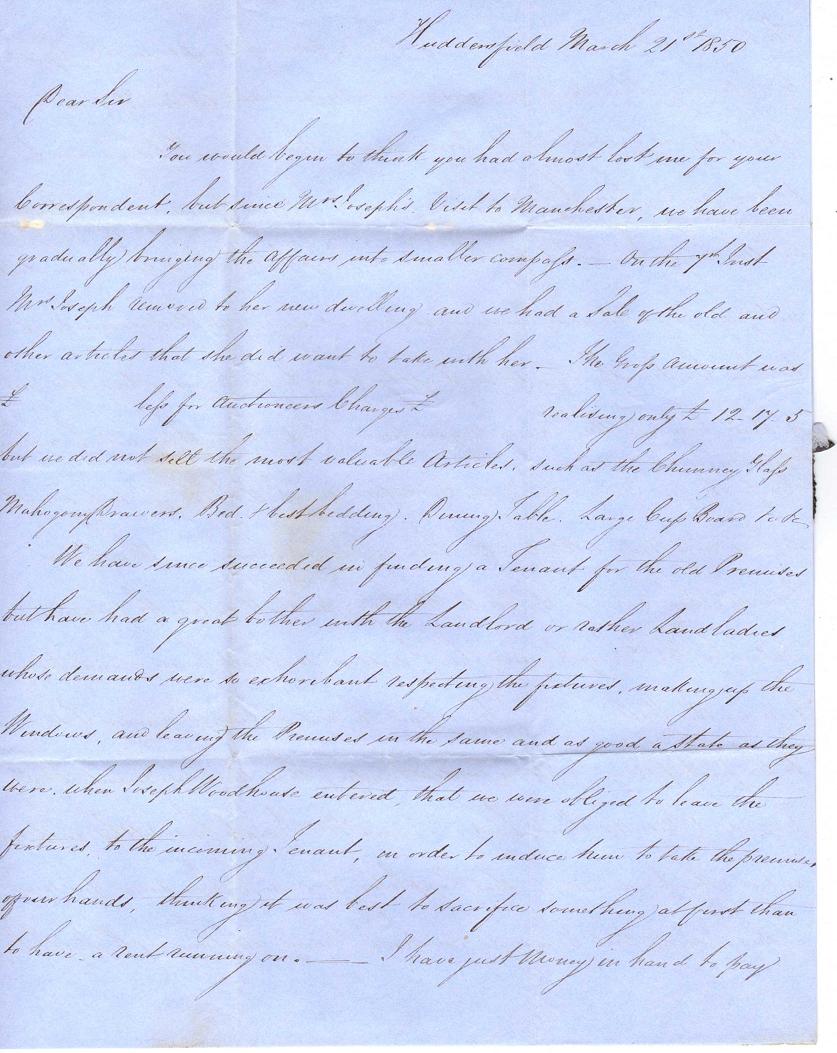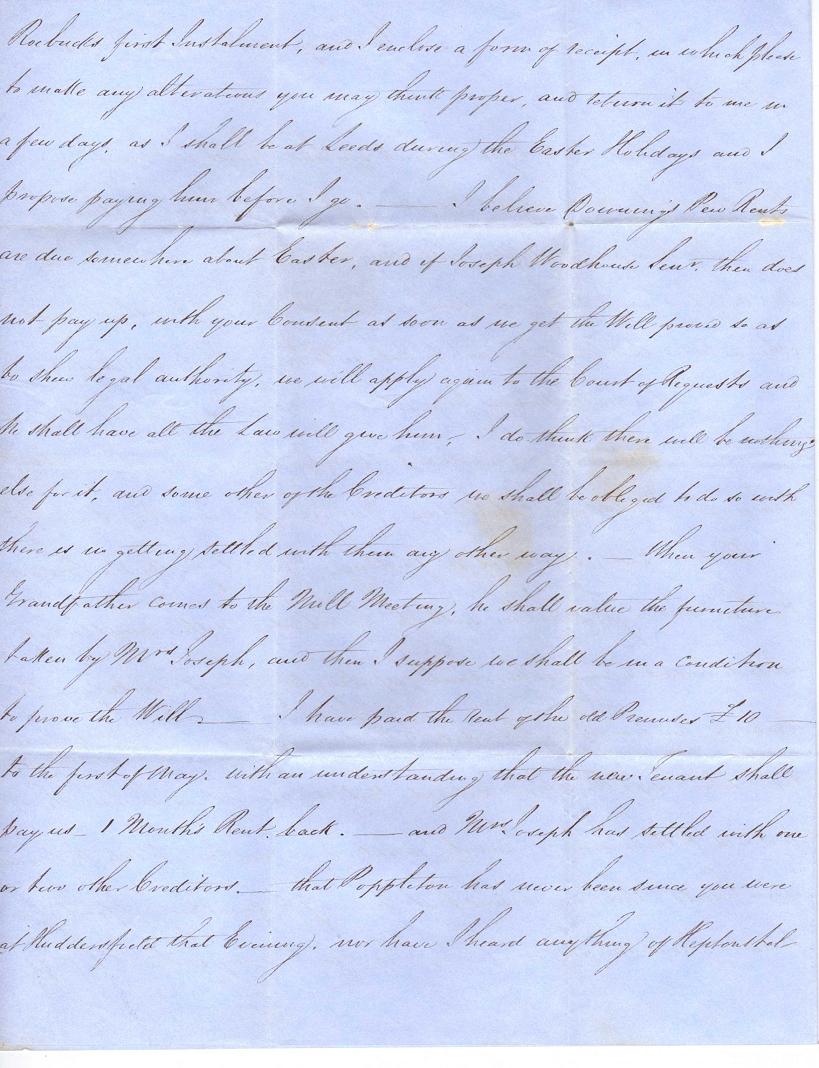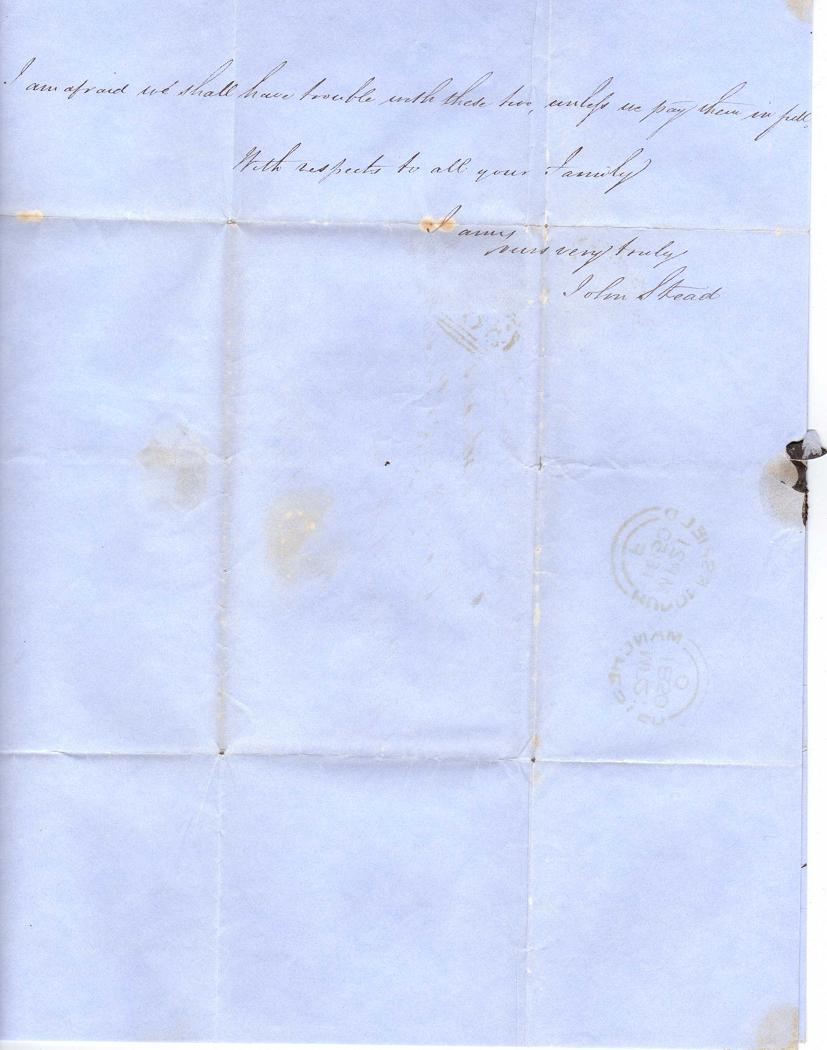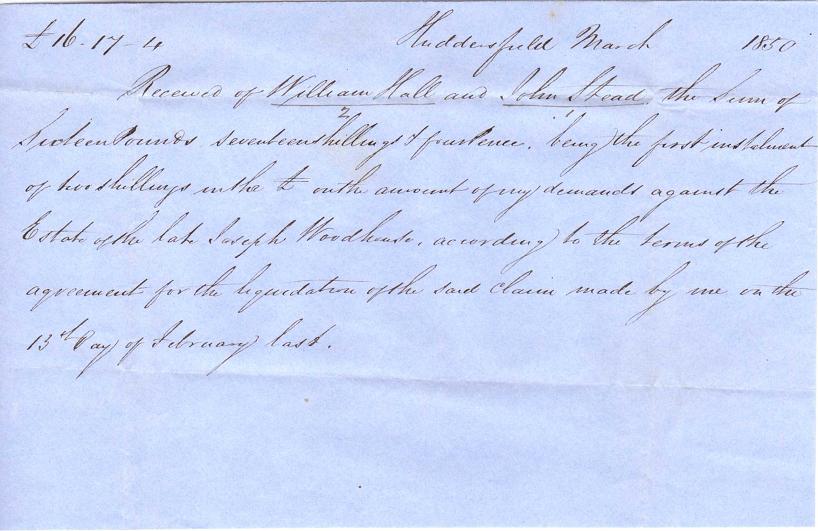 Letter from John Stead to William Hall 6-Apr-1850
Huddersfield, April 6 1850
Dear Sir,
Yours of the 27th duly reached me
and I have paid Robert his first dividend and
got a stamped receipt for the same.
With respect to Mrs Joseph's lady lodger, your
family need not be under any apprehension
on her account, she is all i point of family
connections respectability, that can be wishes.
I think we shall come very near our orginal
inventory, of the value of the furniture 41.11.10
as we sold for by auction - 12.17.5
the pony cart do - 6.14.10
Mrs Joseph took the
Dining table - 1.10.0
Drawer - 4 " "
Chimney Glass - 4 " "
Carpet - 1 " "
Camp Bed - 1.5 "
Flock beds - " 10 "
Washstand & bedroom
chairs - " 17 "
Couch 5/, Cup board 20/
Fender 4/ 1.9 "
_________
£34.3.3
leaving about £7 short.
We have a_ beans for which we have
had an on offer - 1.0.0
a Tudor bed, for the bed left - 1.10
and Mrs Joseph took nearly all the linen, bedding,
the clocks, large table in the shop & c besides.
I saw Joseph Woodhouse on Tuesday, all
shuffle and promises as usual, there will be
nothing got there except by force, but I should
like to get a few £s from him so as to bring it
under £20 again, as at present with his share
of the expenses. Court fees to it is £22.3.4
I have paid £10 for the rent to May 1st, but
shall have the month's rent back from the new
tenant, when due, which will make about £3.10.0
more than in our calculation, as we only put in
rent to Joseph Woodhouse's death or 1 quarter.
When I have seen your grandfather, which I hope
to do on Thursday, we can then arrange
about procuring the Will, but I should like to
have some arrangements with Poppleton &
Heptonstall first, from whom I have not
heard anything since I saw you, and who I
think are waiting the course of events, but with
whom we shall be obliged to make what terms
we can - though I do not see that Robert can
claim anymore from us than agreed upon, with
him whatever may be the amount paid the others.
With respects to all
I am yours truly
John Stead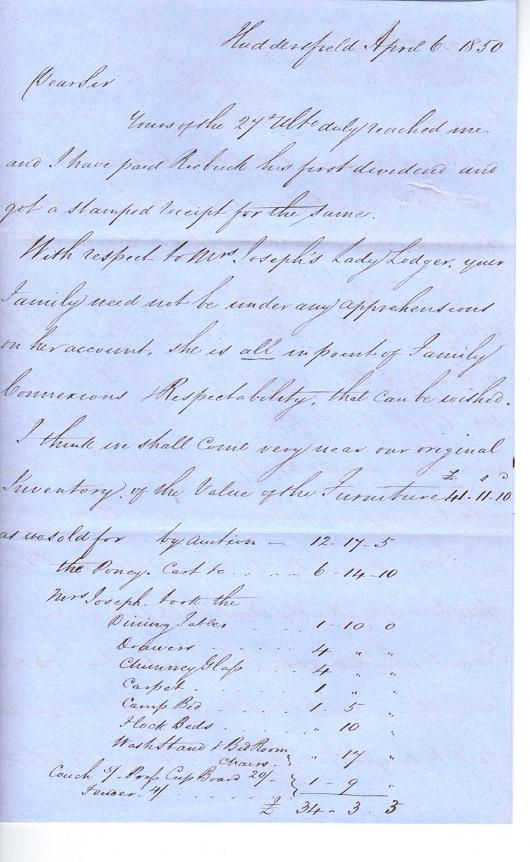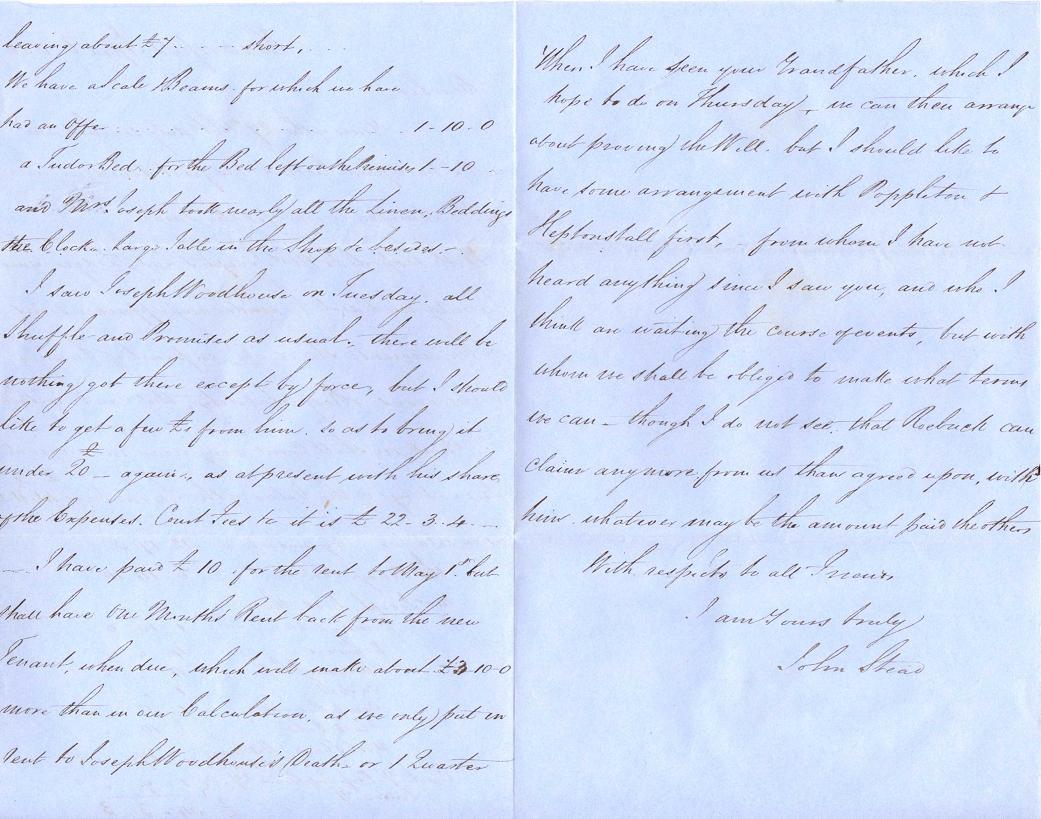 Letter from John Stead to William Hall 29-Apr-1850
Huddersfield April 29 1850
Dear Sir,
Enclosed you will find a letter which please sign or cause
to be signed by someone with an extraordinary hard spelling name, in
order to frighten some money from Joseph Woodhouse. I can get nothing
but shuffles from him, but I understand that he is to receive £10
from Mr Downing on Thursday, and this letter may perhaps cause
him to part with it or some of it to us. It is impossible to get
the money out of many of the debtors and I intend shortly to go to
the surrogate and ask for the necessary instructions for proving the
Will, and at what time, he is positively to be found, so as not to
call you on useless journey as I find we cannot get the
debts in by fair means, we must employ force.
I have settled with Poppleton for £2, but had a great
blackguarding from his better or rather worse half, who talked about
it being highway robbery, stealing and many other such like terms
in paying £10 with £2, and wished they could so, as then
they could afford to wear silks & satins, like other folks &c & c &c.

Though Mrs Joseph advertised three weeks ago her intention to give lessons
in drawing & c, she has not I understand had any applications as
yet, and I am afraid if she has to rely upon this to achieving for her
livelihood, it will be a very poor one.
Will you please state at your leisure, what time of the week
you are most at leisure to serve this will. I suppose the vicar
only does business in a forenoon, a Monday morning would suit
me the best, but as I before stated, I will call upon the vicar to get
instructions the first opportunity, so as to detain you a very short
time. I think we may safely swear to the personality being under
£100, as the Ramsden Mill is considered as freehold, or most part
of it. Mrs Joseph and family are very well and you will
please to make my apology to your grandmother, for not saying
goodbye to her as neither my wife nor I had any idea, but that
she was going to remain at Huddersfield, until the latter part of the
week. With best respects to all friends
I am, your very truly,
John Stead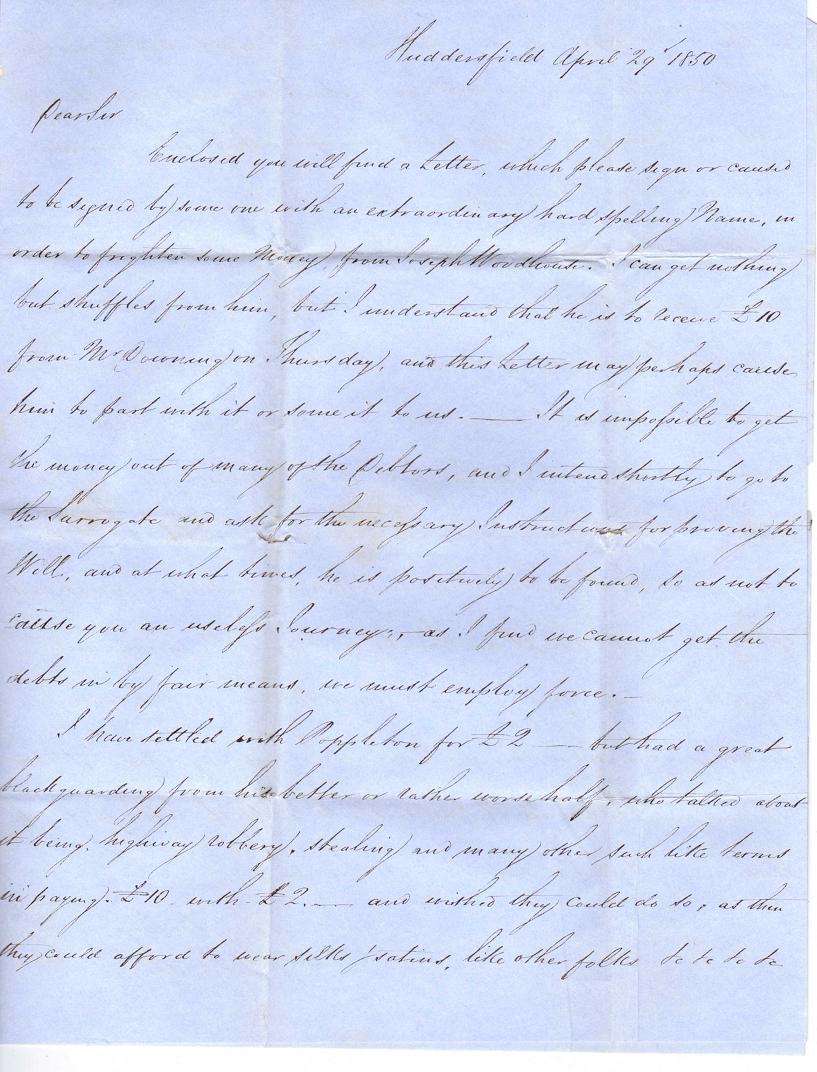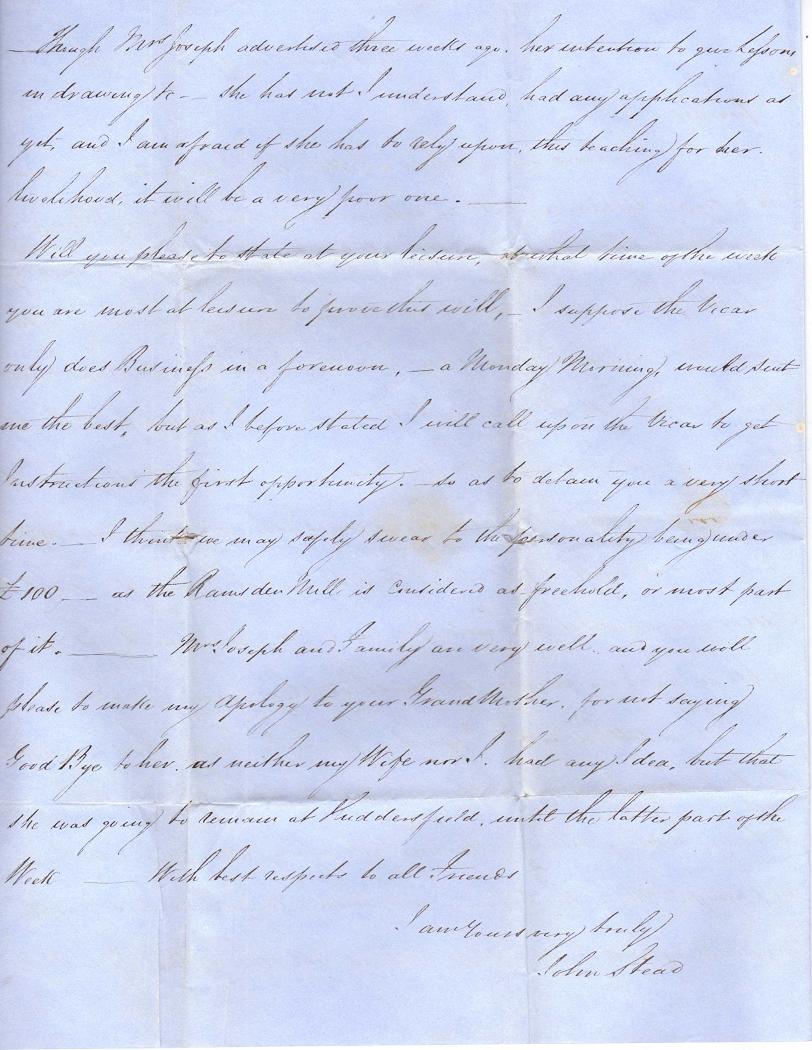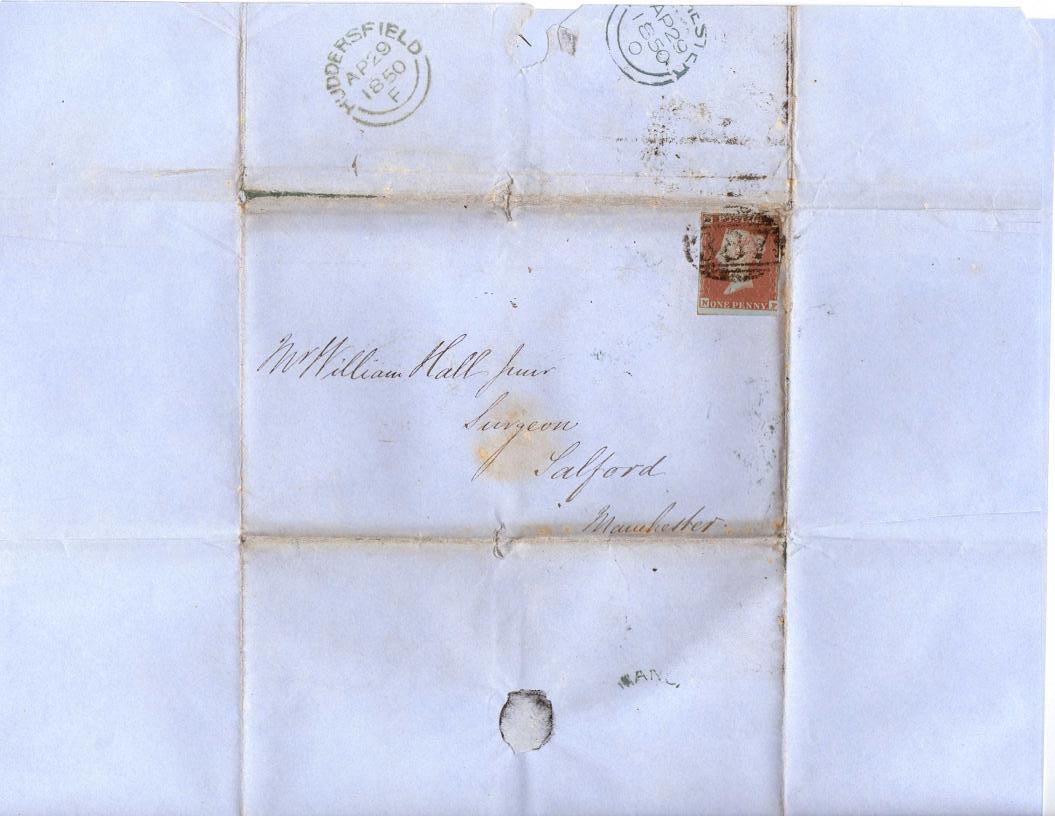 Letter from John Stead to William Hall 11-Jun-1850
Huddersfield June 11 1850
Dear Sir,
You will be glad to learn that I
have proved the will without the necessity
for your attendance. I merely had a
declaration to sign, and to make oath to the
truth thereof, and to pay £2.6.0 with an
intimation that 10/ & 15/ more would be to pay
upon receipt of the probate.
The 'to writ' had the desired effect in getting
us £10 out of the twenty owing by Joseph
Woodhouse and most terribly frightened he
was, never doubting, but that a posse of bailiffs
would follow after such a formidable looking

summons, and I gave him to understand
that it was still holding over him, that
this £10 would only procure a short respite.
Mrs Joseph has been doing a little of something
in the drawing line, and is very anxious to
get something to do.
I will write as often as there is anything
new, and I am glad to hear, you have so
much to do, at a more profitable rate I hope
than being an executor, which is anything
but a pleasant lot. With best respects to
all friends, I am yours truly,
John Stead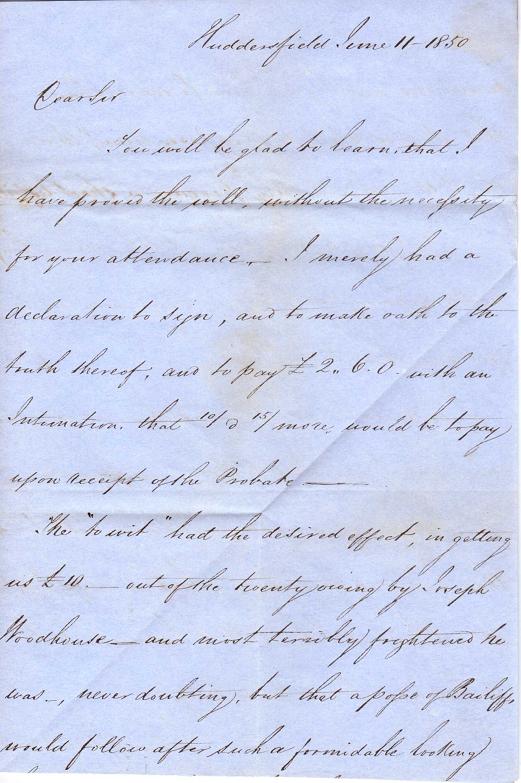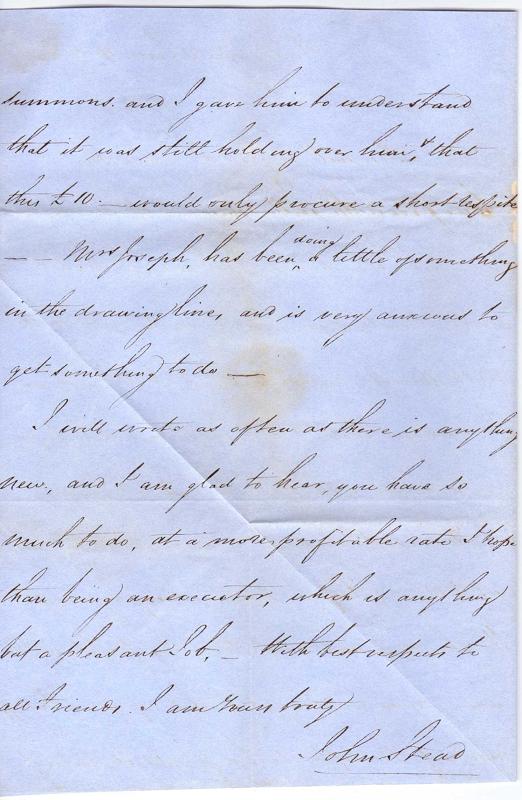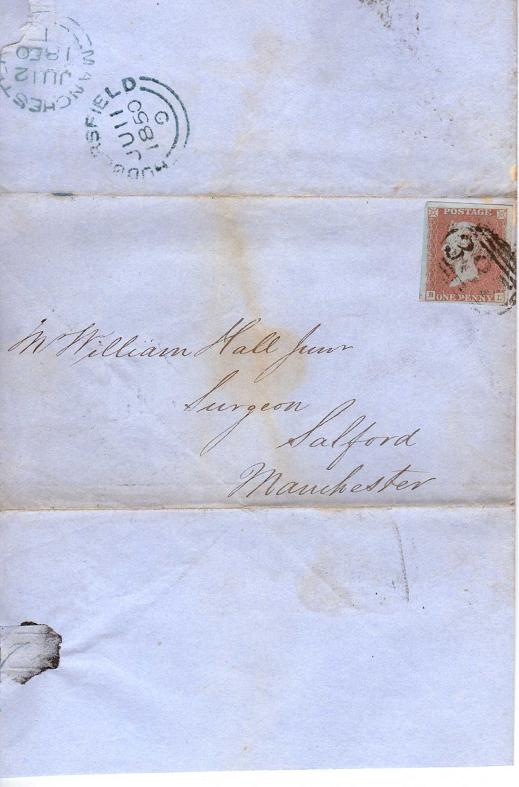 Letter from John Stead to William Hall 17-Sep-1850
Huddersfield Sept 17 1850
Mr William Hall
Dear Sir,
Since I last corresponded with you, I have obtained
the probate of the will at a cost of £2.15.0, and so I am in a condition
to enforce payment to any or all of our refractory debtors. I think I
informed you that our "To writ" letter had frightened £10 out of mine
Uncle Joseph Woodhouse, and I have since written him, threatening him
with all the plagues of Egypt, if he disappoints us of the balance on Tuesday
next, which is the last day that I have able to get for him from that
terrible Manchester lawyer that frightened him before. I understand
that some pew rents become due on or about 4th Oct and he has promised
from the Rev Donning that his bill for beef shall be discharged therewith.
I should be sorry to throw any of Joseph Woodhouse's money away in
further legal proceedings but I am afraid that in the end, we shall be
obliged to put the screw on. Our next principal debtor, Charles Bradley
£5.10.9 has scheduled £4.2.0 thereof, and has a set off besides
leaving about 10/ or 12/ to draw. There are several others, to whom

I have written separately, or have been called upon by myself or your Aunt
from whom we get evasive answers or flat denials - or set offs - for instance
Joseph Wood - 15/10 a set off of 13/5
William Cliffe - 20/10 station master, Batley. I have written 3 or 4 times, no reply.
Turner, Zetland Inn 34/ - set off 15/ for subscription to the club
and says, he has paid part of the balance. I cannot get his bill
though I have been 4 times in the last 10 days.
Inman - 12/8 - asked bill set off.
Joshua Hall, Milur Bridge 13/8 scheduled
Edward Eastwood 35/4 - dead no effects - and so to the end of the chapter.
Now for the other side, we owe yet
Henry Roebuck £16.17.4
Heptenstall £5.5.4 - and a few shillings interest.
Clapham & Simpson £1.10.6 - they claim something more
William Broadbent £15.10.0 - and some interest
Estate of Sarah Hall £6.0.0. You are aware that Roebuck's
second dividend is due on the 1st proximo, and unless Joseph Woodhouse's
brings his money, we shall be in a fix, for I have nothing in hand, for
the £10 received from Joseph Woodhouse and about £6 from other
sources has been paid by your Aunt £5 to Broadbent, £2 to Heptenstall,
the Will proving £2.15.0 and housekeeping expenses. I should suppose
we have swallowed up the rest. You will therefore now have an idea
how things stand with us, Roebucks is the only debt which is pressing

for should he not be paid according to promise, he might come back
from his agreement, which would be serious indeed. However we shall
see what Joseph Woodhouse does next Tuesday, and if no better, I must
wait on Henry Roebuck and explain to him and get him to wait
until after the Ramsden Mill meeting, when most probably
I shall see your grandfather.
With respect to each member of your family.
I am
Yours every truly,
John Stead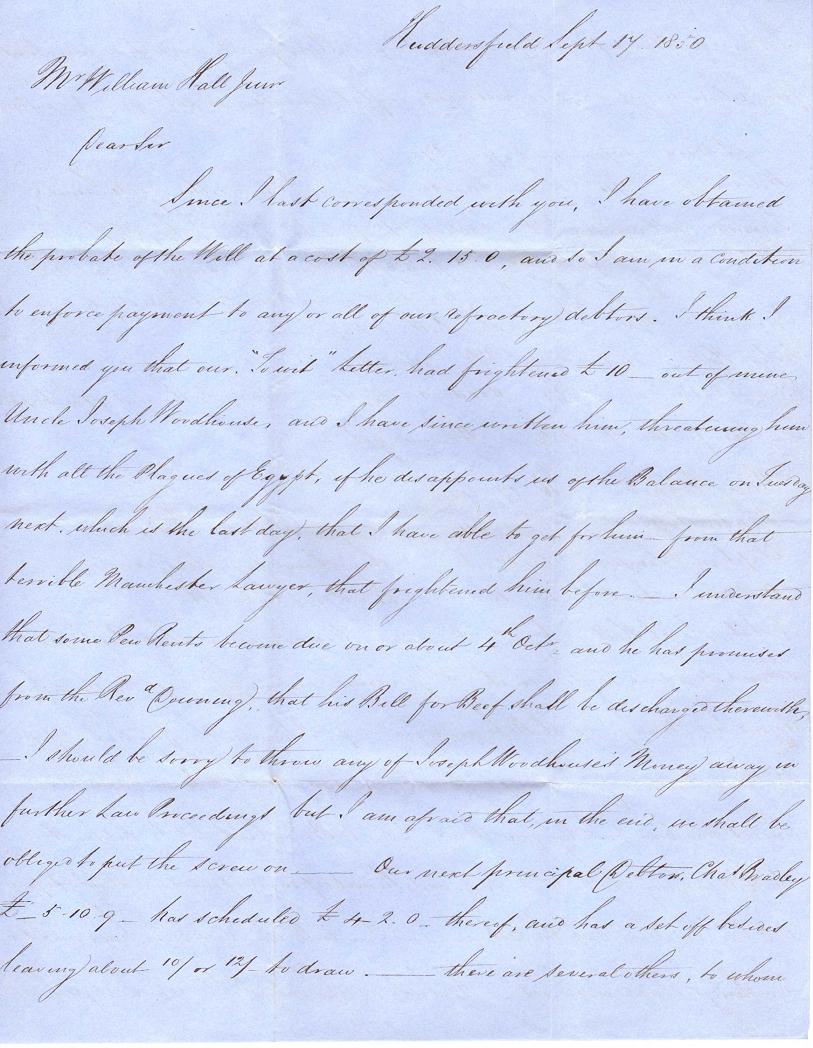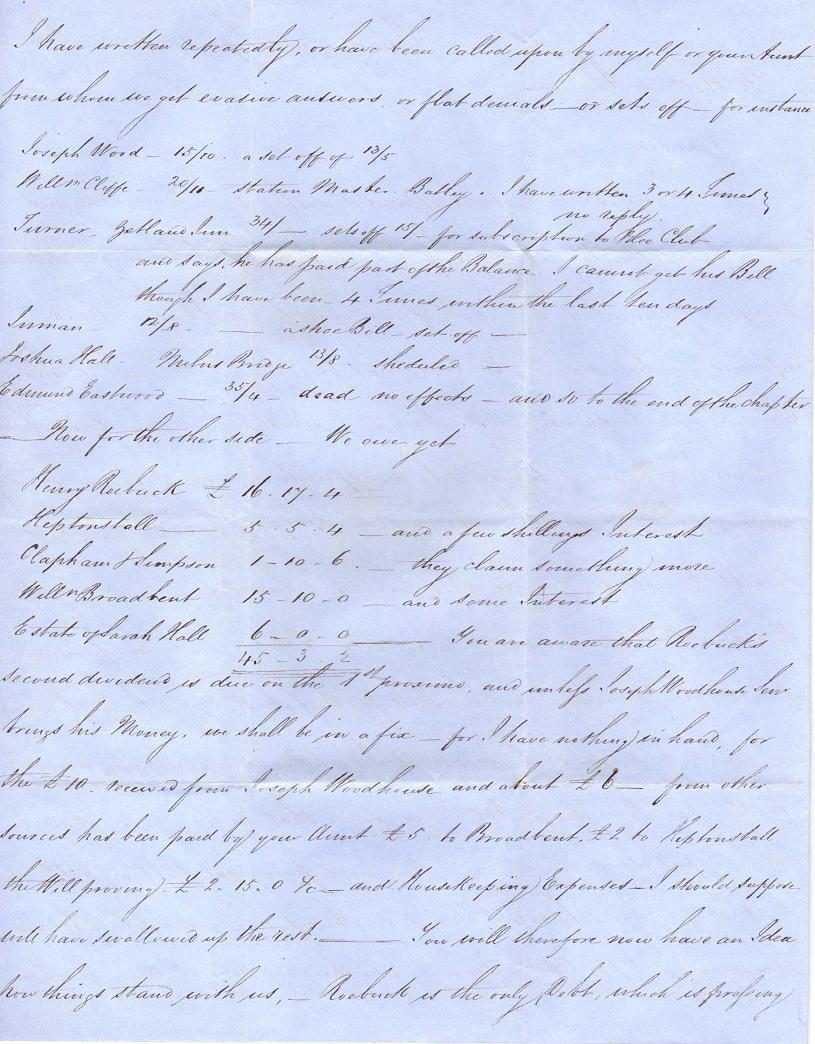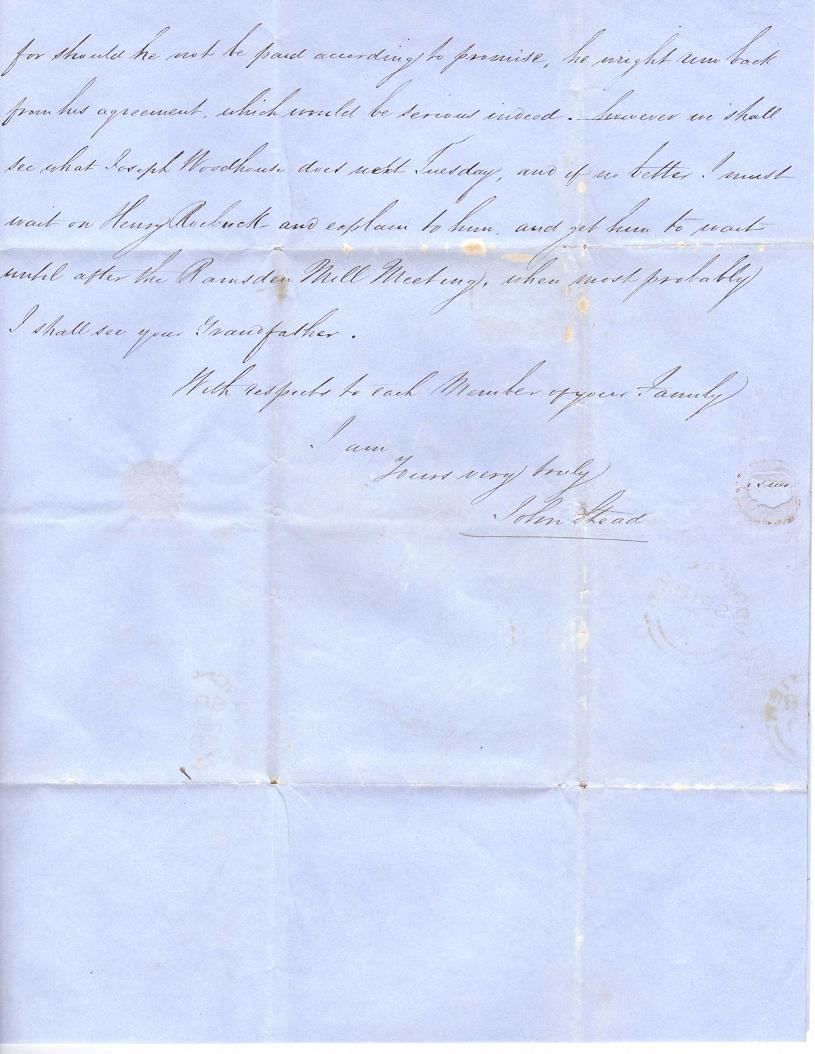 Gravestone Inscription William Hall 1854 wife and children St Stephens Salford
In Memory of
William Hall
of Irwell Mils, Broughton
who died July 4th 1854, aged 74 years
also of
Jane, widow of the above named
William Hall, who died January
31st 1872, in the 97th year of her age
also of
Jane, daughter of William and
Jane Hall of Salford, died Oct
15th 1810 aged 15 months
Also Martha, their daughter
who died September 28th 1813
aged 16 days. Also Ann Little
daughter of William & Jane
Hall who departed this life
April 14th 1841, aged 26 years.

Richard Evans, son-in-law to
William and Jane Hall, now of
Irwell Mills, Broughton, died
November 12th 1837 aged 23 years
Deeply lamented

(The above is a copy of the gravestone in the
churchyard of St Stephen's Salford)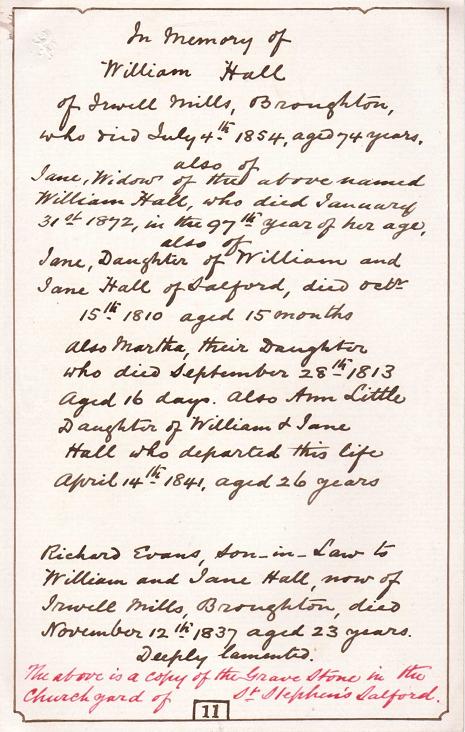 Letter from John Stead to William Hall 31-Aug-1859
Stables Street
Huddersfield Aug 31 1859
Mr William Hall
Dear Sir,
I wrote to your father about
a fortnight ago, at the request of Mr Hesp
the solicitor to the Ramsden Mill Co. to
enquire if amongst your late grandfather's
papers, there was a deed of the date of
1st January 1805, between William Bathy of the
first part, William Hall & Mr Straw of the 2nd
part, and William, Sarah, Elizabeth, Martha
Mary Hall of the 3rd part. This deed
is registered at Wallofield, but Aunt Walker
has no recollection of its purport. I

have not had any reply from your father
but as I learn you were one of your grandfather's
executors, it is probable that you will have
access to his papers, and Mr Hesp will thank
you to see if this is amongst them or any
other papers belonging to the Ramsden Mill
Estate to facilitate the carrying out the

shareholder, is liable for the company's debts
and the number of shareholders is daily
increasing, and consequently the liability to
disagree is greater. Mr Hesp states that
it is very necessary the deed in question
should be found, as it may have altered
the powers of bequest of the children of
Mary Hall (your great grandmother) in fact there
is no knowing what it was for, but at
all events it was registered at Walleford
on the date given - January 1805.
A reply at your earliest convenience
will oblige, yours truly,
John Stead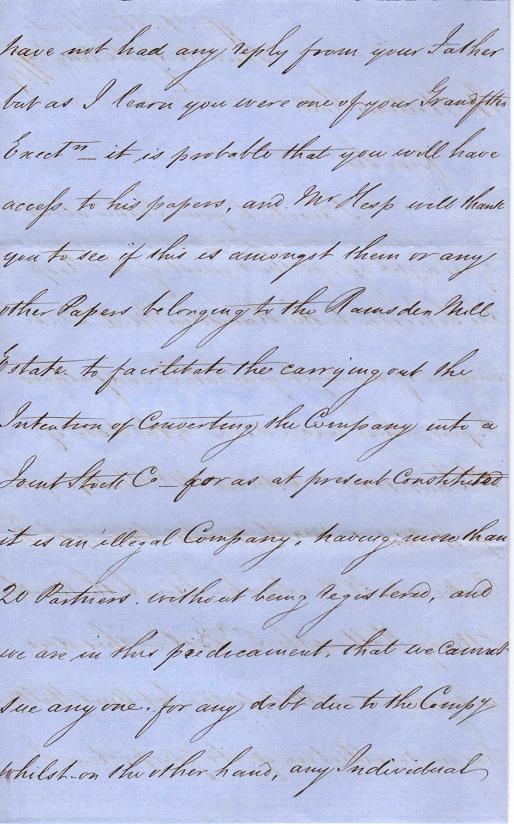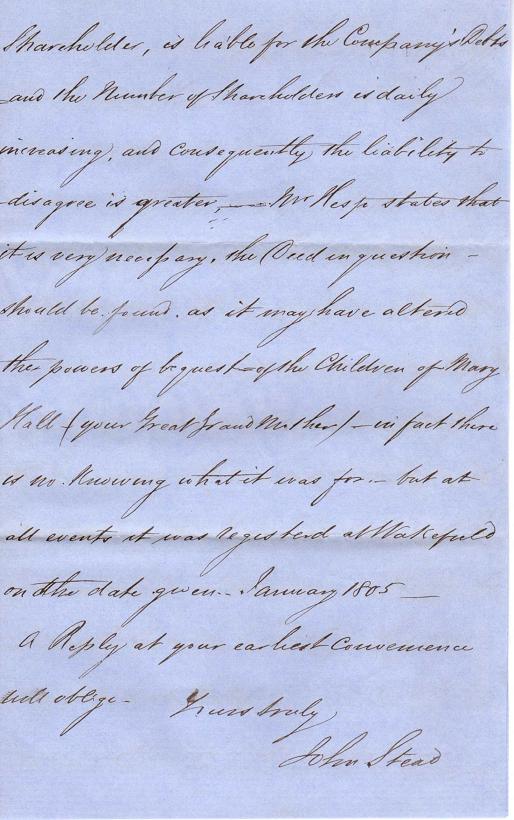 Letter from John Stead Colleague to William Hall 9-Sep-1859
Hudddersfield 9th Sept 1859
Sir,
Mr Stead of this place, has
handed us your letter to him of the
4th instant, in which you state that the
deed of 1st January 1805 made between
William Baltze of the 1st part
William Hall & Ino Shaw of the 2nd part
and
Mrs Hall, Sarah Hall, Elizabeth Hall,
Martha Hall & Mary Hall of the 3rd part
is in your possession, & will be forwarded
to us on an understanding that it
will be returned to you. We undertake
to return the document within 24 hours
after it has been received, & shall be
glad if we can have it on Monday next.
We are
your obedient servant
Hespwith.

William Hall Esq
Surgeon
9 Crescent Parade
Salford
Manchester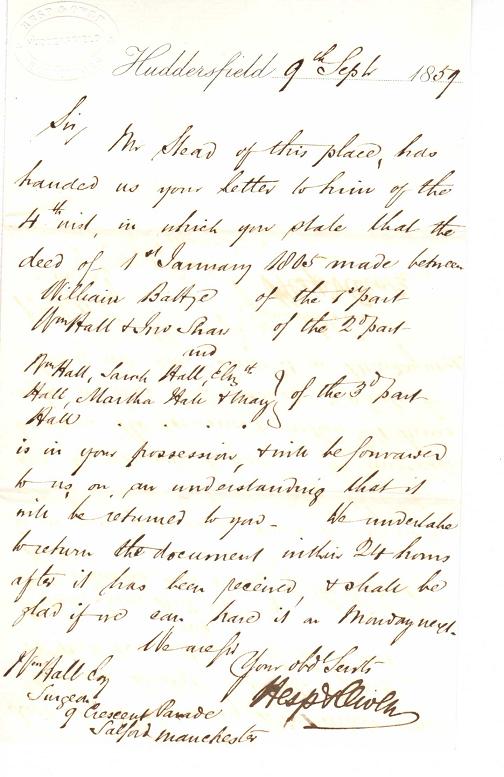 Letter from John Stead Colleague to William Hall 12-Sep-1859
Huddersfield 12th sept 1859
Sir,
In accordance with the
undertaking given in our letter
of the 9th instant, we beg to return
the Deed, therein referred to,
received this morning, by
Book Post. Please to
acknowledge its safe arrival
I oblige
Yours respectfully,
Hesp & Owen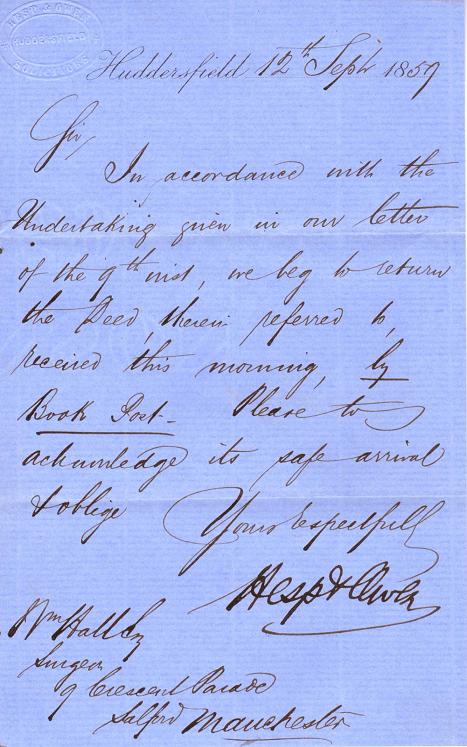 Letter from John Stead to William Hall 23-Jul-1860
Stather Street
Huddersfield July 23 1860
Dear Sir,
The transfer deeds of the old Ramsden Mill Company to
the new joint Stock Company are now ready for signing, all the
parties at Huddersfield have signed this morning and as five who
have to sign in or around Manchester, Mr Owen, Solicitor, proposes
to come over to Manchester on Saturday next the 28th instant. He will be
at the Blackpool Commercial Hotel, Blackpool Street at 1 oclock
where you will please to meet him along with your father, Uncle William,
Mr Cantell & George Woodhouse to all whom I have written to be
there at the same time.
With respect from all here,
I am Dear Sir,
Yours truly,
John Stead.
Mr Hall Esq
Surgeon
Salford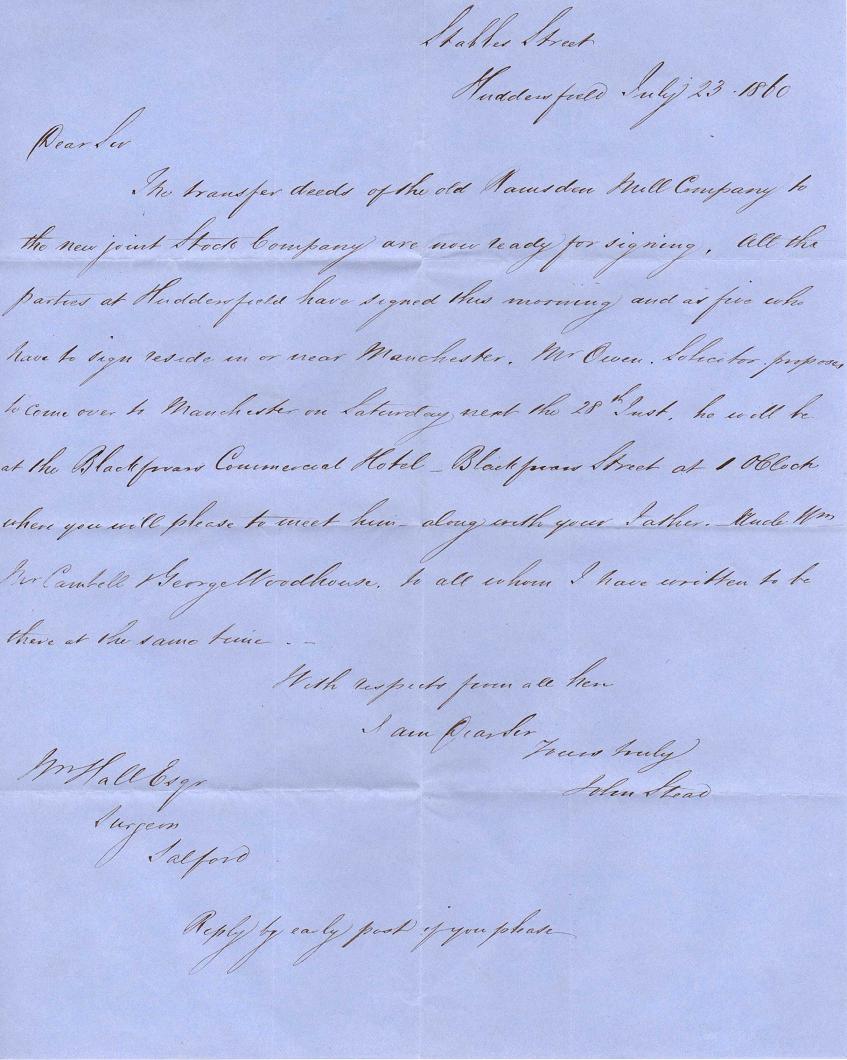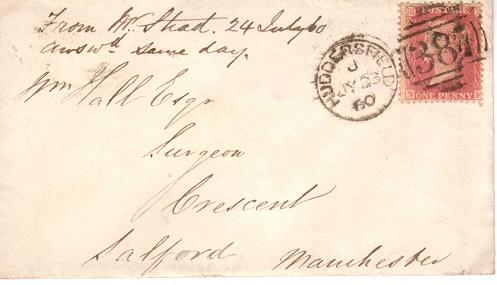 Letter from John Stead Huddersfield to William Hall Salford 24-Jul-1860
Stather Street
Huddersfield July 24 1860
Dear Sir,
In reply to yours of this date, though your father & Uncle
William are the bona-fide owners of the Ramsden Mill as they stood
at your Grandfather's death, yet there are 7 shares out of 21 which
Aunt Walker at present enjoys which belong to your grandfather's estate
after Aunt Walker's death which were bequeathed by Aunt Sarah Hall.
Now I am informed by the solictor that the reason you & Mr Cambell
are required to sign is as executors to your grandfather and that
the additional amount or value of the shares since Aunt sarah's
death is personal property and consequently belongs to the residue
of your grandfather's property, not to those to whom the mills are
bequeathed and that you as executor have it in trust, and besides you
are personally interested as my co-executor under Joseph Woddhouse's
Will, and we have placed his shares in trust for his children
after the decease of Joshua Woodhouse and your Aunt Woodhouse but
Mr Owen will be better able to explain these last points better than
I can,
Yours very truly
John Stead

Wm Hall Esq, Salford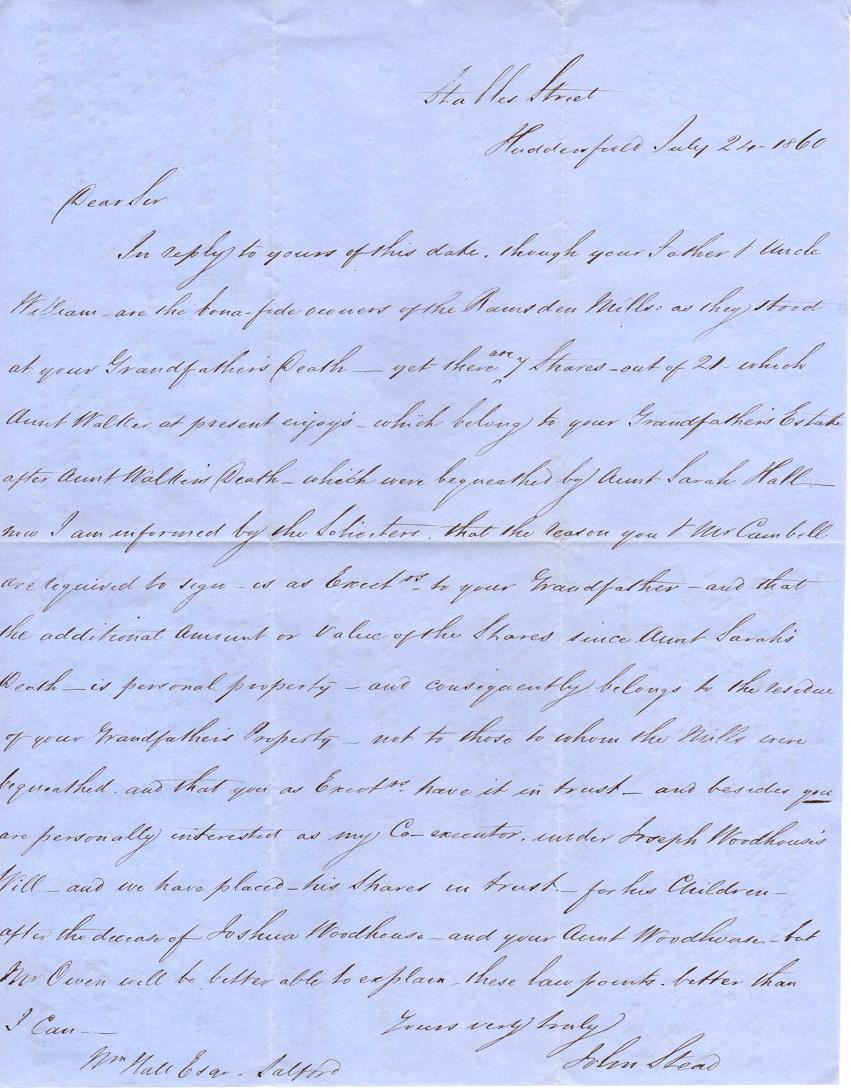 Letter from John Stead to William Hall 24-Jul-1860
Stather Street
Huddersfield
July 24 1860
Dear Sir,
In reply to yours of this date, though your father & Uncle
William are the bona-fide owners of the Ramsden Mills as they stood
at your grandfather's death - yet there are 7 shares out of 21 which
Aunt Walker at present enjoys which belong to your grandfather's estate
after Aunt Walker's death - which were bequeathed by Aunt Sarah Hall.
Now I am informed by the solicitor that the reason you & Mr Cambell
are required to sign is as executors to your grandfather and that
the additional amount or value of the shares since Aunt Sarah's
death is personal property and consequently belongs to the residue
of your grandfather's property - not to those to whom the mills were
bequeathed and that you as executors have it in trust - and besides you
are personally interested as my co-executor, under Joseph Woodhouse's
will - and we have placed his shares in trust for his children
after the decease of Joshua Woodhouse and your Aunt Woodhouse - but
My Owen will be better able to explain these last points better than
I can.
Yours very truly,
John Stead
Mr Hall Esq, Salford

28 July 1860
Value of Ramsden Mill Co: £14000
8 marginal shares £1750 each
again divided into 5 parts: £350.
1/5 of a 2 and 8th under the will of the
late Hugh Ramsden of 1812
& one full 1/8 share under Joshua
Hall 1805.
420 shares to the Hall family.
84 each under the will of my grandfather
William Hall.
Also 21 shares under the will of Sarah
Hall.
7 additional shares under the will of
Sarah Hall as _ & Mrs Walker
for life only.
John Hall 52 shares
William Hall 53 shares
The 21 shares held for life by Mrs Walker
are divided into three portions, one to
my grandfather & consequently to my
father & Uncle William & another to
Joseph Walker & Sarah Taylor & the last
to Joseph Woodhouse, Mary Whitwren &
Sarah Stead.

Aunt Woodhouse has 56 shares which
are to be divided at her death between
George & Martha Jane Woodhouse,
Joshua Wooodhouse has the interest
in the above during his life, then
it falls to Aunt Woodhouse &
upon her death to her children.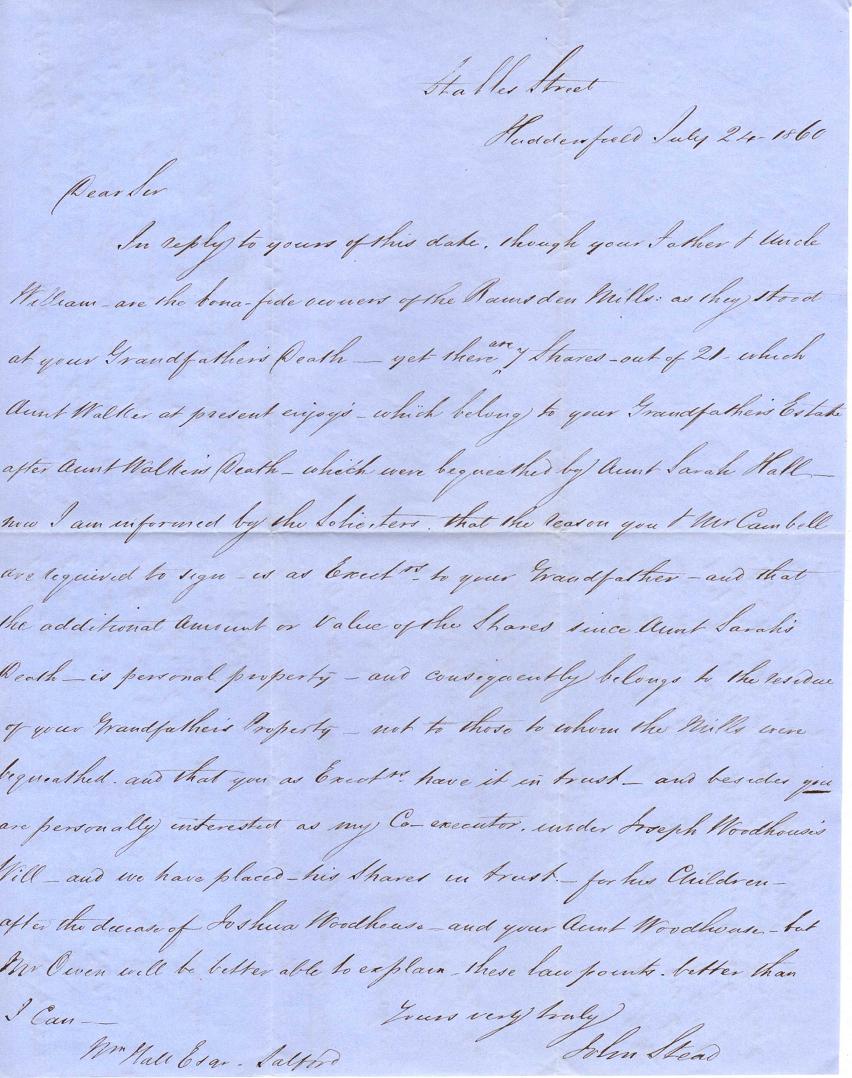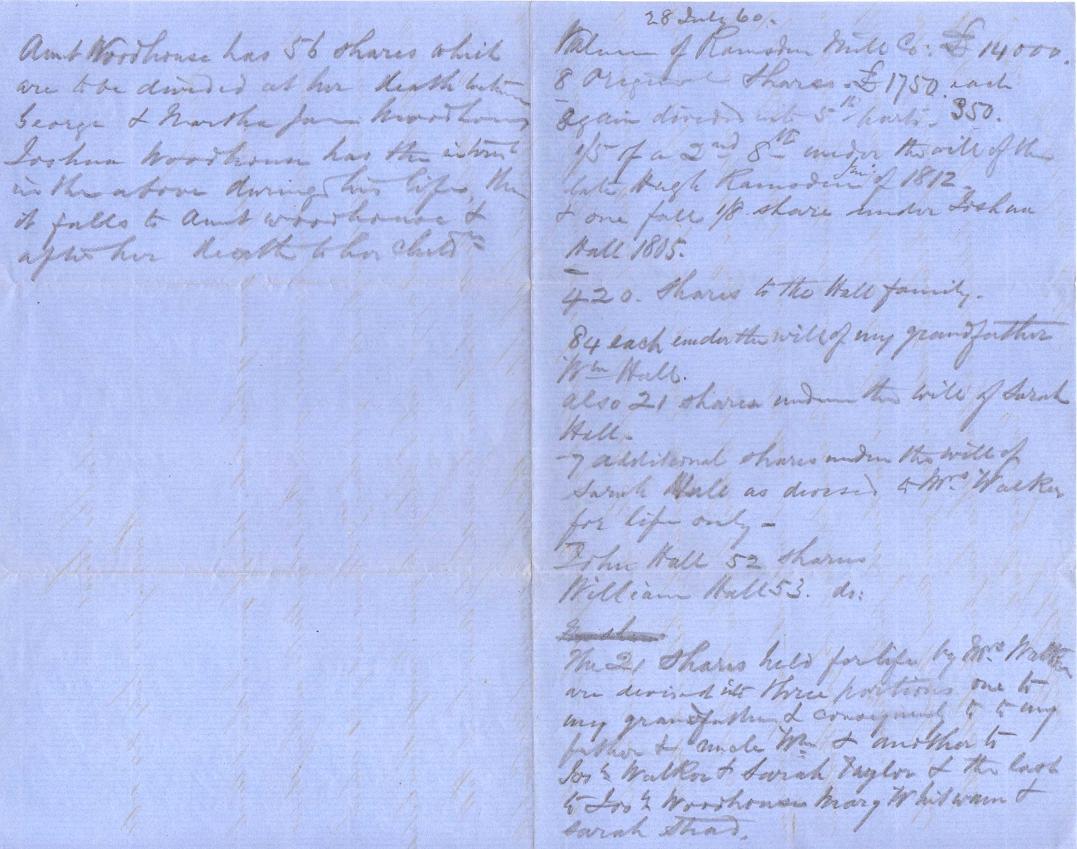 Photo william Hall Surgeon April 1864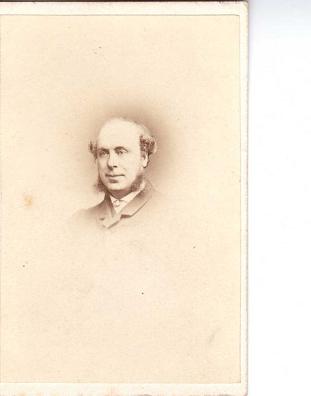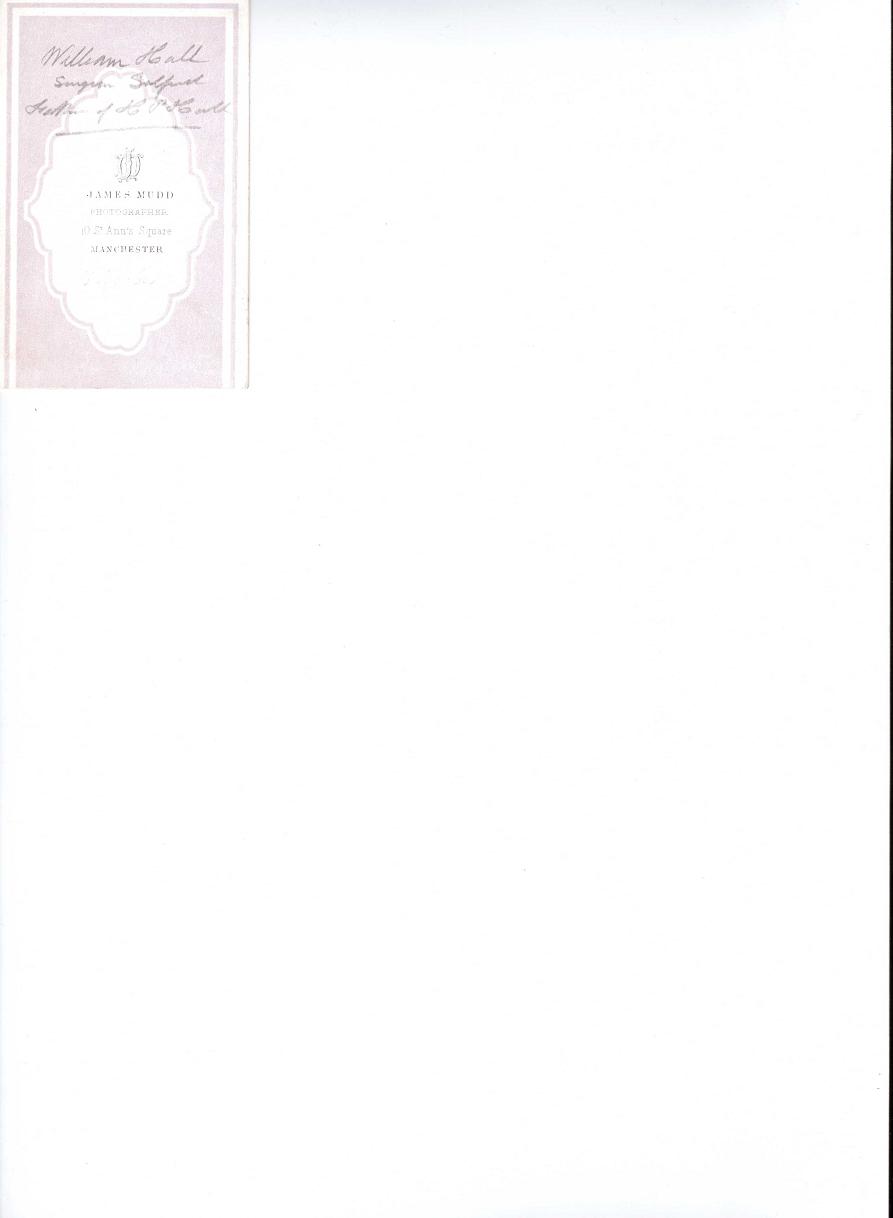 Letter from H P Hall to Papa 2-Apr
Lord Street
2nd April
My dear Papa,
I have been in
and out most of the day
and do not feel tired. Mama
has bought such a pretty
doll for Edward's little girl,

it is a nurse with a baby
in her arms and she has
such a funny cap on.
With love to Joey, Alfie
and yourself, I am
Your loving son,
Henry Hall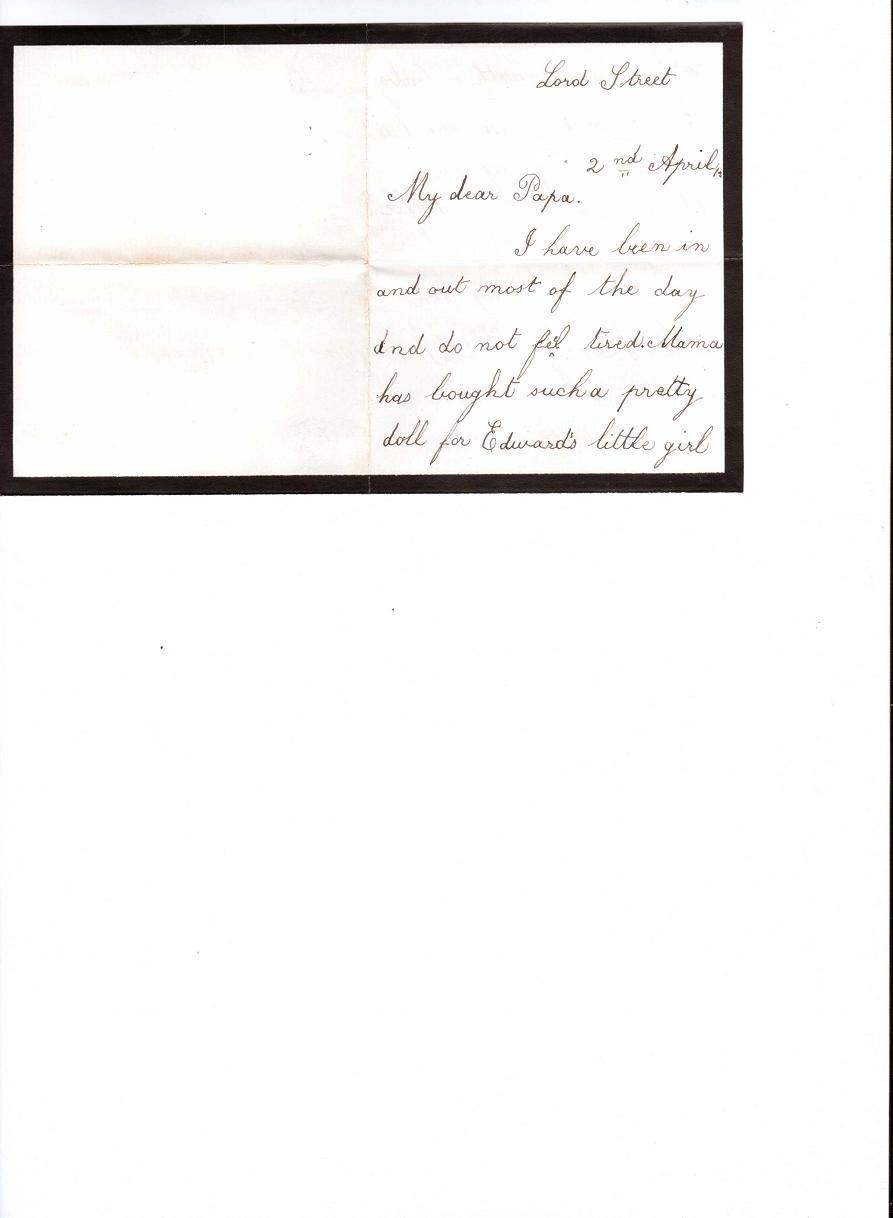 Letter from H P Hall to Papa 20-Jul-Early
20 July
My dear Papa,
I hope you
are better. We went
to the Swallow
waterfalls. Cousin
Sarah has given
us a writing desk,
book and trumpet.
Please look at the
_.
We went from
Conway to Fria
few in the steamer
and enjoyed it

very much.
With love
Your loving
son,
Henry Hall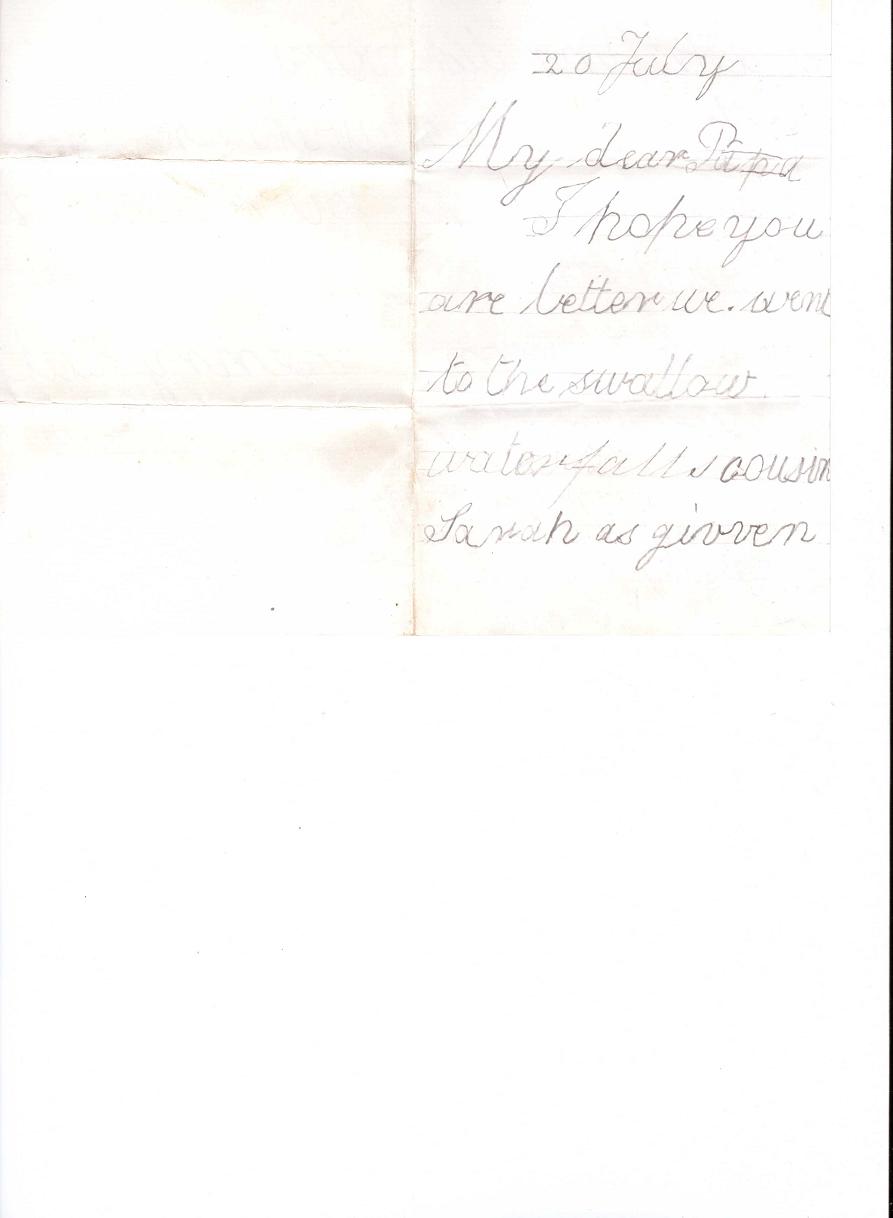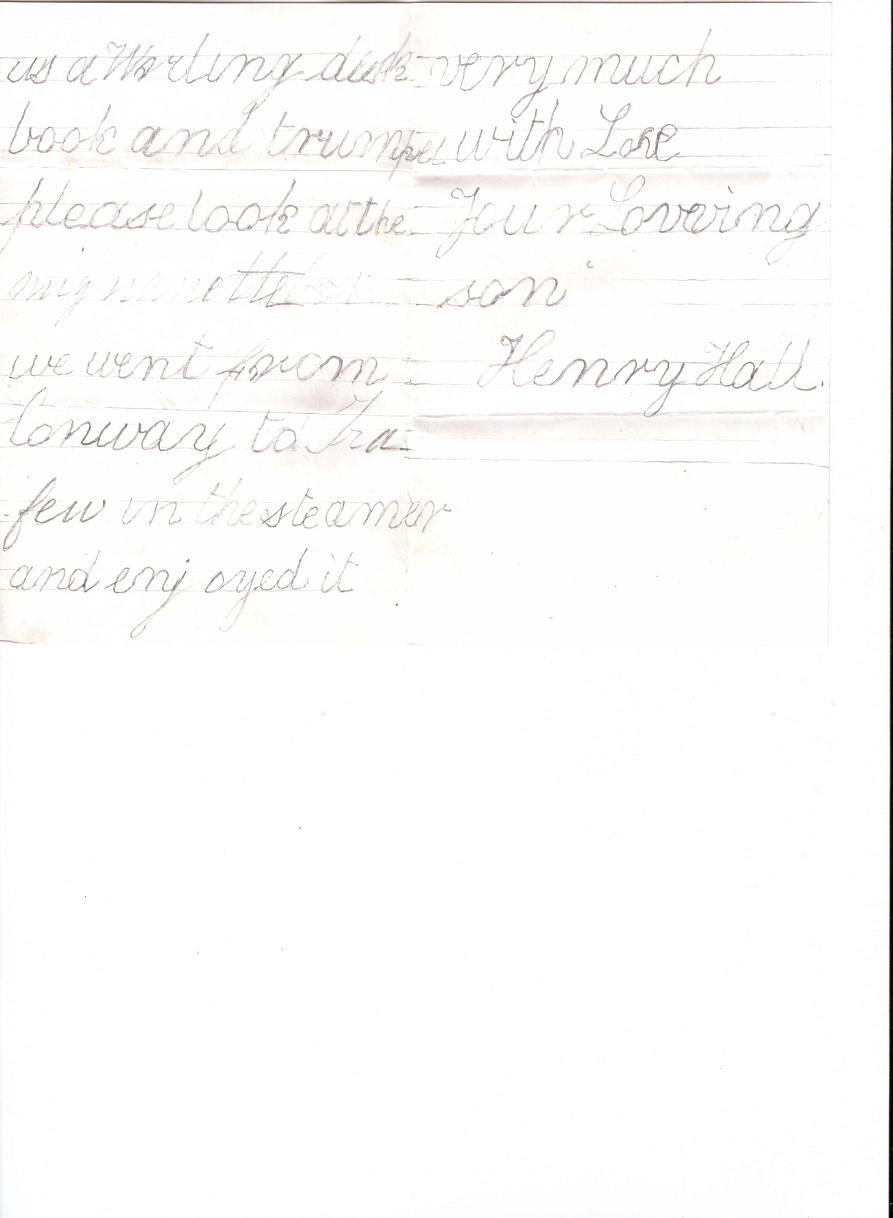 Letter from H P Hall to Papa 7 Oct-1870-Early
7 of October 1870
My Dear Papa,
I hope you are
well, we have found
a hedgehog and
have found some
starfish and have

caterpillars and have
shot such away
up in air and
in the sea. We have
not had donkeys. It
is such fun. We have
not sailed my ship.
The pier was nearly

covered, the tide was
so high. We have found a
few shells but we
have not seen many
crabs. I have seen Mrs
Binless's little girl.
I remain your
affectionate son,
Henry Platt Hall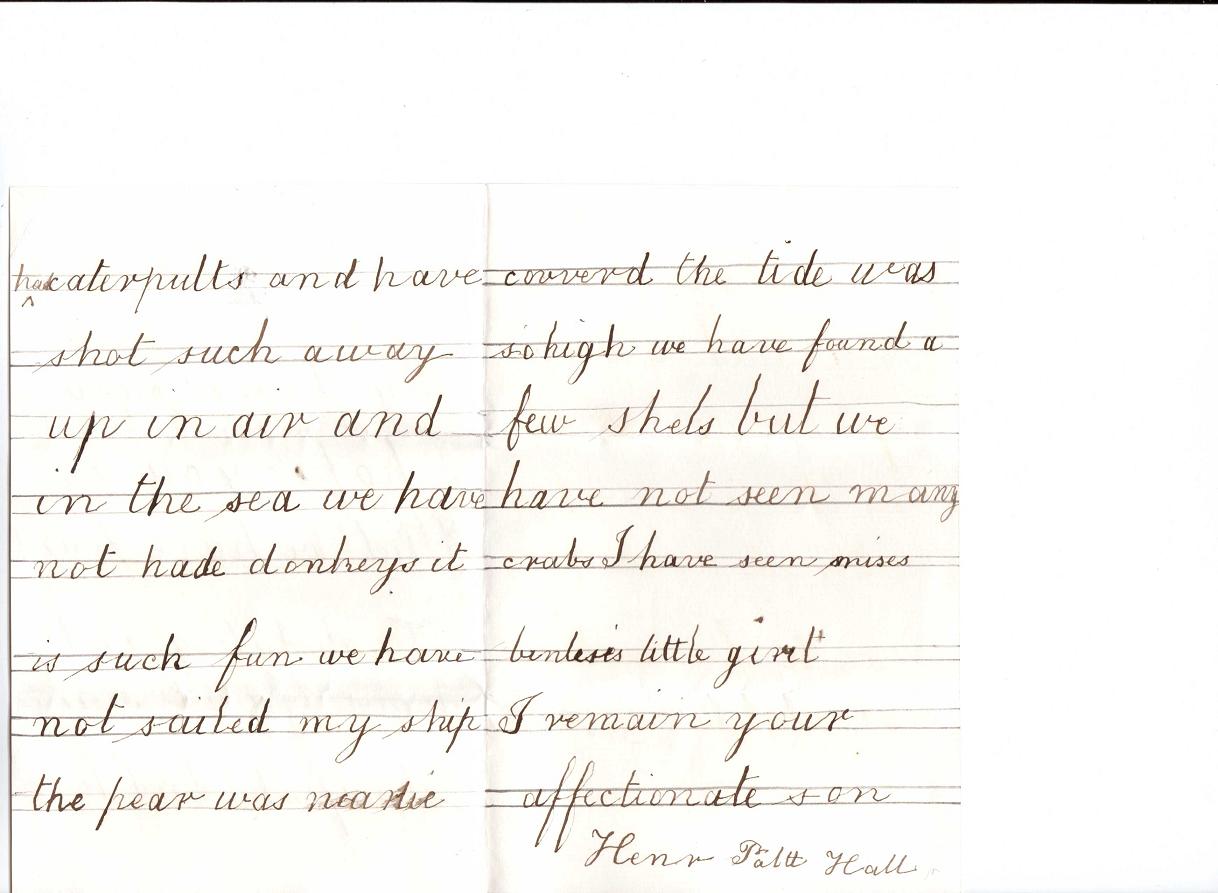 William Hall Indenture 13-May-1873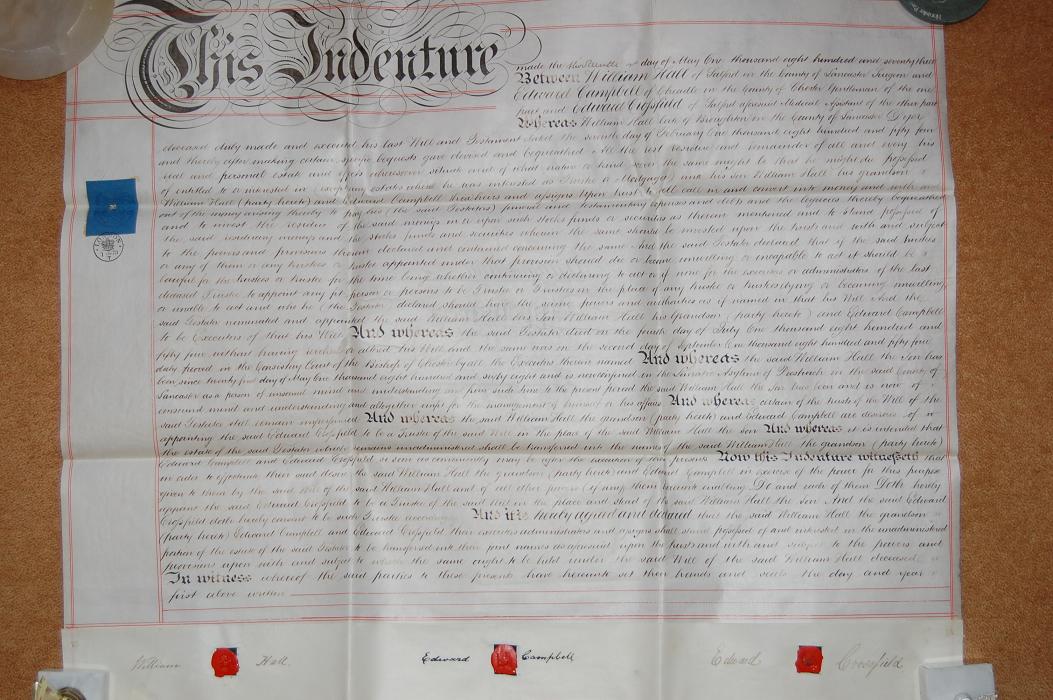 Letter from Alfred G Hall to Papa 28-May-1876
Salford
May 28th 1876
My dear Papa,
I shall be very
glad to see you home tomorrow
and hope you have
enjoyed yourself. I suppose
you will have been to
Westminster Abbey today

which I hope to see some
time. We all went to
church this morning, and
Mr Stowell preached such
a long sermon, I thought
we should not get home in
time for dinner.
I went to Mr Reid's to tea
yesterday, and had some

good fun. With love, I am,
Your affectionate son,
Alfred Greaves Hall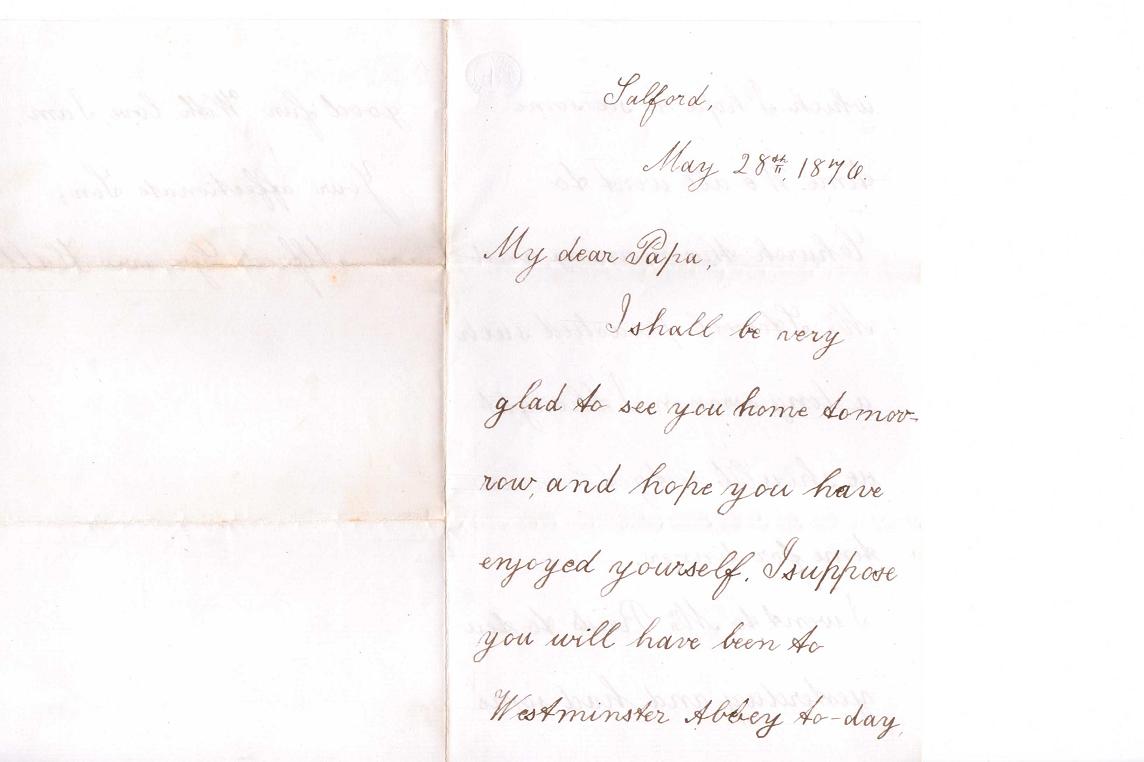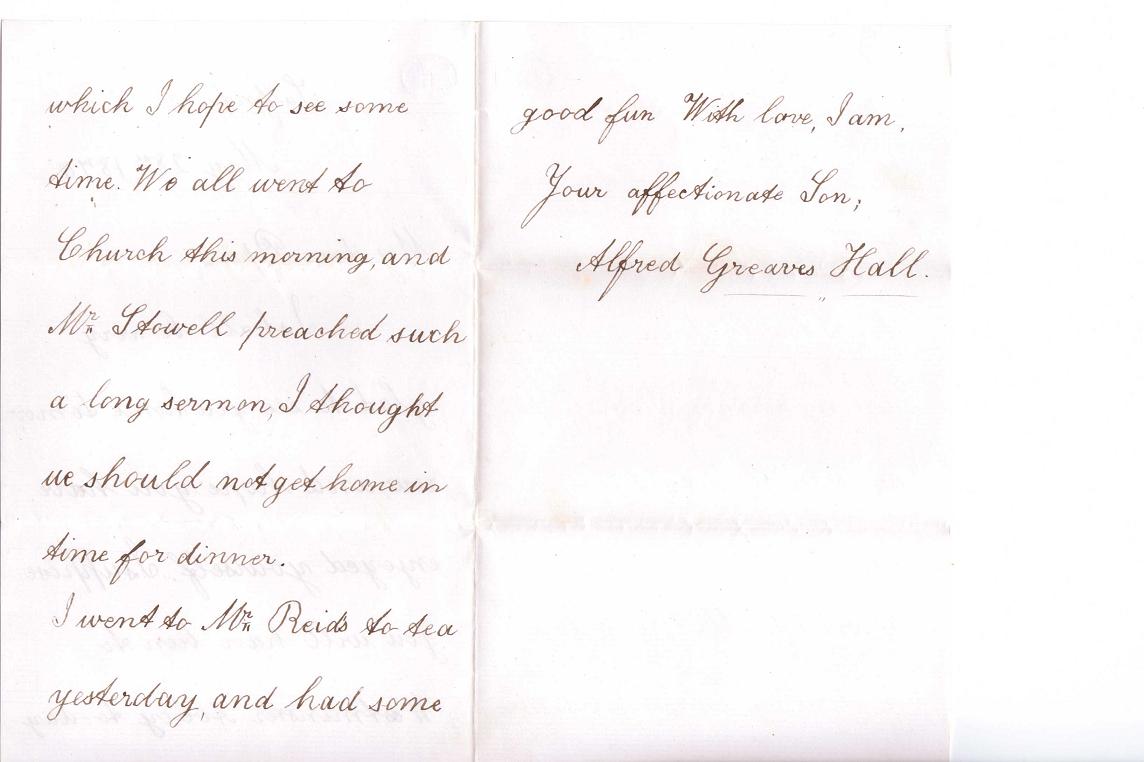 Letter from Henry P Hall to Papa 21-May-1877
Welch Row
21st May 1877
Dear Papa,
I received your letter
this morning, and was very sorry to
hear about the broken windows.
I am glad to say that I had nothing
to do with it. When I arrived at
Crewe yesterday I found the train I should
have gone by did not stop at Nantwich
so I had to wait about an hour & a half
for the next. Mrs Cawley & Rosa went
to Hankelow yesterday morning & came
back soon after I arrived. There

bringing with them an invitation for
Rosa & I to go to Hankelow next Friday.
Tell Mamma that Mrs Cawley will
write tomorrow and sends her love
to her.
With love,
I am
your affectionate son
Henry Platt Hall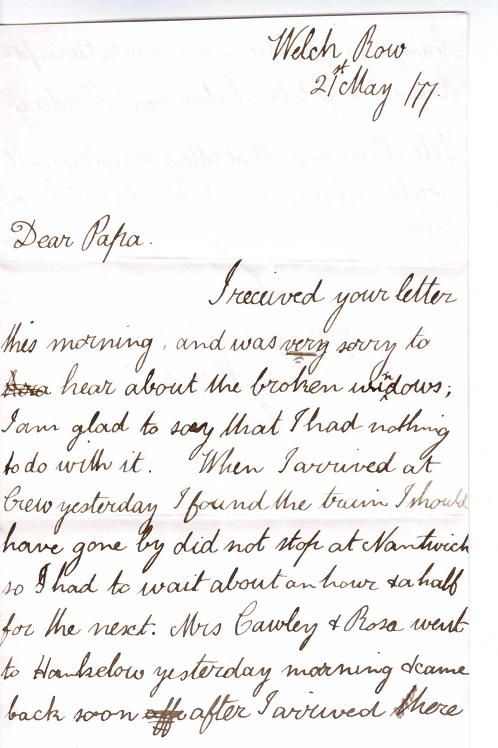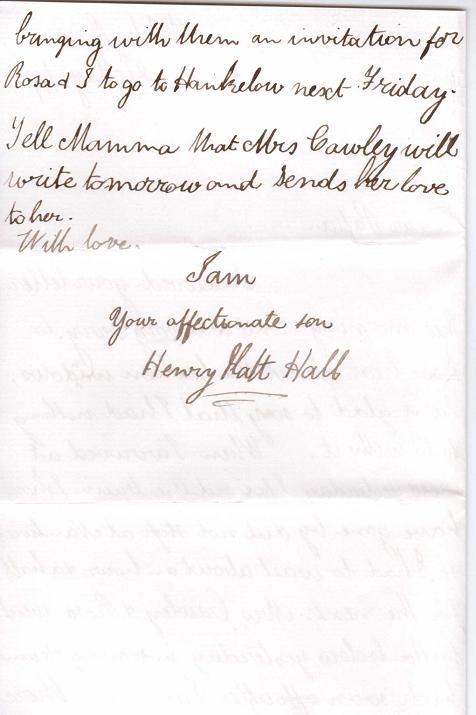 Letter from Joseph P Hall to Papa 21-Jan-1878
27 January
215 Lord Street
Dear Papa,
I met Mama
at the station today
and went to the lodgings
with her and then
we went to the end
of the pier. I tried to
fish but it was
so rough to catch
anything, there are
a great quantity of
fish to be caught

off the pier head, it
was very wet only
this morning but
about 11 o'clock it
was fine. I shall
be glad to get home
to you and the
others. Mama is
going for a sail
with Beani Reid
tonight.
I am
yours truly
Joseph Platt Hall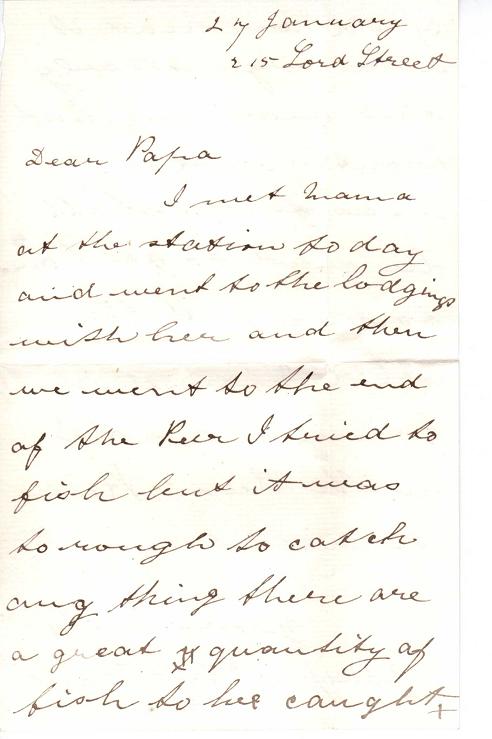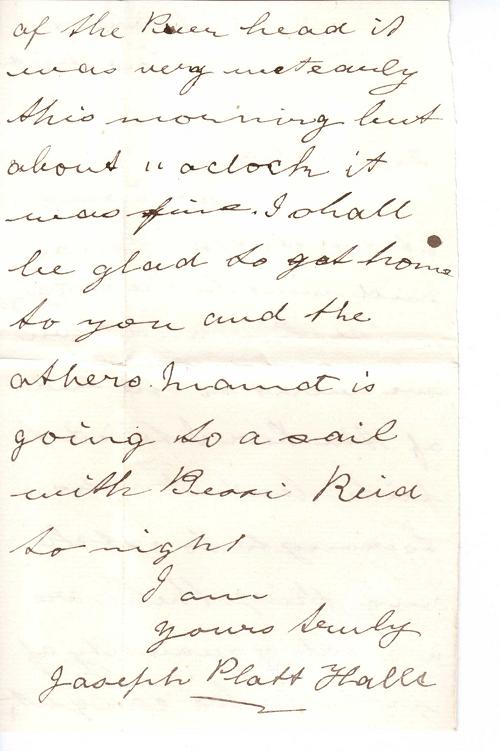 Letter from H P Hall to Papa at Hotel in Paris 1-Jun-1878
Aldred Place
1st June 1878
My dear Papa,
I received your letter this
afternoon and was very glad to hear
you were very well and comfortable
at your new hotel.
Joey and I went to the Manchester
Reference Library this morning and
copied several coins, we went to the
Peel Park library tonight and Joey
copied the Duincusis with a bull on
the obverse, it was formerly in the
Pembroke collection and was recently
sold by auction for £22-10-0. It is an
oblong in shape measuring 6 1/2 inches long
by 3 3/8 wide, it weighs 4 lbs 9ozs.

I copied out a description of the Queen
Anne farthings.
The price you were asked for the Greek
Drachmas the other day was exceedingly
cheap. I wrote to Jo Verity at Eallseaton
the other day for some on approval
which he sent me; they varied from
1/6 to 3/6, those at 1/6 were very small
and in poor condition. I saw Batty
on Thursday and asked him about
Greek silver coins, he said that they
were very scarce and had greatly
increased in value lately.
Aunt Mily has received a letter from
Aunt Polly tonight, she has not
been able to get rooms at Cousin
Lucy's Lodgings but has taken rooms
for both of us at the last house in the
promenade near the Convalescent
Hospital.
I went home yesterday afternoon and
saw Baby. She is very well and was
pleased to see me.

Arthur Roby is much better.
The dark brown rabbit had its turn
out yesterday and Joey's cat out of
its cage to it and paid very dearly
for it, for mine got hold of it by the
throat and almost worried it.
Jennings saw it and with the greatest
difficulty separated them, but not before
it had lost a good deal of hair &c.
Uncle Crosby has gone to Buxton for
the weekend today.
Aunt Yilny sent Alfie his letter today.
He is a good deal better.
With love &c
I am
Your affectionate son,
Henry Platt Hall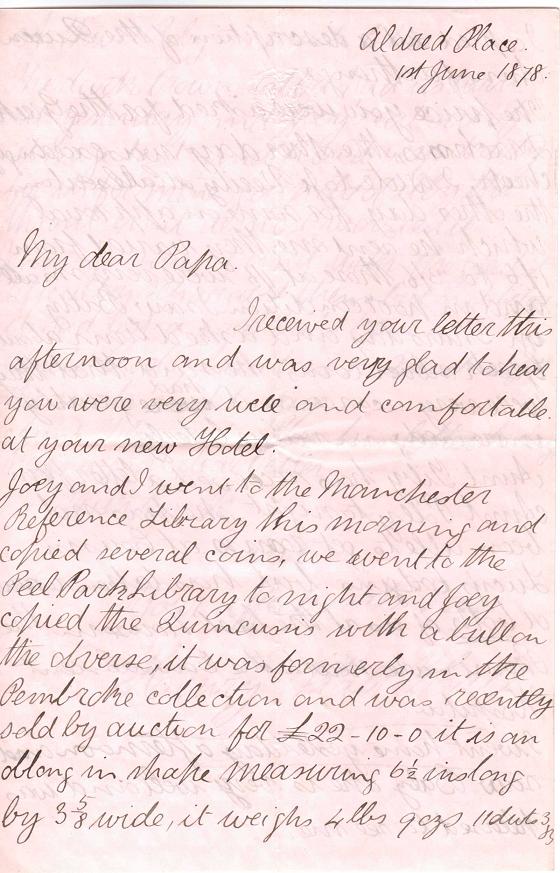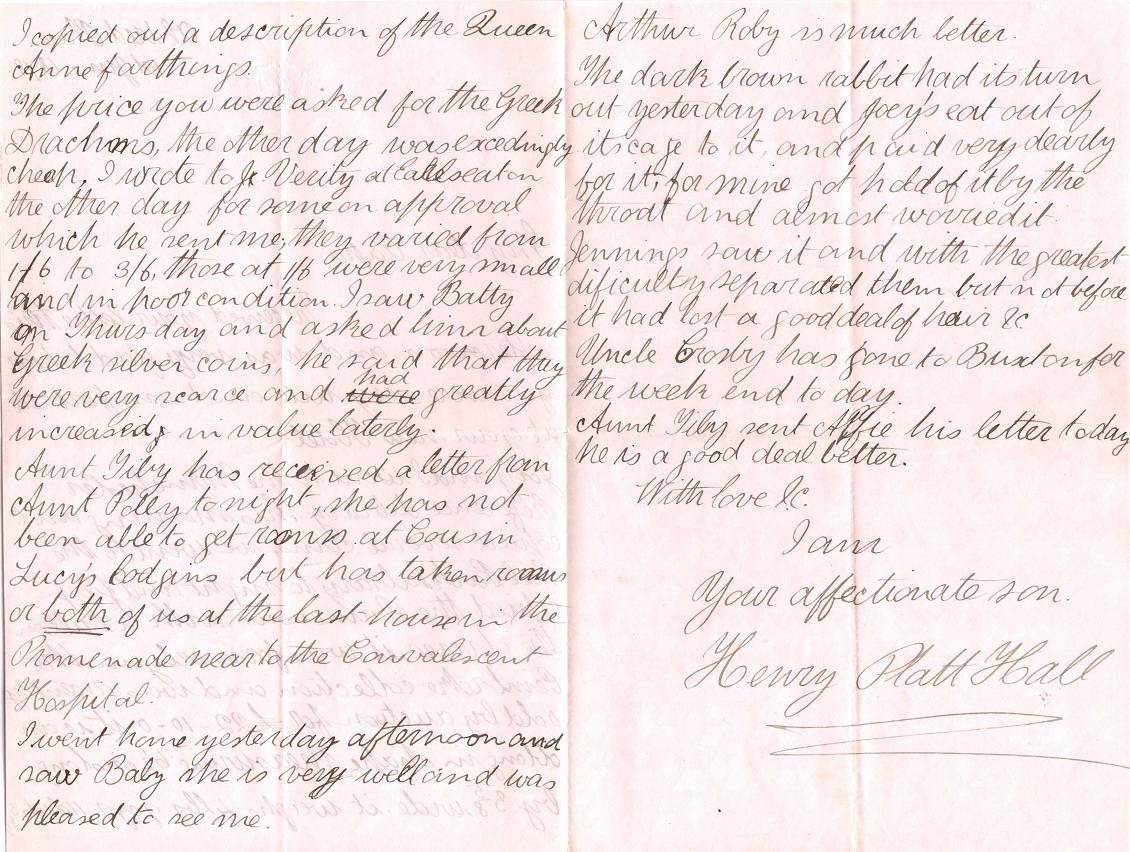 Letter from Henry P Hall to Papa 20-May-1879
17 The Crescent
20/5/1879
My dear Papa,
As I have not much
work tonight, I have taken the
opportunity of writing to you.
Joey has not been well today
and has not been at school.
He seems better tonight.
Alfie has entered the 100
yards race under 12 at the
athletic sports which will
come off soon after the

holidays. He did not know
whether he might enter or not
so he wrote to you and as he
could not get an answer in
time, for they were coming round
the next afternoon, so he asked
me if I thought you would
let him join, and I thought you
would so he has entered and I
should think he stands a fair
chance of winning.
Roby is in the sports committee
and has to attend its meetings
nearly every day.
It was proposed the other day
that the races should be started
by a pistol this year instead of
the usual way of dropping a
handkerchief, and it is rather
a difficult problem
to answer whether Hill will
fire it or not as he is the starter
and has been for several times
and there is nobody else to do it.
(I should have said he is a very
particular person).
So altogether we are rather
anxious to hear what will
be the result.
The examination in Inorganic
Chemistry was held at the
school last Friday night 100 being

the largest number of marks
possible to obtain. I got about
85 and as 66 is the number
of marks required for a first
class, I have got one certain
which is more than I expected.
I have still two more for
Organic and Practical Organic
Chemistry coming off on Friday
and Saturday nights respectively.
Joey had a slight dose of the stick
from Darval yesterday.
I hope Mamma is much better
and will come home quite well.
I am
your affectionate son
H P Hall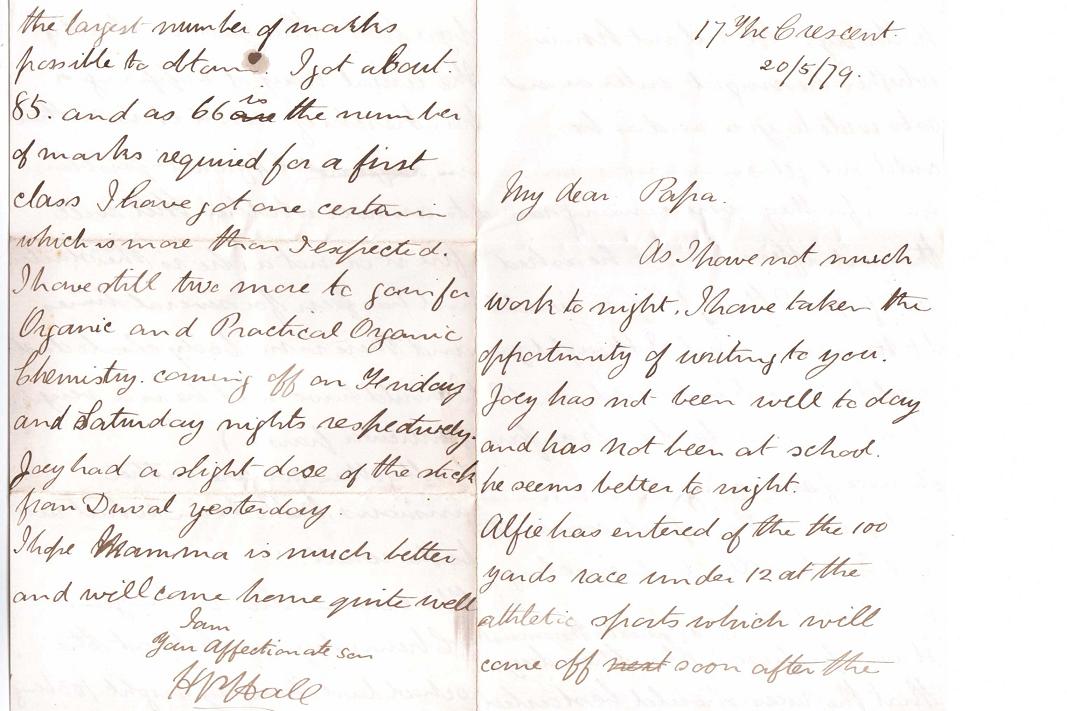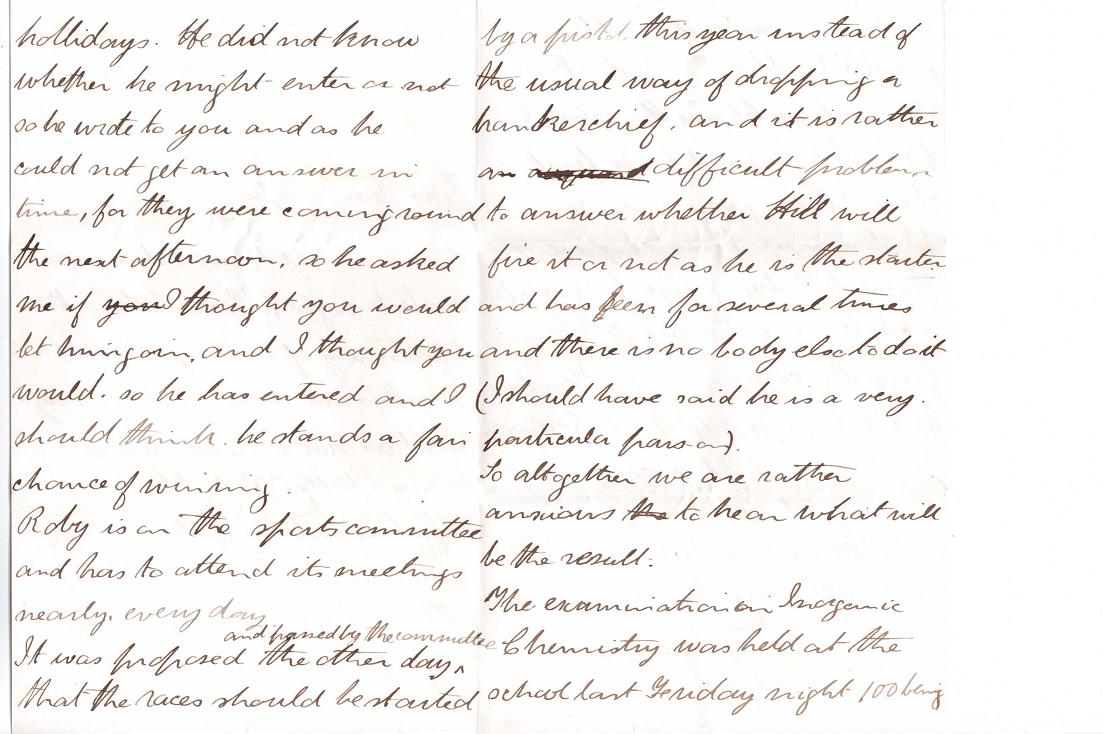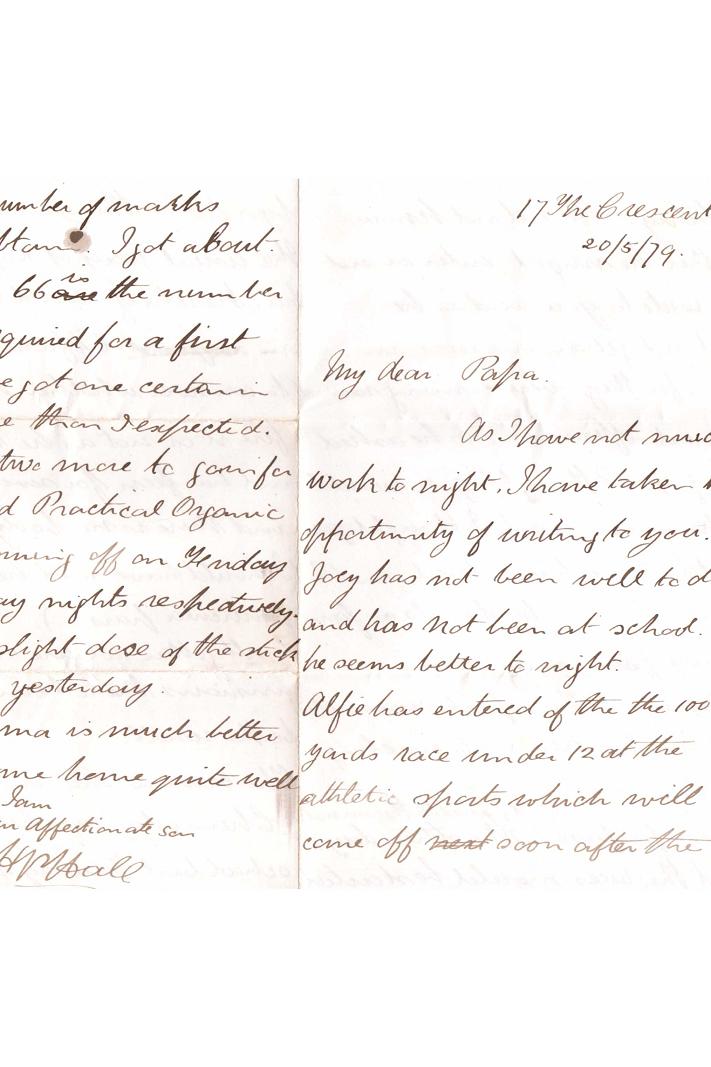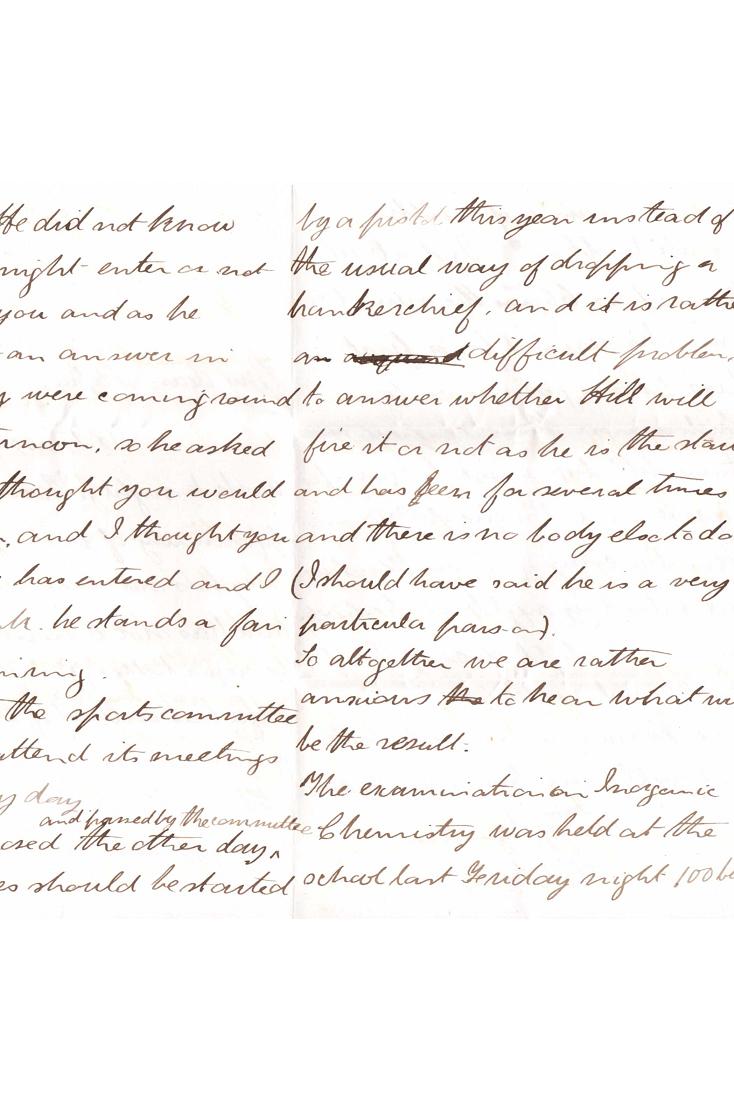 Letter from Aunt Woodhouse to William Hall 22 Dec-1879
Spoutfield Terrace
Golcar, Dec 22 1879
My dear William,
I hope this may
find you better,
all right again.
We have it very
cold here, I cannot
go out. Will try to
send a boy, tomorrow
or Tuesday
all being well with
a few other things &
more than I named
of my own.

I do not know what
other people, may have
as I do not get out
much, but will
make enquiries.
A vase for flowers
I have had it the last
50 years, looks just as
well now as then.
I have 3 of them,
the other two are small
with scuffs at the top,
they are sufficient for
me at the present,
as I have a fine
piece in the centre,
also an ink stand

china, but I am
sorry to say as happened
an accident, but
pretty to look at.
A few coin,
some old stamps,
pair of glass bellows.
I have had them for
60 years, also a wool
_ & others
my own work, always
busy doing something.
I was preserving them
for Bazaraz to be
held in Golcar at
Easter next.
I also send a for of hand
screen, my own drawing
& painting on white wood

I hope you may get
them all right without
accident. I can have
the box returned
by London & North Western
if sent by Lancashire & Yorkshire
it home, to go a great round
even to Leeds, then return.
With my best wishes to all, and
you may enjoy the present
season, love from
your affectionate aunt,
Mrs Woodhouse
Time passed.
I have directed the
box as your letter is
and have not paid
the carriage, as I could
not go myself.
I have not locked the
box, put a wrap & cord
around it.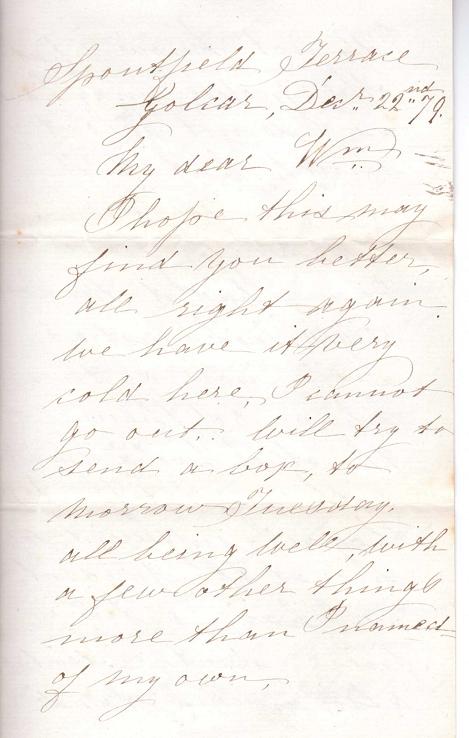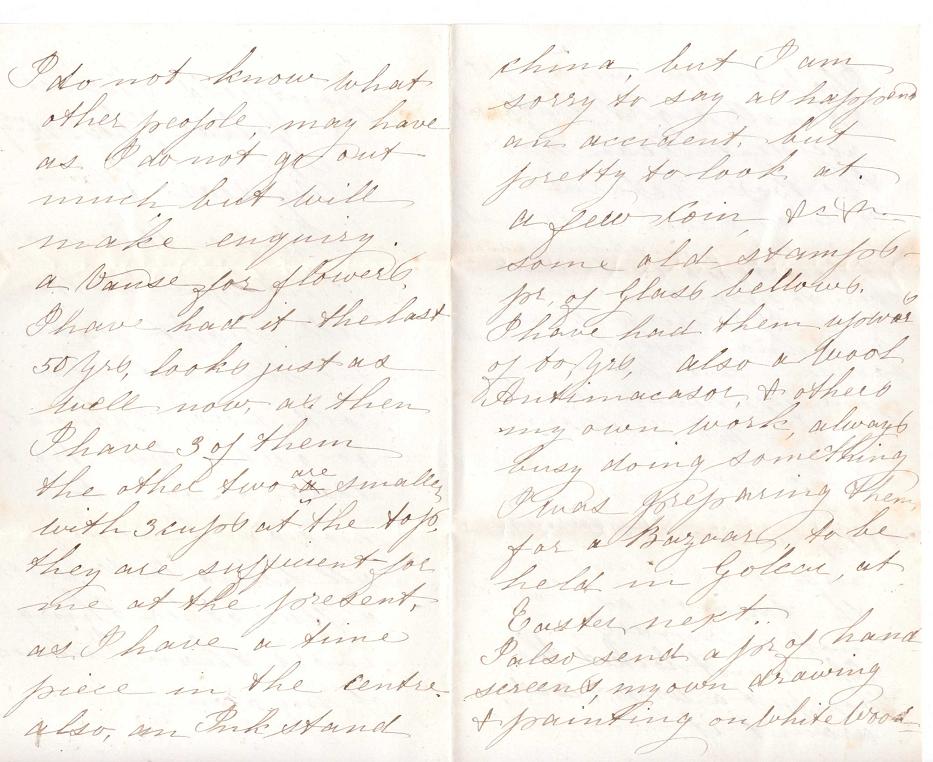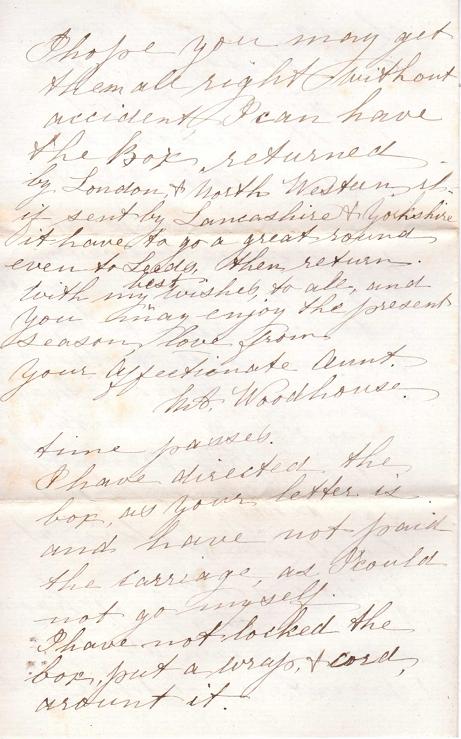 Letter from Aunt Woodhouse to William Hall Payment Receipts for hospital practice and lectures at medical school 29 Dec-1879
Spoutfield Cottage
Golcar, Dec 29th 1879
My dear William,
I do not
know what to say to you
about the price or value.
I think you or your kind
good wife
would know best,
only this I know the proces
I put on those for the
bazaar the wool auction
costs 25/- 2 cotton ones
5/- each, stamp case 1/-
the hanscreens 15/.
The flower vases, I had
£3.3 offered for them, some
time ago, but declined
parting with them, at
that time. I sent you
the largest one.
I cannot value the others.

You will please do so
as you think well, or
prize them, as they
are more value to
you than anyone else.
Will you say 5 or 6 for all
or return those you
do not care for.
The large cup, I know
is not valuable only for
name and age.
The glass bellows I know
had the handle off, but
thought you could repair
it but please do as
you think proper according
to your usual sensibility,
hoping to hear
from you soon,
with much love
to all, this cold season
from your affectionate
Aunt, Mrs Woodhouse

Spoutfield Terrace
Golcar, Dec 31st 1879

My dears,
I acknowledge the
receipt of £2
half £10 note
with thanks.
I enclose another
case for stamps
a different pattern
it may ne useful.
With love to all
from your,
affectionate aunt,
Mrs Woodhouse

To Mr & Mrs Hall
The Crescent
Salford.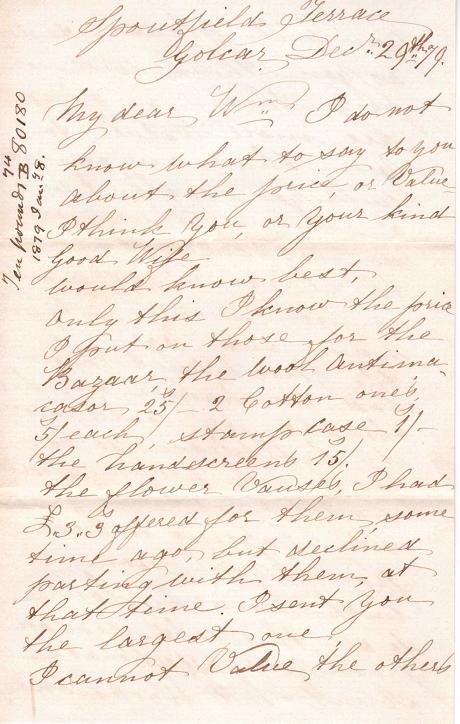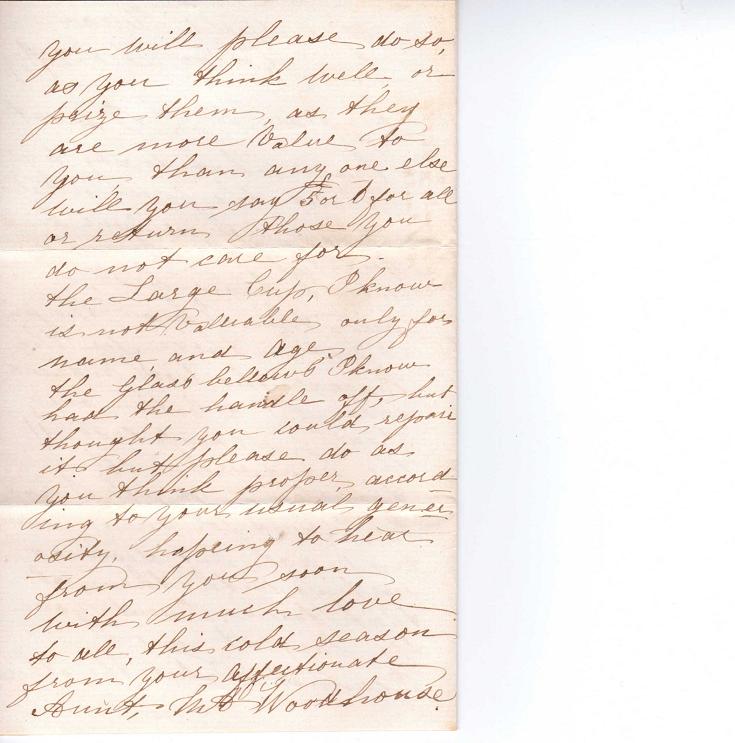 William Hall Payment Receipts for hospital practice and lectures at medical school 29 Dec-1879
Mem:
Paid £7.7 as medical pupil, at the
Manchester Royal Infirmary & Dispensary, for
twelve months, also to attend the clinical
lectures.
22 April 1844

Nov 21 1842
Mr Hall
Paid £31.10
Pupil & dresser
for 3 years
Mr W Wilson

Dec 30th 1840
Received the sum of five guineas
being Mr Hall's fee for attendance at the
practice of this Institution.
Bround Hurst
House apothecary
Salford Royal Dispensary

Received from Mr William
Hall forty guineas being
the amount due for his
fee as perpetual pupil to
the Pine St. School.
R T Hurst
Treasurer
Oct 24th 1842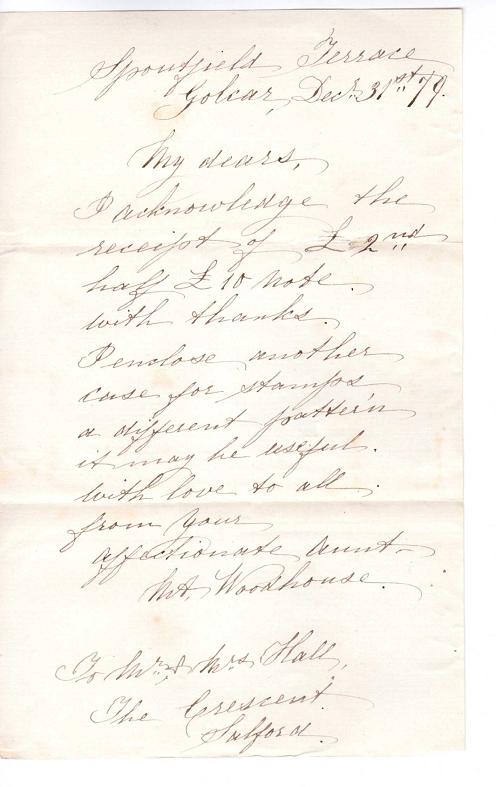 William Hall Memo Articles received from Aunt Woodhouse to William Hall 30 Dec-1879
Memo: of sundry articles received
from my Aunt Woodhouse, of Spoutfield
Terrace, Golcar, near Huddersfield, 24 Dec 1879.
-A two quart posset pot, blue & white,
with the names of Joshua & Mary Hall 1781
on the side, & the names on the bottom, but
without the date.
-Painted china flower vase, half round in
shape, with loose cover, with holes for flowers.
-Old Indian china ink stand, sent broken,
but more broken in carriage.
-Pair of hand screens of white wood, with
handles, painted by herself.
China sugar basin, white & black.
A small pair of glass bellows.
A piece of very ancient needlework
on silk.
Two sets of model money, in white metal,
& copper.
Sundry old coins, 13 in number.
A wool autimaccasar, honour work.
A knitted cotton, do do.
A small white cotton mat, do.
An ivory tablet, carved, subject "Judgment
of Solomon".
A horn finger ring, & a horn leg.
A bunch of shaking grass, & a bag
of old used penny stamps.

(Mem 1879 Deed. I have sent my Aunt
Woodhouse £5, also £5 as present
from Louisa and myself.)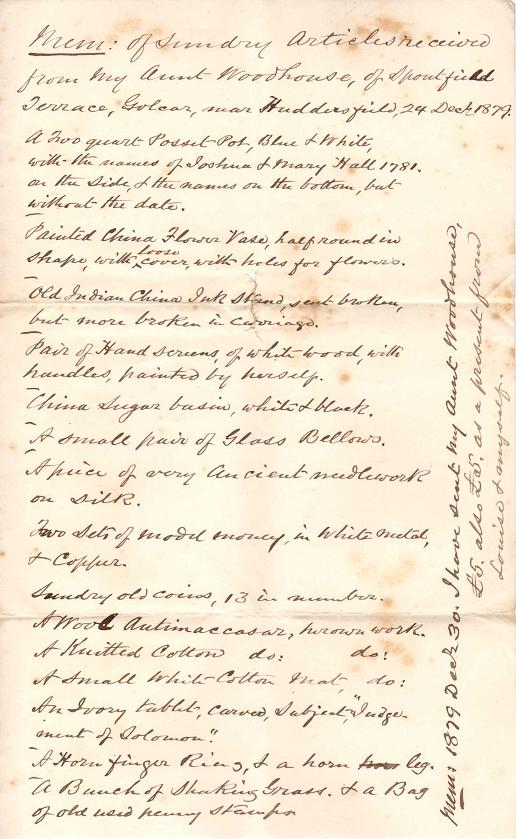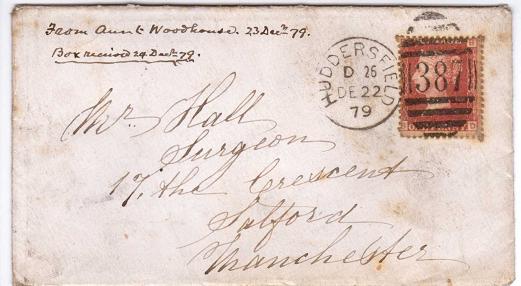 William Hall and Louisa Hall Photos 1880