Henry Cecil Franks MC                                                                               View PDF
Henry Cecil Franks was born on the 1st October 1897.
He was educated at Manchester Grammar School, and in 1911 he was aged 13 and living at 1 Gardner Road, Prestwich, with his parents Henry John Franks (55, a law clerk) and Clara Franks (55), and his three elder sisters Amie Beatrice (30, an elementary school teacher), Constance Maud (27, also an elementary school teacher) and Ethel Elizabeth Franks (23, a music teacher).
His military service record is at the National Archives, Kew, Ref WO 374/25562 where the following is taken from:
12.06.1915 - Enrolled in 20 Royal Fusiliers (3rd Public Schools) as a Private.
 Next of Kin: Mother, Clara Franks, Hazlewood, Gardner Road, Prestwich.
 Can Ride: Yes
 Medical Category: C1
 Former Occupation: Bank Clerk, and also a theology student prior to war.
Age: 19 years, 3 months (Note he was actually only 17 and therefore underage)
Height: 5ft 7 ¼ inches
Girth: 34 inches
Distinctive marks: Mole, left side of chin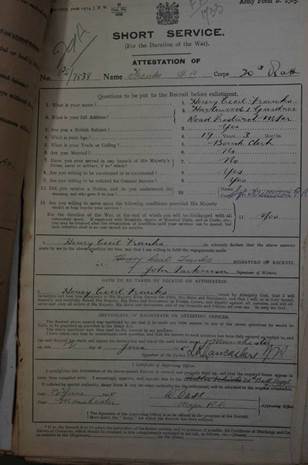 Application form for 20th Bn Royal Fusiliers, 12 June 1915
14.11.1915 - Embarked to France, Part of 19th Brigade, 33rd Division.
The 20 Royal Fusiliers was part of the 33rd Division which fought in the Battle of Albert, 1-13 July 1916, the battle of Bazentin Ridge 14-17 July 1916, and the attack on High Wood, 20-25 July 1916 which were all offensives in the battle of the Somme. The opening day of the battle on 1 July 1916 saw the British Army suffer the worst one-day combat losses in its history, with nearly 60,000 casualties.
Extract from the War diary of the 20th Royal Fusiliers:
Place

Date

Summary of Events and Information

HIGH WOOD

20.7.1917

19th Brigade attacks at 3.25am on HIGH WOOD. Attack by 1st Cameronians and 5th Scottish Rifles. 20th Royal Fusiliers in support. 2nd Royal Welsh Fusiliers in reserve. North corner & North west corner of wood not taken. Rest taken and consolidated.

2nd Royal Welsh Fusiliers came up about 12 noon. A front & support line consolidated across wood from East to West.

Held on to position until relieved by 100th brigade at midnight then withdrew to old bivouacking ground at Mametz wood.

Casualties, Lt Col Bennett - wounded.

Killed: Lt Rawson, Lt Palmer, 2nd Lt Price, 2nd Lt Coventry

Missing believed killed: Capt Toller, Lt Wallworth, Lt Evans

Wounded: Capt Hollingworth, 2nd Lt Bell, 2nd Lt Cooke, 2nd t Brooke, 2nd Lt Fabricius, 2nd Lt Ives, 2nd Lt Herbert

Other Ranks killed, wounded or missing: 375

MAMETZ WOOD

21.7.1917

4pm - Withdrew to Buire sur L'Anire

BUIRE sur L'ANIRE

22nd to 31st July 1917

Reinforcements received 2 officers and 701 other ranks. Reorganising & Training.
26.07.1916 - Appointed Lt Corporal
26.09.1916 to 5.10.1916 - Leave to England
23.03.1917 - Transferred to England.
07.06.1917 - Proceed to join No 2 OCB (Officer Cadet Battalion), Pembroke College, Cambridge.
25.09.1917 - Discharged from Royal Fusiliers as received a commission as 2nd Lieutenant in the Lancashire Fusiliers.
Military History Summary on discharge from Royal Fusiliers:
France: 12.06.1915 - 13.11.1915
BE Force: 14.11.1915 - 23.03.1917
Home: 24.03.1917 - 25.09.1917
Medals: 1914-15 Star,  BW&V Medal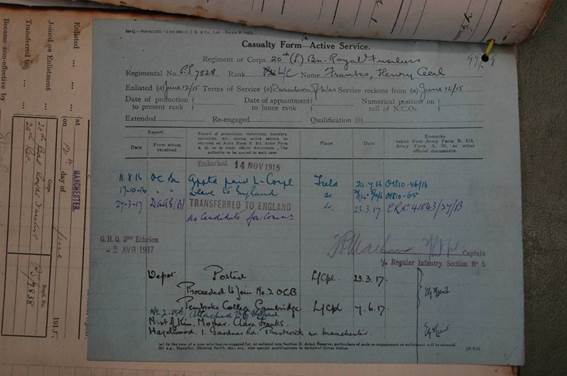 Casualty Form – Active Service of Henry Cecil Franks in 20th Bn. Royal Fusiliers
16.10.1917 - London Gazette - appointed Second Lieutenant, Lancashire Fusiliers.
The 18th Lancashire Fusiliers were part of the 35th Division which fought in the Second Battle of Passchendaele, 26 October - 10 November 1917, which was part of the overall battle of Ypres 1917 (Third Ypres).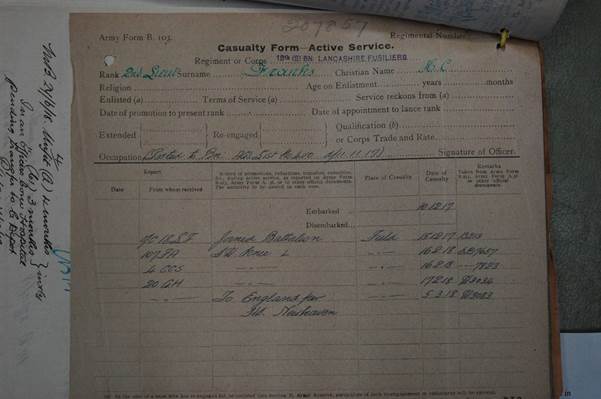 Casualty Form – Active Service of Henry Cecil Franks in 18th Bn. Lancashire Fusiliers
10.12-17 - Embarked to France
15.12-17 – Joined Battalion in the Field
16.02.18 -  SW Knee L (Severe wound in the left knee), moved to 107FA and 4GCS.
17.02.18 – Moved to 20th General Hospital
05.03-18 – To England
The 18th Lancashire Fusiliers were involved in a raid on the 15th February against a concrete enemy post at Turenne Crossing on the outskirts of Houthulst Forest. They formed up astride the Aden House to Turenne Crossing road. Zero was 8.30pm. They got through strong enemy wire with the help of a Bangalore torpedo and killed at least 2 and captured 11 of the garrison. The pill-box attacked is described as lying in the angle formed by the road and the railway. There are 2 shown on maps that might be the objective V1.d.10.23 & V1.d.60.70
The casualties suffered were 1 OR missing and 1 Officer (2nd Lieutenant H. C. Franks) and 12 OR's wounded.
War diary Account of raid:
| | | |
| --- | --- | --- |
| Place | Date | Summary of Events and Information |
| EGYPT HOUSE | 12-2-18 | The Battalion relieved the DLI in front line. One OR killed in action. |
| PASCAL FARM | 13-2-18 | Front adjusted to a two Coy front. Quiet. |
|      " | 14-2-18 | W Coy relieved Z Coy and X Coy relieved Y Coy. Quiet. |
|      " | 15-2-18 | Three officers and fifty OR raided enemy post at TURENNE Crossing under the command of 2 Lieut Franks and Pt Lerleith. Covering party of 10 OR. Result 11 prisoners including one officer. One OR missing. 2 Lieut Franks and 12 OR wounded. 15 OR proceeded on leave to UK. |
OR – Other Ranks (i.e. not officers)
Coy - Company
15.02.1918 - Severely wounded in action, near Ypres.
As a result of the raid he received the Military Cross and the citation in the London Gazette, dated 22nd April 1918, pg 4825, is as follows:
T./2nd Lt. Henry Cecil Franks, Lanc. Fus.
 For conspicuous gallantry and devotion
to duty. During a raid on the enemy
posts, although wounded in the knee shortly
after leaving the assembly point, he went
forward, displaying a fine soldierly spirit,
and inspiring his men with confidence. Exposed
to heavy shell and machine-gun fire,
he showed an entire disregard for his own
safety throughout the operation, and remained
behind until the entire party had
returned.
Map showing location of raid on Turenne Crossing from Aden House on 15th Feb 1915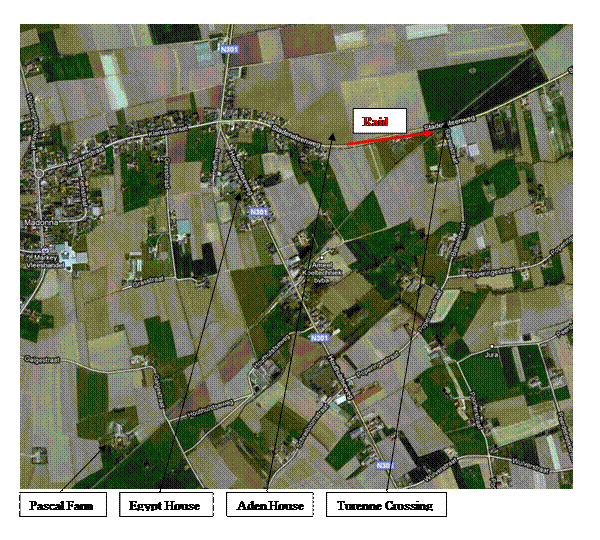 Locations in 2010: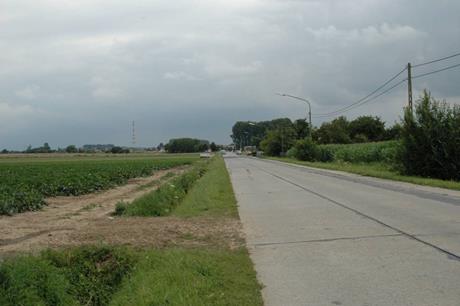 Looking towards Turenne Crossing from Aden House – Raid start point.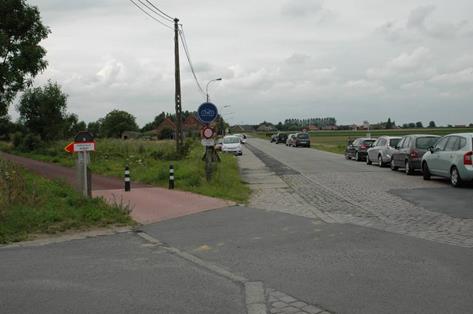 Looking from Turenne Crossing towards Aden House.
The angle formed between the road and the old railway line is described as the location of the German machine gun pill box and the objective of the raid.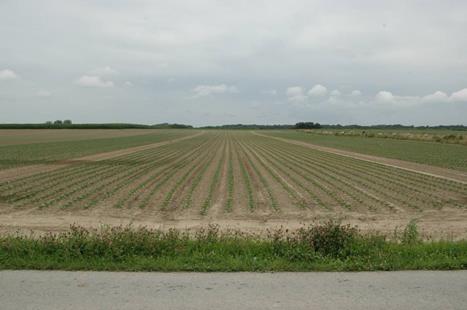 Looking North from the Aden House – Turenne Crossing road towards Houthulst wood which the 18 Bn Lancashire Fusiliers attacked on 22nd October 1917 as part of the battle of Pascendale (3rd Ypres).
The following is the account from the War diary:
22.10.17
"The battalion formed up immediately south of ANGLE POINT , south of Houthulst Wood at 2.30am in close support to the 23rd Manchester regiment on right, 17th Lancashire Fusiliers on left. Battalion advanced headquarters was at EGYPT HOUSE. Formation: X coy on right, Y coy on left of front line. W in support to X coy, Z in support to Y coy. The attack was delivered in four waves.
At zero hour, 5.30am, The Battalion moved off keeping close to our barrage which was found too slow (8 minutes for 100 yards) and in consequence we suffered several casualties. In addition the barrage was very ragged, one shot in four falling short; this was probably due to the bad gun platforms. Lt PRITCETT and BOWERS were conspicuous in their efforts to keep their men back.
Shortly after the attack started the Manchester regiment suffered very heavy casualties and were held up. Our line continued to advance but owing to its right flank being unprotected began to suffer heavy casualties. At about 6.15am Captain M. R. Wood MC who was in command of the two leading companies realised that he had worked too far over to the left, so moved his own coy (x) back a short way and then over to the right in order to gain touch with the Manchester regiment and also to attack the wood from the south. He failed to gain touch with the Manchester regiment but moved forward to attack the wood under very heavy machine gun and rifle fire from his front and right flank. On approaching the wood Lt TORRANCE saw an active machine gun in front of him. He sent his men round each flank and charged the gun himself capturing the gun and team. X coy entered the wood but having their right flank unprotected and being almost surrounded by the enemy were compelled to withdraw to the outskirts."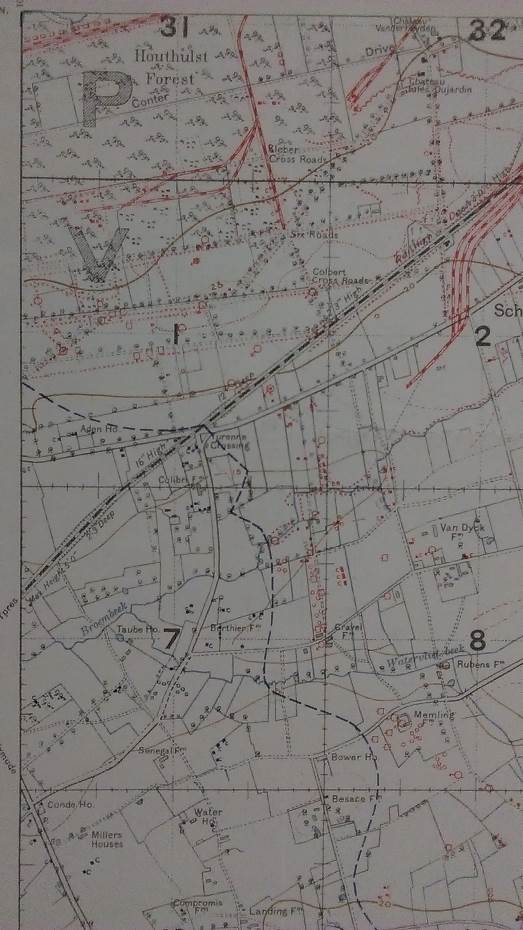 Trench Map showing Turenne Crossing. Ref National Archives WO 297/639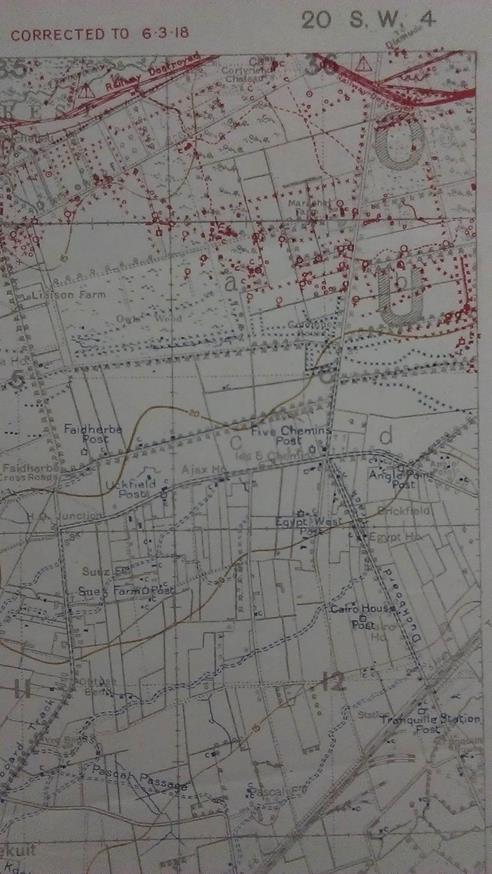 Trench Map showing Pascal Farm, Egypt House, Angle Point. Turenne Crossing is just off the map on the right where the road and railway cross as per above map. Ref National Archives WO 297/622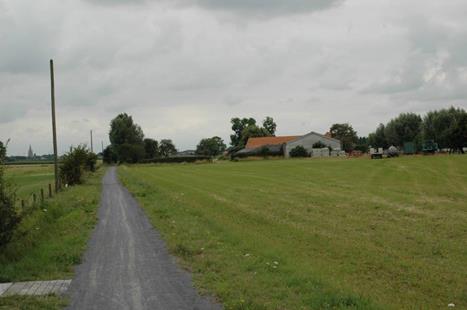 Pascal Farm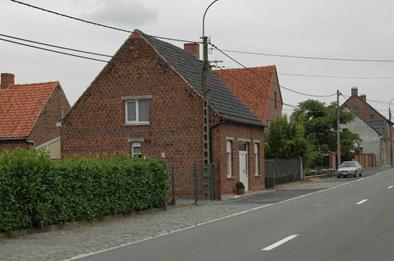 Egypt House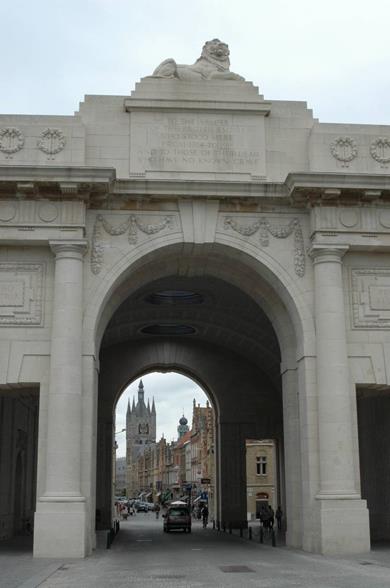 Menin Gate, Ypres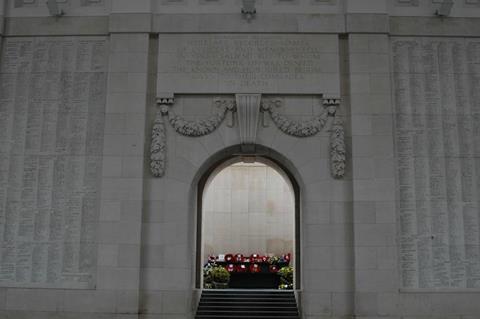 Inside the Menin Gate.
White cliffs of Dover.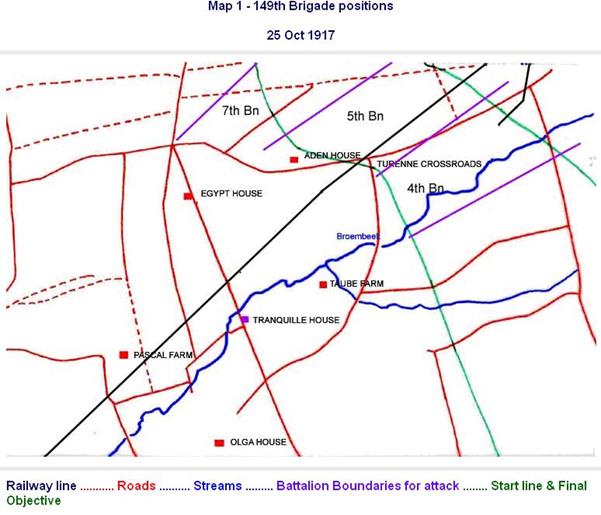 05.03.1918 - Hospital, Liverpool
Following is a transcript of a handwritten letter:
Savoy Convalescent Hospital, Blackpool.
To the Secretary, War Office, London
  from
     2nd Lieut H.C. Franks
        18 Bn Lancs Fusiliers.
 Sir,
   I beg to make application for a wound gratuity, in respect of severe wound received in action on February 11th 1918, near Ypres and  with which I am still incapacitated.
   I have the honor to be
   sir
   your obedient servant
    H.C. Franks
     2nd Lieut
27.6.18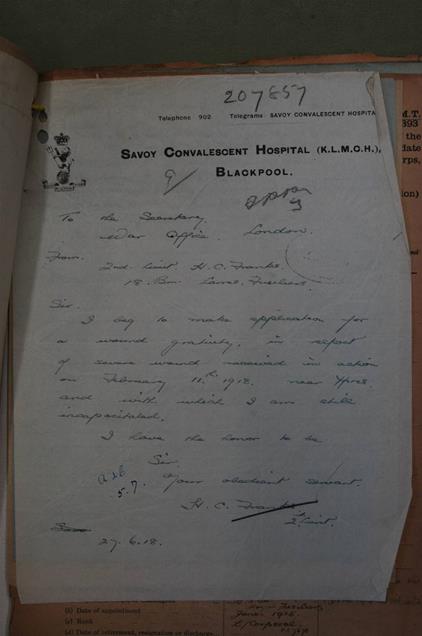 -----------------------------------------------
He was discharged from the army on 11th June 1919.
Regimental No 20th Royal Fusiliers: 7838
Regimental No 18th Lancashire Fusiliers: PS 7873
While in hospital he met Dorothy Ogden who was a nurse and they married in 1923.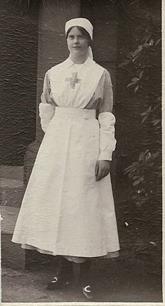 He became a vicar and his parishes included Atherton in Lancashire, Bellingham in Lewisham, Redlynch just north of the New Forest, and Osmington in Dorset.


Crockfords Clerical Register, 1953-54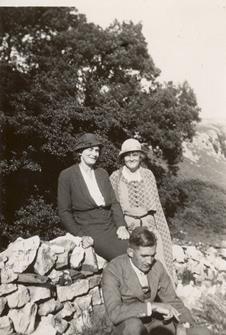 Picture of Mary Bridge (nee Ogden), her sister Dorothy Franks (nee Ogden), and Dorothy's husband. Cecil Franks.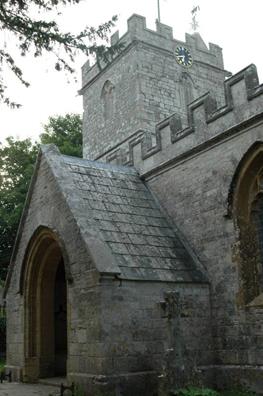 Osmington Parish Church, Dorset
He died on the 15th February 1955 aged 57 in a car accident.
His grave is at Osmington Parish Church.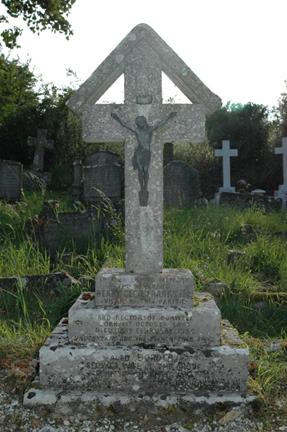 The epitaph reads:
IN EVER LOVING MEMORY
            THE REVEREND
HENRY CECIL FRANKS MC
VICAR OF THIS PARISH
AND RECTOR OF POXWELL
BORN 1ST OCTOBER 1897
DIED 1ST FEBRUARY 1955
UNDERNEATH ARE THE EVERLASTING ARMS
ALSO DOROTHY
BELOVED WIFE OF THE ABOVE
BORN 16TH DECMBER 1892
DIED 25TH AUGUST 1980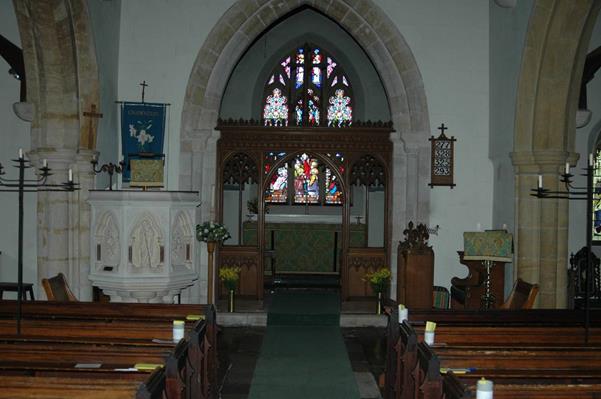 Inside Osmington Church. The brass plaque on the pulpit reads:
RESTORED IN OCTOBER 1981
 IN MEMORY OF
THE REV. & MRS H.C.FRANKS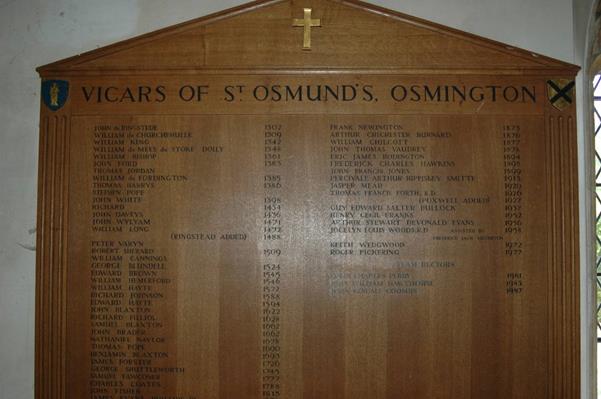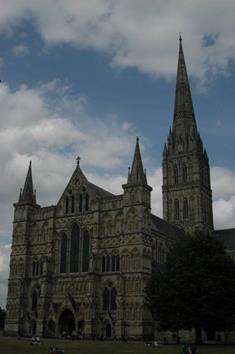 Lichfield cathedral, a popular Christmas card from Dorothy Franks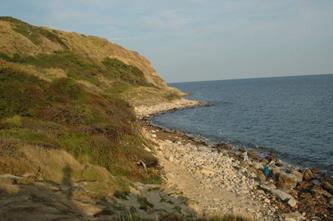 The coast from Osmington Mills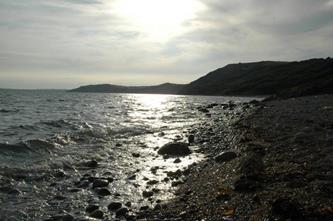 References
Military service record: Ref WO 374/25562, National Archives, Kew
Military Cross Web Ref:
http://www.london-gazette.co.uk/issues/30643/supplements/4825
Battle of Somme:
http://www.1914-1918.net/bat15.htm
War diaries at documents online national archives
WO 95/2484
WO 95/2423
1911 Census
20th (Service) Battalion (3rd Public Schools)
Formed at Epsom on 11 September 1914 by the Public Schools and University Mens Force.
26 June 1915 : attached to 98th Brigade, 33rd Division.
Landed in France in November 1915.
27 November 1915 : transferred to 19th Brigade, 33rd Division.
16 February 1918 : disbanded in France.
18th (Service) Battalion (2nd South East Lancashire)
Formed in Bury on 13 January 1915 by Lieut-Col. G. E. Wike and a Committee as a Bantam Battalion. Moved on 8 April 1915 to Garswood Park (Ashton in Makerfield) and in June 1915 to Masham.
21 June 1915 : attached to 104th Brigade, 35th Division.
Author: William Bridge, August 2010