Bronze Age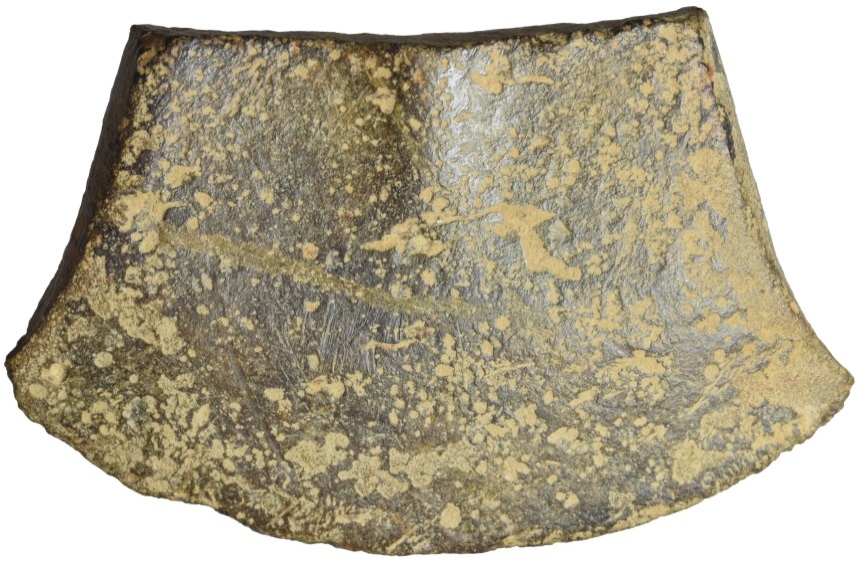 Bronze age axe (palstave), 55cm wide, from around 1500-1150 BC, found in a field between Stanwardine and Petton in 2018 by Mold Historical Search Society. Further information at British Museum website finds.org.uk .
Roman Era

Silver Roman Denarii coin hoard from around 138 AD containing images of Emperor Domitian (88 AD), Trajan (103- 111 AD), and Hadrian (117-138 AD) found in a field between Stanwardine and Cockshutt in 2017. Further info at finds.org.uk and Shropshire Star.
History of Moated Site 11th - 15th Century
Leunot was the Saxon Lord of Ruyton, Petton and Stanwardine before Domesday in 1086. After 1086 Stanwardine was in the Seigneury of Fitz Alan who also held Ruyton. Richard de Stanwardine was the sheriff at Stanwardine under Fitz Alan.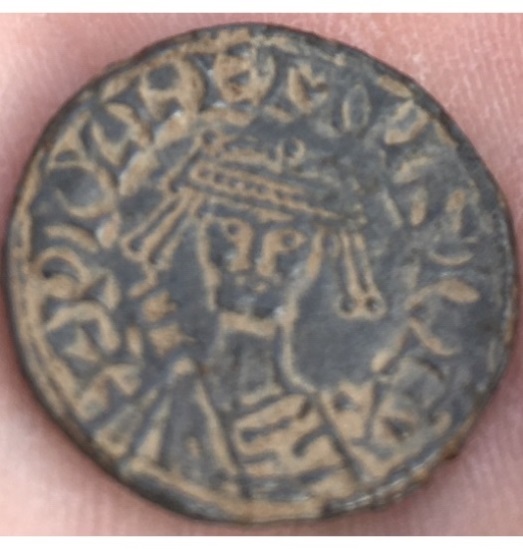 Counterfeit coin from the time of William the Conqueror. (Found in a field between Stanwardine and Weston Lullingfields by Mold Historical Search Society in 2016).
History of Stanwardine Hall 16th- 20th Century

Denston:
Following taken from Baschurch church register and gravestone inscriptions:

William Sparling Head of Petton Hall was Justice of the Peace in 1851.


Plus 17 servants
1861 William Sparling Head of Petton Hall age 83
Charles Sparling, age 47.
Plus 40 others

Stanwardine in the Wood Farm: Joseph Darlington (32), wife Eva (25), and children Marian (4), Richard (1), and Myrimia(3 mths) .

Wycheley Farm: Samuel Hockenhull (32), wife Mary (28), and three sons William, Frank, and Stanely, plus one governess and four workers.

Nill Green Farm: Thomas Jones (37) plus 5 workers.

Stone Hill: Thoma Kynaston (58), wife Betsy (57) and daughter Edith (17).

1905 Kellys Directory of Shropshire (Available at the National Archives):

Gresty John (Mrs), farmer, Stanwardine Hall

Darlington Joseph, farmer, Stanwardine house

Dovaston Richard, farmer, Nil Green

Hockenhull Samuel, farmer, Wycherley hall

Kynaston Thoms, cowkeeper, Stonehill

Sadler, Charles farmer, Nil Green



References:

1. Eyton, Ancient Antiquities of Shropshire, Volume 10.

2. Taken from a 13th century parchment held at Shropshire Local Records Office in Shrewsbury. Ref 3195/1 pg 28.

3. Gough, History of Myddle.

4. Acton, Castles and Ancient Mansions.

5. Schedule and Receipt of Deeds to William Sparling, 14th July 1839.

6. Census of 1841, 1851, 1861, 1871, 1881 and 1891 available at the Public Record Office, Chancery Lane, London.

7. Taken from gravestone at Weston Lullingfields Church.

8. Ellis Brooke Cunliffe, Description of Stanwardine attached to the back of a sketch of Stanwardine currently hanging in the Dining room.

9. Writing on the wall of the North Eastern gable second floor room.

10. International Genealogica Index (IGI) at www.familysearch.org

11. Weyman. Members of Parliament for Shropshire, page 140-141.

12. Wendy Jones, Cockshutt and Petton Remembered, page 224.

13. T.H.G. Puleston, A History of Fox-hunting in the Wynnstay Country and Part of Shropshire. 1893 (Reprinted 1993). Page 190.

14. Sir Thomas Scriven http://www.historyofparliamentonline.org/volume/1660-1690/member/scriven-richard-1625-83




Description of Stanwardine Hall


The following notes are taken from the book 'Old Shropshire Houses and their Owners', by H.E. Forrest.

Stanwardine Hall is mainly E-shaped in plan built with red sandstone brick from Grinshill and with stone facings and mullioned windows. The bricks are of the small Elizabethan type and beautifully mellowed by age. The house is three storeys and presents three gables to the front, the centre one forming a porch of equal height with the others. At the top is a stone carved with the Corbet crest, the elephant and castle, whilst lower down above the porch , is a shield with a coat of arms and crest of the same family. Above the right hand gable is a weathercock with the Corbet badge, the raven. On entering the house we find that the great hall has been partitioned into three rooms. Round the top runs a deep frieze with plaster ornaments in relief exhibiting a series of blank shields with scrolls or knots between them and trailing vines. There are two staircases of solid oak blocks, one spiral with central newel post, the other ascending with short rectangular flights. Many of the rooms are oak panelled, but the wainscot appears to have been put in at various dates. A double panel with carved border in the dining room exhibits on the left side

1588

C

RI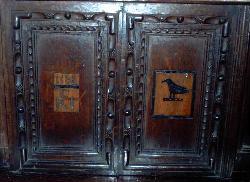 The initials are those of Robert Corbet (builder of the hall) and his wife Jane.

On the right side of the panel is the raven.

Another room adjoining has larger panels and a mantel-piece with Jacobean ornamentation, all, apparently Charles I period.

A low room above the kitchen has a square stone let into the wall on which is carved

Sr I W

Knt & Bat

1713

i.e. Sir John Wynn, Knight and Baronet.

The floors are of oak and are said to be four inches thick. Bagshaw writes in his gazetter, 'In the front of the hall is a pedestal of stone upon which is affixed a sundial; on the plate which is of silver, is a beautiful engraving and some fine tracery bearing the arms of the Corbets and the Wynns, and the date 1560'. He is mistaken in regard to the Wynn arms - they do not appear anywhere at Stanwardine. Sadly the silver plate was taken to Petton Hall while the Cunliffes were owners in the late19th and early 20th century and it has since disappeared.

The front door is original, as are its knocker and handle and the fastenings of the windows.

Sketch and Photographs of Corbet Crest above porch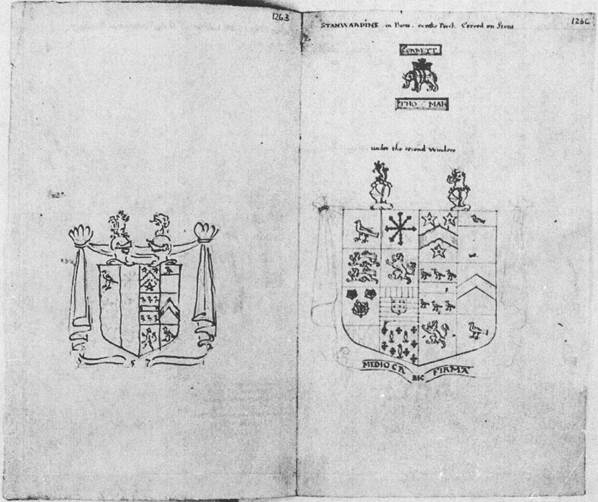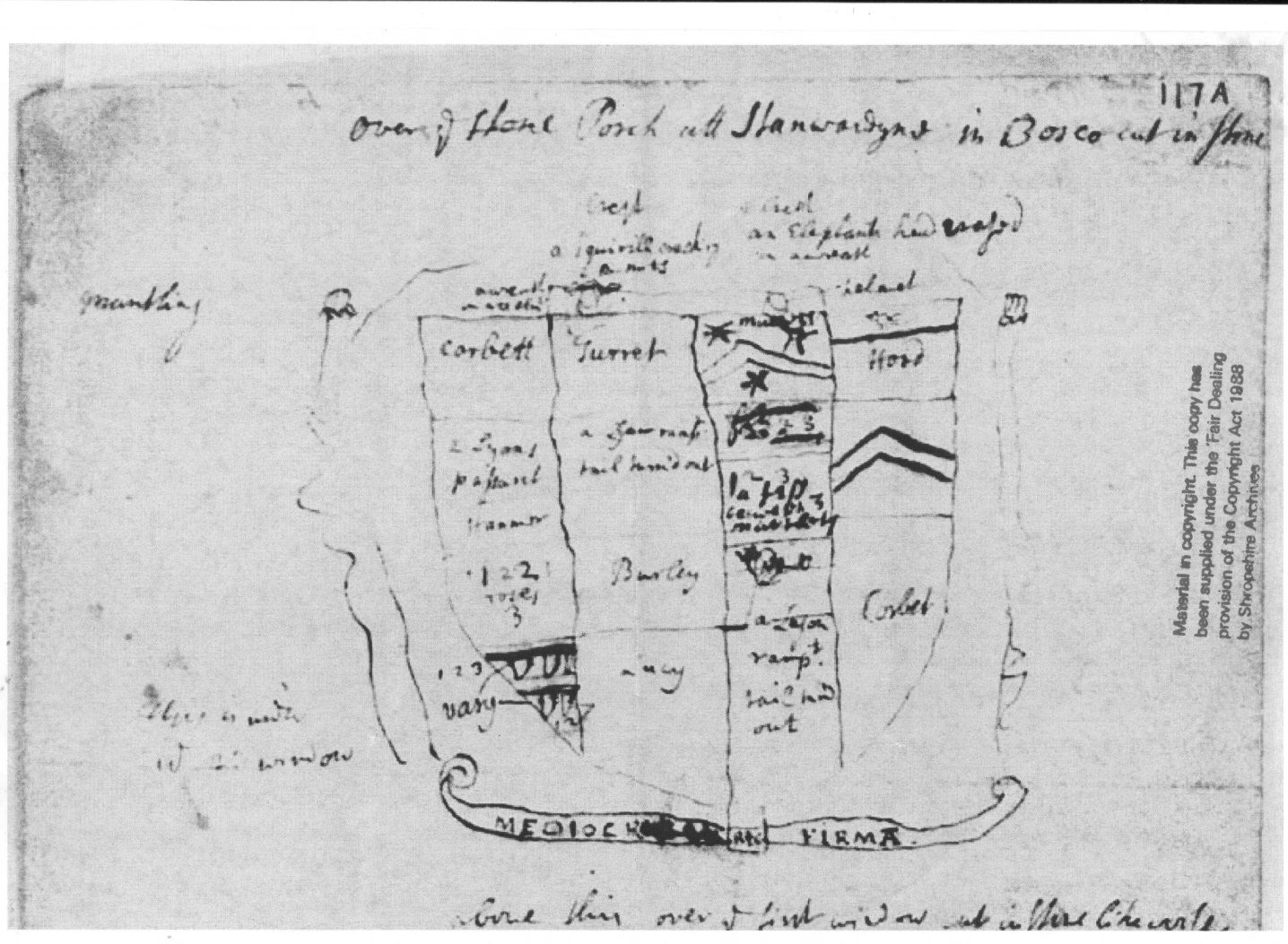 Above is an 18th century sketch of the stone crest above the porch.
It shows the Raven of the Corbet, and also heraldry for Hord who owned Stanwardine in the 15th century and who Jane Kynaston (who married Robert Corbet) was a descendant of.
The inscription at the bottom reads 'Mediocra firma'- i.e., 'The middle way is the best'.
Ref: Shropshire Archives: SA-IMG163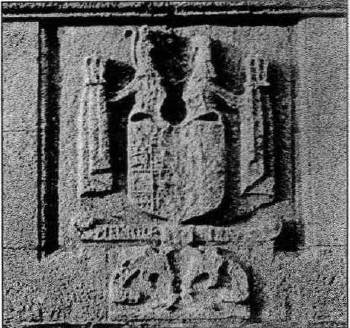 Photograph of crest in 2006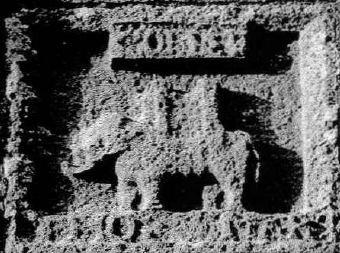 Photograph of Elephant & Castle with the name CORBET above and THOMAS & MARGARET below.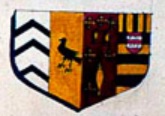 Crest in the window of a bedchamber

Source: 18th century document at Shropshire archives: Ref: SA-IMG2179. NB: The Crest is no longer present.

1560 Sundial

"In front of Stanwardine Hall, near Baschurch, Shropshire, a fine old Elizabethan mansion, now converted into a farmhouse, stands a pillar-dial, having a silver plate. The dial is circular and horizontal, drawn in a square; and the four vacant corners of the square are occupied by two couplets; and below, on one side, by an elephant with a castle on his back; and in the opposite corner is a squirrel sitting up and eating. In the centre of the plate there is a stanza of four lines, and beneath is a bird on a shield, with the date, "anno 1560."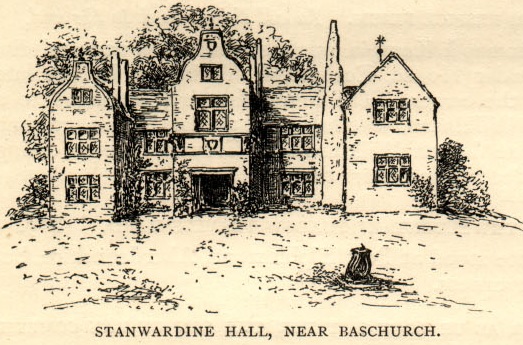 Ref: A. Gatty with H.K.F. Eden & E. Lloyd (Eds): The Book of Sun-Dials, 4th edition, Bell & Sons, London (1900). http://digital.library.upenn.edu/women/gatty/sundials/294-150.jpeg

There is a very detailed article on 'The Stanwardine Hall Dial' by Dr John Davis & Harriet James of the British Sundial Society which shows photographs of the dial and a reconstructed line drawing. The article states it is the 'third earliest metal garden horizontal dial in the country and the earliest not in a museum'. The hour lines of the sundial (which vary with latitude) were also apparently drawn with a great degree of accuracy with a 'standard deviation of only 0.273° showing a high degree of competence in the delineation'.
Ref: J. Davis & H. James: 'The Stanwardine Hall Dial', BSS Bulletin, Volume 18(iii), pp99-106, (September 2006).
http://sundialsoc.org.uk/bulletin-contents/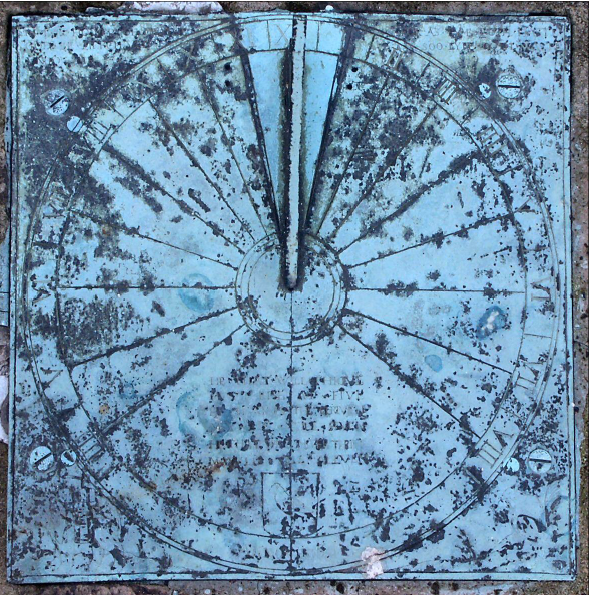 Photograph of the sundial kindly provided by Dr John Davis of the British Sundial Society

Inscriptions on sundial:





The sundial was removed from Stanwardine in the early 1900s and is now in Norfolk.


Historic Building Report by Garry Miller, Architectural Historian
1 – Rational & Historical Background
3 – Plan and Construction
4 – Exterior Survey
5 – Interior Survey
6 – Roof Structure and attic, and 7 – Evolution of Stanwardine Hall
8 – The Farm Buildings
9 – Appendices
10 – Photographic Plates

Survey by Andor Gomme published in the September 1988 magazine for the Annual Conference of the Society of Architectural Historians of Great Britain.



If you have any queries please send me, William Bridge, an email at williambridge@stanwardine.com



Home