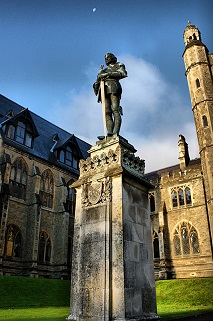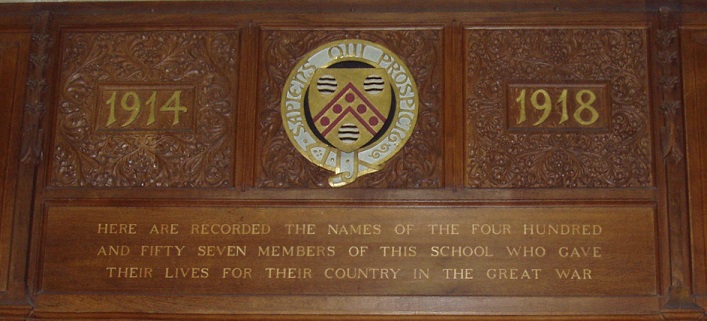 Statue of St George which is inscribed 'To Our Brothers', and oak panel memorial inside the chapel.
The following is a list with biographies of the 462 people who attended Malvern College and died due to the First World War. Altogether 2,833 are known to have served. There is also a corresponding page commemorating the 248 casualties in the Second World War.
There was not a month from August 1914 to November 1918 that an Old Malvernian did not become a casualty, with 6 killed on the first day of the Battle of Loos on the 25th September 1915 and 13 killed on the first day of the Battle of the Somme on the 1st July 1916.
The vast majority of casualties occurred in France and Belgium with 31 names recorded on the Menin Gate at Ypres, and 23 at Thiepval. There were also 23 casualties in Turkey due to the Gallipoli Campaign, and 16 in Iraq, including 2 near Kut.
They were in a wide range of regiments including 26 in the Royal Field Artillery, 13 in the Royal Engineers, 12 in the Worcestershire Regt, 11 in the Canadian Inf, 11 in the East Kent Regt (The Buffs), and 5 in the Royal Flying Corps and the Royal Air Force.
Most were officers with 133 Captains, 126 2nd Lieutenants, 114 Lieutenants, 26 Majors, and 15 Lieutenant Colonels.
29 received the MC, 10 the DSO and 1 the DCM, as well as 3 knighthoods (the CB, CMG, and MVO).
The information below is based primarily on the memorial books held at Malvern College which Ian Quickfall, and now Paul Godsland, the Malvernian Society archivists, have arranged to be digitised with the official memorial web site still in development.
Further information was also obtained from 'The Malvern College Register 1865-1924' edited by H.G.C Salmon, 'The Malvernian' school magazine, 'A History of Malvern College 1865 to 1965' by Ralph Blumenau, and 'Malvern College: A 150th Anniversary Portrait' by Roy Allen.
Information was also obtained from the Commonwealth War Graves Commission website, the Unit War Diaries and Service Records held at the National Archives in Kew, and various online commemorative websites whose links have been provided.
The main battles have tried to be identified in which Old Malvernians died in. Many though were killed in the general attrition of Trench Warfare which is so vividly described in the book 'Nothing of Importance' by Bernard Adams.
Below is a map showing the locations of the 246 cemeteries where Old Malvernians are buried or commemorated in. The markers are coloured yellow for one casualty, orange for between 2 and 9, and red for 10 or more. The name of the cemetery and number of casualties can be seen by hovering over the marker, and the list of names seen by clicking on the marker. Their full biographies and pictures can be seen by clicking on 'Further Info'.
The records can be filtered and/or sorted by name, house, age, regiment, battle, date, place etc by clicking on the appropriate drop down box and then the 'Search' button below the map. The original memorial book entry can be seen by clicking on the person's picture.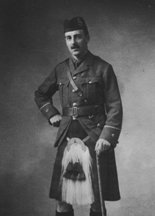 House: No 5, 1896 - 1901. Regiment: Black Watch.
Died: 25 September 1915 aged 33 in France. Killed in action at Loos.
Battle:
Battle of Loos
. Cemetery:
Loos Memorial
P 78-83
Born 9th July 1882. Son of Leslie M. and Jeanie Amelia Balfour-Melville, of New Club, Edinburgh and 4 Thistle Court, Edinburgh.
Upper IV—V. School Prefect. XI Football 1898-1900 (captain); XI Cricket.
Oriel College, Oxford; B.A. 1906; played Association Football v. Cambridge 1902-05 (captain).
Chartered Accountant.
Address: 3 Learmouth Terrace, Edinburgh
3rd Bn. Attd. 2nd Bn. Black Watch (Royal Highlanders).

He played football for Oxford University, captaining the side in 1905. A talented cricketer, he kept wicket for Scotland. He was a chartered accountant.

'In the last year of his life, when he had joined the Army, he lost much of his shyness, and "came out" a great deal, so that people came to know and appreciate him. A letter from his Commanding Officer testifies to his great popularity with officers and men. It continues: "He was sniped through the head and killed instantaneously at the furthest point reached by the regiment in their charge. To have kept his men together, and reached such a point is a feat of gallantry and dash beyond all praise." He was killed in France on September 25th aged 33". ' (Malvernian, Nov 1915).

Service record:WO 339/4981 Surrey in the Great War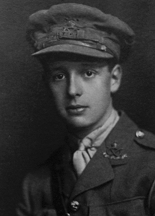 House: No 1, 1911 - 1913. Regiment: South Staffordshire Regt.
Died: 25 September 1915 aged 19 in France. Killed in action at Loos.
Battle:
Battle of Loos
. Cemetery:
Loos Memorial
P 73-76
Born 10th June 1896, Tamworth, The Common, Mitcham, Surrey
Son of Henry Peters Bone (Member of the stock exchange) and Lilian Maude Bone formerly Watney, of 5, Hamilton Mansions, Hove, Sussex, and 28 Adelaide Crescent, Hove.
Upper IV B—Science II.
R.M.C. Sandhurst; 1st Bn. South Staffordshire Regt. 1915.

'Probably few of the fellows, even those in his own House, got to know Harry Bone well; self-contained and fond of working at his own hobbies he made few friends; but those who penetrated below the surface of his affected indifference knew him for what he really was, a sound, clean-minded, honest English school-boy. When he joined his regiment in France, he at once showed the real grit that was in him; he was popular with his brother officers, and his men were devoted to him. In the charge in which he lost his life, the Allies cut right through the German lines, but only one officer was left to return with the tale. He was killed in France, September 25 — 27, aged 19.' (Malvernian, Nov 1915).

Brother: Cyril Bone (age 11).

Service record:WO 339/42473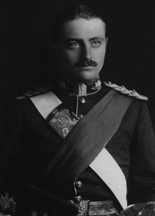 House: No 4, 1901 - 1905. Regiment: Kings Own Scottish Borderers.
Died: 25 September 1915 aged 29 in France. Killed in action at Loos.
Battle:
Battle of Loos
. Cemetery:
Loos British Cemetery
XVII E 18
Son of Ralph W and Florence G Maxwell, c/o Grindlay & Co. b. 1886.
Shell—Lower VI. School Prefect. Ledbury Cap.
Exeter College, Oxford; B.A. 1909; King's Own Scottish Borderers 1908; Captain 1915. Great War (overseas), with 6th Batt.

'He was a boy of unaffected nature and a most engaging personality. A graduate of Exeter College, Oxford, he entered the Regular Army and was promoted Lieutenant in the K.O. Scottish Borderers in 1909. He became Captain in the Army in April last and served as temporary Major of the 6th Bn. from Dec. 1914. He was a keen soldier and (as his father writes) by falling in action met the death which he preferred. He was killed in France during the heavy fighting on Sept, 26th.' (Malvernian, Nov 1915).

Medal card: WO 372/13/182931
House: No 2, 1905 - 1909. Regiment: Royal Field Artillery.
Died: 25 September 1915 aged 24 in France. Killed in action near Neuve Chapelle.
Battle:
Battle of Loos
. Cemetery:
Loos Memorial
P 3
Son of Sir Hugh Murray, CLE., Morleys, Henfield, Sussex, and Bramble Hill Lodge, Lyndhurst, Hants b. 1891.
Army III—I. School Prefect. Head of House. XI Cricket; XI Football. Cadet Officer.
R.M.A. Woolwich; R.F.A. 1911; 61st Bty. 131st Bde. Royal Field Artillery; Captain 1915.
Great War. Despatches (2).

'He went to France with the Expeditionary Force in August, 1914, serving throughout the war until the day of his death in action. Originally appointed to the 46th Field Battery, he served during the early part of the war as orderly officer to the colonel of the brigade, and was subsequently transferred to J Battery, R.H.A., and later to the 61st Battery, R.F.A.
On the morning of September 25th, near Neuve Chapelle, whilst accompanying the advancing troops in order to find a new observing station for his guns, he was mortally wounded by a shell and was left behind during the subsequent retreat. He was mentioned in despatches in connection with the first battle of Ypres.
All who knew him when he was at Malvern will remember his radiant cheerfulness, his keen sense of humour, his readiness to help those who needed help, and his enthusiastic interest in the general life of the School. At the front he endeared himself to his Commanding Officer and to his men, by whom he has been spoken of with real affection.' (Malvernian, Dec 1915).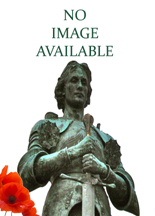 House: No 1, 1903 - 1905. Regiment: Yorkshire Regt.
Died: 25 September 1915 aged 27 in France. Killed in action.
Battle:
Battle of Loos
. Cemetery:
Loos Memorial
P 44/45
Born: Jan 9th 1888. Son of J. Richardson, 94 Sydney Place, Bath and Sneaton Hall, Whitby.
Army IV—II.
Yorkshire Regt. 1908; Lieutenant 1911.
Great War, 2nd Bn. Yorkshire Regiment.

'It was reported that a few Germans were actually in the Quarry and a bombing section under Lt Hill was despatched to deal with them. Lt Hill was almost at once reported shot and the company then, still believing, the enemy could be but few in number, sent Lt Brooksbanks platoon to clear them out. However a message soon came back from the platoon to say that there must be quite 50 of the enemy in the place & that Lt Brooksbank had been wounded.
D Coy under Capt Richardson was just about to withdraw & was ordered to clear the Quarry with B Coy to support it. Capt Richardson was mortally wounded as he rose to move.' (Unit War diary).

'Informant states that on Sept 26th 1915 at Loos, about 2 o'clock am, orders were given to fix bayonets, and to proceed down the 1st Quarry from the British Lines at Loos in order to clear them, and whilst in the quarries informant was in close proximity to Captain Richardson, and heard him fall and make exclamation in agony. Informant reports that Captain Richardson was shot. The trenches were afterwards retaken by the enemy and informant saw no more of the body, being injured himself.' (Reference: Sergt I Sales. 6392, 2/19 Yorks Regt, D Co., Lily Lane Hospital, Manchester, October 27th 1915).
Commemorated at St. Mary's Church, Whitby

Service record:WO 339/7013
Unit War Diary:WO 95/1659/4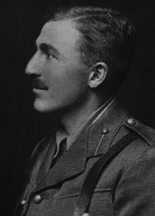 House: Sch, 1901 - 1906. Regiment: Ox & Bucks Light Inf.
Died: 25 September 1915 aged 28 in France. Killed in action at Givenchy.
Battle:
Battle of Loos
. Cemetery:
Loos Memorial
Panel 83 to 85.
Son of Rev. R. W. Vidal, Bayford Vicarage, Hertford, b. 1887.
Upper V—VI. Minor Scholar. School Prefect. President of Debating Society. President of Athletics. XI Cricket 1905,06; XXII Football; Ledbury Cap.
Exhibitioner and Heath Harrison Exhibitioner, Brasenose College, Oxford ; B.A. (Fourth Class History) 1909.
Assistant Master at Radley College 1909.
Great War, 2nd Lieutenant Oxford and Bucks L.I. 1914.
3rd Bn. attd. 2nd Bn. Oxford and Bucks Light Infantry (Surname shows as Vidall in the cwgc website.)

'He went to Brasenose with a Heath Harrison Exhibition in 1906, took his degree in 1909, and had been a master at Radley from that time till the war broke out, when he took a commission in the Oxford and Bucks Light Infantry. He was five months at the front, went through the second battle of Ypres in the spring, and was killed by a shell on Sept. 25th at Givenchy. Full of vigorous life, simple and straightforward, he had a splendid influence over the many friends whom he has left behind him; he had grown steadily in all that goes to make a noble character. (S.R.J.). A friend who was in the School House with him writes: '-To say that he was an athlete, a man of warm affections and wide interests, in fact what is called 'a good fellow,' is to say only half.
Like his School House friend Clegg, who has also been killed in action, Vidal had, besides all that, a strong and purposeful mind. It was this combination that made him a leader among Malvernians."' (Malvernian, Dec 1915).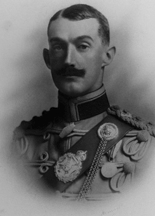 House: Sch, 1898 - 1899. Regiment: 33rd Punjabis (I.A.).
Died: 01 October 1915 aged 31 in France. Died of wounds received at Fauquissart.
Battle:
Battle of Loos
. Cemetery:
Merville Communal
V A 21
Son of Colonel H. A. Vincent, Inverdon, Ayr. b. 1884.
Modern III—Army IV.
R.M.C. Sandhurst; The King's Liverpool Regt. 1903; Indian Army (33rd Punjabis) 1908; Captain 1912.
Great War, died of wounds received at the battle of Loos, October 1, 1915; Despatches.

'He took part in the Battle of Loos 25 Sept 1915, when the Bareilly Brigade (of which the 33rd Punjabis was a unit) captured the German trenches at Fauquissart; was seriously wounded in the lungs by a bullet while gallantly rallying his men against a strong German counter-attack, and died as result of his wounds on 1 Oct. 1915. Buried Merville, France. His Commanding Officer wrote: "The very high opinion I had of your son and the great esteem and affection he was held in by everybody . . . He was an untiring worker, and most unselfish and self-denying. . . . Above all, he was a perfect gentleman in the very best meaning of the word," and other: "I commanded his regiment for nearly a year and saw much of him. I know what a splendid officer he was and how conscientious and hard-working. A thorough gentleman in every sense of the word and a very gallant soldier. His loss will be very much felt in the regiment." "I personally only saw him for a few minutes during the action, when he was behaving with the greatest gallantry — as all of us who knew him expected he would. . . . I cannot tell you how grieved we all are. . .. He was respected and loved by everyone in the regiment. I would like you to know he will be very sorely missed, and that we all admired and loved him." A finer and more loyal character I have never met, His devotion to duty was almost a by-word in the regiment. . . . He died as he had always lived—a very gallant gentleman."' (De Ruvigny).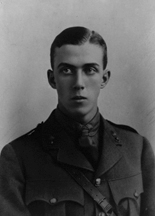 House: No 9, 1908 - 1913. Regiment: Royal Field Artillery.

Died: 03 October 1915 aged 21 in France. Killed in action.

Battle:

Battle of Loos

. Cemetery:

Le Touret Memorial II H 28

Born May 19th 1894. Son of Rhodes and Louie Hebblethwaite, of Highthorne, Husthwaite, Yorks.
Upper Shell—Science I. School Prefect. Editor of Malvernian. XXII Cricket; XL Football; Ledbury Cap.
King's College, Cambridge.
Great War, Private 18th Hussars 1914; 2nd Lieutenant R.F.A.
88th Bty. Royal Field Artillery.
Address: St Helen's, Fulford Rd, Scarborough.

'At the outbreak of war he enlisted in the 18th Hussars, and subsequently obtained a commission in the Artillery. He was killed by a high explosive shell in France on the 3rd of October. His Colonel wrote of him that he "had the makings of an excellent officer; he was very keen and energetic, liked by his brother officers and his men, and I feel that the Brigade of the R.F.A. have lost an excellent officer." He was somewhat delicate when he came to Malvern, but soon outgrew that, and played a prominent part in every phase of school life. Quiet and reserved in manner, thoroughly reliable in every way, he exercised an influence which was wholly good.' (Malvernian, Nov 1915).

Service record:WO 339/18899


No of records: 8. View all 462 records Second World War


Book: Paperback and Kindle at Amazon epub