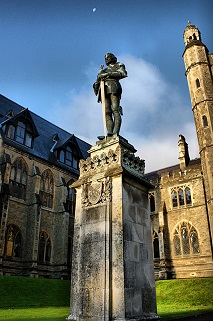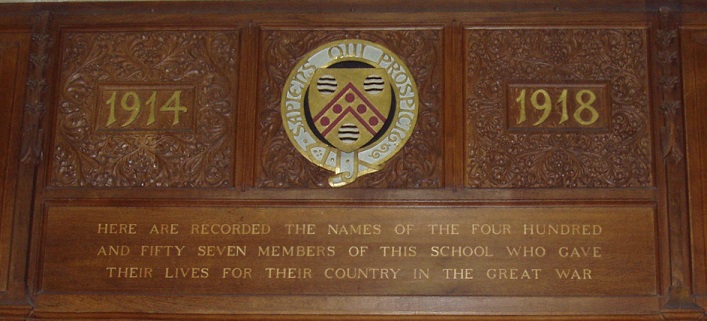 Statue of St George which is inscribed 'To Our Brothers', and oak panel memorial inside the chapel.
The following is a list with biographies of the 462 people who attended Malvern College and died due to the First World War. Altogether 2,833 are known to have served. There is also a corresponding page commemorating the 248 casualties in the Second World War.
There was not a month from August 1914 to November 1918 that an Old Malvernian did not become a casualty, with 6 killed on the first day of the Battle of Loos on the 25th September 1915 and 13 killed on the first day of the Battle of the Somme on the 1st July 1916.
The vast majority of casualties occurred in France and Belgium with 31 names recorded on the Menin Gate at Ypres, and 23 at Thiepval. There were also 23 casualties in Turkey due to the Gallipoli Campaign, and 16 in Iraq, including 2 near Kut.
They were in a wide range of regiments including 26 in the Royal Field Artillery, 13 in the Royal Engineers, 12 in the Worcestershire Regt, 11 in the Canadian Inf, 11 in the East Kent Regt (The Buffs), and 5 in the Royal Flying Corps and the Royal Air Force.
Most were officers with 133 Captains, 126 2nd Lieutenants, 114 Lieutenants, 26 Majors, and 15 Lieutenant Colonels.
29 received the MC, 10 the DSO and 1 the DCM, as well as 3 knighthoods (the CB, CMG, and MVO).
The information below is based primarily on the memorial books held at Malvern College which Ian Quickfall, and now Paul Godsland, the Malvernian Society archivists, have arranged to be digitised with the official memorial web site still in development.
Further information was also obtained from 'The Malvern College Register 1865-1924' edited by H.G.C Salmon, 'The Malvernian' school magazine, 'A History of Malvern College 1865 to 1965' by Ralph Blumenau, and 'Malvern College: A 150th Anniversary Portrait' by Roy Allen.
Information was also obtained from the Commonwealth War Graves Commission website, the Unit War Diaries and Service Records held at the National Archives in Kew, and various online commemorative websites whose links have been provided.
The main battles have tried to be identified in which Old Malvernians died in. Many though were killed in the general attrition of Trench Warfare which is so vividly described in the book 'Nothing of Importance' by Bernard Adams.
Below is a map showing the locations of the 246 cemeteries where Old Malvernians are buried or commemorated in. The markers are coloured yellow for one casualty, orange for between 2 and 9, and red for 10 or more. The name of the cemetery and number of casualties can be seen by hovering over the marker, and the list of names seen by clicking on the marker. Their full biographies and pictures can be seen by clicking on 'Further Info'.
The records can be filtered and/or sorted by name, house, age, regiment, battle, date, place etc by clicking on the appropriate drop down box and then the 'Search' button below the map. The original memorial book entry can be seen by clicking on the person's picture.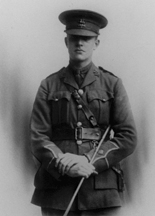 House: No 6, 1909 - 1913. Regiment: East Kent Regt. (The Buffs).
Died: 10 October 1915 aged 21 in Belgium. Died of wounds at Poperinghe.
Cemetery:
Poperinghe New Cemetery
I C 26
Born: 14th November 1894, Dene Wood, 33 Daleham Gardens, Hampstead. Father Managing director of a Public Company.
Son of Colonel A. S. Barham and Annie Gertrude Barham formerly Edwards, Hole Park, Rolvenden, Kent.
Middle IV A—Matriculation Class. House Prefect. Shooting VIII 1912,13.

Went to Clare College, Cambridge. Lived at 5 Green Street, Cambridge.
Applied for Commission in May 1914 in 3rd Btn, East Kents (The Buffs).
Attached to 1st Bn, The Buffs.

'During November 1914 he was transferred to the 1st Batt. In France, and was subsequently promoted Captain, His Colonel writing of him says: "He is the greatest loss to his regiment. He was only a boy, and yet he possessed the reliance and assurance of men twice his age. When I decided to place him in command of his Company with subalterns under him ten or even fifteen years older than he, I was much impressed by the way in which he came to the fore and accepted his responsibilities. He commanded his Company in a way that proved that he was a commander of exceptional merit. He was thoroughly reliable and dependable in every respect, and full of sound common sense. He was always cheerful, and did his best to impart his high spirit to those under him." He died of wounds in France on October 10th, aged 21.' (Malvernian, Nov 1915).

The Wilfred Barham Exhibition was founded in his memory.

Service record:WO/339/14067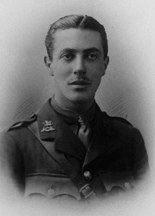 House: No 3, 1903 - 1907. Regiment: East Kent Regt. (The Buffs).
Died: 03 July 1916 aged 27 in France. Killed in action near Albert.
Battle:
Battle of the Somme
. Cemetery:
Aveluy Communal Extension
F 42
Born 27th October 1889 at 2 Church Road, Ashford. Son of Henry James Bracher (Solicitor) and Marian Alexandra Bracher formerly Neale, of Church House, West Malling, Kent, and of Clock House, Lunton, Kent, and 33 Earl Street, Maidstone.
Upper IV B—Matriculation Class. House XI Cricket.
Occupation: Solicitor.
Corporal of D Coy, 19th Batt, Royal Fusiliers from 2nd Sept 1914 to 15th May 1915. 6th Bn. The Buffs (East Kent Regiment).

'Guy Bracher will always be remembered here for his splendid vitality: he was thoroughly keen and took a wholly unselfish interest in all that concerned the school. In his subsequent career he showed the same perseverance and activity. He received a commission in the Buffs (East Kent Regiment), and was killed in action.' (Malvernian, Jul 1916).
Biography at Wikipedia
Service record:WO 339/3610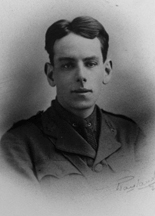 House: Sch, 1903 - 1907. Regiment: East Kent Regt. (The Buffs).
Died: 28 March 1918 aged 29 in France. Killed in action.
Battle:
German Spring Offensive
. Cemetery:
Pozieres Memorial
P 16
Born: June 9th 1889, 117 Piccadilly. Son of H. E. Hoare, Bix, Henley-on-Thames.
Lower Shell—Middle V.
Farmer in British East Africa.
Great War, 2nd Lieutenant King's African Rifles; invalided; Private A.S.C.; 2nd Lieutenant 6th Bn. The Buffs (East Kent Regiment).

'He was in East Africa when the war broke out. After getting a commission and serving there, he was invalided out, came home in 1916, and, after several rejections on account of health, obtained a commission in the Buffs, and went to the front on December 30th of last year. He was killed in action March 27th. Evelyn Hoare never made much mark at School, but showed some determination and independence. He had a strong sense of humour, and was a pleasant companion, but took an unusually long time to grow out of childhood. After he left, he developed rapidly.' (Malvernian, Jun 1918).

Service record:WO 339/83359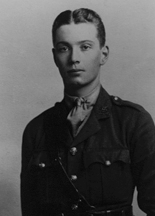 House: No 3, 1911 - 1914. Regiment: East Kent Regt. (The Buffs).
Died: 07 July 1916 aged 19 in France. Killed in action at the Somme.
Battle:
Battle of the Somme
. Cemetery:
Aveluy Communal Extension
F 68
Son of Harold and Adele Lea-Smith, of Heathfield Houses, Windmill Rd., Wimbledon Common and Gothic Lodge, Wimbledon Common, S.W. b. 1897.
Upper V—Matriculation Class. Minor Scholar. XXII Football.
Magdalen College, Oxford.
Great War, Private Middlesex Regt. 1914; Lieutenant 6th Bn. The Buffs (East Kent Regiment).

'Full of vigorous life, Leslie Lea-Smith showed great promise in his school days. He was a delightful companion, particularly attractive for his sturdy independence. He answered his country's call for the first 100,000 men by enlisting in the Public Schools Battalion (16th Middlesex), where he obtained two stripes. In February, 1915, on his 18th birthday, he received his commission in the "Buffs" (East Kent Regiment). He was wounded in the Hohenzollern crater fighting in March, 1916, and many will recall his graceful figure and imperturbability from the following account which appeared in the "Daily Chronicle": "When all the men in one of these infernal craters were dead or wounded, Lieutenant Lea-Smith ran forward with a Lewis gun, and served it during a fierce attack by German bombers until it jammed. Then he left the gun and took to bombing, and that single figure of his flinging grenades like an overarm bowler kept the enemy at bay until reinforcements reached him." For this act of heroism he was mentioned in despatches. He was killed in action on July 7th, and his Colonel writes: "He was quite the most gallant boy I have known, and his fearlessness almost amounted to recklessness, so great was his utter disregard of danger. His loss to the Battalion is irreparable, and he will be truly mourned by both officers and his men who were devoted to him, as their comfort was always his first thought."' (Malvernian, Jul 1916).
Biography at Merton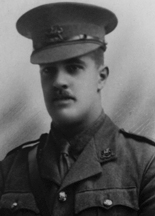 House: No 2, 1910 - 1913. Regiment: East Kent Regt. (The Buffs).
Died: 01 November 1914 aged 19 in France. Killed in action at Ypres.
Battle:
First Battle of Ypres
. Cemetery:
White House Cemetery St Jean Les Ypres
III P 30
Born 5th August 1895. Son of Sir Francis Ley, Bt., Epperstone Manor, Notts, and Lady Ley of Lealholm Lodge, Lealholm, Yorks.
Upper IV A—Army II. House Prefect. House XI Football.
R.M.C. Sandhurst; East Kent Regt. 1914. Attached 1st Bn. Lincolnshire Regiment.

'At the end of September he was gazetted to the Buffs and was with the Reserve Battalion at Dover till Oct. 24th, when in answer to an urgent call he was sent to the front to be attached to the 1st Battalion of the Lincoln Regt. He had been at the front only five days when he fell. The Lincolns had advanced during the night to a position which proved to be extremely precarious, and at daybreak, owing to the enemy's rifle and artillery fire, were forced to retire. A few minutes before the retirement began, he was shot through the heart. So a most promising career has come to an untimely end. He had the makings of a first-rate officer; always energetic, intelligent, and exceptionally smart, he threw himself wholeheartedly into his work. He was one of the best of fellows, and his simplicity of character and cheerful disposition won him many friends. He made his mark at School as an athlete. Though heavily built, he was a fine sprinter and jumper. Few will forget the great struggle in the Sports of 1913 when he lost the Champion Cup by one mark.' (Malvernian, Dec 1914).

He was killed at Wystchaete, near Ypres, while endeavouring to assist his wounded men in a retirement.

The Maurice Ley Scholarship was founded in his memory.
Bond of sacrifice at IWM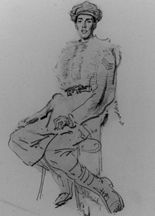 House: Sch, 1900 - 1902. Regiment: East Kent Regt. (The Buffs).
Died: 18 March 1917 aged 31 in France. Killed in action.
Cemetery:
Maroc British Cemetery Grenay
I P 4
Son of William Milford Norsworthy and Henrietta Threlfall Eve, Yealmpton, Plymouth, b. 1886.
Ill—Shell.
Artist.
Great War, Private Public Schools' Batt. 1914; 2nd Lieutenant The Buffs 1916.
Husband of Ernestine Norsworthy (nee Evans), of 14, Trafalgar Studios, Manresa Rd., Chelsea, London.

'Owing to ill-health he left School early and was sent to St. Ives, Cornwall, where he met many artists and took up art. After a short time at Bushey he came under the influence of Mr. Augustus John, Mr. Frank Brangwyn, R.A., and the late Mr. Swan, R.A. During a visit to Liverpool he made many drawings in sepia of the Cathedral while it was in course of construction, a number of them being exhibited in the Walker Art Gallery, Liverpool, and at the various exhibitions in London. A large landscape of his, "The Vista," which showed the good use he had made of four winters passed in Italy, was hung in last year's Royal Academy. At the outbreak of war he joined the Public Schools Battalion, Royal Fusiliers, and spent the winter of 1915-16 in the trenches, gaining sergeant's stripes. He obtained a commission in the Buffs, and was killed in action four weeks after returning to the front.' (Malvernian, Jun 1917).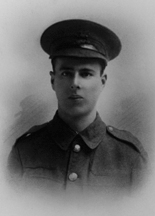 House: Sch, 1908 - 1911. Regiment: East Kent Regt. (The Buffs).
Died: 28 April 1918 aged 26 in Belgium. Died of wounds near Ypres.
Cemetery:
Esquelbecq Military Cemetery
I A 32
Son of L . F. and Marie Sitzler, Highbury House, Surbition. b. 1892.
Lower Shell—Matriculation Class.
Agricultural College, Wye.
Great War, Private, 1st Bn. The Buffs (East Kent Regiment).

'Gustavus Sitzler, the youngest of four brothers who were in School House, was a strange mixture of dreaminess and energy. He had many interests, but no great capacity, and the result was not a great success in school life. But it was impossible not to feel that his intentions were of the best, and not to respect his obvious desire to do right. There are those who will remember the keenness with which he strove to become a successful speaker in the "Debating Society," and to make himself a long-distance runner.' (Malvernian, Jun 1918).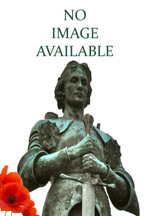 House: Sch, 1873 - 1874. Regiment: East Kent Regt. (The Buffs).
Died: 13 October 1915 aged 53 in France. Killed in action near Hullock Quarries.
Cemetery:
Loos Memorial
P 15-17
Son of Rev. Charles Soames, Rector of Mildenhall, Marlborough, and Lydia Gordon Soames. b. 1862.
Raised Corps (Bushmanland Borderers) in Cape Colony during South African War 1901—2 Despatches, Medal, D.S.O. 1902.
Great War, Major 6th Bn. The Buffs (East Kent Regiment).

'Trenches. 13.X.15. At 1pm a smoke cloud was created along the line. By about 2pm all the smoke had cleared.
At 2.15pm the order was given to charge. The men were met with a terrific fire, machine guns on three sides, while the Germans were lying on their parapets giving rapid fire. The three coys were practically wiped out.
Major Soames was one of ten officers killed, along with 400 other ranks.' (Unit War Diary).

Service record:WO 339/14769
Unit War Diary:WO 95/1860/1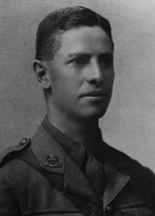 House: No 9, 1903 - 1909. Regiment: East Kent Regt. (The Buffs).
Died: 23 October 1914 aged 23 in Belgium. Killed in action.
Cemetery:
Ploegsteert Memorial
P 2
Son of F. E. Thornhill, Cross Hall Lodge, St. Neots, Hunts, b. 1891.
Lower IV—Modern I. House Prefect.
Trinity College, Cambridge; B.A. 1913; East Kent Regt. 1912. 1st Bn. The Buffs (East Kent Regiment).
Great War, Lieutenant 1914. M.C., Despatches.

'Robert Thornhill went up to Trinity, Cambridge, and after taking his degree obtained a commission in the East Kent Regiment in 1912. He took part in the early campaigns, was mentioned in Despatches, and was one of the first recipients of the Military Cross. He was reported wounded and Missing in October 1914, and, as nothing further has transpired, he is now presumed to have been killed. He was one of those keen, cheerful boys who contribute so much to the life of a House. He gave of his best at School, as he did afterwards on the battle-field.' (Malvernian, Dec 1919).

M.C. Citation:
"On the 23rd October, 1914, Thornhill and his platoon were sent forward to reconnoitre a gap in the line where the enemy had pushed the 2nd York and Lancs out of some trenches. There appeared to be no enemy in the gap and Thornhill and his men rushed forward to secure the trench. Unfortunately Thornhill and ten of his men were shot down at 15yds range by a hidden machine gun post. Only ten of the party returned unhurt, bringing seven of the wounded with them, but were obliged to leave Thornhill who had actually fallen into the trench and several others."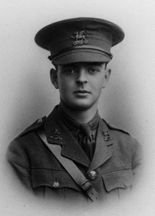 House: No 3, 1911 - 1914. Regiment: East Kent Regt. (The Buffs).
Died: 03 May 1917 aged 22 in France. Killed in action.
Battle:
Second Battle of Arras
. Cemetery:
Arras Memorial
B 2
Son of Charles Carew Warnington and Fanny Warnington, of 4, Camden Park, Tunbridge Wells, and Elmdene, Tunbridge Wells, b. 1895.
Lower Shell—Matriculation Class. Shooting VIII 1913,14.
Exeter College, Oxford. Great War, 2nd Lieutenant 6th Bn. The Buffs (East Kent Regiment). 1914.

'It was in shooting that Warnington more particularly showed his usefulness, and a steady devotion to it was rewarded by his winning the Average Cup in his last year here. But in those who really knew him—and he was a most approachable boy—there lingers a memory of loyal, unselfish friendship and a fervent wish that he may be among the "missing" who will return. He was reported Missing in May, and is now officially presumed killed on May 3rd.' (Malvernian, Mar 1918).

He was killed in the 3rd battle of the Scarpe along with many other officers and men of his battalion. Zero hour was 3.45 a.m which meant darkness was a difficulty, and the battalion was, during the preceding night in shell holes.Further details of the operation at greatwarforum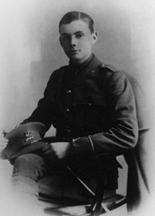 House: No 7, 1912 - 1914. Regiment: East Kent Regt. (The Buffs).

Died: 15 September 1916 aged 19 in France. Killed in action at the Somme.

Battle:

Battle of the Somme

. Cemetery:

Guillemont Road Cemetery XV. J. 5.

Born: December 18th 1897, Mentone, France. Son of Arthur Wellesley-Miller (Chartered Accountant) and Edith Wellesley-Miller (formerly Hamilton), of "Hadley Dene," 24, Bedfordwell Rd., Eastbourne, and Glenlee, Ayrshire.
Lower Modern II—Matriculation Class.
R.M.C. Sandhurst; The Buffs 1915.
Great War, 1st Bn. The Buffs (East Kent Regiment).

'Wellesley-Miller did not remain long enough at Malvern to reach any great position, but he remains in our memory as one who worked on quietly and well. He was a very quiet boy, inclined to be shy, and was not originally intended for the Army. When war broke out, like every other Public School Boy, he took the earliest opportunity of getting a commission. He was gazetted to the Buffs in 1915, and went to the front last May. He fell on September 15th, while leading his men to the attack.' (Malvernian, Nov 1916).

'He was my platoon commander; Pte. Edwards in No 5 platoon told me that he saw Mr Miller fall close to him just in front of Loos Wood about 6.30am on the 15th September. I was Prisoners Guard at the time, but made particular enquiries about Mr Miller as we were all very fond of him. There seems no doubt that he was killed.' (Corporal Tritton, 20 General Hospital, Etaples, 27th Sep 1916).

Service record:WO 339/45404


No of records: 11. View all 462 records Second World War


Book: Paperback and Kindle at Amazon epub