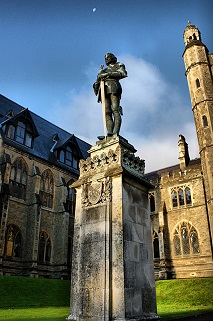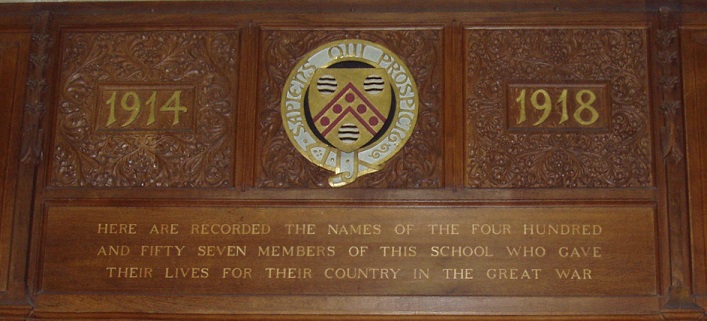 Statue of St George which is inscribed 'To Our Brothers', and oak panel memorial inside the chapel.
The following is a list with biographies of the 462 people who attended Malvern College and died due to the First World War. Altogether 2,833 are known to have served. There is also a corresponding page commemorating the 248 casualties in the Second World War.
There was not a month from August 1914 to November 1918 that an Old Malvernian did not become a casualty, with 6 killed on the first day of the Battle of Loos on the 25th September 1915 and 13 killed on the first day of the Battle of the Somme on the 1st July 1916.
The vast majority of casualties occurred in France and Belgium with 31 names recorded on the Menin Gate at Ypres, and 23 at Thiepval. There were also 23 casualties in Turkey due to the Gallipoli Campaign, and 16 in Iraq, including 2 near Kut.
They were in a wide range of regiments including 26 in the Royal Field Artillery, 13 in the Royal Engineers, 12 in the Worcestershire Regt, 11 in the Canadian Inf, 11 in the East Kent Regt (The Buffs), and 5 in the Royal Flying Corps and the Royal Air Force.
Most were officers with 133 Captains, 126 2nd Lieutenants, 114 Lieutenants, 26 Majors, and 15 Lieutenant Colonels.
29 received the MC, 10 the DSO and 1 the DCM, as well as 3 knighthoods (the CB, CMG, and MVO).
The information below is based primarily on the memorial books held at Malvern College which Ian Quickfall, and now Paul Godsland, the Malvernian Society archivists, have arranged to be digitised with the official memorial web site still in development.
Further information was also obtained from 'The Malvern College Register 1865-1924' edited by H.G.C Salmon, 'The Malvernian' school magazine, 'A History of Malvern College 1865 to 1965' by Ralph Blumenau, and 'Malvern College: A 150th Anniversary Portrait' by Roy Allen.
Information was also obtained from the Commonwealth War Graves Commission website, the Unit War Diaries and Service Records held at the National Archives in Kew, and various online commemorative websites whose links have been provided.
The main battles have tried to be identified in which Old Malvernians died in. Many though were killed in the general attrition of Trench Warfare which is so vividly described in the book 'Nothing of Importance' by Bernard Adams.
Below is a map showing the locations of the 246 cemeteries where Old Malvernians are buried or commemorated in. The markers are coloured yellow for one casualty, orange for between 2 and 9, and red for 10 or more. The name of the cemetery and number of casualties can be seen by hovering over the marker, and the list of names seen by clicking on the marker. Their full biographies and pictures can be seen by clicking on 'Further Info'.
The records can be filtered and/or sorted by name, house, age, regiment, battle, date, place etc by clicking on the appropriate drop down box and then the 'Search' button below the map. The original memorial book entry can be seen by clicking on the person's picture.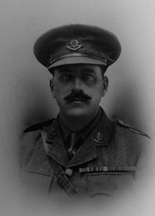 House: No 3, 1888 - 1892. Regiment: Worcestershire Regt.
Died: 23 July 1918 aged 43 in Eygpt. Died at Cairo.
Cemetery:
Alexandria War Memorial Cemetery
B. 71
Son of the Rev. A. Henry Arden (Reader in Tamil and Telugu), University of Cambridge, Curborough, Malvern. b. 1875.
Worcestershire Regt. (from Militia) 1897; Captain 1900; attached to Egyptian Army 1904; retired 1912; Osmanieh, 4th Class, 1913; South African War 1899—1902, Queens Medal with 3 Clasps, King's Medal with 2 Clasps.
Great War, re-joined Worcestershire Regt. 1914; Brevet Major 1915; D.S.O.; Brevet Lieut-Colonel; severely wounded and attached Administrative Branch (Egypt) 1918.
No. 3 Cadet Wing Royal Air Force and Reserve of Officers, 2nd Bn. Worcestershire Regiment ,DSO, Mentioned in Despatches, Order of Osmanieh, 2nd Class.

'At the outbreak of the war he re-joined his old regiment and served with them all through the retreat from Mons. He was badly wounded in July 1915, and was awarded the D.S.O. for "conspicuous gallantry and ability" at the battle of Neuve Chapelle, March 12th, 1915 - 'When the Battalion on his right was driven from their trenches, he formed his company under a heavy fire to a flank, counter-attacked the German right with great determination, and thereby enabled the battalion to reoccupy their trenches.'
Later he commanded a battalion of the Northumberland Fusiliers, and was dangerously wounded in July 1916. After his recovery, he held a Staff appointment as Commandant of a R.F.C. Cadet wing. Having been asked to undertake an important work of military organization in the Near East, he went to Egypt, and died in hospital, at Cairo, on July 23rd, 1918, a few days after his arrival.
"Johnny" Arden had a genial and happy disposition, and was deservedly popular in the School.' (The Malvernian, November 1918).

Medal card: WO 372/1/109453The Peerage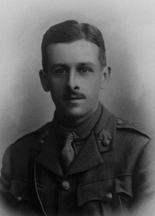 House: No 9, 1905 - 1909. Regiment: Royal Fusiliers.
Died: 23 May 1918 aged 27 in France. Died of wounds.
Cemetery:
St Sever Cemetery Rouen
Officers B.9.4.
Born 29th April 1891, Boveney, Thornlow Rd, West Norwood. Father: Edward Charles Bambridge. Mother: Kathleen Sylvia Bailey, 121 North Side, Clapham Common.
Lower Shell—VI. School Prefect. Head of House. XXII Cricket; XL Football; Ledbury Cap.
In the London Office of the High Commissioner for the Union of South Africa.
10th Bn. Royal Fusiliers. DSO, MC and Bar, MM

'Rupert Bambridge joined the ranks of the Royal Fusiliers, and went to France in the following July. He was wounded in January 1916, and three months later commissioned. He was again wounded in the Somme battle, in which he won the M.C. To this decoration he added a Bar in the autumn of 1917. Last March he was awarded the D.S.O. for his leadership, skill, and energy in organising the counter-attack which completely established the position. Four honours are a great record, and yet an Officer in his regiment writes: "They do not do him sufficient justice." The sterner life of active service served to develop in a wider sphere the qualities which characterised him at School. His energy, fearlessness, strong sense of duty, and complete appreciation of his responsibilities as Prefect and Head of his House, will be readily recalled by those who knew him as a boy. Letters from brother officers bear witness to the same qualities. "He was the perfect type of regimental officer," writes his C.O., "brave and fearless, full of energy and zeal, loved by his men and officers. He was absolutely reliable, and I never knew him fail in any task that he was given to do. I always felt confident, when he had the job in hand, that the work would be carried out." Another officer records how on several occasions, when under a heavy bombardment, he displayed magnificent courage in looking after his men. He was the eldest of the three brothers, who won for themselves in no small degree the regard and respect of all who knew them. All three have served, and two have fallen in the service of their country'. (Malvernian, Jul 1918).

Home: 29.8.1914 - 29.7.1915.
BEF: 30.7.1915 - 18.3.1916.
Wounded right hand and right thigh 18.1.1916. Awarded the 'Military Medal'.
On 19.12.1916 wounded by a piece of shell in right arm. He had recovered by 25.3.1917.
1.6.1917 Posted to 10 R F. Joined in the field.
29.6.1917 To command B Coy.
3.12.1917 Awarded Bar to Military Cross.
Died of wounds received in action (Gas).

Bar to MC Citation: 'He organised and consolidated his position and established a line of posts under a heavy shell and machine-gun fire. Later in an attack, when the advance was held up by machine-gun fire, he went forward from the support line and reconnoitred the situation. He set a fine example to his men.'

DSO Citation: 'He was ordered to lead his company in a counter-attack against the enemy who had gained a footing in part of the front line. The night was very dark, and the exact position of the enemy was unknown, but he led his men to the best position of assembly, and after a personal reconnaissance launched a counter-attack. This attack being only partially successful, he quickly organised another, which drove the enemy back a considerable distance. At dawn he launched a third attack, drove the enemy out, and completely re-established the original position. The success of the operation was largely due to his splendid leadership, skill, and energy.'

Next of kin: Edward Charles Bambridge, The Elms, Merton Hall Road, Wimbledon.

Service record:WO 339/58491
Medal card:WO 372/1/214277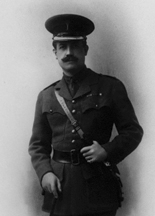 House: Sch, 1885 - 1888. Regiment: Welsh Guards.
Died: 10 September 1916 aged 47 in France. Killed in action.
Battle:
Battle of the Somme
. Cemetery:
Thiepval Memorial
P 7 D
Son of the late Henry and Mary Elizabeth Bromfield, Newnham Hall, Northants. b. 1869.
Hertford College, Oxford; Captain 3rd South Wales Borderers; served in the South African War 1900-01, Despatches, Queen's Medal with 3 Clasps, King's Medal with 2 Clasps, D.S.O.; retired 1910. Chief Constable of Radnorshire 1909.
Prince of Wales's Coy., 1st Bn. Welsh Guards. D S O.
Husband of Ethel Philippa Bromfield.

'H. H. Bromfield was the eldest of four brothers, who accompanied the Rev. W. Grundy from Warwick on his appointment to the Headmastership of Malvern in 1885: of these four, only J. B. Bromfield, the second brother, now survives. 'Hal' Bromfield, as his friends called him, inherited early in life the entailed estate of Newnham Hall, Northants, but his means were not sufficient to enable him to live on his estate. He served with distinction in the South African War, as an officer in the South Wales Borderers Militia, retiring as Captain and Hon. Major in 1910. In 1906 he married the eldest daughter of Sir Charles Philipps, Bt., of Picton Castle, Haverfordwest, and soon settled down to important public work in Wales. When war broke out he re-joined his old battalion, but, on the formation of the Welsh Guards, he was gazetted to the new regiment, with the rank of Major. He fell in action on September 10th, aged 47. A capable man of action, he was endowed with many personal gifts which rendered him popular both here and throughout his life.' (Malvernian, Nov 1916).

Leaves a widow and a son.
Biography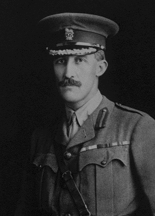 House: Sch, 1890 - 1893. Regiment: Seaforth Highlanders.
Died: 04 March 1916 aged 42 in France. Died of wounds in Flanders.
Cemetery:
Cite Bonjean Armentieres
IX F 30
Born 19 Dec. 1874. Son of Maj. Gen. F. F. Daniell (late Gordon Highlanders) and Mrs. Daniell, Hilifield, Detting, Maidstone.
Army Side. School Prefect. XXII Football; House XI Cricket. R.M.C. Sandhurst; Seaforth Highlanders 1895; Major 1913; Staff College, Quetta, 1908; General Staff, Mhow, 1911—12; Occupa tion of Crete 1897; Sudan 1898, Despatches, Queen's and Khedive's Medals with Clasp; South African War 1900-01, Special Service, Queen's Medal with 4 Clasps; N.W. Frontier of India 1908, Medal with Clasp; King George's Durbar Medal.
Great War, Brigade- Major 1914; G.S.O.I., Lieut.-Colonel D.S.O., Despatches. Seaforth Highlanders attd. to 21st Division General Staff. DSO.

Husband of the late Maud Esmie Daniell.

He obtained his commission in Sept. 1895, and was promoted Captain, March, 1901.
Served in the occupation of Crete in 1897, took part in the Sudan Expedition, was present at the Battle of Atbara, and in the South African War, 1899-1901.
In 1908 he saw service on the North-West Frontier of India, taking part in the operations in the Zakka Khel and the Mohmand countries.
He was Adjutant of the 1st Battn. Seaforth Highlanders, 1902 to 1906. He was promoted to Lieutenant-Colonel, Dec. 1913.
In WW1, he was twice mentioned in Despatches, and created a Companion of the Distinguished Service Order.
He served as a G.S.O, and fell in action about 4th March, 1916.

'In the present war he served on the General Staff both in France and at home, was twice mentioned in despatches and awarded the D.S.O. He died of wounds in Flanders on or about March 4th, 1916. Temporary Lieutenant-Colonel and Staff Officer, 1st Grade. A contemporary writes : "Gifted with great charm of manner, a beautiful voice and real ability, he quickly made his mark at School. He was a soldier's son, and from the first concentrated all his efforts on fitting himself for his future profession, and though good at games he never allowed them to interfere with his work. His record in the Army speaks for itself, and by his death Malvern has lost one of her most promising soldiers."' (Malvernian, Apr 1916).

The divisional diary for 4th March 1916 states: 'At 5pm the enemy shelled Armentieres, Houplines and Nieppe. 15cm, 10.5cm howitzers and field guns were firing, and during the bombardment Lt-Colonel Daniell DSO, was killed.'

Biography:The-VC-and-DSO-Volume-II
21st Division Diary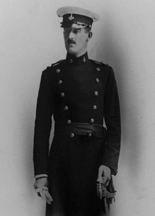 House: No 9, 1902 - 1904. Regiment: Yorkshire Regt.
Died: 14 September 1916 aged 29 in France. Killed in action.
Battle:
Battle of the Somme
. Cemetery:
Blighty Valley Cemetery Authuille
I F 13
Son of Colonel Frederick Arthur Forsyth and Ellen Sanford Forsyth, Netherleigh, Leamington. b. 1887.
Army III - I. House Prefect. House XI Cricket and Football.
R.M.C. Sandhurst; Yorkshire Regt. 1906; Captain 1914.
Great War, temporary Lieut-Colonel 191 D.S.O., Legion d'Honneur (Chevalier), Despatches.
2nd Bn. Northumberland Fusiliers attd. 6th Bn. Yorkshire Regiment.

The Times: "Lieutenant-Colonel C. G. Forsyth, D.S.O., Yorkshire Regiment, who was killed on September 14th, 1916, passed into the Army from Sandhurst in 1906 and went immediately to South Africa, where he joined the Yorkshire Regiment. On returning to England two years later he was adjutant for two courses to a mounted infantry battalion at Longmoor, and in 1910 was made adjutant to his battalion. When the war broke out, Colonel Forsyth's regiment was in Guernsey, and at that time he was going through the School for Instruction for Flying, but was recalled to his regiment, which went to Belgium in October 1914, and took part in the first battle of Ypres, at which Lieut. Forsyth, as he then was, was severely wounded. He returned to his regiment in March 1915, having been awarded the D.S O. in January of that year. In February the President of the French Republic bestowed on him the Croix de Chevalier of the Legion of Honour "in recognition of his distinguished conduct during the campaign." On resuming his military duties Colonel Forsyth became second in command and adjutant to the Wilts Regiment under Colonel Leatham, and after the death in action of that officer at the battle of Hulluch he took command of the regiment, continuing in command for three days after being wounded. On recovering Colonel Forsyth was sent out to Egypt, where he was given command of a Yorkshire battalion which had just come from Gallipoli. After service in Egypt he went to another front last July with a Yorkshire battalion as temporary major, but was soon promoted lieutenant-colonel (dated February 9). A brother officer writes: "In his death the Army has lost one of its most brilliant and promising young officers, and I should think at the time he was given command of the Yorkshire Battalion he was probably the youngest commanding officer in the Regular Army. He had a great future in front of him if only he had been spared to come through this war." Those who knew Cusack Forsyth at school will not be surprised to hear that he became "one of the finest officers in the Service"; such was the opinion of a senior officer. As a boy, keen, alert, smart, endowed with good abilities, extremely popular, he was not likely as a man to disappoint the high hopes formed of him. He was killed in one of the captured trenches, after he had completed the task—a hard task too—that had been allotted to his battalion. (Malvernian, Nov 1916).

Service record: WO 339/6579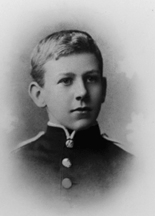 House: Sch, 1884 - 1886. Regiment: Army Service Corps.
Died: 15 April 1917 aged 48 in Greece. Lost at sea on Transport 'Arcadian'.
Cemetery:
Mikra Memorial
Son of Colonel H. G. Puckle (Madras Staff Corps) and Cecilia Puckle, Pitlochry. b. 1869.
Upper III—1V. XXII Football; House XI Cricket.
Peterhouse, Cambridge, 1889; R.M.C. Sandhurst; South Wales Borderers 1893; A.S.C. 1894; Major 1906.
Winner Army Rackets and Lawn Tennis Doubles.
South African War, Despatches. Queen's Medal, D.S.O., 1902.
Husband of Mary Clifton Tabor (formerly Puckle), of 91, Grosvenor House, Park St., London.
Great War, Lieut.-Colonel 1915. Lost at sea on the transport Arcadian April 15, 1917, Despatches.

'Lieutenant-Colonel Puckle was one of the first three British officers to land in France at the outbreak of the present war, being sent out in advance of the Expeditionary Force. He was mentioned in despatches in May 1915, and was one of eighteen officers reported missing, believed drowned on April 15th. He was one of the pair who won, two years in succession, for the A.S.C. the Army Rackets Championship Doubles, and also the Army Lawn Tennis Championship Doubles.' (Malvernian, Jun 1917).

'He was ordered to Palestine in March 1917, and was drowned near Stephanos, Greece, on the 15th April, when he was officer commanding troops (about 1,600) on board H.M. Transport Arcadian. An officer wrote: "I have never experienced greater kindness from any commanding officer; His friendly courtesy, his extreme consideration for others, and his never-failing nobility of mind were conspicuous traits in him, which endeared him to all with whom he had dealings, whether official or social. We all looked up to him as the true Ideal of what an officer and a gentleman should be, and one and all admired and respected him accordingly. Of the many officers under whom I have served I have never known one with such a wonderful sense of duty.
He saved many lives by his organization on the Arcadian, and by his attention to duty and the example he set when the disaster took place.
It was a supreme test of courage and discipline which he bore unflinchingly. We who knew him and had the honour of serving under him —and it was indeed an honour—are not surprised at his self-sacrifice. He never on any occasion spared himself."' (De Ruvigny).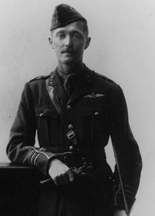 House: No 4, 1895 - 1898. Regiment: Royal Engineers and Sq Cmdr RFC.
Died: 02 August 1917 aged 36 in United Kingdom. Accidentally killed flying.
Cemetery:
Brompton Cemetery
W I 174351
Son of G. E. A. Ross, 101 Warwick Road, Earl's Court, S.W. b. 1881.
Army II—-I. Heywood Prize. School Prefect. House XI Cricket and Football.
R.M.A. Woolwich; R.E. 1900; Major 1915; employed with Egyptian Army since 1911. Great War, R.F.C. Squadron Commander (overseas).
D.S.O. with Bar, Order of the Nile and Bar, Despatches (2).

'To the number of distinguished Malvernians, serving in the old Army, who have fallen, must be added the name of Arthur Ross, who was accidentally killed while flying, in an Eastern County, on August 2nd. He entered the School with a House Scholarship in Classics, in which his aptitudes were such that a Classical Scholarship at the University could have been safely predicted for him. However, he decided to make the Army his profession, and obtained second place in the examination for Woolwich with unusually high marks in mathematics. His quickness of apprehension, intense keenness, and power of work rendered him one of the most distinguished—as his strong and independent character, his sympathy and gift of humour made him one of the most influential and popular boys of his time.
The following account of his military career is taken from The Times: "He obtained a commission in the R.E. in May, 1900, and went to India the next year, but owing to a severe illness was invalided home and placed on half-pay for six months, during which time he studied Arabic. Returning to India in 1906, he did good service, mainly on military works in the Punjab. In 1910 he became Captain, and in January, 1911, he was seconded for service in the Egyptian Army. On the outbreak of the war he reverted to the British Army and served in the Sinai desert. In 1915 he served with the Flying Corps as an observer in the campaign against the Senussi Arabs. In that year he was given his brevet majority and the Order of the Nile (4th Class), and in the following year the D. S.O. Having qualified as a pilot at home, he returned to Egypt as flight commander, and served there up to the Spring of this year. On promotion to squadron commander he came to England, and after some work in France and elsewhere he was sent towards the end of last month to one of the eastern counties. His services were further recognised by the award, just announced, of a bar to the D.S.O. Major Ross excelled as a linguist in Eastern languages, and as a mathematician."' (Malvernian, Nov 1917).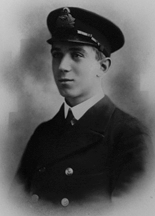 House: No 9, 1912 - 1916. Regiment: Royal Air Force.
Died: 13 July 1918 aged 21 in United Kingdom. Killed flying.
Cemetery:
Stourbridge Cemetery
K 192
Son of G. F. Simms, Farlands, Stourbridge, b. 1897.
Modern III—Matriculation Form. House Prefect. Gymnasium IV. Flight Sub-Lieutenant R.N. 1916; Captain R.A.F.
Great War (overseas), D.S.C.

'In June 1916 Leslie Simms received a commission in the R.N.A.F., and in the following year was awarded the D.S.C. for valuable services in home waters. He became Flight Lieutenant and an Instructor. Later he was transferred to the Experimental Construction Department. At the time of his death he was expecting orders to proceed to the front. He had repeatedly applied to be sent overseas, but his services were required at home. He was killed while flying on July 14th. The keenness, splendid nerves, and absence of fear, which he proved himself to possess throughout his School career marked him out for the Air Service. He became a keen and daring officer, and was regarded as a Flying Officer who was likely to make a name. Many will grieve for the loss of a true friend and brave man.' (Malvernian, Nov 1918).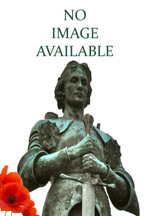 House: Sch, 1873 - 1874. Regiment: East Kent Regt. (The Buffs).
Died: 13 October 1915 aged 53 in France. Killed in action near Hullock Quarries.
Cemetery:
Loos Memorial
P 15-17
Son of Rev. Charles Soames, Rector of Mildenhall, Marlborough, and Lydia Gordon Soames. b. 1862.
Raised Corps (Bushmanland Borderers) in Cape Colony during South African War 1901—2 Despatches, Medal, D.S.O. 1902.
Great War, Major 6th Bn. The Buffs (East Kent Regiment).

'Trenches. 13.X.15. At 1pm a smoke cloud was created along the line. By about 2pm all the smoke had cleared.
At 2.15pm the order was given to charge. The men were met with a terrific fire, machine guns on three sides, while the Germans were lying on their parapets giving rapid fire. The three coys were practically wiped out.
Major Soames was one of ten officers killed, along with 400 other ranks.' (Unit War Diary).

Service record:WO 339/14769
Unit War Diary:WO 95/1860/1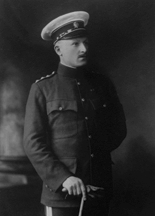 House: Day, 1889 - 1890. Regiment: Army Service Corps.

Died: 29 May 1917 aged 40 in Eygpt. Accidentally drowned in White Nile.

Cemetery:

Khartoum War Cemetery 10 C 16

Son of Rev H G Thwaites, Limber Magna. b. 1877.
III. Mercers' Exhibition, St. John's College, Cambridge, 1897; BA. 1900;
Army Service Corps 1901; Major 1914; South African War 1902, Queen's Medal with Clasps.
Great War, with Egyptian Army 1915—17; D.S.O., Despatches.


No of records: 10. View all 462 records Second World War


Book: Paperback and Kindle at Amazon epub