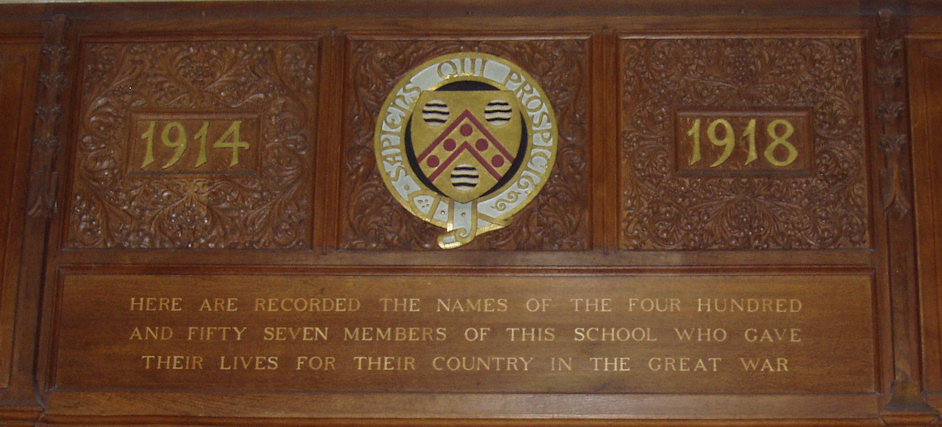 World War One Plaque at Malvern College Chapel. (An additional 2 from the 457 recorded have since been discovered.)
List of Malvern College First World War Casualties
The following is a list of the 459 people who attended Malvern College and died due to the First World War.
There was not a month from August 1914 to November 1918 that an Old Malvernian did not become a casualty, with 6 killed on the first day of the Battle of Loos on the 25th September 1915 and 13 killed on the first day of the Battle of the Somme on the 1st July 1916.
The vast majority of casualties occurred in France and Belgium with 31 names recorded on the Menin Gate at Ypres, and 23 at Thiepval. There were also 23 casualties in Turkey due to the Gallipoli Campaign, and 16 in Iraq, including 2 near Kut.
They were in a wide range of regiments including 26 in the Royal Field Artillery, 13 in the Royal Engineers, 12 in the Worcestershire Regt, 11 in the Canadian Inf, 11 in the East Kent Regt (The Buffs), and 5 in the Royal Flying Corps and the Royal Air Force.
Most were officers with 133 Captains, 125 2nd Lieutenants, 114 Lieutenants, 26 Majors, and 15 Lieutenant Colonels.
22 received the MC, 5 the DSO and 1 the DCM, as well as 3 knighthoods (the CB, CMG, and MVO).

The information below is based primarily on the memorial books held at Malvern which Ian Quickfall, and now Paul Godsland, the Malvernian Society archivists, have arranged to be digitised with the official memorial web site still in development.
Information was also obtained from the Commonwealth War Graves Commission website, and the Unit War Diaries and Service Records held at the National Archives in Kew.

The main battles have tried to be identified in which Old Malvernians died in. Many though were killed in the general attrition of Trench Warfare which was so vividly described in the book 'Nothing of Importance' by Bernard Adams.

The records can be filtered and/or sorted by house, age, date, place etc by clicking on the appropriate drop down box and then the 'View' button. The original memorial book entry can be seen by clicking on the person's picture.
Forename
Surname
House
Period
Rank
Regiment
Date Died
Age
Cause
Battle
Country
Cemetery / Memorial
Grave Ref
Further Info
Henry Parkyns Bridge
Baines
No 7
1896 - 1898
2nd Lieut
Gloucestershire Regt.
03 February 1917
36
Killed in action
Iraq
Basra Memorial
PANEL 17
15th Bn. attd. 7th Bn. Gloucestershire Regiment

Parents: Arthur Baines and Catherine Mary Parkyns Baines, Uley House, Uley, near Dursley, Glos

On 2nd February 1917 orders were issued to establish a line of pickets extending from Kala-Haji-Fahan north-west to the River Tigris in the Dahra bend.
During these operations, 2Lt Baines was killed. His body was never identified or removed from the battlefield and he is commemorated on Panel 17 of the Basra Memorial.

After the war, his widow, Kathleen Haller, resided at Langham House, 197 Albany Street, Regent's Park, London.

Biography at:
https://livesofthefirstworldwar.org/lifestory/135243#stories
Edward Maurice
Carter
No 7
1910 - 1912
Captain
11th Lancers (I. A.)
11 August 1920
24
Treacherously killed at Tel Afar, Mesopotamia
Iraq
Baghdad North
XV111 L 8
John Osborne Price
Clarkson
No 6
1910 - 1914
2nd Lieut
13th Hussars
10 March 1917
22
Killed in action
British capture Baghdad
Iraq
Basra Memorial
P 1
NB the 13th Hussars were involved with the capture of Baghdad in March 1917, so it seems the memorial book inscription ' of 'Killed in action at the Somme' is a mistake.
Ref: https://en.wikipedia.org/wiki/13th_Hussars#First_World_War
Edward Hedley
Cuthbertson
No 5
1903 - 1907
Lieutenant
Royal Warwickshire Regt. Att Lan Regt
24 July 1917
29
Died on active service in Mesopotamia
Iraq
Amara War Cemetery
X111 L 6
Robert William Millington
Dewhurst
No 2
1909 - 1914
Lieutenant
Wiltshire Regt.
26 April 1916
21
Died of wounds in Mesopotamia
Iraq
Amara War Cemetery
V1 D 12
Peter Douglas Colin
Eliot
No 7
1900 - 1902
Captain
14th Lancers
25 February 1917
32
Killed in action near Kut
Second Battle of Kut
Iraq
Basra Memorial
P 45
Marmaduke Whitaker
Graham
No 4
1894 - 1897
Captain
West Kent Regt.
24 July 1915
36
Killed in action in Mesopotamia
Iraq
Basra Memorial
11 R 5/6
Wallace George
Hardman
Sch
1911 - 1914
2nd Lieut
Manchester Regt.
09 January 1917
20
Killed in action near Kut
Iraq
Amara War Cemetery
XX1 D 11
Herbert Hastings
Harington
No 5
1881 - 1886
Lieutenant Colonel
84th Punjabis (I.A.)
08 March 1916
48
Killed in action in Mesopotamia
Siege of Kut
Iraq
Basra Memorial
PANEL 48
John Campbell
Haverfield
No 4
1903 - 1905
Lieutenant
24th Punjabis (I.A.)
14 July 1915
28
Died of wounds in the Persian Gulf
Iraq
Basra Memorial
V L 1
Robert Francis
Hebbert
No 3
1898 - 1900
Captain
Indian Medical Service
19 March 1916
33
Died on active service in Mesopotamia
Siege of Kut
Iraq
Basra Memorial
V F 9
Norman Elliot
Howell
Sch
1896 - 1899
Major
82nd Punjabis (I.A.)
07 January 1916
34
Killed in action at Sheikh Saad
Iraq
Basra Memorial
P 48/66
Kenneth Hugh
Pegg
Sch
1904 - 1909
2nd Lieut
Leicestershire Regt.
20 February 1916
25
Killed in action in Persian Gulf
Iraq
Basra Memorial
P 12
Guy Benson
Rathbone
No 4
1898 - 1902
Captain
Gloucestershire Regt.
21 April 1916
32
Killed in action
Siege of Kut
Iraq
Basra Memorial
P 17
Service record: WO 339/32752
Spencer Maxwell
Tahourdin
No 2
1889 - 1891
Major
12th Cavalry (I.A.)
08 February 1916
41
Died of wounds in Mesopotamia
Siege of Kut
Iraq
Basra Memorial
Major, 12th Cavalry, Indian Army, died on February 8th in Mesopotamia, having been wounded in action the previous day.
He was educated, first at Eagle House School, and then at Malvern, where he gained a Scholarship, and whence he passed into the Royal Military College. He passed out of Sandhurst at the head of the candidates for the Indian Army in the summer of 1895.
Obituary at: http://eaglehouseschool-heritage.daisy.websds.net/Filename.ashx?systemFileName=EHM1916_Easter.pdf&origFilename=EHM1916_Easter.pdf
-
Thomas Palmer
Watson
No 2
1905 - 1910
Captain
East Lancashire Regt.
07 March 1917
26
Killed in action near Baghdad
Iraq
Baghdad North
XX G 12
Sidney Walter Humfray
Welsby
No 6
1905 - 1910
Captain
Cheshire Regt.
30 April 1917
26
Killed in action at Shatt-el-Adheim
Iraq
Basra Memorial
P 14/62
Eric Ralph Lovatt
Wynne
Sch
1911 - 1914
Captain
10th Gurkha Rifles (I.A.)
26 October 1918
21
Killed in action at Mushak
Iraq
Basra Memorial
P 57

No of records: 18

Web site created by William Bridge (Old Malvernian, No 5, 1985-90)
williambridge@stanwardine.com
November 2017