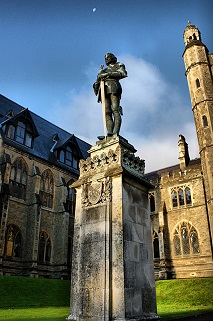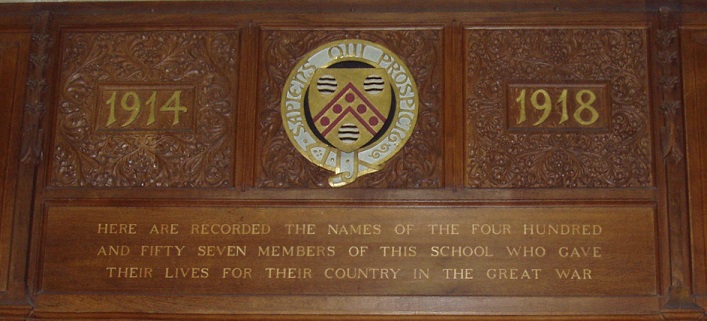 Statue of St George which is inscribed 'To Our Brothers', and oak panel memorial inside the chapel.
The following is a list with biographies of the 462 people who attended Malvern College and died due to the First World War. Altogether 2,833 are known to have served. There is also a corresponding page commemorating the 248 casualties in the Second World War.
There was not a month from August 1914 to November 1918 that an Old Malvernian did not become a casualty, with 6 killed on the first day of the Battle of Loos on the 25th September 1915 and 13 killed on the first day of the Battle of the Somme on the 1st July 1916.
The vast majority of casualties occurred in France and Belgium with 31 names recorded on the Menin Gate at Ypres, and 23 at Thiepval. There were also 23 casualties in Turkey due to the Gallipoli Campaign, and 16 in Iraq, including 2 near Kut.
They were in a wide range of regiments including 26 in the Royal Field Artillery, 13 in the Royal Engineers, 12 in the Worcestershire Regt, 11 in the Canadian Inf, 11 in the East Kent Regt (The Buffs), and 5 in the Royal Flying Corps and the Royal Air Force.
Most were officers with 133 Captains, 126 2nd Lieutenants, 114 Lieutenants, 26 Majors, and 15 Lieutenant Colonels.
29 received the MC, 10 the DSO and 1 the DCM, as well as 3 knighthoods (the CB, CMG, and MVO).
The information below is based primarily on the memorial books held at Malvern College which Ian Quickfall, and now Paul Godsland, the Malvernian Society archivists, have arranged to be digitised with the official memorial web site still in development.
Further information was also obtained from 'The Malvern College Register 1865-1924' edited by H.G.C Salmon, 'The Malvernian' school magazine, 'A History of Malvern College 1865 to 1965' by Ralph Blumenau, and 'Malvern College: A 150th Anniversary Portrait' by Roy Allen.
Information was also obtained from the Commonwealth War Graves Commission website, the Unit War Diaries and Service Records held at the National Archives in Kew, and various online commemorative websites whose links have been provided.
The main battles have tried to be identified in which Old Malvernians died in. Many though were killed in the general attrition of Trench Warfare which is so vividly described in the book 'Nothing of Importance' by Bernard Adams.
Below is a map showing the locations of the 246 cemeteries where Old Malvernians are buried or commemorated in. The markers are coloured yellow for one casualty, orange for between 2 and 9, and red for 10 or more. The name of the cemetery and number of casualties can be seen by hovering over the marker, and the list of names seen by clicking on the marker. Their full biographies and pictures can be seen by clicking on 'Further Info'.
The records can be filtered and/or sorted by name, house, age, regiment, battle, date, place etc by clicking on the appropriate drop down box and then the 'Search' button below the map. The original memorial book entry can be seen by clicking on the person's picture.
House: No 9, 1910 - 1915. Regiment: Royal Engineers.
Died: 21 October 1917 aged 21 in France. Killed in action.
Cemetery:
Bard Cottage Cemetery
VI A 28
Born Oct 20th 1896, Mhow, Central India. Son of Lieut.-Colonel V. B. Bennett, I.M.S.
Army II—I. Lygon Scholar. School Prefect. XXII Cricket and Football; Ledbury Cap; Gymnasium IV 1913-15; Anderson Medal 1914,15. Cadet Officer.
R.M.A. Woolwich; R.E. 1915; Lieutenant 1916.

'It was impossible to imagine Vivian Bennett adopting any career in life but that of a soldier. No other profession could have satisfied him; and in him a fine soldier, who promised to go far in the service, has been lost. From boyhood he always showed a fearlessness, prevented by his good brains from developing into recklessness, which was bound to make him a leader of British soldiers. Above all he possessed so bright and cheerful a disposition that everyone loved him. Never to be depressed, and always to see some humour in every circumstance, is a gift worth possessing at any time, but on active service it is beyond price. This Bennett had, and his old Malvern friends—and many a sapper, officer and man—will feel the sadder for his death.' (Malvernian, Dec 1917).

On the 25th Sept 1916, he was buried under the bricks of a house wall knocked down by a shell and sustained an injury to his left knee.

Next of Kin: Mrs Alexandra Philippa Bennett (mother), c/o Messrs Thomas Cook & Son, Bombay
Siblings: Hugh & Helen

NB: Malvern College in 1919 sent details of the proposed war memorial and the roll of honour to the war office which are now in his service record file.
Biography at Northam remembered

Service record:WO 339/55508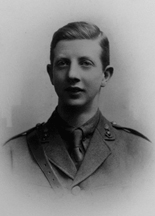 House: No 2, 1908 - 1910. Regiment: Royal Engineers.
Died: 01 June 1918 aged 24 in France. Died of wounds at Jon Chery.
Cemetery:
Terlincthun Brit Mil Wimille
A C 7
Born: August 7th 1894. Son of Robert John and Eleanor Maud Collyns, of Bilboa, Dulverton, Somerset.
Lower Modern II—Modern I.
Bristol University; B.Sc. 1914.
97th Field Coy. Royal Engineers.
MC & Chevalier Legion D'Honneur (France).

Address: 8 Richmond Hill, Clifton, Bristol.

'Although he left Malvern rather young, his abilities and industry had already secured him a high place in the School, and those who had watched his progress here fully expected that he would do well in his later career. In July 1914 he took the degree of Bachelor of Science at Bristol University. He obtained a commission in Jan. 1915, and went to France in the following October. He was wounded twice before he received the wound from which he died. He was mentioned in despatches on Dec. 17, 1917, and was awarded the Military Cross on May 28, 1918.' (Malvernian, Nov 1918).

Military cross citation: 'While in command of the company during enemy attacks he showed great coolness and ability in command of his men, and on the third day was dangerously wounded while distributing them in a new position. His example throughout was of a high order.'

May 27th 1918. Chalons le Verguer. The sections and attached infantry, commanded by Capt R H Collyns RE left under orders to report to 110th Inf Bde and thereafter came under the orders of the 64th Inf Bde and were detailed to act with 15th DLI in holding the line of the light railway west of Cauroy.

May 29th 1918. Capt R H Collyns RE severely wounded holding main line of Railway at Muizon on the Vesle River.

Died of wounds received in action on May 29th 1918.
Memorial in Dulverton Church.

Service Record:WO 339/109012
Medal Card: WO 372/4/217557
Unit War Diary: WO 95/2144/1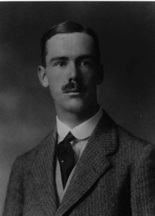 House: No 3, 1900 - 1902. Regiment: Royal Engineers.
Died: 10 June 1915 aged 30 in United Kingdom. Died at Chatham.
Cemetery:
Gresford All Saints Denbighshire
SW Corner
Son of Rev. E. A. Fishbourne, Gresford Vicarage, Wrexham. b. 1885.
Upper Modern II — Army I. House Scholar. School Prefect. XXII Football; House XI Cricket.
R.M.A. Woolwich; R.E. 1904; Lieutenant 1907; employed on Railway Survey, Uganda and E. African Protectorates, 1907—9; under Board of Trade 1909—12; retired 1913; Asst. Commercial Manager London General Omnibus Co. Ltd. 1913; Cuthbert Peek Grant, Royal Geographical Society, 1910.
Great War, rejoined 1914 (over seas). Despatches.

'After passing through Woolwich and Chatham he was commissioned in the Royal Engineers in December 1904, and subsequently was employed under the Colonial Office from June 1907 to November 1908 in Uganda upon important survey work, for which he was highly commended, and the Royal Geographical Society awarded him the Cuthbert Peek Grant. In October 1909 he was appointed under the Board of Trade upon the London Traffic Commission. In January 1913 he retired into the Special Reserve, R.E., on taking up a post as Assistant General Manager to the London General Omnibus Company.' (Malvernian, Jul 1915).

On the outbreak of the war he rejoined, went to the Front with the 9th Field Company R.E., 21st August 1914, and served till 18th November 1914, when he was wounded at Ploegsteert Wood, and invalided home. On his recovery he was appointed Adjutant to the R.E. Reserves at Chatham. He died at Field House, Beaconsfield, 10th June 1915, of Spotted Fever contracted at Chatham. He married at Llanbedr on the 8th June 1911 to Mary Elizabeth Holland, 89, Overstrand Mansions, Battersea, S.W., daughter of William Gaskell Holland and left two sons, Patrick Alexander, born 10th February 1913; and Charles Michael Eustace, born 2nd November 1915.
Detailed biography

Service record: WO 339/6109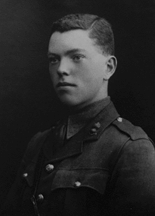 House: No 1, 1910 - 1914. Regiment: Royal Engineers.
Died: 19 October 1915 aged 19 in Belgium. Killed in action in France.
Battle:
Battle of Hohenzollern Redoubt
. Cemetery:
Brandhoek Military Cemetery
I E 28
Born: Aug 4th 1896, Congleton. Son of William Henry Grindley (manufacturer), Parkfields, Tittensor, Stoke-on-Trent. b. 1896.
Modern III - Army I.
Heywood Prize 1913,14. School Prefect. Shooting VIII; House XI Cricket and Football.
R.M.A. Woolwich (6th Place); R.E. 1915.

'The keynote of Herbert Grindley's character was thoroughness, whether in work or play he never spared himself, and could not understand those who were content to give their second best. As head of the Army Side, as a member of the Shooting Eight, or as a Prefect, his one ambition was to do his best. He was shot through the head whilst making a new trench, and died before reaching the dressing station; a proof of his men's attachment to him is found in the fact that four sappers actually carried him back across the open ground, braving the fire of the enemy rather than lose time by taking him through the trenches. He was killed in France, on October 19th.' (Malvernian, Nov 1915).

Service record:WO 339/4953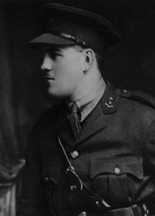 House: No 5, 1907 - 1911. Regiment: Royal Engineers.
Died: 21 August 1916 aged 23 in France. Died of wounds.
Battle:
Battle of the Somme
. Cemetery:
Warlincourt Halte British Cemetery Saulty
III A 12
Son of William Ross Hedges and E. Hedges, of 117, Anderton Park Rd., Moseley, Birmingham.
Middle IV B—Modern I. House Prefect. Aldershot Boxing.
In business.
Great War, 2nd Lieutenant R.E. 1914; Captain 1915.
1st (North Midland) Field Coy. Royal Engineers.

'Soon after the outbreak of war he went to the front with a commission in the 1st North Midland Field Co. He was present at the second battle for Ypres. In March 1915 at Hill 60 he was shot whilst going across the open to take aid to a wounded man of his company. On recovering from his wounds, he was sent to Egypt with the rank of Captain. On his return he did much arduous and dangerous work in the fighting round Arras. For one particularly dangerous and successful piece of engineering, carried out entirely by his own skill and coolness, he was personally congratulated by the General of the Division. In June this year he was awarded the Military Cross. On August 18th he was wounded for the second time. He had gone some distance back from the firing line when the enemy began a haphazard shelling, during which he was severely wounded. After an operation he went on, very well, and it was fully expected that his fine physique would pull him through, but amputation became necessary. He survived the operation for one day. No braver or more popular officer has laid down his life in this war than Captain Hedges. His loss was keenly felt in his regiment. His General, writing to his father, says: "Personally he is a great loss to me as an officer and as a friend. He was brave, energetic, capable, and reliable, and had a magnetic influence over his men. He was marked out for distinction. You must have been proud of such a son, and it will be some small consolation to you to know how nobly he has lived and died, and how greatly he was respected and loved by the men and by all of us." Another officer writes: "Your son was brave, generous, and kind-hearted. His men would have done anything for him, or followed him anywhere. From the General downwards, we all loved him." These and many other letters show in what affectionate regard he was held by all ranks, and such a tribute of affection will not surprise his Malvern friends who admired him for his quiet strength of character, as well as for his physical courage. He will perhaps be remembered at Malvern chiefly for his enthusiasm for boxing. He represented the School in the Light Weights at Aldershot, and in the School competitions he won the Light Weight in 1910 and the Heavy Weight in 1911. After leaving School he was successful in various competitions. In 1913 he was Midland Counties Heavy Weight Champion, and again in 1914.' (Malvernian, Dec 1916).

On 6th April 1915, the Birmingham Gazette reported that he had been shot through both legs by a rifle bullet while attempting to rescue one of his wounded men in front of the trenches as a result of fierce fighting at Zillebeke near Ypres.
During his time in hospital he wrote to the editor of the Sporting Buff saying:
'The left leg is healing up well and the muscles and nerves, which were mostly severed, are joined up again, as I can move my right foot several inches already. It is rather a slow business, though. I had also frost bite in my right foot, through having to lie in a 'Jack Johnson' hole (shell crater) for nearly six hours before we could be got away. No stretcher party could have lived there by daylight, of course, and the hole was about one third full of water, in which my feet were submerged. It was really a most uncomfortable way of spending a Sunday afternoon.'

He was severely wounded on the 18th August, and was taken to the 20th Casualty Clearing Station based at Warlincourt where he died three days later.
Detailed biography at Moseley-Society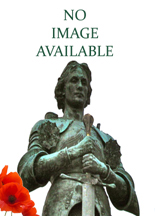 House: No 5, 1893 - 1895. Regiment: Royal Engineers.
Died: 10 March 1917 aged 38 in France. Killed in action.
Cemetery:
Aveluy Communal Extension
M 1
Son of Capt. J. H. Henderson, R.N., and Mrs. J. H. Henderson, of Red House, Tenby, Pembrokeshire. b. 1879.
Army Side.
R.M.A. Woolwich; R.E. 1899; Lieut.-Colonel 1917; with Ordnance Survey 1909-13 ; South African War 1901-02, Queen's Medal with 5 Clasps.
Great War, Chief Instructor R.M.A. 1914. Despatches (2).
18th Div. Royal Engineers

The Times: 'Lieutenant- Colonel Henderson K.E. obtained his commission in January, 1899, and served with the 12th Field Company in South Africa from February, 1901, to February, 1906, receiving the Queen's Medal with Five Clasps. In 1906-7 he was in the 11th Field Company, when Sir John French in the Aldershot command orders highly commended "the works reports of six officers (R.E.) during the winter training season." Lieutenant Henderson, as he then was, being one of the six. In January, 1908, he was promoted to Captain, and was afterwards in command of that Company until 1909, when he joined the Ordnance Survey, returning to Headquarters at Chatham in 1913. On the declaration of war he went to France with the 56th Field Company, taking part in all the fighting up to September 15th, when he was wounded during the struggle on the Aisne and sent home. On his recovery he was appointed to the Royal Military Academy as Chief Instructor in Military Engineering—a General Staff appointment—and retained that appointment until he was sent to the Front again in March, 1916, as Major in command of a Field Company. He was slightly wounded on July 9th. He was appointed temporary Lieutenant-Colonel last January, and appointed Commanding R.E. of a division. He was mentioned in despatches on January 4th. He fell in action on March 10th.'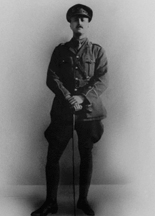 House: No 1, 1901 - 1905. Regiment: Royal Engineers.
Died: 08 May 1917 aged 29 in France. Killed in action.
Battle:
Second Battle of Arras
. Cemetery:
Nine Elms Mil Cemetery Thelus
Son of Charles William Hodson. C.S.I. and Maria Hodson, 12 Blakesley Avenue, Ealing, b. 1888.
Army IV—II.
Engineering Faculty, King's College, London, 1906-10.
Assistant Engineer, East Indian Railway, 1910; Assoc.M.Inst.C.E.
Great War (overseas), Lieutenant R.E.
279th Railway Coy. Royal Engineers.

'On leaving School he studied engineering at King's College and in 1910 secured an appointment on the East Indian Railway. Here he did excellent work, especially in connection with flood difficulties, and received commendation. In April 1916 he joined the R.E. (Railway Troops) and was killed on May 8, 1917, while constructing a big gun position. His School record of good steady work has been well maintained in his subsequent career; when the call came, he threw up a good post and placed his skill at the disposal of his country.' (Malvernian, Jul 1917).

'He left in his Will a sum of £2,000 to King's College "For the improvement of the Engineering Dept." '
Kings College London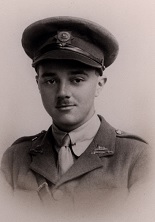 House: Sch, 1909 - 1912. Regiment: Royal Engineers.
Died: 18 April 1918 aged 24 in France. Shot by own Sapper.
Cemetery:
Warloy Baillon Communal Extension
II F 4
Son of E. W. M. Lloyd, Hartford House, Winchfield, and Eleanor E. Lloyd, of Hartley Wintney, Hants. b. 1894.
Upper V—Science I. Minor Scholar.
Apprenticed to an Architect.
Great War, Private 1914, 2nd Lieutenant 8th Lincoln Regt.; Lieutenant 123rd Field Coy. Royal Engineers.

'Wynell Lloyd showed a good deal of sturdy common-sense and determination at School. He was not popular in the ordinary sense of the word, but those who knew him best discovered the true value of his character, and he was one of those who merit and obtain the trust of others. On leaving School he took up the profession of an architect. Immediately after the outbreak of war he enlisted and served in the ranks for some months, and then gained his commission in the Lincolnshire Regiment. But feeling he could turn his special talents and training to better account in the Royal Engineers, he applied for a transference.' (Malvernian, Jun 1918).

At the proceeding of a Court Martial on 4th May 1918:
Corporal R. Prior stated that when Lieutenant Lloyd came on parade he noticed that Sapper Robert Bell was not wearing his putties. He brought the accused out in front of the parade, and Lloyd asked him why he was not wearing his putties. Bell said that they hurt his legs. Lloyd dismissed him and told him to go and put his putties on. While inspecting the rear of the two ranks, Lloyd was shot in the forehead and fell to the ground. Sapper Robert Bell was seen in a trench with a rifle.

The accused stated that he slipped when getting out of the trench to rejoin the parade, after failing to find his putties. His rifle flew forward and exploded. He had forgotten to remove the round placed in the barrel earlier in the day, when he went hunting for hare or partridge.
It was stated that the accused was a good shot and had shot game before, especially rabbits.
CSM Foster said that Bell told him "When I set out to accomplish a thing, I do it, there it is. I have done the section a good turn. You'll think of Bob Bell in years to come." He added that he was not aware of any ill feeling between Lieutenant Lloyd and the accused.
In mitigation it was stated, he had enlisted on 9 January 1915, and been in France since December 1915.

Sapper Robert Bell was sentenced to death by shooting with no recommendation for mercy. He was shot at 4.12 am on 22 May 1918.
Court Martial details at Woodyatt site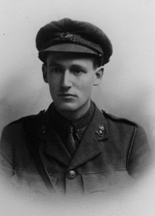 House: Sch, 1905 - 1906. Regiment: Royal Engineers.
Died: 29 December 1915 aged 24 in France. Killed in action.
Cemetery:
Cite Bonjean Armentieres
IX. D. 72.
Born: February 9th 1891. Son of Mansfeldt Henry and Emily Frances Mills, of 34, Kingsnorth Gardens, Folkestone Kent, and 8 Barn Park Terrace, Teignmouth.
Upper IV A—Upper Shell.
Birmingham University.
Mining Engineer; in Tin Mines Northern Nigeria.
Great War, 2nd Lieutenant Royal Engineers.
Killed in action, December 29, 1915.

'He was by profession a mining engineer, and at the outbreak of the war was engaged in tin mines in Northern Nigeria. He then accepted a commission in the Royal Engineers. His Company Commander writes: "Speaking as Officer Commanding this Company I do not think it would have been possible to have had a more capable and reliable fellow in every way. He will be very very difficult to replace. ' (Malvernian, Mar 1916).
Marble memorial at St Margaret's church, Cliffe

Service record:WO 339/36049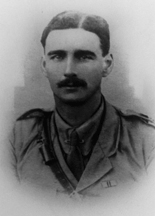 House: No 1, 1898 - 1902. Regiment: Royal Engineers.
Died: 23 April 1918 aged 33 in Africa. Died at Mombasa.
Battle:
East African Campaign
. Cemetery:
Mombasa (Mbaraki) Cemetery
I. O. 7.
Son of Dr. Milner-Moore and Caroline Marie M. Moore, of 81, Hartfield Terrace, Eastbourne, and The Quadrant, Coventry, b. 1885.
Modern II—Matriculation Class. House Prefect. House XI Cricket and Football.
Engineer in India.
Great War (overseas), Captain Royal Engineers attd. East African Railways (Railway Corps.).

District Superintendent on Bombay and Baroda Railway.

Died at the British Base hospital, Mombasa of Tropical abscess of the liver and peritonitis.

Service record:WO 374/48530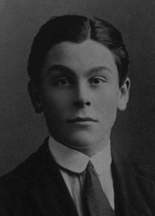 House: No 2, 1907 - 1911. Regiment: Royal Engineers.
Died: 06 October 1918 aged 25 in France. Killed in action.
Battle:
Hundred Days Allied Offensive
. Cemetery:
Marcoing Communal
12
Son of Hon. H. Murray, C.I.E., C.B.E., Morleys, Henfield, Sussex, b. 1893.
Lower Shell—Army I. House Prefect. XXII Football; House XI Cricket.
Engineer.
Great War 1914, 2nd Lieutenant Royal Engineers attd. 310th Bde. Royal Field Artillery, Captain.

Widow: Violet Alys Murray.

'George Murray will be remembered by many of his own time at Malvern as a happy-natured boy who had many friends and took an active part in the general life of the School. He did specially good service to his House in the football field, particularly under his elder brother's leadership. He had sufficient ability to enable him to reach a good place in the School. He worked for some time with a view to the India Woods and Forests Service, in which his father held a distinguished position, but a change in the regulations for admission to that service brought about a change of plans, and during the latter part of his time at School he was on the Army Side, preparatory to admission to Sandhurst. But he ultimately took up engineering, and when war broke out he was given a commission in the Royal Engineers. He did good service in France, and had the satisfaction of taking part in the recent triumphs of the Allied Armies.' (Malvernian, Nov 1918).

Service record:WO 339/29382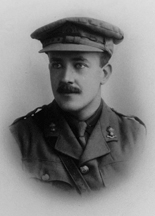 House: No 7, 1902 - 1908. Regiment: Royal Engineers.
Died: 20 January 1916 aged 27 in Belgium. Died of wounds at Hooge.
Cemetery:
Lijssenthoek Military Cemetery
II A 26
Son of Thomas and Frances Whitfield, of 56A, Cambridge Rd., Southport. Born in 1889 at Stoke Manor, Salop.
Middle IV—Mathematical VI. House Prefect.
Mathematical Exhibitioner, Queens' College, Cambridge; B.A. (Second Class Mechanical Sciences Tripos) 1911.
Assistant Superintendent Engineer 1912; Physics Lecturer at St. John's College, Agra, 1913; R.E. Special Reserve 1911.
Great War, mobilised 1914. 104th Field Coy. Royal Engineers.

'He went to France in September 1915, and was killed on January 20th. A brother officer writes of him: "He has never swerved in unfaltering loyalty to his superiors, devotion to duty, and courage and cheerfulness under most trying circumstances." (Malvernian, Mar 1916).

The following is from the Unit War Diary:
'Ypres.
17.1.16. Portion of Oxford St destroyed by shell fire; Pioneers repaired it during night. Fish St cut through but not yet rivetted.
18.1.16. Working parties. No 2 section rivetted Fish St with frames, but it shall require sand bagging on each side. Snipers active especially in front of Stables.
19.1.16. Regret following Casualties: Lieut J B Whitfield, Sapper Hazell & Pioneer Sullivan. The two men died from their wounds the same evening. Lt Whitfield was taken to Menin Road dressing station & sent on immediately by motor ambulance to Vlamertinghe & thence to No 10 Casualty Clearing Station near Poperinghe.
20.1.16. Lt J. B. Whitfield died of his wounds at 5.30am.'

There is a memorial window to him and his brother in the Church of St. Luke's, Hodnet.Memorial window

Service record: WO 372/21/136056
Unit War Diary:WO 95/2199/2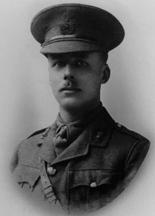 House: No 7, 1902 - 1906. Regiment: Royal Engineers.

Died: 12 May 1916 aged 29 in Belgium. Killed in action at Bailleul.

Cemetery:

Maple Leaf Cemetery I 13

Born 28th April 1887. Son of Thomas and Frances Whitfield, of 56A, Cambridge Rd., Southport, Lancs. Native of Stoke Manor, Shropshire.
Upper IV B—Matriculation Class. House Prefect.
Civil Engineer; Assistant on L. & Y.R. 1909-10; afterwards on G.W.R.; Assoc.M.Inst.C.E. Great War, Lieutenant R.E.
104th Field Coy. Royal Engineers.

'He took up the profession of Civil Engineer, and became Assoc. M. Inst. C.E. He was assistant on L. & Y.R. 1909-10, when he joined G.W.R. During the war he received a commission as Lieutenant in R.E., T.F. He was killed on May 12th. His younger brother, J.B., was killed last January.' (Malvernian, Jun 1916).

'12.5.16. 9pm Lt Whitfield killed beside me (the adjutant) behind extension of Winter Trench, probably fixed rifle shot.' (Unit War diary).
Memorial window at St Peter's Church, Stoke On Tern, North Shropshire

Service record:WO 339/29487
Unit War Diary:WO 95/2199/2


No of records: 13. View all 462 records Second World War


Book: Paperback and Kindle at Amazon epub