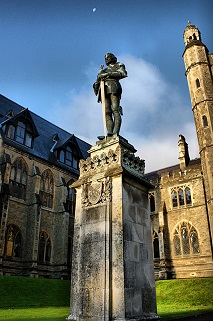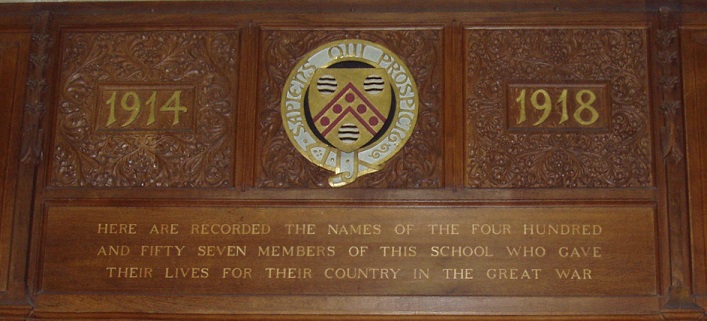 Statue of St George which is inscribed 'To Our Brothers', and oak panel memorial inside the chapel.
The following is a list with biographies of the 462 people who attended Malvern College and died due to the First World War. Altogether 2,833 are known to have served. There is also a corresponding page commemorating the 248 casualties in the Second World War.
There was not a month from August 1914 to November 1918 that an Old Malvernian did not become a casualty, with 6 killed on the first day of the Battle of Loos on the 25th September 1915 and 13 killed on the first day of the Battle of the Somme on the 1st July 1916.
The vast majority of casualties occurred in France and Belgium with 31 names recorded on the Menin Gate at Ypres, and 23 at Thiepval. There were also 23 casualties in Turkey due to the Gallipoli Campaign, and 16 in Iraq, including 2 near Kut.
They were in a wide range of regiments including 26 in the Royal Field Artillery, 13 in the Royal Engineers, 12 in the Worcestershire Regt, 11 in the Canadian Inf, 11 in the East Kent Regt (The Buffs), and 5 in the Royal Flying Corps and the Royal Air Force.
Most were officers with 133 Captains, 126 2nd Lieutenants, 114 Lieutenants, 26 Majors, and 15 Lieutenant Colonels.
29 received the MC, 10 the DSO and 1 the DCM, as well as 3 knighthoods (the CB, CMG, and MVO).
The information below is based primarily on the memorial books held at Malvern College which Ian Quickfall, and now Paul Godsland, the Malvernian Society archivists, have arranged to be digitised with the official memorial web site still in development.
Further information was also obtained from 'The Malvern College Register 1865-1924' edited by H.G.C Salmon, 'The Malvernian' school magazine, 'A History of Malvern College 1865 to 1965' by Ralph Blumenau, and 'Malvern College: A 150th Anniversary Portrait' by Roy Allen.
Information was also obtained from the Commonwealth War Graves Commission website, the Unit War Diaries and Service Records held at the National Archives in Kew, and various online commemorative websites whose links have been provided.
The main battles have tried to be identified in which Old Malvernians died in. Many though were killed in the general attrition of Trench Warfare which is so vividly described in the book 'Nothing of Importance' by Bernard Adams.
Below is a map showing the locations of the 246 cemeteries where Old Malvernians are buried or commemorated in. The markers are coloured yellow for one casualty, orange for between 2 and 9, and red for 10 or more. The name of the cemetery and number of casualties can be seen by hovering over the marker, and the list of names seen by clicking on the marker. Their full biographies and pictures can be seen by clicking on 'Further Info'.
The records can be filtered and/or sorted by name, house, age, regiment, battle, date, place etc by clicking on the appropriate drop down box and then the 'Search' button below the map. The original memorial book entry can be seen by clicking on the person's picture.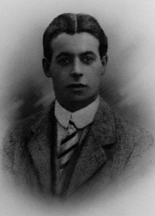 House: No 7, 1903 - 1908. Regiment: Royal West Kent Regt.
Died: 23 August 1914 aged 26 in Belgium. Killed in action at Mons.
Battle:
Battle of Mons
. Cemetery:
Hautrage Military Cemetery
I D 17
Son of George Knox Anderson, D.L., J.P., and Mrs. Anderson, of Bridge Hill House, Canterbury, Kent.
Middle IV B—Matriculation Class. School Prefect. XI Cricket; XXII Football.
In business.
Lieutenant 3rd Batt. Royal West Kent Regt. 1911.
Great War, mobilised 1914. 3rd Bn. attd. "A" Coy. 1st Bn. Queen's Own (Royal West Kent Regiment).

'His simplicity of character, unfailing high spirits, and enthusiastic enjoyment of whatever was in hand at the moment made him one of the best of comrades. His nature came out clearly in his cricket, for he was one of those bowlers—and he bowled fast—who would never ask for a rest, and a batsman who always hoped to hit the ball for six. He had recently gone into business, and had made an excellent start in it. At the beginning of the War he was attached to the 2nd Batt. Royal West Kent Regiment. He fell at Mons.' (Malvernian, Nov 1914)

During the Battle of Mons, his company was ordered to cover the withdrawal of the cavalry patrols and crossed the Mons-Conde Canal.
Heavily outnumbered, almost half of his company were hit of which 2/3rds were killed or 'missing'.
He was shot through the head and was left behind when the retirement was called and was buried by the Germans.
Biography


Led by Lions:MPs and Sons Who Fell in the First World War By Neil Thornton

InvisionZone
Livesofthefirstworldwar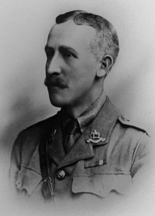 House: No 3, 1882 - 1890. Regiment: West Riding Regt.
Died: 24 August 1914 aged 42 in Belgium. Killed in action at Wasmes.
Cemetery:
Hautrage Military Cemetery
I C 13
Born 10th October 1872. Son of Robert James and Louisa Mary Strafford (nee Belcher), of St Michael's Hamlet, Liverpool.
Junior School—Army Class. School Prefect. XI Football 1889,90; XXII Cricket. R.M.C. Sandhurst; Duke of Wellington's Regt. 1892; Major 1909; South African War 1899—1902, Despatches (twice), Queen's Medal with 4 Clasps, King's Medal with 2 Clasps.
Great War,2nd Bn. Duke of Wellington's (West Riding Regiment). Killed in action near Mons, August 24, 1914; Despatches.
Husband of Edith Mabel Strafford (nee Chapman), of 25, Wilbury Rd., Hove, Brighton. (Married 26th June 1906).
He had two children: Jennie Constance, born 28th June 1907; and Orrell Hamilton, born 13th July 1910.

'He was killed instantaneously by a shell at the battle of Mons, being one of the first O.Ms. to fall in the present war.
Masters and contemporaries will remember him as a brilliant back at football. He won the esteem of all and the affection of many by his single-mindedness, uprightness, and sympathetic character both at school and in his regiment, where he is mourned as one of its most capable officers.
He was mentioned in the despatches of Sir John French of Oct. 19th. ' (Malvernian, Nov 1914)

Service record:WO 374/65967
Unit War Diary:WO 95/1552/1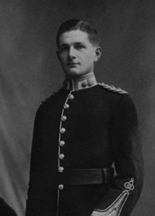 House: No 2, 1903 - 1908. Regiment: Lancashire Fusiliers.
Died: 26 August 1914 aged 25 in France. Killed in action at Cambrai.
Battle:
Battle of Le Cateau
. Cemetery:
La Ferte Sous Jouarre
Son of the late Rear-Admiral Robert Hornby Boyle. b. 1889.
Middle IV B—Army I. School Prefect. Head of House. XI Football; XXII Cricket; Ledbury Cap. Lieutenant in Corps.
R.M.C. Sandhurst; Lancashire Fusiliers 1909; Lieutenant 1911.
2nd Bn. Lancashire Fusiliers.

'From his career at school it was anticipated that he would prove himself a most capable officer, and this he turned out to be. His sterling qualities and his sound influence won for him the esteem of officers and men alike. He was always spoken of as "a splendid officer."
He was killed in action near Cambrai on August 26th, three days after his regiment landed in France. He was in the act of summoning aid for a fellow-officer who had just been wounded, when he himself fell. (Malvernian, Nov 1914).
Biography at lives of the first world war IWM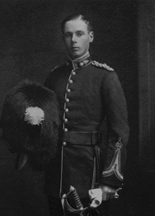 House: No 4, 1909 - 1911. Regiment: Royal Munster Fusiliers.

Died: 27 August 1914 aged 20 in France. Killed in action at Etreux.

Cemetery:

Etreux British Military Cemetery II 1

Born 27th August 1894. Son of Colonel Ernest Frederic and Florence Mary Sulivan, Wilmington, Woking.
Middle IV B—Army III.
R.M.C. Sandhurst; Royal Munster Fusiliers 1914.
Great War, "B" Coy. 2nd Bn. Royal Munster Fusiliers.

'He was at first reported as "missing" during the retreat from Mons; later in October it was ascertained that he had been killed in action at Etreux on August 22nd — his twentieth birthday. His open, loyal nature won him many friends here, and these will be sure that he fell gallantly. "He died," it is said, "most heroically with his men." (Malvernian, Dec 1914).

'He went to France on the 13th August 1914, and was killed in a rear-guard action at Etreux on the 27th August during the retreat from Mons. Buried by the Germans at cross roads, near Etreux, with eight of his brother officers who fell the same day.' (De Ruvigny).


No of records: 4. View all 462 records Second World War


Book: Paperback and Kindle at Amazon epub